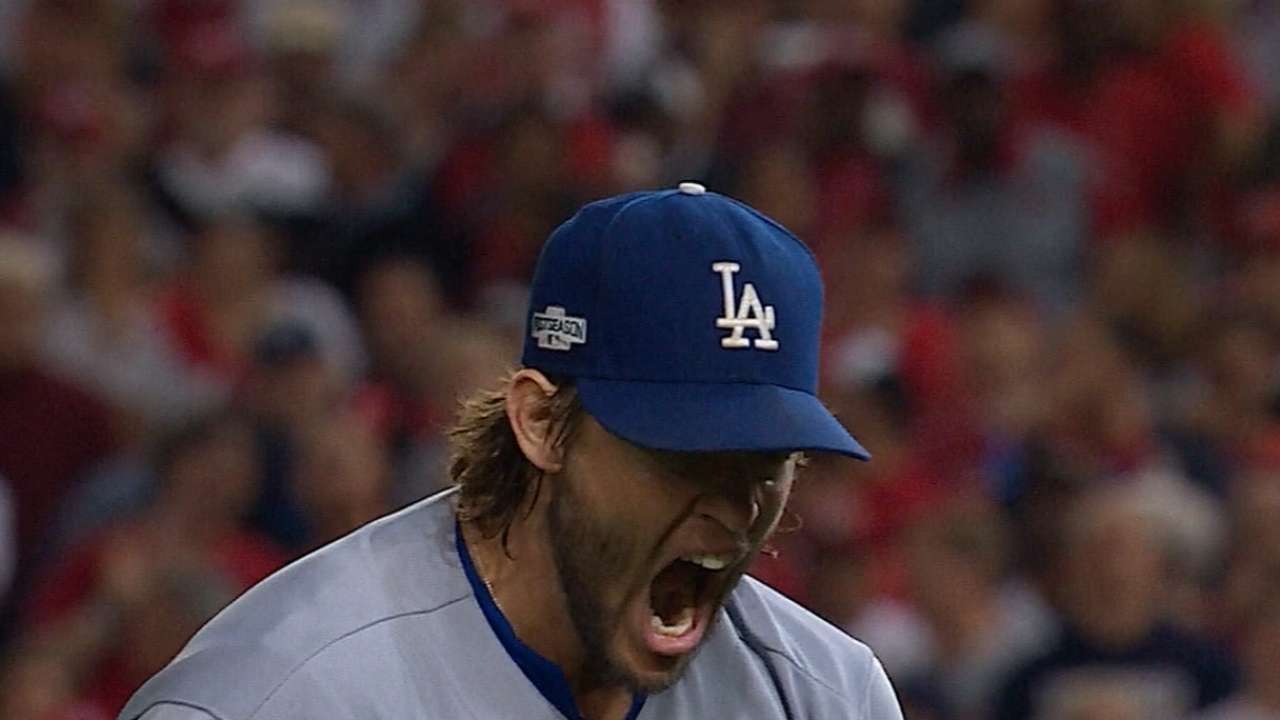 Kershaw. Cubs. At Wrigley. If you watch only one ballgame, this is it.
Share
Tweet
In Baseball's Postseason, Slumping Batters Embrace the Unorthodox

nytimes.com

1 hour ago

Baseball players' relationships with their bats are personal. So when someone like the Cubs' Anthony Rizzo is mired in a slump, sometimes some improvisation is necessary.

Share Tweet

Warming up: Real-time on site before Gm. 6

MLB.com

3 hours ago

With a spot in the World Series at stake, we're on the scene around Chicago and at Wrigley Field prior to Game 6 of the National League Championship Series between the Dodgers and Cubs to help get you fired up for tonight's game.

Share Tweet

yahoo.com

15 hours ago

NEW YORK, NY – OCTOBER 21: Johnny Boychuk #55 of the New York Islanders celebrates his shorthanded goal at 4:24 of the third period against the Arizona Coyotes at the Barclays Center on October 21, 2016 in the Brooklyn borough of New York City. (Photo b…

Share Tweet

Chicago Bears versus the Green Bay Packers Game Review

bearsgab.com

17 hours ago

By Bryan Dietzler The Chicago Bears, hoping to earn their second victory of the season over division rival Green Bay, headed to Lambeau Field hoping for a near miracle. But remember, just last year on Thanksgiving, they had defeated the Packers in the l…

Share Tweet

As the National League Championship Series shifts back to Chicago with the Cubs up, 3-2, four of the best pitchers in the league are set to start if the Dodgers manage to force a decisive Game 7.

Share Tweet

Vote for Best Manager, Exec in MLB Awards

Will Joe Maddon of the Cubs repeat as Best Manager? Who will succeed Kansas City general manager Dayton Moore after his back-to-back awards for Best Executive? Will remaining postseason games make a difference in your thinking?

Share Tweet

yahoo.com MLB.com nytimes.com

18 hours ago

The Chicago Cubs are one win away from clinching their first trip to the World Series since 1945 and not surprisingly a lot of fans are desperate to be a part of history. How desperate you ask? Desperate enough to camp outside Wrigley Field on Friday ni…

Share Tweet

Heyward should start Game 6 in right field

It took 4 hours, 16 minutes to play Game 5 of the National League Championship Series, and the time spent watching Jason Heyward bat must have seemed like a horror film for Cubs fans.

Share Tweet

yahoo.com

19 hours ago

The Chicago Bulls made the big, mad coach go away during the 2015 offseason, as they had to. The relationship between the Bulls front office and former coach Tom Thibodeau, due to massive missteps on the part of both sides, was beyond repair. Thibodeau …

Share Tweet

Bill Murray crashes White House press briefing, answers questions about Cubs

Share Tweet

Start times set for World Series

MLB.com

Oct 18 (4 days ago)

Major League Baseball has announced the start times for the World Series, scheduled to begin Tuesday in Cleveland, where the Indians will play host to the winner of the National League Championship Series between the Cubs and Dodgers.

Share Tweet

Cutler thinks Kevin White can be a special player

Jul 29

Jeff Dickerson talks about the excitement the Bears have for wide receiver Kevin White.

Leonard Floyd in good hands with John Fox

Jul 27

Louis Riddick explains why John Fox is the perfect guy to develop Leonard Floyd into an elite pass rusher.

Remembering the passion and intensity of Dennis Green

Jul 22

In light of former Cardinals coach Dennis Green's passing at age 67, look back at his memorable tirade after his team's loss to the Bears.

Cutler remains Bears' top question mark

Jul 13

ESPN Bears reporter Jeff Dickerson questions whether Jay Cutler can put together another solid season in Chicago without former play caller Adam Gase.