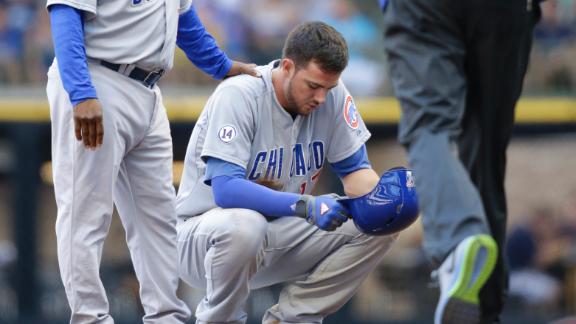 ESPN.com
nytimes.com
Updated 8 hours ago
Anthony Rizzo, rookies and pitching vault Cubs to 10 over .500
Share
Tweet
LEADING OFF: Price Jays Debut; Burnett to Doc; Cubs-Pirates

nytimes.com

7 hours ago

A look at what's happening all around the major leagues Monday:

Share Tweet

yahoo.com

8 hours ago

Move over Boston Red Sox and New York Yankees, or Chicago Cubs and St. Louis Cardinals. There's a new best rivalry in baseball. Not surprisingly, the Kansas City Royals are involved. The Royals had their issues with other clubs earlier in the season, bu…

Share Tweet

MLB.com nytimes.com

9 hours ago

Addison Russell smacked a solo home run to back Clayton Richard, who helped himself by hitting an RBI double, leading the Cubs to a 4-3 victory Sunday over the Brewers to complete a four-game sweep.

Share Tweet

Yankees 12, White Sox 3: A Resurgent Didi Gregorius Helps Yankees Past the White Sox

nytimes.com

10 hours ago

Gregorius, who had the unenviable task of replacing Derek Jeter, drove in two runs and scored twice on Sunday, and he is batting .472 in his last 11 games.

Share Tweet

Yankees Rough Up Samardzija, Beat White Sox 12-3

nytimes.com

11 hours ago

Jacoby Ellsbury and Mark Teixeira homered against Jeff Samardzija, and the New York Yankees pounded the Chicago White Sox 12-3 on Sunday.

Share Tweet

Are the Blackhawks a dynasty? They couldn't care less – because they're not done

thehockeynews.com

12 hours ago

The pee wasn't even dry on David Keith's Chicago Blackhawks sweater when the questions started. There he was, holding his two-year-old grandson, who had undoubtedly gotten caught up in all the excitement of his dad, Duncan, winning the Stanley Cup and f…

Share Tweet

Maddon ejected after losing challenge

MLB.com

13 hours ago

The Cubs not only lost a challenge Sunday but manager Joe Maddon, who was ejected in the third inning.

Share Tweet

yahoo.com

18 hours ago

The Chronicles of Stanley is a weekly series this summer that tracks the Chicago Blackhawks as they each get their special alone time with the Stanley Cup. There have been plenty of NHL players have celebrated along with siblings also in the league who …

Share Tweet

profootballtalk.com

20 hours ago

During Marc Trestman's two years as the head coach in Chicago, the Bears ranked 24th and 30th in rushing attempts and threw the ball 65 percent of the time. That didn't do much to erase the label that Trestman had earned in previous stops as an offensiv…

Share Tweet

Avi sails! Garcia robs another homer

MLB.com

Aug 1 (yesterday)

While Avisail Garcia's defense hasn't been letter perfect, he has helped the White Sox with some big plays in right field. One of those came during Saturday night's 8-2 victory over the Yankees, a score that might not have been so one-sided without him.

Share Tweet

White Sox 8, Yankees 2: Stepping From Class AAA to Majors, Young Yankees Pitchers Can't Deliver

Bryan Mitchell and Diego Moreno, the two young pitchers the Yankees turned to instead of making a trade, were not ready for their opportunity in a loss to Chicago.

Share Tweet

Cabrera, Ramirez Homer as White Sox Beat Yankees 8-2

Melky Cabrera and Alexei Ramirez homered and John Danks struck out eight as the Chicago White Sox beat the New York Yankees 8-2 on Saturday night.

Share Tweet

The Top 10 moments for 2014-15

thehockeynews.com

Aug 1 (yesterday)

1. Hawks win the Stanley Cup – June 15, 2015 Thanks to the (literally) tireless efforts of Conn Smythe winner Duncan Keith, the Chicago Blackhawks claimed their third Stanley Cup in six seasons, dusting off the Tampa Bay Lightning in six games. Keith, w…

Share Tweet

ESPN.com

Aug 1 (yesterday)

Bears hold LT Jermon Bushrod out of first padded practice

Share Tweet

Former White Sox Organist's Offbeat Approach Resonated for Decades

The former Chicago White Sox organist Nancy Faust's tradition of playing each player's state song apparently began the long, surprisingly intricate history of walk-up music.

Share Tweet

Yankees 13, White Sox 6: Yankees Bypass A-List Trades, Content With Pitchers for Now and Later

nytimes.com

Jul 31 (2 days ago)

Putting their money where their prospects are, the Yankees did little to buttress their fragile pitching staff. Meanwhile, their offense got two home runs from the white-hot Mark Teixeira to roll past the Chicago White Sox, 13-6, on Friday.

Share Tweet

yahoo.com

Aug 1 (2 days ago)

Billy Pierce, a seven-time All-Star pitcher who spent the prime of his career with the Chicago White Sox, died Friday morning at the age of 88 after a battle with gallbladder cancer. Pierce spent 18 season in the majors, debuting with the Detroit Tigers…

Share Tweet

Take Me Out to the Rooftop: Wrigley Changes Bring New Looks

nytimes.com

Aug 1 (2 days ago)

Top of the first, one out. It's a Friday in July, the start of a holiday weekend, and the Chicago Cubs are hosting the Miami Marlins.

Share Tweet

With Cubs, White Sox chasing wild-card spots, their plans are paying off

ESPN.com

Aug 1 (2 days ago)

With Cubs, White Sox chasing wild-card spots, their plans are paying off

Share Tweet

LaRoche works scoreless 9th in pitching debut

MLB.com

Aug 1 (2 days ago)

White Sox designated hitter Adam LaRoche retired the side in the ninth inning of Friday night's 13-6 loss to the Yankees.

Share Tweet

nytimes.com

Aug 1 (2 days ago)

Mark Teixeira is on a hot streak, and it doesn't seem to matter whether he's swinging right- or left-handed.

Share Tweet

Pace: I want to make sure we're not gun-shy

Jul 29

Bears GM Ryan Pace discusses the decision to release defensive lineman Ray McDonald.

Jay Cutler making strides heading into training camp

Jul 23

ESPN Bears reporter Jeff Dickerson says quarterback Jay Cutler has been spending extra time with his teammates this offseason.

Jay Cutler's performance key at camp

Jul 17

ESPN Bears reporter Jeff Dickerson says quarterback Jay Cutler, who will be playing under his fifth offensive coordinator in Chicago, needs to produce this season.

Ray McDonald charged with domestic violence

Jul 9

ESPN legal analyst Lester Munson discusses the charges against former Bears and 49ers defensive tackle Ray McDonald.