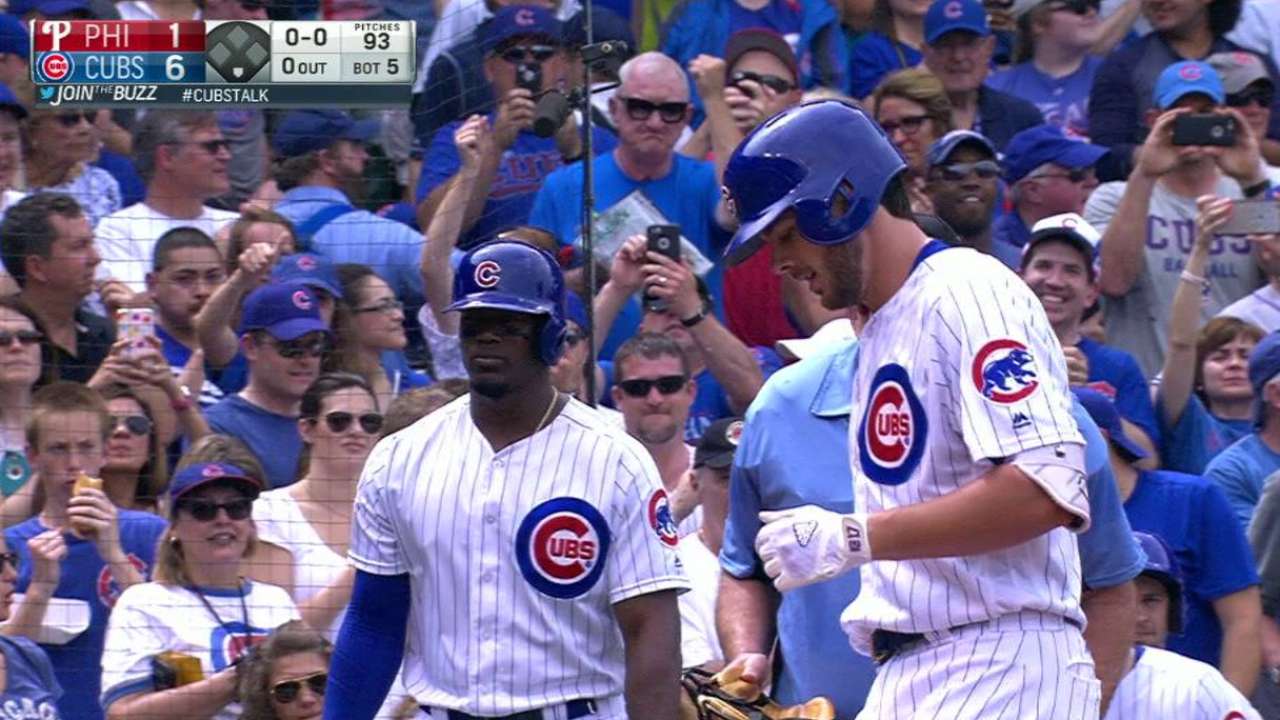 Homer-happy Cubs down Phils behind Lester
MLB.com
Updated 5 hours ago
The young and the old showed off their home run swings as 24-year-old sluggers Jorge Soler and Kris Bryant each hit a solo shot and veteran David Ross belted a three-run blast to power the Cubs to a 6-2 victory over the Phillies on Friday at rainy Wrigl…
Share
Tweet
ESPN.com nytimes.com

1 hour ago

Hitting his 100th home run special for David Ross, Cubs

Share Tweet

Bears sign Leonard Floyd

profootballtalk.com

6 hours ago

The Bears signed their first-round pick, outside linebacker Leonard Floyd, on Friday. The Bears traded up two spots to No. 9 — specifically to get ahead of the Giants — to select Floyd last month. An early entry to this year's draft, Floyd had 17 sacks …

Share Tweet

Bryant dusts off first-base mitt as Rizzo rests

MLB.com

10 hours ago

The Cubs' Anthony Rizzo got a "mini All-Star break" while Kris Bryant got a chance to break in his first baseman's glove on Friday.

Share Tweet

Ankle injury proves to be short-lived for Franco

MLB.com

10 hours ago

Maikel Franco's prediction was right. The Phillies' third baseman said his right ankle is doing great, and he was in Friday's lineup against the Cubs just as he said he would be after exiting Wednesday's 8-5 win against the Tigers.

Share Tweet

thehockeynews.com

15 hours ago

Given how important the youth have been to Finland this year, it's probably not a shocker that the final seven roster spots for the nation's World Cup of Hockey team skew young. But it is nice to see the kids rewarded. Leading the way is everyone's favo…

Share Tweet

nytimes.com MLB.com

May 26 (yesterday)

While the Chicago White Sox game at Kansas City was postponed because of rain Thursday night, the Royals are looking on how to fill the gap of possibly losing All-Star third baseman Mike Moustakas for the season to a knee injury.

Share Tweet

Be Like Mike: Motivated Bears WR Daniel Braverman has no regrets

ESPN.com

May 26 (yesterday)

Be Like Mike: Motivated Bears WR Daniel Braverman has no regrets

Share Tweet

yahoo.com

May 26 (yesterday)

Daylen Hopkins is a hockey fan on Twitter, and a bold one at that. Back in February, Hopkins couldn't believe that the Chicago Blackhawks and the Los Angeles Kings were mortal. So he made a bold prediction for the Stanley Cup Playoffs, tweeting the foll…

Share Tweet

Jeremy Langford wants to be the leader of the Bears backfield

profootballtalk.com

May 26 (yesterday)

Running back Jeremy Langford had more than 800 yards of total offense in 2015 and joined Gale Sayers and Walter Payton as the only Bears rookies since 1960 to run for touchdowns in four straight games. Langford did that work as a complement to Matt Fort…

Share Tweet

yahoo.com

May 26 (yesterday)

SAN JOSE, Calif. – The St. Louis Blues started to run out of gas in the first-round of the Stanley Cup Playoffs against the Chicago Blackhawks. Then the second-round against the Dallas Stars took another toll on them. By the time they reached Game 6 of …

Share Tweet

Healthy Kevin White shines at Bears' OTA practice

May 25

ESPN Bears reporter Jeff Dickerson discusses how Kevin White looked in Chicago's OTA on Wednesday.

Leonard Floyd needs to put weight on

May 16

Field Yates explains how the Bears hope that top draft pick Leonard Floyd can bulk up in order to go up against NFL offensive lineman, but also maintain his athleticism.

The Loggains-Cutler relationship question

May 13

ESPN's Jeff Dickerson discusses the importance of offensive coordinator Dowell Loggains relationship with quarterback Jay Cutler.

Stephen A.: Cutler is lucky Chicago hasn't banned him

May 13

Stephen A. Smith laughs at the notion that Bears QB Jay Cutler will play with a "Jordan-esque" rage this season because of all the criticism Stephen A. has given him throughout his career.