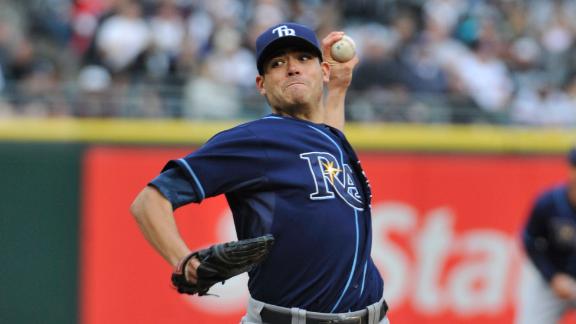 ESPN.com
Updated Apr 27, 2013
Matt Moore became the first Tampa Bay pitcher to win five games in April as the Rays snapped a two-game losing streak with a 10-4 victory over the Chicago White Sox on Saturday night.
Share
Tweet
suntimes.com ESPN.com

Apr 27, 2013

Outside linebacker Khaseem Greene knows the history. He knows the names. He knows the legends. Butkus. Singletary. Urlacher. Briggs. "I'm coming into a great situation at basically the NFL equivalent of 'Linebacker U.'," Greene said Saturday, re

Share Tweet

From mistake to the lake: Bears grab notorious WR Marquess Wilson in 7th round

The Bears traded down in the fifth round for a roll of the dice in the seventh. After moving down 10 spots in the fifth round to acquire the Atlanta Falcons' seventh-round pick, the Bears took Washington State wide receiver Marquess Wilson, who quit his

Share Tweet

A capsule look at Saturday's draft picks

FOURTH ROUND KHASEEM GREENE, LB, Rutgers 6-0 1/2 241 Elizabeth, N.J. Background: A starting safety in 2009, Greene moved to outside linebacker in 2010 and was twice named the Big East Defensive Player of the Year. Set an NCAA record with 15 career force…

Share Tweet

CNNSI.com

Apr 27, 2013

Stanton hits first homer, but Marlins fall to Cubs

Share Tweet

Three thoughts from Chicago's 142-134 triple overtime win over the visiting Nets on Sunday to give the Bulls a 3-1 lead in their first-round series:

Share Tweet

Michael Jordan married girlfriend Yvette Prieto in a really big tent

Any discussion of the NBA postseason eventually turns to Michael Jordan, the greatest player in NBA history and a strong point of comparison for today's stars 15 years after he participated in his last playoff game. That was particularly the case on Sat…

Share Tweet

Chicago White Sox right-hander Gavin Floyd left Saturday's game against the Tampa Bay Rays in the third inning with a flexor muscle strain in his right elbow.

Share Tweet

Nate Robinson scored 34 points, and the Chicago Bulls wiped out a 14-point deficit late in regulation and beat the Brooklyn Nets 142-134 in triple overtime Saturday and take a 3-1 lead in the first-round playoff series.

Share Tweet

Mistakes, tough love put new Bear Kyle Long on path to NFL

Kyle Long took a detour on the road toward becoming the Bears' first-round draft pick. He was living an idyllic childhood - the son of a famous, wealthy Hall of Fame football player, he grew up comfortably near Charlottesville, Va. - and was a star

Share Tweet

Oh, Tom Thibodeau, you sweet-talker, you (Video)

And here you thought all Chicago Bulls coach Tom Thibodeau ever talked about was rebounding, blowing up pick-and-rolls and taking away corner 3s. Nah, man. Sometimes he's smooth. Luckily for the Brooklyn Nets, referee Tony Brothers seems unsusceptible t…

Share Tweet

The United States is a wonderful place. You can do what you want. At least that's what it says in the directions. But if you come to a Major League Baseball game and just sit there, off by yourself, and Anthony Rizzo of the Chicago Cubs hits a home run …

Share Tweet

ESPN.com

Apr 27, 2013

Jake Peavy pitched well into the seventh and the White Sox supported him with three homers to rally from a three-run deficit and beat the Tampa Bay Rays 5-4 Friday night.

Share Tweet

Bulls Top Nets In 3OT Thriller To Take 3-1 Lead

Apr 27

Nate Robinson scores 29 of his 34 points in the fourth quarter and overtimes to carry the Bulls to a 142-134, 3OT win over the Nets.

Mike Mayock: Chicago Bears' draft class flying under radar

Apr 27

NFL Network draft analyst Mike Mayock says the Chicago Bears have put together a strong group of rookies through the 2013 NFL Draft.

Lance Briggs joins 'NFL Draft Xtra'

Apr 27

Chicago Bears LB Lance Briggs joins 'NFL Draft Xtra' at the 2013 NFL Draft.