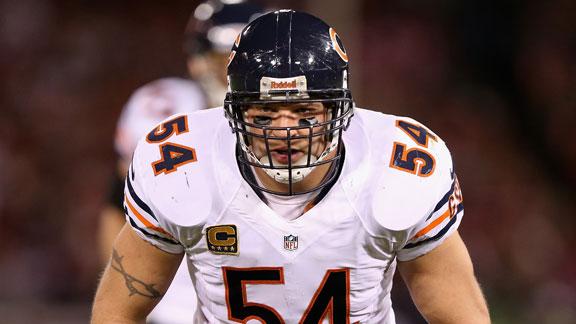 ESPN.com
Updated Dec 3, 2012
After the Chicago Bears' 23-17 loss to the Seattle Seahawks, here are three issues that merit further examination: From a statistical standpoint, it's easy to track the reasons why the Bears have now lost three of their past four games. Put simply, thei…
Share
Tweet
MLB.com

Dec 3, 2012

On the first day of his first Winter Meetings as general manager, Rick Hahn didn't experience much different from past years in the White Sox contingent.

Share Tweet

Reliable Bears' defense showing signs of weakness in last two losses

suntimes.com

Dec 3, 2012

A day later, and the Bears still had no answers for Seattle Seahawks quarterback Russell Wilson. ''I wish I knew,'' coach Lovie Smith said Monday when asked about the rookie who guided the Seahawks to a 23-17 overtime victory at Soldier Field. '

Share Tweet

Rip Hamilton has a torn plantar fascia in his left foot and is out indefinitely.

Share Tweet

Have an N.F.L. Question? Judy Battista Has Answers

nytimes.com

Dec 3, 2012

Judy Battista, the N.F.L. reporter for The New York Times, will answer questions from readers.

Share Tweet

Stuck in a fog: So, it seems I've run into a bit of a travel snag…

So, it seems I've run into a bit of a travel snag due to the dense fog we've got here in the upper Midwest. It's going to consume much of my afternoon. I'm sorry about that. Free Head Exams for the Chicago Bears and Green Bay Packers will run before I g…

Share Tweet

nytimes.com

Dec 3, 2012

At the end of a sorrowful weekend, the Kansas City Chiefs and their admirable coach rallied together.

Share Tweet

Bears defensive injuries piling up

profootballtalk.com

Dec 3, 2012

The Bears' playoff hopes went up in smoke last season thanks to injuries to quarterback Jay Cutler and running back Matt Forte. Things are still looking good for them on that front after 12 games this year, but the injuries are starting to pile up on th

Share Tweet

CNNSI.com

Dec 3, 2012

A cloud hangs over Kansas City, but for three hours the Chiefs found escape. Peter King goes inside their inspired win with the coach who bravely led his team through the sorrow.

Share Tweet

BBAO: Re-setting NFC playoff seedings

We're Black and Blue All Over: GREEN BAY, Wis. -- It's amazing how much happened Sunday between about 3:45 p.m. ET and 4:30 p.m. ET. In that window, the Green Bay Packers cemented a 23-14 victory over the Minnesota Vikings, their sixth victory in seven …

Share Tweet

White Sox Winter Meetings Update

Dec 3

ESPNChicago.com's Doug Padilla with the latest on John Danks, the trade market for White Sox pitchers, new GM Rick Hahn, and their response to the Tigers.

Jay Cutler Mailbag

Dec 3

Chicago Bears quarterback Jay Cutler talks to Waddle & Silvy about whether he would take a 'hometown discount' during contract negotiations to help the Bears surround him with better talent.

The Beginning Of The End For Urlacher?

Dec 3

Prim Siripipat and Eric Allen talk about how much longer Brian Urlacher can play

GameDay: Seahawks vs. Bears highlights

Dec 3

Seattle Seahawks quarterback Russell Wilson throws for 293 yards and 2 touchdowns, including the game-winner in overtime, to help the Seahawks defeat the Chicago Bears, 23-17.