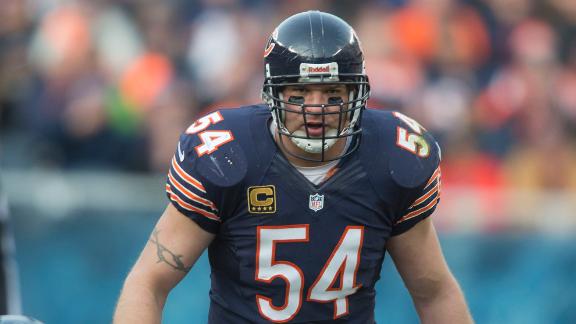 Updated Dec 4, 2012
Share
Tweet
Brian Urlacher acknowledged he could miss the rest of the regular season because of a hamstring injury, meaning the linebacker might have played his last game with the Chicago Bears.
Updated Dec 4, 2012

Share Tweet

Bears kick returner and receiver Devin Hester said he felt like he was on the field Tuesday afternoon when he took the stage at Calumet Public School District 132, where he participated in the NFL's ''Play 60'' campaign for good health. ''It

Source:

suntimes.com

Updated Dec 4, 2012

Share Tweet

NASHVILLE, Tenn - While team executives zeroed in on trade and free-agent targets at the winter meetings on Tuesday, Chicago Cubs manager Dale Sveum described what it was like being between the crosshairs of a former teammate and Hall of Famer. Sveum sa

Updated Dec 4, 2012

Share Tweet

Bears middle linebacker Brian Urlacher could miss at least the next three games with a right hamstring injury, an NFL source confirmed on Tuesday. Urlacher suffered the injury on the second to last play of the 23-17 overtime loss Sunday to the Seattle S…

Source:

suntimes.com

Cubs likely to finalize deal with Fujikawa on Friday

Updated Dec 4, 2012

Share Tweet

The Cubs are expected to complete the agreement with Japanese pitcher Kyuji Fujikawa on Friday. The right-hander has reportedly agreed to a two-year, $9.5 million contract, which includes vesting options valued at $5.5 million or $6 million, to be deter…

Source:

MLB.com

Why Jay Cutler Is Essential For A Successful Bears Team

Updated Dec 4, 2012

Share Tweet

By Ryan Desort Jay Cutler has been regarded as an above average to elite quarterback throughout his career. He has a big arm and can move an offense with ease when he is given adequate time to throw the ball. While he only has one career playoff victory…

Source:

bearsgab.com

Updated Dec 4, 2012

Share Tweet

Every loss matters at this point, even for those safely in the playoff field. For two teams, Week 13 defeats could prove especially costly as the postseason nears, Don Banks writes.

A Fan At The Dennis Rodman Viewing Party Experience Got Rodman's Autograph Tattooed On His Arm

Updated Dec 4, 2012

Share Tweet

Last week, we told you about the Dennis Rodman Viewing Party Experience, a LivingSocial deal that let you watch an NBA game at a Chicago bar with Dennis Rodman for only $59-or $129, if you wanted the VIP treatment. Fifty-one fans showed up, and among th

Source:

deadspin.com

Derrick Rose, according to one source, could be a few weeks away from practicing. This might not be great news for Bulls fans

Updated Dec 4, 2012

Share Tweet

You can see this grain of salt from miles away. From wherever you pick up the Damen bus, number 50, in order to shuffle your way to the United Center. Some lone "NBA source" - a single person - is speculating that some members of the Chicago Bulls thi

Source:

yahoo.com

Ian Thomsen: 'Restgate' reveals tension between sport, business of entertainment

Updated Dec 4, 2012

Share Tweet

Let's move straight to your questions:

Peter King: Behind star trio, rookie QB class playing beyond its years; mail

Updated Dec 4, 2012

Share Tweet

LANDOVER, Md. -- "It's all being ready to play at a younger age,'' Robert Griffin III said early this morning, putting those crazy striped socks on at his locker at FedEx Field. "I mean, look at how [South Carolina defensive end] Jadeveon Clow…

Cubs' Offseason Plan

Dec 4

ESPNChicago.com's Jesse Rogers reports on the Cubs from the winter meetings.

NFL32OT: The Race Begins

Dec 4

Episode 230: The NFL32 crew discuss whether the Giants can hold on and win the NFC East. Tim Hasselbeck breaks down who will win in the NFC North. The NFL32 crew discuss the best team in the AFC.

Bears face 'must win' Sunday in Minnesota

Dec 4

The ESPN Chicago crew looks back at what went wrong for the Bears against the Seattle Seahawks and discusses the importance of Sunday's game in Minnesota.

Report: Brian Urlacher Out Three Weeks

Dec 4

Jeff Dickerson with the latest on Brian Urlacher's injury.