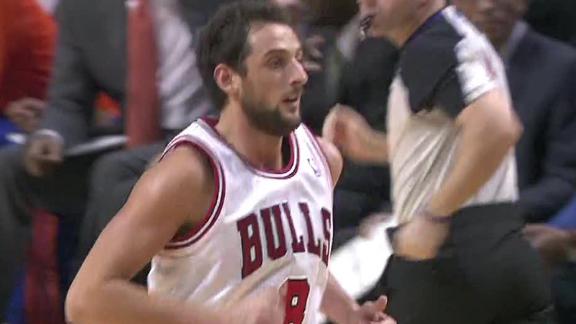 Anthony Will Sit for a Second Straight Game

nytimes.com

Dec 8, 2012

A deep cut on Carmelo Anthony's left middle finger will keep him out of the Knicks' game Saturday against the Bulls. He hopes to return Sunday night against Denver.

Share Tweet

ESPN.com

Dec 8, 2012

The New York Knicks won't have Carmelo Anthony in the lineup on Saturday.

Share Tweet

suntimes.com

Dec 8, 2012

In an effort to contain defensive end Jared Allen, the Bears threw the kitchen sink at him when they played the Minnesota Vikings two weeks ago. They double-teamed him with a tight end, chipped him with running backs and receivers, used quick, three-ste…

Share Tweet

Bears' Brandon Marshall chasing history

ESPN.com

Dec 8, 2012

Chicago Bears receiver Brandon Marshall is averaging 7.6 receptions per game this season. So with a slightly better-than-average performance Sunday against the Minnesota Vikings, Marshall could achieve some hefty milestones with plenty of room to spare.…

Share Tweet

Under Lovie Smith, the stretch has never been Bears' time

suntimes.com

Dec 8, 2012

Lovie Smith's glass is still half-full. He doesn't seem to realize that a month ago, it was three-quarters-full. It's almost as if the Bears' best chance to make the playoffs with enough momentum to be a factor is Smith's resolute belief that th

Share Tweet

Bulls Stop Knicks without Carmelo

Dec 8

Knicks' five-game win streak comes to an end with 93-85 loss to the Bulls.