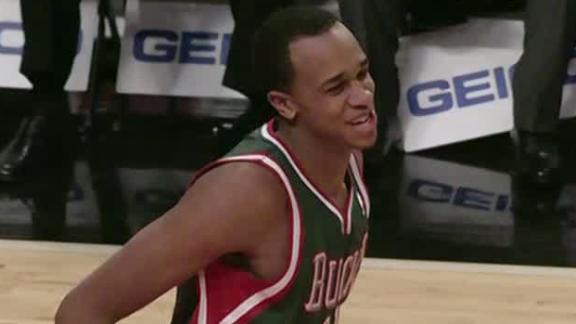 Cornerback Tim Jennings has earned a new contract

With so many players in contract years, a bevy of defensive issues to rectify and only so much money to go around, re-establishing a viable defense won't come easy. But cornerback Tim Jennings is proving he's worth keeping around. Jennings wanted the ch…

Share Tweet

Help is on the way for the defense, but it's not coming fast enough. Lance Briggs' fractured left shoulder was evaluated by team doctors Tuesday, but he wasn't cleared to play, the linebacker told the Sun-Times. "I have to be able to defend myself on th…

Share Tweet

suntimes.com profootballtalk.com

Dec 10, 2013

Jeremiah Ratliff said that his first sack with the Bears felt good, but not necessarily because it came against his former team Monday night. "That's the way this game is," the four-time Pro Bowl defensive tackle said. "I really don't feel anything, to …

Share Tweet

Every member of the Dallas Cowboys' defense probably had some soul-searching to do after allowing the Chicago Bears to score on every offensive possession (barring a final kneel down) on Monday night. The Cowboys allowed Josh McCown to throw for 348 yar…

Share Tweet

Bears receiver Brandon Marshall says he knew during pregame warmups that the Cowboys couldn't handle the bitter Chicago cold on Monday night. "We beat Dallas last night before the game started," Marshall said on ESPN 1000. "When it was [receiver] Alshon…

Share Tweet

ESPN.com CNNSI.com suntimes.com

Dec 10, 2013

The Chicago Bears defeated the Dallas Cowboys on Monday night before the ball was even kicked off, according to Bears receiver Brandon Marshall, who thinks the chilly conditions affected the visiting team's psyche.

Share Tweet

Bucks Neal out with left foot injury

nba.com

Dec 10, 2013

Milwaukee Bucks guard Gary Neal did not make the trip to Chicago for Tuesday night's game with the Bulls because of plantar fasciitis in his left foot.

Share Tweet

The Chicago Bulls are missing three starters for Tuesday night's game against the Milwaukee Bucks after Joakim Noah was sidelined by a bruised right thigh.

Share Tweet

CNNSI.com nytimes.com

Dec 10, 2013

The winter meetings finally heated up with the three-team trade sending Mark Trumbo to Arizona.

Share Tweet

Adam Eaton on three-way trade to White Sox: 'Well, that escalated quickly'

Well, that escalated quickly... — Adam Eaton (@AdamSpankyEaton) December 10, 2013 LAKE BUENA VISTA, Fla. — There are two kinds Adam Eatons in this world of Major League Baseball. The Chicago White Sox are getting the Adam Eaton who plays the outfield, n…

Share Tweet

suntimes.com ESPN.com

Dec 10, 2013

It took Bears coach Marc Trestman all of five minutes to dismiss the growing rumblings of a quarterback controversy taking place with his team.

Share Tweet

The Los Angeles Angels, Chicago White Sox and Arizona Diamondbacks have agreed to a three-team trade that would send Mark Trumbo to Arizona, Adam Eaton to Chicago and pitchers Hector Santiago and Tyler Skaggs to the Angels.

Share Tweet

NFL by the numbers – Cowboys previously fired Rob Ryan, but guess who is laughing now?

There are many ways to look at the NFL, but the easiest - and most tedious – method to figure out what is going on is by examining the numbers. Here is a numerical look at the league heading into Week 15: 0 – Punts by the Chicago Bears during a 45-28 vi…

Share Tweet

ESPN.com profootballtalk.com

Dec 10, 2013

The NFL will move the matchup between Chicago and Philadelphia to the prime-time slot on Sunday, Dec. 22.

Share Tweet

Cowboys linebacker Sean Lee got an MRI on his neck Tuesday to assess the severity of the damage he sustained when he was forced out of Monday night's loss to the Bears in the third quarter. The news was as good as the Cowboys could have hoped. Ed Werder…

Share Tweet

ESPN.com

Dec 10, 2013

Jerry Jones said he still has confidence in defensive coordinator Monte Kiffin on Tuesday, one day after the Dallas Cowboys' 45-28 loss to the Chicago Bears.

Share Tweet

The second overall pick in the 2001 draft by the Chicago Cubs, right-hander Mark Prior came to the majors a year later with all of the promise in the world. Standing 6-foot-5 and weighing 23o pounds with thick legs and a pretty delivery, Prior looked li…

Share Tweet

Source: White Sox, Dodgers wait on Uribe

ESPN.com

Dec 10, 2013

The Los Angeles Dodgers have offered free agent third baseman Juan Uribe a one-year contract with an option for 2015, while the Chicago White Sox have offered him two guaranteed years, a source told ESPNDeportes.com.

Share Tweet

suntimes.com profootballtalk.com yahoo.com nytimes.com

Dec 10, 2013

Josh McCown looked like John Elway, completing 27-of-36 passes for 348 yards, four passing touchdowns and one helicoptering dive into the end zone for a 7-yard touchdown run.

Share Tweet

profootballtalk.com ESPN.com

Dec 10, 2013

The NFC North is the NFL's only remaining three-way division race, and it's a race that looks like it will go down to the wire. Detroit, at 7-6 and with every tiebreaker advantage, is in control of the division. If the Lions win their final three games,…

Share Tweet

Can someone explain these Bears to me? No, I mean really explain how they are where they are, which is to say tied for first place? We could dismiss all they've accomplished this season by chalking it up to a bad NFC North, a division that has been brou…

Share Tweet

RICK TELANDER: This whole Mike Ditka ceremony was—needed. It was late by about a decade, a grand jersey number retirement for a man who was an All-Pro player for the Bears, a Super-Bowl winning coach, and a Hall of Fame tight end.

Share Tweet

Monday night was another rough one for the Cowboys defense. They didn't stop the Bears once all night en route to a 45-28 loss, which is bad enough for a team that needs every possible win to assure they finish in front of the Eagles in the NFC East thi…

Share Tweet

Bears' Kyle Long, Jordan Mills respond to coaches' challenge

Being the Bears' first-round draft pick this year hasn't done much to ease the nerves of guard Kyle Long. The coaching staff keeps the young offensive lineman on his toes. Long has struggled particularly with foot placement and certain double-teams in r…

Share Tweet

CHICAGO — Dallas Cowboys owner Jerry Jones said after his team's 45-28 loss to the Chicago Bears, in which the Cowboys allowed 490 yards and eight scores on their first eight possessions, that his defense needs to take more risks."We'll have to make som…

Share Tweet

ESPN.com suntimes.com

Dec 10, 2013

CHICAGO -- Brandon Marshall pulled in a 14-yard catch in the first quarter, making he and Alshon Jeffery the first Chicago Bears receiving duo to each gain 1,000 yards in a season since 1995. "We've got a lot of guys who can make plays," receiver Earl B…

Share Tweet

Trumbo All The Buzz

Dec 10

Jon Sciambi, Jerry Crasnick and Keith Law discuss the latest news coming out of the winter meetings, including a three-team trade that sends Mark Trumbo to the Diamondbacks and Yankees GM Brian Cashmans comments on losing Robinson Cano.

Bears QB Controversy?

Dec 10

The "NFL Live" crew debates whether a healthy Jay Cutler or Josh McCown should be the starting quarterback for the Bears.

Kurt Warner's top 5 QBs for Week 14

Dec 10

Kurt Warner looks back on the top quarterback performances and ranks them, with a pair of his picks set to square off on NFL Network's "Thursday Night Football."

Chicago Bears coach Marc Trestman handcuffing the Bears?

Dec 10

Has Chicago Bears coach Marc Trestman handcuffed the team by committing to quarterback Jay Cutler when back-up QB Josh McCown has the hot hand?