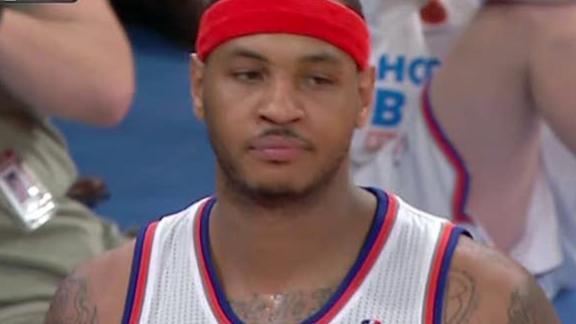 Updated Dec 21, 2012
Share
Tweet
New York's Carmelo Anthony and three others were thrown out of a foul-filled game, and the Chicago Bulls beat the Knicks for the second time this season, 110-106 on Friday night.
Bears' defense won't point finger at struggling offense

Updated Dec 21, 2012

Share Tweet

Asked whether he believed the Bears' typically solid defense has been held back by the offense this season and in years past, linebacker Lance Briggs chose not to answer. At least not now. "I think that's a question you have to ask me at the end of

Source:

suntimes.com

Bears RT Jonathan Scott hopes to play against Cardinals

Updated Dec 21, 2012

Share Tweet

Right tackle Jonathan Scott had an angle on Green Bay Packers cornerback Casey Hayward. Hayward had intercepted a pass by Jay Cutler late in the first half Sunday and was weaving through the Bears on his return. But when Scott came within a few steps of…

Source:

suntimes.com

Bears' receivers coach says Alshon Jeffery is fragile right now

Updated Dec 21, 2012

Share Tweet

Bears receiver Alshon Jeffery has not been a happy camper this week after three offensive pass interference penalties were called against him in Sunday's loss to the Packers. Bears receivers coach Darryl Drake is worried that Jeffery is going to beat hi

Bears Say Fans Need To Chill Out

Updated Dec 21, 2012

Share Tweet

After getting jeered out of the building Sunday, Brian Urlacher spoke for presumably more than a few of his teammates. "The only team in our division that gets booed at home is us," Urlacher said. "It's unbelievable to me." More »

Source:

deadspin.com

PFT on NBC Sports Network: Matt Forte, Week 16 preview

Updated Dec 21, 2012

Share Tweet

It's beginning to look a lot like Christmas, but there's still a whole weekend of football to play before St. Nick makes his way down any chimneys. Pro Football Talk on NBC Sports Network will bring you everything you need to get ready for Week 16, in

Brandon Marshall fined $5,250 for throwing ball into the stands

Updated Dec 21, 2012

Share Tweet

After Bears receiver Brandon Marshall scored a touchdown on Sunday against the Packers, a fan at Soldier Field came away with a souvenir. And Marshall got a fine. Marshall threw the ball into the stands after scoring, which is against NFL rules. And the…

Updated Dec 21, 2012

Share Tweet

MILWAUKEE (AP) -- The Milwaukee Brewers signed left-handed reliever Tom Gorzelanny to a two-year contract Friday.

Source:

CNNSI.com

Tyson Chandler and Jimmy Fallon engage in a free throw contest utilizing random objects (VIDEO)

Updated Dec 21, 2012

Share Tweet

Nearly a decade ago, Tyson Chandler's touch was a go-to joke amongst Chicago Bulls fans. "Hands of stone" was the go-to phrase on the go-to message board in regards to a player that was not a go-to offensive threat for the team that drafted him. Cou

Source:

yahoo.com

NFC North Friday injury report

Updated Dec 21, 2012

Share Tweet

Let's get inside the Friday injury report in the NFC North: Chicago Bears: Defensive tackle Henry Melton (chest) returned to practice Friday but is doubtful for Sunday's game at the Arizona Cardinals. Linebacker Brian Urlacher (hamstring) has been ruled…

Updated Dec 21, 2012

Share Tweet

The Giants took their turn Friday at obtaining right-hander Sandy Rosario, claiming the much-traveled 27-year-old reliever off waivers from the Chicago Cubs.

Rangers claim lefty reliever Beliveau off waivers

Updated Dec 21, 2012

Share Tweet

The Rangers added another bullpen candidate by claiming left-handed reliever Jeff Beliveau off waivers from the Cubs on Friday. He gives the Rangers a possible left-handed relief option if they decide to use Robbie Ross in the rotation.

Cubs finalize one-year contract with Schierholtz

Updated Dec 21, 2012

Share Tweet

The Cubs have finalized their deal with outfielder Nate Schierholtz on a one-year, $2.25 million contract.

Final Word: NFC North

Updated Dec 21, 2012

Share Tweet

Five nuggets of knowledge about Week 16: Oasis in desert? The Chicago Bears have lost five of their past six games and probably need to win their final two in order to reach the playoffs. Otherwise, they will become the second team since 1990 -- and the…

White Sox still confident despite improved division

Updated Dec 21, 2012

Share Tweet

The pre-holiday White Sox question on the table today deals with the team's ability to contend in the American League Central for the 2013 season. It was the same question on the table last Friday and will carry through into the new year.

Updated Dec 21, 2012

Share Tweet

MINNEAPOLIS (AP) -- The Minnesota Twins have signed injury-hampered right-hander Rich Harden to a minor-league contract with an invitation to compete for a spot on the staff in spring training.

Source:

CNNSI.com

NFC North Week 16 programming note

Updated Dec 21, 2012

Share Tweet

Where to go? What to do? Follow the Green Bay Packers' pursuit of home-field advantage in the playoffs? Witness the Chicago Bears' attempt to end a 1-5 slump and remain in the playoff hunt? Join Adrian Peterson's chase of the NFL's single-season rushing…

Henry Melton: No defensive tackles are better than me

Updated Dec 21, 2012

Share Tweet

Bears defensive tackle Henry Melton's contract expires after this season and he's put himself in position to cash in with a big payday with his play this season. Melton has been excellent against the run while continuing to provide strong pressure in

Melo, Three Others Ejected In Bulls' Win Over Knicks

Dec 21

Bulls hold on to top Knicks at MSG.

'Playbook': Chicago Bears vs. Arizona Cardinals

Dec 21

Will the Arizona Cardinals be able to score enough points against the Chicago Bears' defense to pull off an upset? Our analysts explain why the Bears should win easily, as long as they avoid penalties.

Bears Facing Must-Win Game In Arizona

Dec 21

ESPN Chicago's Tom Waddle and John Jurkovic look ahead to the Bears' clash with the Cardinals.

Report: Francisco Liriano To Pirates

Dec 21

ESPN MLB insider Dan Szymborski breaks down the Pirates' reported signing of Francisco Liriano.