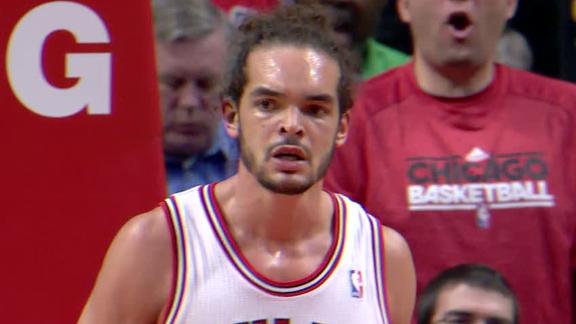 Joakim Noah had 23 points, 21 rebounds and a career-high 11 blocks for his third career triple-double and the Chicago Bulls ended a two-game losing streak with a 93-82 victory over the Philadelphia 76ers on Thursday.
Share
Tweet
suntimes.com

Feb 28, 2013

Like a faulty faucet, the NFL slowly but steadily drops a veteran into the vast free-agent pool. The first significant move came two weeks ago, when the Green Bay Packers terminated safety Charles Woodson's contract. Since then, the NFL's unemployment

Share Tweet

ESPN.com

Feb 28, 2013

Just to keep things spicy around here, I kept this discussion about Jermichael Finley's future decidedly within the NFC North. Finley, of course, said this week he would "walk" from the Green Bay Packers if he was asked to take a pay cut to st…

Share Tweet

SEOUL, South Korea (AP) - Ex-NBA star Dennis Rodman hung out Thursday with North Korea's Kim Jong Un on the third day of his improbable journey with VICE to Pyongyang, watching the Harlem Globetrotters with the leader and later dining on sushi and drink…

Share Tweet

Cubs' Garza (lat) 'OK' after throwing session

ESPN.com

Feb 28, 2013

Chicago Cubs pitcher Matt Garza said he felt "OK" after throwing from 60 feet on Thursday as he recovers from a strained left lat.

Share Tweet

Ian Thomsen: George Karl leading the unlikeliest of contenders in Denver

The most exciting team in the playoff races is the lone contender that lacks star power and experience. They are the Denver Nuggets, they've gone 20-7 over the last two months and they show much less fear than they create in their opponents.

Share Tweet

suntimes.com

Feb 28, 2013

AFTERNOON SPORTS CLUB: It will be months, maybe years, before the dust settles on the Alex Smith trade. But compared to the price the Bears paid for Jay Cutler, it looks like the Kansas City Chiefs got a bargain.

Share Tweet

The 49ers' 2012 will be remembered for the move to at QB. Its 2013 may be remembered for a title, Jim Trotter writes, as a talent-laden roster gets a lift from a bevy of draft ammo.

Share Tweet

yahoo.com

Feb 28, 2013

Even the best laid plans are one misstep away from falling apart. For Javier Vazquez, those plans were to impress while pitching for Puerto Rico in the World Baseball Classic, and then hopefully latch on with a major league team as a result. Unfortunate…

Share Tweet

MOUND CITY, Ill. (AP) -- A prosecutor said Wednesday he will not pursue marijuana possession charges against Chicago Bears offensive lineman J'Marcus Webb, who was charged after a traffic stop in southern Illinois over the weekend.

Share Tweet

suntimes.com grantland.com

Feb 28, 2013

Coach Marc Trestman developed his reputation working with quarterbacks. His main tenet is protecting the passer and providing a pocket. So Trestman has his hands full with the Bears. The Bears' offensive line again was among the worst in the NFL, rankin

Share Tweet

Joakim Noah Dominates

Feb 28

Joakim Noah's triple-double of 23 points, 21 boards and 11 blocks carries Bulls to 93-82 win over 76ers.