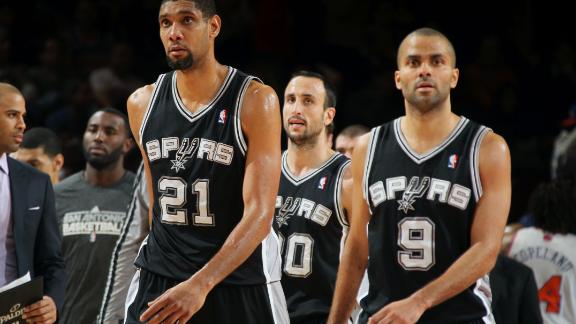 ESPN.com
Updated Jan 24, 2013
Tim Duncan was selected to his 14th All-Star game, Spurs teammate Tony Parker is joining him, and the Chicago Bulls also had two reserves chosen Thursday for next month's game in Houston.
Share
Tweet
profootballtalk.com

Jan 24, 2013

So why did the Cowboys dump the 3-4 defense coordinated by Rob Ryan and adopt in its place a 4-3 scheme featuring multiple former Jon Gruden assistants? Garrett says the turnover comes from a lack of turnovers. "The Bears had 44 takeaways," Garrett sa

Share Tweet

While making sales calls on Thursday, White Sox closer Addison Reed discussed his expectations for the upcoming season.

Share Tweet

nytimes.com

Jan 24, 2013

Shaun Marcum, a right-handed pitcher, agreed to a one-year deal with the Mets. But outfielder Scott Hairston agreed to a two-year deal with the Cubs, according to a published report.

Share Tweet

Right-hander Stewart returns to White Sox

The White Sox brought right-handed pitcher Zach Stewart back to Chicago on Thursday, claiming the 26-year-old off waivers from the Pirates.

Share Tweet

suntimes.com

Jan 24, 2013

AFTERNOON SPORTS CLUB: With the Bears eyeing offensive linemen at the Senior Bowl because of real needs for improvement up front, here's a look at how their offensive linemen fared this season.

Share Tweet

DraftWatch: Middle linebacker prospects

ESPN.com

Jan 24, 2013

Let's circle back on your request for more coverage of the Senior Bowl and less of the Pro Bowl, while also providing an epilogue for our earlier post on the Chicago Bears' future at middle linebacker. As we've noted a few times this week, our group of …

Share Tweet

Big Decision: Bears and Brian Urlacher

ESPN.com

Jan 24, 2013

Another in a series of important offseason issues facing NFC North teams: If there were ever a time for the Chicago Bears to make a clean and relatively controversy-free break from their history, it's now. Parting ways with one of the best and most popu…

Share Tweet

Joakim Noah's diving save, Marco Belinelli's layup cap Bulls' 17-point comeback to beat Pistons (VIDEO)

yahoo.com

Jan 24, 2013

On Jan. 15, 2008, Joakim Noah probably didn't want to secure Ben Wallace's comeuppance. As a rookie, he probably didn't even want to secure Ben Wallace's job, or get then-Chicago Bulls coach Jim Boylan fired from his gig. What he wanted was for hi

Share Tweet

The Cubs have reportedly reached agreement with Scott Hairston on a two-year contract, according to Ken Rosenthal of FOXSports.com and MLB Network. A team spokesman would not confirm the deal Thursday. Reports said the deal would be finalized once Hairs…

Share Tweet

Ian Thomsen: Playoff-contending Blazers face tricky decision as trade deadline looms

CNNSI.com

Jan 24, 2013

The trade deadline sits like an inviting target four weeks away for the Trail Blazers, who have remained in playoff contention despite a recent six-game losing streak. Couldn't they make a deal to improve their unproductive bench and enhance their chanc…

Share Tweet

NBA All-Star Reserves

Jan 24

Spurs and Bulls get two All-Star reserves each.

Bulls Update with Nick Friedell

Jan 24

The Bulls at the halfway point, Jimmy Butler's performance of late, Joakim Noah's All-Star chances and an update on Derrick Rose.