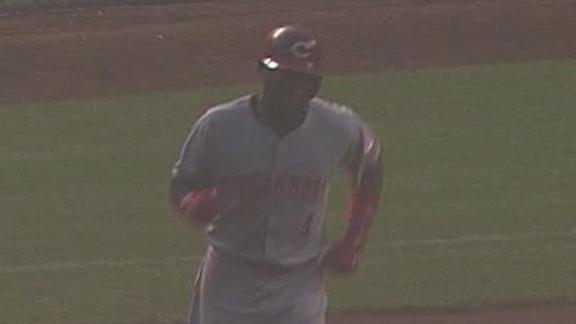 ESPN.com
Updated Jun 10, 2013
Brandon Phillips hit a grand slam and matched his career high with six RBIs, and the Cincinnati Reds extended their dominance over the Chicago Cubs with a 6-2 win Monday night in foggy conditions at Wrigley Field.
Share
Tweet
suntimes.com

Jun 10, 2013

A week ago, Bears general manager Phil Emery took question after question about two main topics: offensive lineman Gabe Carimi's decision not to join the Bears' organized team activities, and fullback Evan Rodriguez's partying ways and legal problem

Share Tweet

Baker: Ball is in Garza's hands concerning feud

ESPN.com

Jun 10, 2013

Cincinnati Reds manager Dusty Baker says the ball is in Chicago Cubs pitcher Matt Garza's hands in regards to the mini-feud that started between the two teams last month.

Share Tweet

Sveum allowing Castro to play through struggles

MLB.com

Jun 10, 2013

On Saturday, Dale Sveum said he was considering giving struggling shortstop Starlin Castro a day off, but the Cubs manager has yet to do so.

Share Tweet

profootballtalk.com ESPN.com

Jun 10, 2013

The trade of offensive lineman Gabe Carimi from the Bears to the Buccaneers is official. The Buccaneers made the announcement that they have acquired Carimi, who had been working out on his own this spring rather than join the Bears, in exchange for a s…

Share Tweet

ESPN.com profootballtalk.com

Jun 10, 2013

The Chicago Bears released second-year fullback Evan Rodriguez, who has been arrested twice this offseason.

Share Tweet

Bears bring back Aromashodu

profootballtalk.com

Jun 10, 2013

As expected, the Bears on Monday offically have added Tony Fiammetta, and they've offically released 2012 fourth-rounder pick Evan Rodriguez. As not expected, the Bears also brought back receiver Devin Aromashodu. Aromashodu spent two seasons with the V

Share Tweet

Bears sign Tony Fiammetta, which might send a signal

profootballtalk.com

Jun 10, 2013

Maybe it's all just a coincidence. But not longer after a Bears fullback was arrested for the second time this offseason, the team signed another one. According to his agent, former Panthers and Cowboys fullback Tony Fiammetta has signed with the Bears.

Share Tweet

CNNSI.com

Jun 10, 2013

RGIII vows to be ready for Week 1, and Peter King believes him. He explains, discusses how Honey Badger is impressing the Cards and offers his annual Father's Day book guide.

Share Tweet

Bears Trade Carimi To Tampa Bay

Jun 10

Ed Werder discusses Chicago's decision to trade 2011 first-round draft pick Gabe Carimi to Tampa Bay for a sixth-round pick.

Phillips, Bailey Power Reds

Jun 10

Brandon Phillips' grand slam and six RBIs and Homer Bailey's eight strikeouts over eight innings lifted the Reds to a 6-2 win over the Cubs.