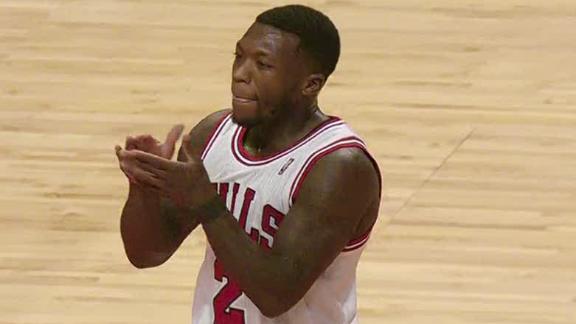 THE FACTS: After letting a 27-point lead turn into a one-point loss Monday against Milwaukee, the Chicago Bulls made a big lead stand up Wednesday in a 101-78 win over the Dallas Mavericks at the United Center. Luol Deng led the Bulls with 22 points, an…
Share
Tweet
suntimes.com ESPN.com profootballtalk.com

Nov 28, 2012

The NFL fined Minnesota Vikings defensive end Jared Allen $21,000 for his blindside hit that ended Bears guard Lance Louis' season. Louis tore his left ACL Sunday, and he was placed on injured reserve Monday. The Bears signed former Pro Bowl center Andr

Share Tweet

Bears quarterback Jay Cutler doesn't care that his new starting right guard is 6 feet, 7 inches tall. "I don't care if he's 6-10," Cutler joked. "If he does his job, I'll find a way." Right now, that right guard would be Gabe Carimi, forme

Share Tweet

profootballtalk.com

Nov 28, 2012

The Minnesota Vikings received some good news on Wednesday as both tight end Kyle Rudolph and safety Harrison Smith have been cleared to return after suffering concussions last week. Rudolph and Smith both were forced to leave last Sunday's game against

Share Tweet

The Bears' offense appeared to catch a break when news broke Sunday that Seahawks starting cornerbacks Richard Sherman and Brandon Browner - key cogs in Seattle's third-ranked defense -faced four-game suspensions for violating NFL rules on perform

Share Tweet

nba.com

Nov 28, 2012

Dallas Mavericks guard Darren Collison is sitting out against the Chicago Bulls because of a sprained right middle finger.

Share Tweet

ESPN.com

Nov 28, 2012

Chicago Bears running back Matt Forte had limited participation in practice on Wednesday, an encouraging development after the Pro Bowl tailback had to leave last week's game versus the Minnesota Vikings due to an ankle injury.

Share Tweet

Stronger than ever, Brandon Marshall learns to live with Borderline Personality Disorder

yahoo.com

Nov 28, 2012

SEATTLE -- "By no means am I all healed or fixed, but it's like a light bulb has been turned on in my dark room." That's what Chicago Bears receiver Brandon Marshall said in June of 2011, soon after the veteran found a name for the disorder th…

Share Tweet

Do You Want To Watch A Basketball Game On TV With Dennis Rodman For $59?

deadspin.com

Nov 28, 2012

If you're in Chicago on Dec. 1, why not go watch a Bulls-Sixers game (on TV) with Dennis Rodman? It's part of the Dennis Rodman Viewing Party Experience. Also included in the Dennis Rodman Viewing Party Experience: a Q&A with The Worm, two drinks, a…

Share Tweet

CNNSI.com profootballtalk.com yahoo.com

Nov 28, 2012

Bears' Marshall: NFL players use Viagra for 'edge'

Share Tweet

The 'Bulls fan' that traded a toilet-submerged jersey for Drew Gooden's tickets defends his tastes

yahoo.com

Nov 28, 2012

We realize we're getting into the sort of hard and fast Fan Dude rules that we absolutely abhor. Live in Boston and want to root for the Lakers? Go ahead. Live in Los Angeles and can't stomach the ownership for either team - pick away, you've got 28 oth

Share Tweet

An NFL scout's take on Bears' erratic offensive line

AFTERNOON SPORTS CLUB: The phone call was made in search of an explanation that was not forthcoming, at least about a subject that has had Bears fans scratching their heads and pulling out their hair simultaneously. How can an offensive line bullied by …

Share Tweet

MLB.com

Nov 28, 2012

Right-handed pitcher Casey Coleman was designated for assignment to make room on the Cubs' 40-man roster for recently acquired pitcher Scott Feldman. The Cubs' roster is at 40.

Share Tweet

The 5 Worst Blowouts In The NBA Over The Last 30 Years

dimemag.com

Nov 28, 2012

The Oklahoma City Thunder laid the smackdown on the Bobcats on Monday night, winning 114-69, and negating the positive work new head coach Mike Dunlap had done with the Bobcats to start the season. The Thunder's 45-point rout of the Bobcats was highligh

Share Tweet

CNNSI.com

Nov 28, 2012

NEW ORLEANS -- This was the tipping point Who Dat Nation had been waiting on. Its beloved Saints, after surrendering 21 consecutive points, had scored to make it a one-touchdown game, and now they had 49ers quarterback Colin Kaepernick facing 3rd-and-11…

Share Tweet

BBAO: Reconfiguring the Bears' OL again

ESPN.com

Nov 28, 2012

We're Black and Blue All Over: It appears that injuries and performance issues will leave the Chicago Bears with alternate starters at three of their five offensive line positions Sunday against the Seattle Seahawks. Michael C. Wright of ESPNChicago.com…

Share Tweet

Turnovers indicative of Bears' defense returning to form

The Bears weren't about to let another second-year quarterback and a good running team waltz all over them again.They weren't about to be questioned again. Instead, the Bears' defense did what's expected in a solid 28-10 victory Sunday against the

Share Tweet

Bulls Charge Past Mavericks, 101-78

Nov 28

Bulls cruise to win over Mavericks.

Countdown Daily AccuScore: SEA-CHI

Nov 28

Prim Siripipat goes inside the numbers for the Seahawks-Bears

Countdown Daily Prediction: Seahawks-Bears

Nov 28

The NFL Live crew makes their picks for Seattle at Chicago

Jimmy Butler On The Bulls' Bench Contribution

Nov 28

Jimmy Butler talks about the bench's contribution in the team's win over the Mavericks.