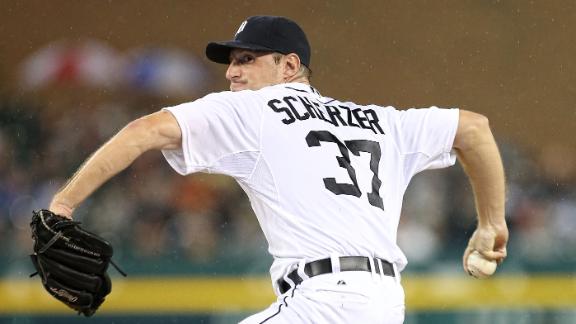 Max Scherzer became baseball's first 20-game winner Friday night, pitching through bad weather for six innings to help the Detroit Tigers to a 12-5 victory over the Chicago White Sox.
Share
Tweet
Former Chicago Bears great Gale Sayers has sued the NFL, becoming the latest former player to hold the league accountable for health problems stemming from head injuries.

Share Tweet

suntimes.com profootballtalk.com ESPN.com

Sep 20, 2013

Bears Pro Bowl cornerback Charles Tillman practiced on a limited basis Friday because of a knee injury and is questionable for Sunday night's game against the Pittsburgh Steelers at Heinz Field. ''He worked about half the reps,'' coach Marc Trestman sai…

Share Tweet

Budging Steelers' D-linemen will be weighty task for Bears

suntimes.com

Sep 20, 2013

Through two games, it'd be easy to think of Matt Forte as someone with more draws than a Chicago bridge and who, when his teammates are covered, is quick to catch the ball on a check-down. "This week," Forte said, "is a little different."

Share Tweet

Cubs closer Kevin Gregg has thrown down the gauntlet and screamed foul.

Share Tweet

Chris Johnson went 3 for 4 with a home run, and the Atlanta Braves beat the Chicago Cubs 9-5 on Friday to reduce their magic number to clinch the NL East to one.

Share Tweet

LAKE FOREST, Ill. -- All week long Chicago Bears players have pointed toward their game on Sunday night, and the national television audience that goes along with it, as one reason for inspiration. More important, obviously, is the chance to go 3-0 and …

Share Tweet

The Atlanta Braves activated outfielder Jason Heyward from the disabled list, and he wore a special face mask to protect his jaw during Friday's 9-5 win against the Chicago Cubs.

Share Tweet

suntimes.com

Sep 20, 2013

MARK POTASH: Henry Melton isn't one to make excuses, but ... ''I couldn't do anything for three weeks [after suffering a concussion in the preseason]. You can't help but get a little rusty after taking that kind of time off,'' Melton said.

Share Tweet

The NBA revises its media guidelines, including the creation of a 'Derrick Rose Rule,' of sorts

yahoo.com

Sep 20, 2013

During the 2012-13 season, Chicago Bulls point guard Derrick Rose frustrated Bulls fans and also local media by refusing to speak with the press about his ongoing recovery from an ACL tear suffered in the first round of the 2012 playoffs. Rose raised a …

Share Tweet

Heath Miller practiced for a third consecutive day, and the Steelers' tight end will play Sunday night against the Bears barring a setback

Share Tweet

ESPN.com Bears reporter Michael C. Wright joins me for Double Coverage as we preview the Chicago Bears-Pittsburgh Steelers game, which will be played Sunday night at Heinz Field. Michael, I never thought I'd say Pittsburgh sports fans are fortunate to h…

Share Tweet

Da Funny Man, Da Bears

CNNSI.com

Sep 20, 2013

Jeff Garlin is one of the stars of 'Curb Your Enthusiasm' and the upcoming ABC sitcom 'The Goldbergs.' (Danny Moloshok/Reuters) 1. I think if you're not from Chicago—I am—you might not understand the Bears are more popular than the Bulls, Blackhawks, So…

Share Tweet

LAKE FOREST, Ill. -- The old quarterback showed off his arm after practice Thursday as Chicago Bears head coach Marc Trestman played catch with tight end Martellus Bennett. Actually, it isn't uncommon for Trestman, the former signal caller at the Univer…

Share Tweet

Cutler, Cavallari guest-star on 'The League'

LAKE FOREST, Ill. -- Chicago Bears quarterback Jay Cutler flashed some comedic timing guest-starring with wife Kristin Cavallari on Wednesday night's episode of FXX's "The League." But Cutler maintains that acting probably isn't in his future after foot…

Share Tweet

'Playbook': Chicago Bears vs. Pittsburgh Steelers

Sep 20

Will the Chicago Bears remain undefeated or will the Pittsburgh Steelers capture their first win of the season? The Playbook crew makes its picks for this Week 3 showdown.

Braves Power Past Cubs

Sep 20

The Braves scored four runs in the ninth inning to defeat the Cubs 9-5.

The Bear Facts: Week 3

Sep 20

Jeff Dickerson, Michael C. Wright and Tom Waddle preview the Bears' matchup with the Steelers.

Weather update: Bears @ Steelers.

Sep 20

AccuWeather.com updates climate conditions for the Bears @ Steelers.