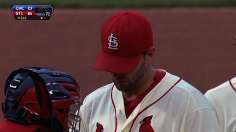 Chicago Bulls point guard Derrick Rose is confident in his surgically repaired left knee and is pleased with the way he performed during the first practice of the season.

Share Tweet

Alex Gordon fools Hawk Harrelson, sets off fireworks with awkward approach to flyball

yahoo.com

Sep 28, 2013

The Kansas City Royals and Chicago White Sox are just playing out the string this weekend at U.S. Cellular Field, but at least they teamed up to give us one final unusual play and one last memorable Hawk Harrelson soundbyte before they left the stage. D…

Share Tweet

profootballtalk.com

Sep 28, 2013

The Bears reportedly will have cornerback Charles Tillman for Sunday's key NFC North matchup at Detroit. According to Stacey Dales of NFL Network, Tillman, who's listed as questionable on the injury report with knee and groin ailments, will play against…

Share Tweet

ALLEN PARK, Mich. -- The season of streaks continues Sunday. The Chicago Bears have won nine of their past 10 games against the Detroit Lions, and 13 of their past 16. In other words, there is another long streak going on. Not as long as the 0-for-forev…

Share Tweet

Bears' unusual punt formation gives opponents something to study

The formation is goofy, and the snap is short. The Bears' punt formation looks unlike any other. Here's how and why: The formation The Bears run an offset punt, meaning the line has three blockers to one side of the snapper and one to the other. Special…

Share Tweet

Bears staff, players have kept distractions to minimum

Asked if he had warned rookie guard Kyle Long about Lions defensive tackle Ndamukong Suh this week, Bears offensive coordinator Aaron Kromer was almost defiant. ''We don't go by reputation; we go by tape,'' Kromer said. So does the tape show the reputat…

Share Tweet

Jay Cutler's hands are whacked in every practice. He drops back — whack. A few more times — whack, whack, whack. On and on it goes until quarterbacks coach Matt Cavanaugh puts down his padded bat and moves on to the next drill. ''The most important thin…

Share Tweet

Four downs with Ditka

1. Marc Trestman seemingly has been able to get out of Jay Cutler in a few months what several coaches before him have not over several seasons. What's the difference here? Well, Marc is a great teacher. What he's done is teach Jay the things that will …

Share Tweet

The St. Louis Cardinals clinched their first NL Central title in four years, beating the Chicago Cubs 7-0 on Friday night behind the strong pitching of Lance Lynn and home runs by David Freese and Matt Holliday.

Share Tweet

Detroit Lions and Chicago Bears, oh my

Sep 28

For NFC North supremacy after Week 4, who wins the battle in the trenches between the Detroit Lions' defensive line and the Chicago Bears' offensive line?

Brandon Marshall Conversation

Sep 28

Bears WR Brandon Marshall sits down with Hall of Famer Mike Ditka to talk about becoming a legend in Chicago, respecting the game of football and the change in culture Marc Trestman has brought to the organization.