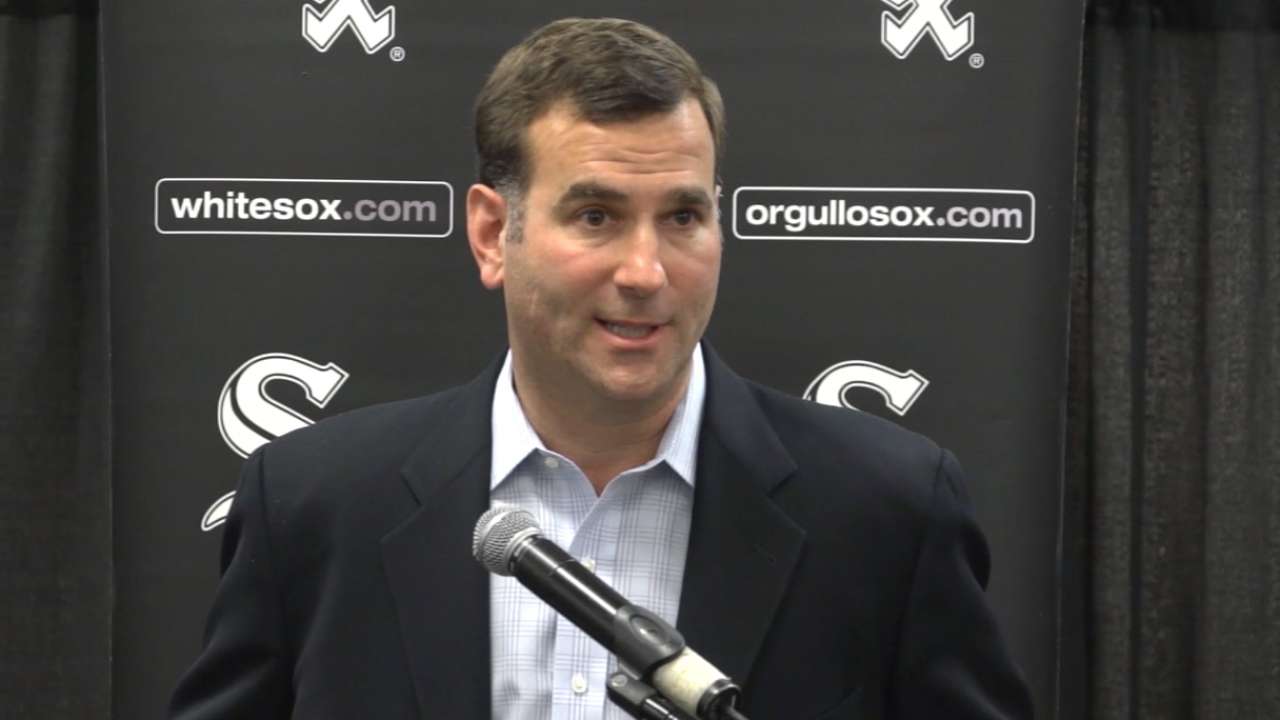 SoxFest concludes with high hopes for 2015
MLB.com
Updated 16 hours ago
SoxFest '15, which concluded Sunday afternoon at the Hilton Chicago, was almost exclusively messages of thanks and visions of grandeur toward the team's second playoff appearance since the White Sox won the World Series 10 years ago.
Upvote
Share
Tweet
White Sox add baserunning legend Coleman to staff

MLB.com

Jan 24 (yesterday)

Vince Coleman will join the team as a baserunning coach, advisor and consultant, working this season at the big league and the Minor League level, per general manager Rick Hahn. Coleman, who had 752 career stolen bases in 929 attempts, begins his new jo…

Upvote Share Tweet

Memories of '05 championship rekindled at SoxFest

MLB.com

Jan 23 (2 days ago)

One by one, Jerry Reinsdorf, Ken Williams, Geoff Blum, Bobby Jenks and Joe Crede recounted their favorite moment from the 2005 White Sox World Series championship during an entertaining seminar celebrating the 10-year-anniversary of this title at SoxFes…

Upvote Share Tweet

MLB.com

Jan 23 (2 days ago)

Left-hander Carlos Rodon, the White Sox top prospect, is driven to prove he belongs on Chicago's Opening Day roster for 2015, less than a year after the club selected him No. 3 overall in the Draft.

Upvote Share Tweet

Hahn surprised, emboldened by offseason success

MLB.com

Jan 23 (3 days ago)

White Sox general manager Rick Hahn readily admits that the October 2014 version of himself might not believe it if you told him how the club's offseason would go.

Upvote Share Tweet

White Sox trio visits young patients at hospital

MLB.com

Jan 22 (4 days ago)

White Sox manager Robin Ventura, right fielder Avisail Garcia and left-handed reliever Dan Jennings visited with young patients and their families at University of Chicago Medicine Comer Children's Hospital, delivering White Sox gifts to get fans at Com…

Upvote Share Tweet

White Sox agree to deals with Soto, Penny

ESPN.com

Jan 22 (4 days ago)

Former NL Rookie of the Year Geovany Soto and two-time All-Star pitcher Brad Penny have agreed to minor league contracts with the Chicago White Sox.

Upvote Share Tweet

White Sox announce 2015 staff assignments

MLB.com

Jan 21 (5 days ago)

The White Sox announced on Wednesday their player-development staff assignments for the 2015 season, with a few changes from '14.

Upvote Share Tweet

Podsednik set to reminisce about Series shot at SoxFest

MLB.com

Jan 19 (7 days ago)

Scott Podsednik will relive one of the greatest moments in White Sox history as well as numerous other memories from the special season during SoxFest this weekend. The festivities all but officially begin the 10-year anniversary celebration, with nine …

Upvote Share Tweet

White Sox reach terms with Samardzija, Flowers

MLB.com

Jan 16

The White Sox avoided arbitration with right-handed starter Jeff Samardzija and catcher Tyler Flowers and, agreeing to terms with their final two arbitration-eligible players on Friday.

Upvote Share Tweet

Considering the man already has a statue, retiring Paul Konerko's jersey number was the obvious next step for the White Sox to take to honor their longtime slugger. The date of the ceremony to retire Konerko's No. 14 has been set for May 23, when Chicag…

Upvote Share Tweet

nytimes.com

Jan 15

A pitch clock will be used this season in minor league games at Class AAA and Class AA, but it has been ruled out for the major leagues this year.

Upvote Share Tweet

White Sox avoid arbitration with three right-handers

MLB.com

Jan 15

The White Sox agreed to terms on one-year contracts with right-handed pitchers Hector Noesi, Javy Guerra and Nate Jones, avoiding arbitration with all three.

Upvote Share Tweet

Anderson eager to seize second chance with White Sox

MLB.com

Jan 14

Brian Anderson is guaranteed nothing by the Minor League deal that was agreed upon with the White Sox on Wednesday. Not a spot on the team's 40-man roster. Not an invite to big league Spring Training. Not even a job with Triple-A Charlotte after Minor L…

Upvote Share Tweet

Viciedo, White Sox come to terms on 1-year deal

MLB.com

Jan 12

The White Sox reduced their total of arbitration-eligible players to five by agreeing to terms with outfielder Dayan Viciedo on a one-year, $4.4 million contract.

Upvote Share Tweet

Amid flurry of offseason moves, White Sox spending wisely

MLB.com

Jan 12

The best way to describe the White Sox offseason to date would be flexible aggressiveness. There's no reason to delve further into the aggressiveness portion. As for the flexible part of the maneuvers, closer David Robertson's four-year, $46 million dea…

Upvote Share Tweet

Extreme Makeover Baseball Edition: Chicago White Sox suddenly lookin' pretty

nydailynews.com

Jan 10

Whew! You probably sensed this already, but this has been one of the most active baseball offseasons in history.

Upvote Share Tweet

White Sox prospects find mini-camp quite beneficial

MLB.com

Jan 8

Spring Training workouts won't begin for at least six weeks for most of the 13 players taking part in the second annual White Sox hitters mini-camp at Camelback Ranch in Arizona. But with the conclusion of the three-day workout Wednesday, many of the to…

Upvote Share Tweet

Excited about Sox moves, Abreu eyes playoff berth

MLB.com

Jan 8

White Sox slugger and American League Rookie of the Year Jose Abreu readily admits that general manager Rick Hahn's aggressive offseason personnel maneuvers have directly influenced his continued improvement with English comprehension.

Upvote Share Tweet

MLB.com

Jan 7

The reshaping appears nearly complete, with the new-look White Sox roster a little more than a month away from taking the field together for the first time in Spring Training.

Upvote Share Tweet

Mint Condition: Jeter's MVP Of 2014

Jan 8

Adam Martin, CEO of Dave and Adam's Card World, recaps some of the trading-card highlights of 2014, including contributions to the hobby by LeBron James, Odell Beckham Jr. and Derek Jeter.

Melky Cabrera, White Sox Agree To Deal

Dec 14

ESPN senior MLB writer Jerry Crasnick breaks down Melky Cabrera's three-year, $42 million deal with the White Sox.

Giants Out Of Lester Bidding

Dec 9

"Baseball Tonight" analysts Karl Ravech, Jim Bowden, Jerry Crasnick and Tim Kurkjian report from the winter meetings, including the latest on Jon Lester's free-agent decision and other pitchers available to the teams that don't sign Lester.

Ventura Excited About Getting Samardzija

Dec 9

White Sox manager Robin Ventura comments on the team's acquisition of Jeff Samardzija, finding time at first base for both Jose Abreu and Adam LaRoche and the state of the American League Central.