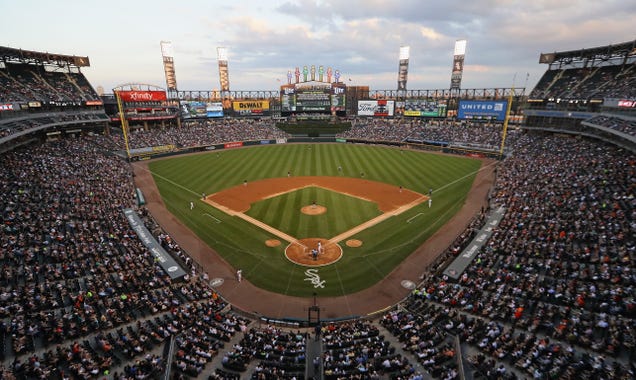 deadspin.com
ESPN.com
MLB.com
Updated 1 hour ago
The White Sox got themselves a new stadium naming-rights deal, and it's a laugher. Starting next season, U.S. Cellular Field, formerly the second Comiskey Park, will go by: Guaranteed Rate Field. Yes it will.Read more...
Share
Tweet
Joseph, Hernandez Homer as Phillies Beat White Sox 5-3

nytimes.com

12 hours ago

Battered in back-to-back games, the Phillies came out swinging this time.

Share Tweet

MLB.com nytimes.com

Aug 24 (yesterday)

Carlos Rodon went from May 23 to Aug. 11 without a victory, but factoring in his 6 2/3-inning shutout performance during a 9-1 trouncing of the Phillies on Tuesday night at U.S. Cellular Field, the White Sox hurler has gone four straight starts without …

Share Tweet

Lawrie back with White Sox, not ready for action

MLB.com

Aug 23 (yesterday)

Brett Lawrie was back in the White Sox clubhouse Tuesday but not ready to suit up for the team.

Share Tweet

Garcia returns, Sox option fellow outfielder Coats

MLB.com

Aug 23 (yesterday)

The White Sox activated right fielder Avisail Garcia from the 15-day disabled list on Tuesday before their game against the Phillies at U.S. Cellular Field. Chicago optioned outfielder Jason Coats to Triple-A Charlotte in a corresponding move.

Share Tweet

Young White Sox arms get chance down stretch

MLB.com

Aug 22 (3 days ago)

With the White Sox sitting five games under .500, the club is giving pitchers extended looks in the bullpen as a way of developing and possibly auditioning for a bigger role in 2017.

Share Tweet

yahoo.com

Aug 21 (4 days ago)

At the plate, the Oakland Athletics have been punchless this season. In the clubhouse, the team apparently has a lot of fight. According to Susan Slusser of the San Francisco Chronicle, designated hitter Billy Butler missed two games against the Chicago…

Share Tweet

MLB.com nytimes.com

Aug 21 (4 days ago)

The only people with a greater postgame celebration than Jose Quintana following a 4-2 White Sox victory over Oakland Sunday probably would be the White Sox fans supporting the All-Star.

Share Tweet

nytimes.com

Aug 20 (5 days ago)

Chris Sale raced out as the majors' first 14-game winner and was the AL starter in the All-Star game. Then the White Sox ace hit a rut and drew attention not for his pitching, but his jersey-shredding tirade.

Share Tweet

MLB.com

Aug 20 (5 days ago)

Today's Major League action features several of the game's top hurlers toeing the rubber. The Nationals' Max Scherzer, the White Sox Chris Sale, the Mariners' Felix Hernandez and the Orioles' Chris Tillman are each scheduled to start.

Share Tweet

MLB.com nytimes.com

Aug 19 (5 days ago)

Kendall Graveman was razor sharp on the mound for the A's. James Shields definitely was not for the White Sox, and those two facts pretty much sum up Oakland's 9-0 victory over the White Sox on Friday night at U.S. Cellular Field.

Share Tweet

yahoo.com

Aug 19 (6 days ago)

When the dust settles on the 2016 season, there will likely be articles about the best and worst trade deadline acquisitions. These players either rose to the occasion and singlehandedly pushed their new clubs to the playoffs, or they crashed and burned…

Share Tweet

Coming up 'empty': Effort there, wins not for Sox

MLB.com

Aug 19 (6 days ago)

The White Sox held a three-run lead after the first, turned four double plays behind starter Carlos Rodon and used a stellar defensive play from Tim Anderson and Jose Abreu to stop a sixth-inning rally. And they still ended up on the wrong end of a 5-4 …

Share Tweet

nytimes.com

Aug 18 (7 days ago)

When Cleveland manager Terry Francona suddenly wanted to put up a pinch-hitter in the middle of an at-bat, he knew where to get a guy.

Share Tweet

Naquin not nappin', walks Tribe off in mid-AB pinch

MLB.com

Aug 18 (7 days ago)

Tyler Naquin was ready in the dugout with a bat in his hands, but he fully expected Indians catcher Roberto Perez to hit in the ninth inning on Thursday night. After a passed ball moved Abraham Almonte up to third base, Naquin's name was called. "I…

Share Tweet

deadspin.com yahoo.com nytimes.com MLB.com

Aug 18 (7 days ago)

Last night, Adam Eaton hit a ninth-inning grand slam to send the White Sox home with a 10-7 win over the Indians. And he did it while blowing a bubble, which seems a little dangerous but adds unexpected flair to baseball's most magical outcome. After th…

Share Tweet

MLB.com

Aug 17

Circumstances dictated that the Indians play a man short on Wednesday night. Prior to Cleveland's game against the White Sox, the Indians placed starting pitcher Josh Tomlin on Major League Baseball's Family Medical Emergency List, giving the right-hand…

Share Tweet

White Sox Legend Minoso Dies

Mar 1

Pedro Gomez discusses the life and legacy of Minnie Minoso, Major League Baseball's first black player in Chicago, who died Sunday.

Chris Sale Sidelined With Fractured Foot

Mar 1

Pedro Gomez has the latest on White Sox ace Chris Sale, who suffered a fracture in his foot in an accident at his home and will miss at least three weeks of preparation time for the regular season.

Timetable For Chris Sale's Return

Mar 1

ESPN injury analyst Stephania Bell discusses the severity of White Sox pitcher Chris Sale's foot injury and when he may be able to return.

Players To Watch: White Sox

Feb 24

Aaron Boone breaks down outfielder Avisail Garcia's importance to the White Sox's success.