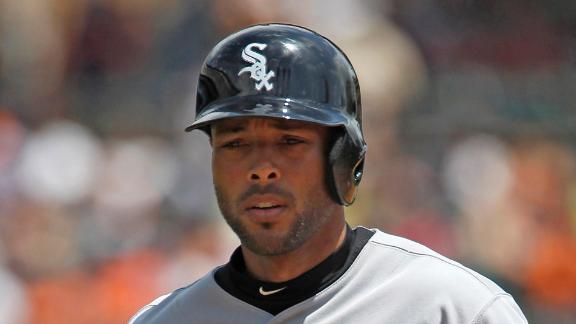 Updated Aug 8
Share
Tweet
The Texas Rangers have put in a claim on Chicago White Sox outfielder Alex Rios, a source told ESPN Insider Jim Bowden.
Source:
ESPN.com
Hahn: White Sox will reshape, not rebuild

Updated Aug 8

Share Tweet

GM Rick Hahn has a plan to bring the White Sox back into contention on the heels of this disappointing 2013 campaign, but he's holding the details close to the vest. However, he has made it clear that he's looking to reshape, not completely rebuild the …

Source:

MLB.com

Phillies claim Wells off waivers from White Sox

Updated Aug 8

Share Tweet

The Phillies on Thursday claimed outfielder Casper Wells off waivers from the White Sox.

Source:

MLB.com

The Juice: Mariano Rivera blows save as White Sox sweep, Tigers and Braves extend winning streaks

Updated Aug 8

Share Tweet

The Juice returns for season No. 6! It's almost eligible for free-agency! Stop by daily for news from the action, along with great photos, stats, video highlights and more. Get me rewrite: Chicago's retirement gift for the great Mariano Rivera? How abou…

Source:

yahoo.com

Updated Aug 8

Share Tweet

Down to their last strike in the 12th inning, the White Sox rallied for a 6-5 victory against the Yankees on Wednesday night at U.S. Cellular Field on Alejandro De Aza's walk-off, two-run triple.