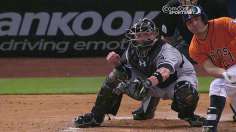 Sale strikes out 14 in CG, but White Sox lose to Astros
Share
Tweet
Errors Spoil Sale's Solid Start

Jun 14

Chris Sale struck out 14 batters over eight innings, but errors from the White Sox defense led to a 2-1 victory for the Astros.
Sports Columnists
2013 NBA playoffs -- San Antonio Spurs and Miami Heat think through the NB…

Jun 14

LeBron must get fired up to be his best. The Spurs rely on an even keel. J.A. Adande explores the two approaches of the NBA Fnalists.

2013 NBA Finals: Manu Ginobili 'surprised' by struggles

Jun 14

The Spurs' swingman is struggling in the Finals and searching for answers.