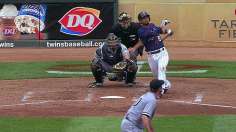 Sign him up! Minnesota Twins ball boy makes a sensational leaping catch

yahoo.com

Jun 20, 2013

"You gotta have some skills to be a ball boy." The play of the day might just go to a ball boy. During Thursday's Chicago White Sox-Minnesota Twins game, a Twins ball boy made a great leaping grab on a line drive hit by Alexei Ramirez of the W…

Share Tweet

Peavy takes encouraging step from broken rib

MLB.com

Jun 20, 2013

White Sox pitcher Jake Peavy clocked some time on the bike Wednesday, his first bit of notable exercise since suffering a broken rib earlier this month.

Share Tweet

MLB.com

Jun 20, 2013

As Justin Morneau put it, the monkey was finally off his back after homering on Wednesday against the White Sox. Morneau connected on a two-run blast in the seventh inning to give him his first homer since April 28, and his third of the season. It ended…

Share Tweet

Twins Sweep White Sox

Jun 20

Brian Dozier hit one of four home runs off starter John Danks as the Twins completed their first three-game sweep of the season with an 8-4 win over the White Sox.