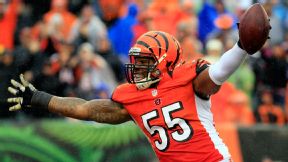 ESPN.com
bengals.com
profootballtalk.com
Updated 15 hours ago
CINCINNATI -- Vontaze Burfict missed his second straight practice for the Cincinnati Bengals on Thursday, sidelined with an ailment defensive coordinator Paul Guenther previously called a "stomach bug." The linebacker's second day of rest came…
Upvote
Share
Tweet
Notes: Jones digging in on corner; Burfict out again; Draft Day matchup

bengals.com

16 hours ago

Adam Jones loves playing cornerback. Updated: 7:05 p.m. Devin Hester is the only active NFL player with more punt return touchdowns than Adam Jones and yet there's a reason he still has more retu...

Upvote Share Tweet

Report: Kyle Cook retiring after six seasons

profootballtalk.com

17 hours ago

Center Kyle Cook never caught on with another team after being released by the Bengals in March and now it looks like he won't be doing it in the future either. Adam Caplan of ESPN reports that Cook has decided to retire after six seasons. Cook went und…

Upvote Share Tweet

bengals.com

Aug 20 (yesterday)

NBC analyst Cris Collinsworth: "Giovani as good as there is." This is why former Bengals wide receiver Cris Collinsworth has won an Emmy all five years he's been the analyst in NBC's Sunday Night ...

Upvote Share Tweet

CINCINNATI -- The Cincinnati Bengals are one of seven NFL franchises valued at less than $1 billion, according to the Forbes NFL Team Values list that was released Wednesday. The Bengals are worth about $990 million, according to the magazine. They outp…

Upvote Share Tweet

Rags to riches: With multiple media reports bannering an extensio…

bengals.com

Aug 20 (yesterday)

With multiple media reports bannering an extension for Vontaze Burfict, the Bengals continue their tradition of using the preseason as their March Madness for free agency.

Upvote Share Tweet

Bengals still without Dennard, Burkhead

CINCINNATI -- When the Cincinnati Bengals returned to practice Wednesday after a day off Tuesday, they were once again without cornerback Darqueze Dennard and running back Rex Burkhead, among others. Both were hurt in Saturday's 25-17 preseason loss to …

Upvote Share Tweet

profootballtalk.com ESPN.com bengals.com

Aug 20 (yesterday)

The Bengals are about to get one of their best players back on the field. According to Coley Harvey of ESPN.com, defensive tackle Geno Atkins is scheduled to play a few series Sunday against the Cardinals. Atkins, who tore his ACL on Oct. 31, was activa…

Upvote Share Tweet

CINCINNATI -- Marvin Lewis had to pause for a few minutes and file through his memory bank. "The last time I talked to Carson," the Cincinnati Bengals head coach said, his eyes drifting as he visibly scanned his mind for the exact moment when …

Upvote Share Tweet

Rex Ryan shrugs off Bengals' criticism of his late blitzes

profootballtalk.com

Aug 20 (yesterday)

Andy Dalton routinely lights up the Jets anyway. But the next time they see each other, the Bengals have another reason to play their best. Bengals offensive line coach Paul Alexander took exception to Rex Ryan's blitz calls late in Saturday's game. "No…

Upvote Share Tweet

Bengal Morning Takes: Blitz-gate firestorm

CINCINNATI -- It was rather surprising to me that on Tuesday, some four days after the Cincinnati Bengals' backup offenses first took blitz after first-team New York Jets blitz, we were still discussing the issue. Was it really that big of a deal? Did t…

Upvote Share Tweet

Bengals' O-linemen also want to 'finish'

ESPN.com

Aug 19 (2 days ago)

CINCINNATI -- If you had the opportunity to watch the Cincinnati Bengals' open training camp practices earlier this month, you probably heard one word shouted more frequently and more emphatically than any other. Finish! It was a command most often give…

Upvote Share Tweet

bengals.com

Aug 19 (3 days ago)

The NFL expanded their practice squads from eight to 10 players Tuesday and opened up two of those spots for players who have earned no more than two accrued seasons of free agency credit. The othe...

Upvote Share Tweet

Hobson's Choice: in-depth questions

bengals.com

Aug 19 (3 days ago)

The return of healthy rookie wide receiver James Wright is going to help depth. Hello Geoff , Given the performance of the second and third string units , would it be wrong to suggest some effor...

Upvote Share Tweet

Bengals Extend OLB Vontaze Burfict

Aug 20

Eric Allen discusses the path taken by Vontaze Burfict from being undrafted out of Arizona State to being considered a leader on the Bengals' defense.

Atkins To Make Preseason Debut

Aug 20

Eric Allen discusses how the Bengals should approach using Geno Atkins during the remainder of the preseason.

Bengals Seeking Depth On Defense

Aug 19

Cincinnati Bengals reporter Coley Harvey talks about success of the Bengals' first-team defense and also defensive coordinator Paul Guenther's struggle to find depth at the bottom of the team's roster.

New York Jets vs. Cincinnati Bengals preseason highlights

Aug 17

Quarterback Andy Dalton has an outstanding performance but it is not enough as the New York Jets defeat the Cincinnati Bengals 25-17.