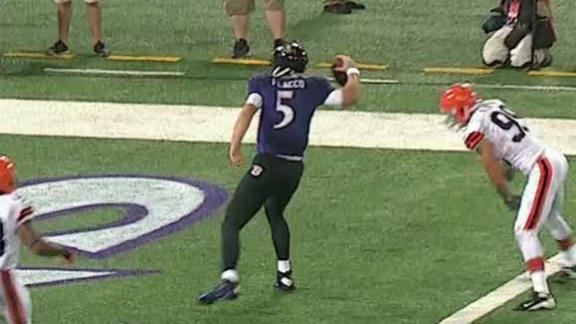 Updated Sep 27, 2012
Share
Tweet
BALTIMORE -- A few thoughts on the Baltimore Ravens' 23-16 victory over the Cleveland Browns at M&T Bank Stadium on Thursday: What it means: The Ravens (3-1) took a half-game lead in the AFC North over the Bengals (2-1) by winning their franchise-re…
Source:
ESPN.com
Updated Sep 27, 2012

Share Tweet

Chris Crocker Strength coach Chip Morton heckled him about lifting weights. Cornerback Adam Jones razzed him about getting to a meeting. Wide receiver Andrew Hawkins kidded him about being the only...

Crock's Back; Lee Out

Updated Sep 27, 2012

Share Tweet

With Nate Clements in a walking boot, Leon Hall nursing a hammy, Jason Allen down-again! and Dre Kirkpatrick still out, the Bengals had an alarming lack of depth in the secondary.  The only healthy corners as of this writing are Adam Jones and Terence N…

Source:

whodeyfans.com

Green-Ellis hopes his first career fumble was his last

Updated Sep 27, 2012

Share Tweet

Bengals running back BenJarvus Green-Ellis did something on Sunday that he had never done before in his five-year NFL career: He fumbled. Green-Ellis, who played four years for the Patriots before signing with the Bengals this year, had touched the ball…

Source:

profootballtalk.com

Updated Sep 27, 2012

Share Tweet

I had a strong start to my Week 3 predictions last Sunday when the Bengals beat the Redskins and the Browns lost to the Bills. But two game-ending field goals did me in, as the Ravens beat the Patriots and the Steelers lost to the Raiders. Only two game…

Source:

ESPN.com

Bengals rotation weighs in

Updated Sep 27, 2012

Share Tweet

Michael Johnson A.J. Green couldn't resist on Wednesday. He saw right end Michael Johnson holding media court after being named AFC Defensive Player of the Week with a career-best three sacks and r...

Source:

bengals.com

Countdown Daily Prediction: Bengals-Jaguars

Sep 27

The NFL Live crew makes their picks for Cincinnati at Jacksonville

Preview: Cincinnati Bengals vs. Jacksonville Jaguars

Sep 27

NFL Films previews the Week 4 matchup between the Cincinnati Bengals and the Jacksonville Jaguars.

Sports Columnists

Biggest NFL games of Week 4 -- John Clayton's First & 10

Sep 27

Roger Goodell's influence will be felt when the struggling Saints and Packers meet on Sunday, writes John Clayton.

Don Banks: Saviors now, regular refs will be scrutinized more than ever in…

Sep 27

When the NFL's regular crews of referees mercifully get back to work, starting Thursday night in Baltimore, let's hope they're ready for their close-up. Because this is going to be the closest close-up the league's game officials have ever experienced.