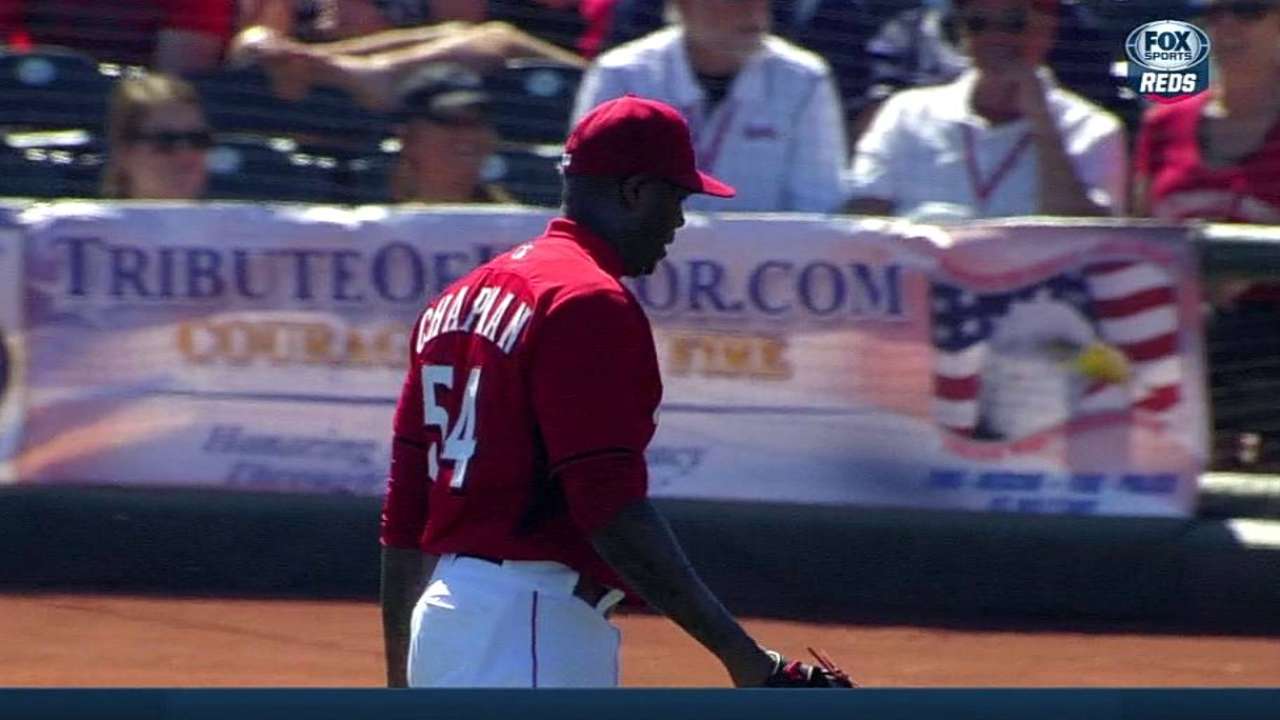 nytimes.com
MLB.com
Updated 1 hour ago
After a harrowing spring injury, the Reds' Aroldis Chapman had one of the most dominant seasons. Chapman can be a free agent after 2016, which puts the Reds in a quandary.
Upvote
Share
Tweet
Gomes' first spring hit clears left-field wall

MLB.com

6 hours ago

Yan Gomes enjoyed a breakout season last year, working through his first full season as the Indians' starting catcher and earning a Silver Slugger Award for his showing at the plate. In a 9-3 Cactus League victory over the Reds, Gomes picked up right wh…

Upvote Share Tweet

Cingrani determined to win rotation job

MLB.com

9 hours ago

Reds left-hander Tony Cingrani not only sounded determined in that he wanted a spot in the club's rotation, but also that he needed it, too.

Upvote Share Tweet

Votto close to making Cactus League debut

MLB.com

13 hours ago

Reds star Joey Votto, who missed 100 games last season because of a distal strain of his left quadriceps, was not in the lineup for the first three spring games vs. the Indians. However, manager Bryan Price said Thursday that Votto's will soon see game …

Upvote Share Tweet

Gregg aims to nail down spot in Reds' 'pen after 'strange' 2014

MLB.com

Mar 4 (yesterday)

Veteran reliever Kevin Gregg is in Reds' camp on a Minor League deal, hoping to land a spot in the Cincinnati bullpen.

Upvote Share Tweet

MLB.com

Mar 4 (yesterday)

In his first-ever Spring Training game for the Reds, Raisel Iglesias wasn't entirely crisp and had far-from-perfect results during a 4-2 loss to the Indians. But Iglesias was also about two years removed since the last time he had anything resembling a …

Upvote Share Tweet

Reds Have 6 Doubles in 10-0 Win Over Indians

nytimes.com

Mar 3 (2 days ago)

Brandon Phillips, Todd Frazier and Jay Bruce each had one of the Cincinnati Reds' six doubles in a 10-0 win over the Cleveland Indians on Tuesday, the spring opener for both teams.

Upvote Share Tweet

Rotation hopeful Marquis makes strong first step

MLB.com

Mar 3 (2 days ago)

Jason Marquis pitched two scoreless innings and Devin Mesoraco kick-started a potent offensive performance as the Reds began Cactus League play with a win over the Indians on Wednesday.

Upvote Share Tweet

MLB.com

Feb 28 (5 days ago)

Reds' veteran second baseman Brandon Phillips arrived at Spring Training healthy and won't be limited after suffering a thumb injury that required surgery in 2014.

Upvote Share Tweet

Frustration fuels Cozart's motivation for 2015

MLB.com

Feb 26

A lack of offensive production often killed the Reds last season, leaving many hitters with a lot to prove during the 2015 campaign. Coming off of the worst year of his career, shortstop Zack Cozart is one of them.

Upvote Share Tweet

Reds pitcher Homer Bailey won't be ready for the start of the season as he recovers from surgery on Sept. 5 to repair a torn right flexor tendon.

Upvote Share Tweet

Byrd: Reds camp has great energy, attitude

MLB.com

Feb 24

All 64 players in Reds camp took part in the club's first full-squad workout on Tuesday afternoon. Position players that reported on Monday underwent physicals on Tuesday morning, followed by a team meeting.

Upvote Share Tweet

Votto defends Reds' clubhouse leadership

MLB.com

Feb 24

Reds first baseman Joey Votto already has pushed back last week against personal criticism about his hitting approach. On Tuesday, Votto took to task those who say that his team has no leaders, especially since the departure of veteran Scott Rolen, who …

Upvote Share Tweet

Mat Latos is known just as much for his fiery personality as he is for his fire-balling right arm on the mound, so the following shouldn't come as any suprise. The 27-year-old starting pitcher was dealt to his hometown Miami Marlins in December after th…

Upvote Share Tweet

The real test for Joey Votto will come once spring training officially starts for Cincinnati's position players. For now, though, he's encouraged.

Upvote Share Tweet

Marshall questionable for Opening Day

MLB.com

Feb 22

Reds reliever Sean Marshall is now a question mark for Opening Day after not throwing for the past week and a half. After arriving to camp about two weeks early, his throwing program was shut down because of inflammation in the shoulder.

Upvote Share Tweet

Reds being cautious with prospect Stephenson

MLB.com

Feb 20

All of the Reds pitchers and catchers passed the physicals that were taken on Thursday, but minor issues are occasionally presented. That's one reason why the club is going to limit No. 1 prospect Robert Stephenson from throwing off of a mound.

Upvote Share Tweet

Iglesias among Reds pitchers to throw on Day 1

MLB.com

Feb 19

The buzz of the first workout at Reds Spring Training on Thursday was often dominated by the familiar whooshing sound of baseballs being pitched at high velocity, followed by the pops of those balls into catchers' mitts.

Upvote Share Tweet

Reds skipper Price unconcerned with job security

MLB.com

Feb 19

A reporter on Thursday mistakenly asked if Reds manager Bryan Price was on the hot seat because he was in the final year of a two-year contract. When Price was promoted from pitching coach to manager in October 2014, he signed a three-year contract afte…

Upvote Share Tweet

Johnny Cueto would like to have a new contract from the Cincinnati Reds before Opening Day.

Upvote Share Tweet

Reds report to camp, ready to rise up in tough division

MLB.com

Feb 18

In the four years from 2010-13, the Reds reached the postseason three times and were often viewed as the team to beat in the National League Central. A big step backward in 2014 means the club will have to earn some respect again. That began in earnest …

Upvote Share Tweet

Buster's Blog: MLB's Stance On Pete Rose

Feb 12

With the All-Star Game in Cincinnati this season, Buster Olney questions whether its time for Major League Baseball to reconsider its stance on Pete Rose.

Reds Dash Pirates' Division Hopes

Sep 28

Johnny Cueto pitched eight strong innings and drove in the go-ahead run to lead the Reds past the Pirates 4-1.

Santiago's Grand Slam Lifts Reds In 10

Sep 27

Ramon Santiago hit a game-winning grand slam in the 10th inning to lead the Reds past the Pirates 10-6.

Pirates Top Reds

Sep 26

The Pirates captured their 10th win in 12 games with a 3-1 victory over the Reds.