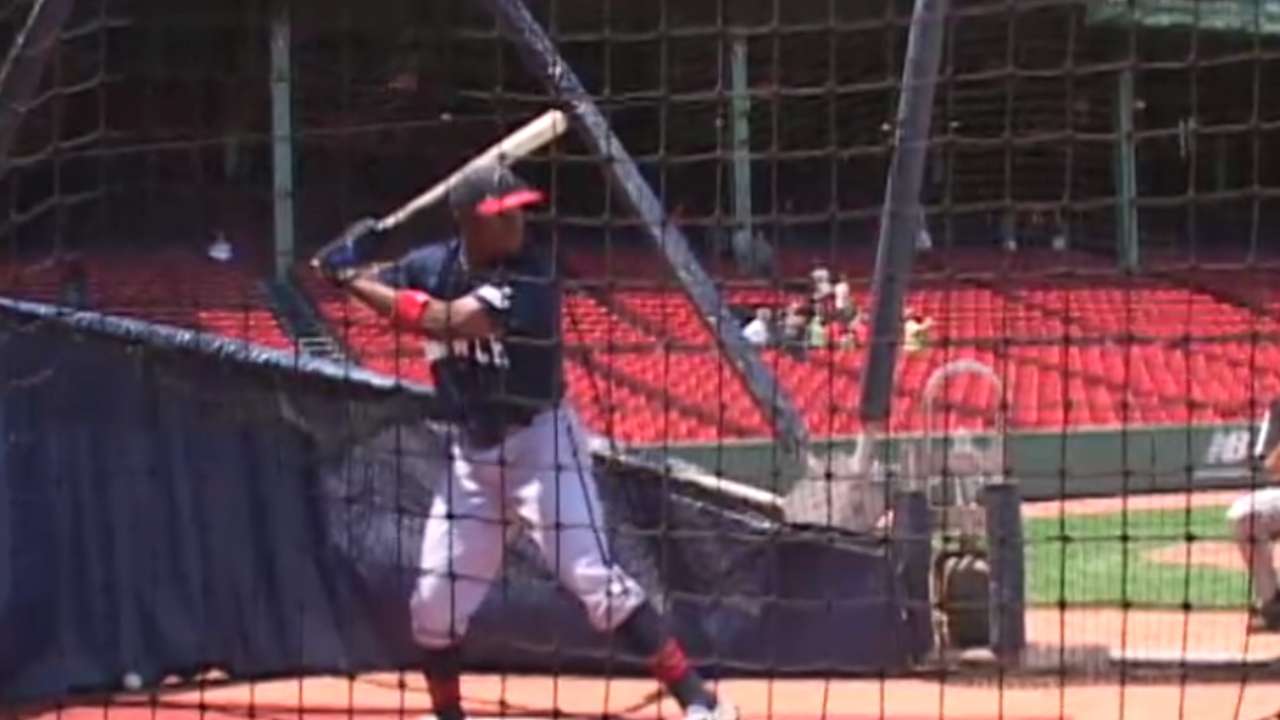 Ervin turns rough patch into learning experience
MLB.com
Updated Jan 29 (yesterday)
During the 2014 season with Class A Dayton, Reds outfield prospect Phil Ervin went through an extended funk at the plate for the first time in his brief professional career. How Ervin reacted to it proved to be one of the most significant learning exper…
Upvote
Share
Tweet
All-Star catcher Devin Mesoraco agreed to a $28 million, four-year contract on Monday, leaving Cincinnati Reds with two players in salary arbitration.

Upvote Share Tweet

Price enjoys give-and-take with passionate fans

MLB.com

Jan 24 (6 days ago)

One of the benefits of events like Reds Caravan is the direct dialogue between fans and team members.

Upvote Share Tweet

Frazier flies jet simulator, sings at caravan stop

MLB.com

Jan 24 (6 days ago)

Reds Caravan made a stop Saturday at the National Museum of the United States Air Force at Wright-Patterson Air Force base.

Upvote Share Tweet

Castellini eager for start of new Reds season

MLB.com

Jan 23

Coming off a tough 2014, Reds president and CEO Bob Castellini can't wait for the start of Spring Training: "We know we are contenders."

Upvote Share Tweet

yahoo.com

Jan 22

So Pete Rose is only banned from Major League Baseball when it's convenient? That seems to be the takeaway from the latest news about the 2015 MLB All-Star game, which is going to be held this July at Cincinnati's Great American Ball Park. Reds owner Bo…

Upvote Share Tweet

Reds confident in Votto's health entering spring

MLB.com

Jan 22

With the Reds set to open Spring Training in about one month, there is continued optimism about the health status of first baseman Joey Votto.

Upvote Share Tweet

After sitting out 2014, Marquis gets invite to Reds camp

MLB.com

Jan 21

The Reds added an intriguing comeback candidate to the mix on Wednesday, agreeing to terms with right-hander Jason Marquis on a Minor League contract that includes an invitation to attend Spring Training with the Major League club.

Upvote Share Tweet

Mijares could be Reds' latest low-risk, high-reward hurler

MLB.com

Jan 20

One area where many payroll-limited clubs often spend less and hope to get more is the bullpen. Sometimes, formerly successful pitchers that encountered a period of struggles can find a groove once again. With limitations on payroll but needs to improve…

Upvote Share Tweet

yahoo.com

Jan 18

Your browser does not support iframes. Bullpen trios are in again thanks to Kansas City Royals' ace relievers Greg Holland, Wade Davis and Kelvin Herrera. If you want to see where they were put on the map though, check out the next edition of MLB Networ…

Upvote Share Tweet

Reds exchange arb numbers with trio of All-Stars

MLB.com

Jan 16

The Reds' winter arbitration focus is now directed toward getting deals done with three All-Stars, in third baseman Todd Frazier, closer Aroldis Chapman and catcher Devin Mesoraco. Friday was the deadline for clubs and unsigned arbitration-eligible play…

Upvote Share Tweet

Cozart, Reds agree to terms on 1-year deal

MLB.com

Jan 16

Ahead of a deadline for teams and arbitration eligible players to exchange salary figures for potential hearings, the Reds and Zack Cozart agreed to terms on a one-year, $2.35 million contract.

Upvote Share Tweet

yahoo.com

Jan 14

The men's volleyball program at Mount St. Joseph University in Cincinnati doesn't have the funds or the backing to provide its athletes with a fancy locker room like those of other major universities around the country. However, thanks to a generous don…

Upvote Share Tweet

MLB.com

Jan 9

The Reds know that they are on the clock when it comes to getting a long-term contract extension done with Johnny Cueto. What are the odds that it will happen for the rotation ace? General manager Walt Jocketty was not willing to speculate.

Upvote Share Tweet

Reds claim Minors righty Sampson off waivers

MLB.com

Jan 8

The Reds claimed right-handed pitcher Keyvius Sampson off waivers from the Padres on Thursday. Sampson's addition gives Cincinnati a full 40-man roster.

Upvote Share Tweet

Spring workout dates announced for all clubs

MLB.com

Jan 8

Spring is officially on the horizon. Major League Baseball announced the first Spring Training workout dates for all 30 of its clubs on Thursday. Pitchers and catchers for the reigning World Series champion Giants -- along with the Phillies, Pirates and…

Upvote Share Tweet

With Byrd on board, Reds turn to other needs

MLB.com

Jan 5

Just under the wire before 2014 became 2015, the Reds addressed their left-field situation by trading for Marlon Byrd. But that didn't mean their offseason efforts to improve ended there.

Upvote Share Tweet

MLB.com nytimes.com yahoo.com ESPN.com

Jan 2

Despite turning 37 this past season, new Reds left-field acquisition Marlon Byrd achieved some career high-water marks in 2014. He achieved career highs in games and hit 25 home runs for the Phillies. But there was another career-high that did not pleas…

Upvote Share Tweet

Cueto won't talk contract beyond Opening Day

MLB.com

Dec 23, 2014

Not wanting to be sidetracked over prolonged contract negotiations, Reds ace Johnny Cueto has set a deadline for an extension to be completed with the club. Cueto and the Reds have until Opening Day to work out a deal, agent Bryce Dixon said.

Upvote Share Tweet

Reds still eyeing options for left field

MLB.com

Dec 22, 2014

One way or another come April 6, when the 2015 season opens vs. the Pirates, the Reds will have someone standing in left field when the first pitch is delivered at Great American Ball Park. Who that player shall be, and whether or not he will be a lineu…

Upvote Share Tweet

After playing a lot in '14, Pena stays home this offseason

MLB.com

Dec 17, 2014

Reds backup catcher Brayan Pena is usually a lock to play winter ball during his offseason, but that isn't the case during this particular offseason. Pena has decided to skip it this year -- pretty much.

Upvote Share Tweet

Reds Dash Pirates' Division Hopes

Sep 28

Johnny Cueto pitched eight strong innings and drove in the go-ahead run to lead the Reds past the Pirates 4-1.

Santiago's Grand Slam Lifts Reds In 10

Sep 27

Ramon Santiago hit a game-winning grand slam in the 10th inning to lead the Reds past the Pirates 10-6.

Pirates Top Reds

Sep 26

The Pirates captured their 10th win in 12 games with a 3-1 victory over the Reds.

Brewers' Loss Sends Giants Into Postseason

Sep 25

Brandon Phillips homered to lift the Reds to a 5-3 win over the Brewers and eliminate Milwaukee from playoff contention. The Giants clinched a playoff spot with the Brewers' loss.