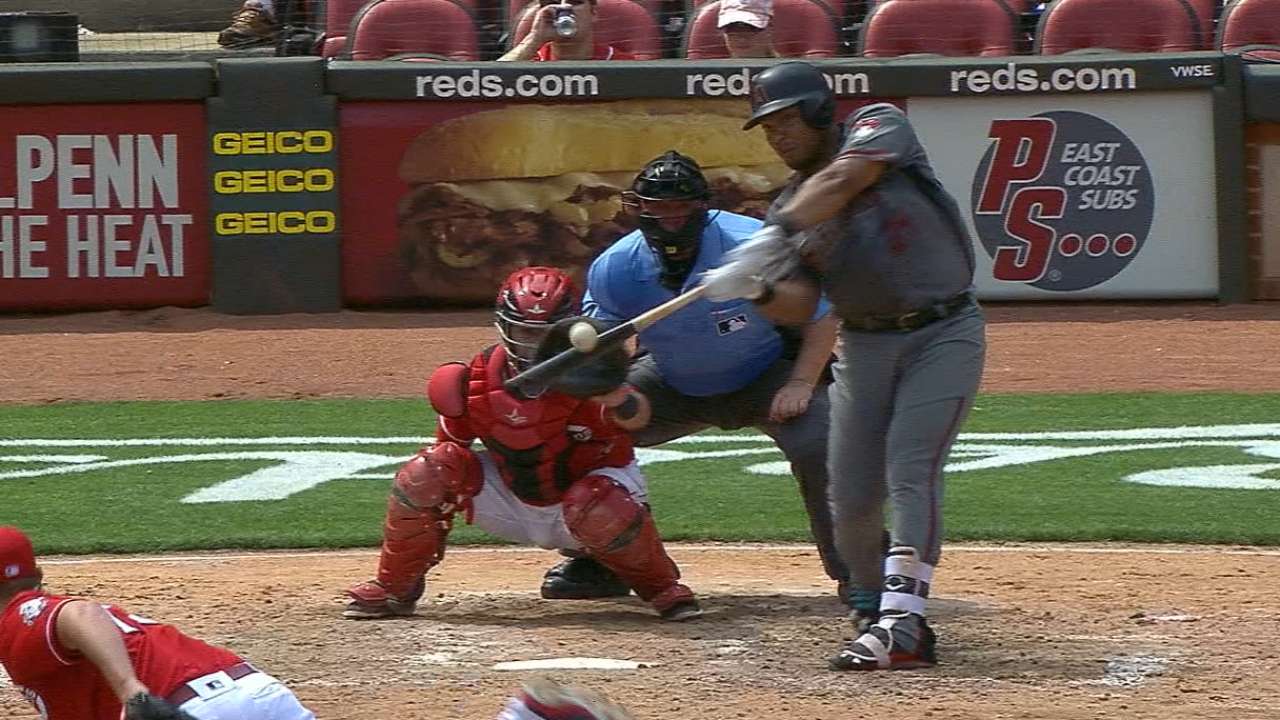 Tomas leads HR parade as D-backs top Reds
MLB.com
Updated Jul 24 (yesterday)
Normally, Friday night is reserved for fireworks at Great American Ball Park. But the D-backs brought their own on Sunday. With a four-homer performance, Arizona salvaged the third game of the series by topping the Reds, 9-8, and ending a four-game losi…
Share
Tweet
Diamondbacks Hit 4 Homers, Hold Off Reds 9-8

nytimes.com

Jul 24 (yesterday)

Paul Goldschmidt made his only hit in three games count.

Share Tweet

nytimes.com MLB.com

Jul 23 (yesterday)

The Reds have finally started winning as trading time approaches.

Share Tweet

yahoo.com

Jul 23 (2 days ago)

The Arizona Diamondbacks have been one of baseball's biggest disappointments this season, and now the focus is on manager Chip Hale's future. Expected to push the San Francisco Giants and Los Angeles in the National League West, the D-backs are last in …

Share Tweet

Reds Beat Braves 6-3, Take Series Between NL's Worst Teams

nytimes.com

Jul 20 (5 days ago)

Anthony DeSclafani is giving the Reds what they've missed most of the season.

Share Tweet

Game-Ender! Inciarte hits sac fly in 11th for win

MLB.com

Jul 20 (6 days ago)

It was a night where both teams' bullpens had spells of not getting the job done. But the messy battle of relievers was ultimately claimed by the Braves with a 5-4 victory over the Reds in 11 innings, with Ender Inciarte's sacrifice fly being the differ…

Share Tweet

Braves Blow Lead in 9th, Rally for 5-4 Win Over Reds in 11th

nytimes.com

Jul 19 (6 days ago)

Atlanta's bullpen blew a two-run lead in the ninth inning, but Ender Inciarte hit a sacrifice fly in the 11th that sent the Braves to a 5-4 win over the Cincinnati Reds on Tuesday night and evened a series between the NL's worst teams.

Share Tweet

Mesoraco undergoes surgery on right hip

MLB.com

Jul 18

Reds catcher Devin Mesoraco, out for the season since late April with a torn labrum in his left shoulder, had surgery Monday morning to repair the labrum in his right hip.

Share Tweet

nytimes.com MLB.com

Jul 17

Billy Hamilton didn't use up all of his speed to beat the Milwaukee Brewers on Sunday.

Share Tweet

Billy ball! Hamilton, Reds walk off on passed ball

MLB.com

Jul 17

The pitching for both the Reds and Brewers was airtight until Milwaukee let the wrong guy get on base: Billy Hamilton. The speedster scored from third base on a passed ball in the bottom of the ninth that gave the Reds a 1-0 walk-off victory on Sunday a…

Share Tweet

MLB.com

Jul 16

Reds center fielder Billy Hamilton created disruption on the bases and a difference in a game -- that's nothing new. Nor is the fact Hamilton once again made the opponent's defensive decisions more complicated for his own team's benefit.

Share Tweet

Duvall, Barnhart power Reds' rally in opener

MLB.com

Jul 15

With a three-run rally in the sixth, the Reds started the second half of their season by ending a three-game losing streak as they topped the Brewers 5-4 Friday night at Great American Ball Park.

Share Tweet

Price pushing for more playing time for Peraza

MLB.com

Jul 15

Since he is one of their top young players, the Reds would like infielder Jose Peraza to get enough playing time in the big leagues so he can keep advancing his development. It hasn't been easy, however. Peraza entered Friday with 21 games played and 60…

Share Tweet

Get Your Gator Fix With These Discounted Lacoste Shoes, Today Only

deadspin.com

Jul 14

Amazon's Gold Box is overrun with alligators. Grab 40% off Lacoste Shoes, today only, and don't forget to pair them with your Nantucket Reds and a polo or jazz it up with a white button down.Read more...

Share Tweet

Stanton's Homer Helps Marlins Complete Sweep of Reds, 7-3

nytimes.com

Jul 10

An NL All-Star jersey was draped over the chair at Giancarlo Stanton's locker Sunday, and lately it's looking like a better fit.

Share Tweet

Marlins capitalize on sloppy play, edge Reds

MLB.com

Jul 9

It was a day that came down to defense. In the Marlins' 4-2 victory over the Reds on Saturday at Marlins Park, they made a play that saved the day, while a mistake in the field sent Cincinnati to defeat.

Share Tweet

Prado's 3 Hits Help Marlins Beat Shaky Reds 4-2

nytimes.com

Jul 9

Martin Prado wasn't optimistic when the ball left his bat, and Miami Marlins manager Don Mattingly also underestimated the opposite-field fly.

Share Tweet

nytimes.com

Jul 8

Jose Fernandez looked more like himself Friday night.

Share Tweet

Barnhart's 3-Run HR Lifts Reds Over Struggling Cubs 5-3

nytimes.com

Jul 7

The bullpen flopped, the offense disappeared late and the Chicago Cubs again couldn't escape their worst funk this season.

Share Tweet

5 Cubs Elected to Start in All-Star Game

nytimes.com

Jul 5

After topping the major leagues during the first half of the season as they seek their first title in more than a century, the Chicago Cubs dominated the rosters for next week's All-Star game.

Share Tweet

nytimes.com MLB.com

Jul 5

Joe Maddon could make light of his latest ejection, saying he got in a workout and snacked on some buttered raisin bread after he got tossed.

Share Tweet

Reed to continue to get chances at MLB level

The Reds may have changed pitching coaches on Monday, but it was clear that their young rotation still has a long road to travel before it solves its numerous issues. Rookie left-hander Cody Reed certainly has shown he's one of those pitchers.

Share Tweet

MLB.com nytimes.com

Jul 4

After being swept by the Mets in New York, all the Cubs needed to snap a four-game losing streak was a little home cooking and a game against the Reds. Kris Bryant belted his National League-leading 24th home run, Addison Russell drove in three runs, in…

Share Tweet

The Cubs' Kris Bryant was pulled from Monday's game against the Reds after he collided with center fielder Albert Almora Jr. in the fifth inning. The Cubs were leading, 8-0, when he departed.

Share Tweet

Buster's Blog: MLB's Stance On Pete Rose

Feb 12

With the All-Star Game in Cincinnati this season, Buster Olney questions whether its time for Major League Baseball to reconsider its stance on Pete Rose.

Reds Dash Pirates' Division Hopes

Sep 28

Johnny Cueto pitched eight strong innings and drove in the go-ahead run to lead the Reds past the Pirates 4-1.

Santiago's Grand Slam Lifts Reds In 10

Sep 27

Ramon Santiago hit a game-winning grand slam in the 10th inning to lead the Reds past the Pirates 10-6.

Pirates Top Reds

Sep 26

The Pirates captured their 10th win in 12 games with a 3-1 victory over the Reds.