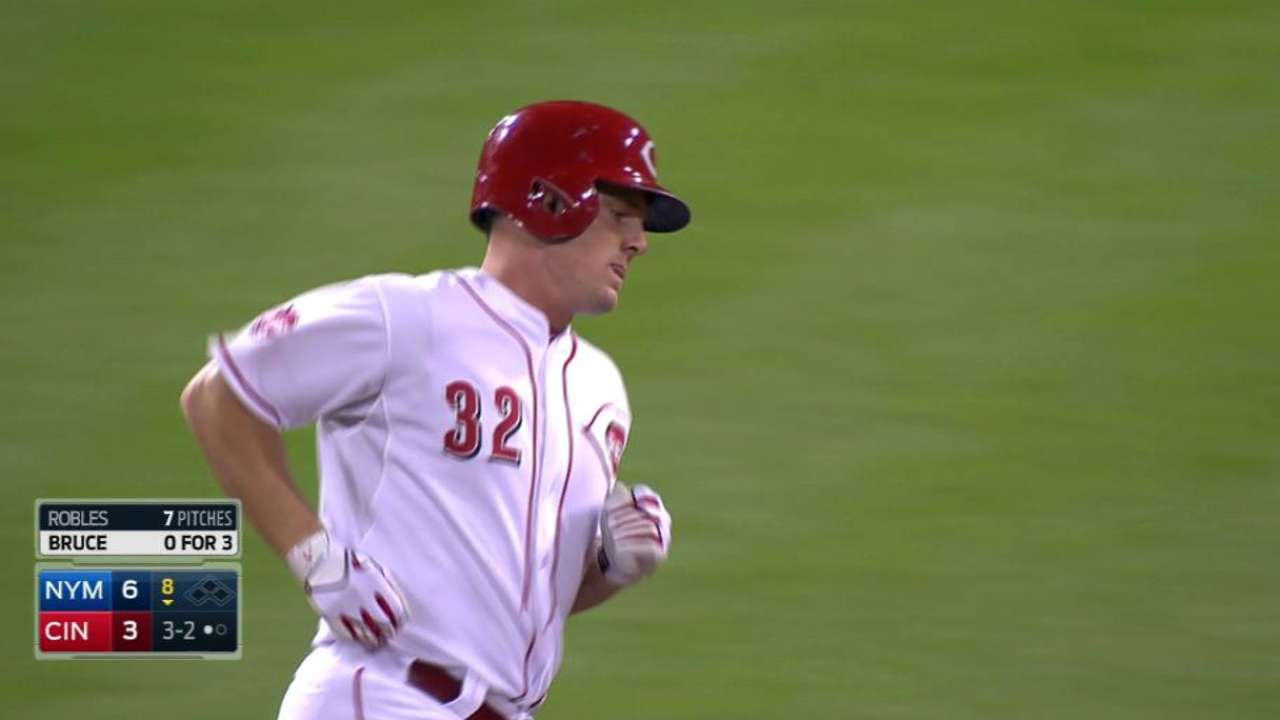 Source: Hot target Bruce has limited no-trade clause
MLB.com
Updated Nov 22 (5 days ago)
When the July 31 non-waiver Trade Deadline expired this past season, Reds right fielder Jay Bruce let out a big sigh of relief while sitting at his locker in the clubhouse at Great American Ball Park. One thing that is certain this winter for Bruce is h…
Share
Tweet
Ken Johnson, Only Loser of 9-Inning No-Hitter, Dies at 82

nytimes.com

Nov 23 (4 days ago)

The Houston Colt .45s pitcher threw a brilliant game against the Cincinnati Reds on April 23, 1964, only to lose in the ninth.

Share Tweet

MLB.com

Nov 19

Two teams that needed closers going into the offseason are no longer potential trade matches with the Reds for their closer, Aroldis Chapman. The Reds are still keeping an eye on the market and listening for offers.

Share Tweet

5 teams that could trade for Aroldis

MLB.com

Nov 17

If the Reds wanted to add a touch of theatrics to this thing, they'd set up shop in the lobby of the Winter Meetings next month and ask teams hoping to trade for closer Aroldis Chapman to take a number.

Share Tweet

Frazier draws heat in Hot Stove trade rumors

MLB.com

Nov 16

Now that the heads of the Reds baseball operations department have made it clear that they would listen to trade proposals for any player on their roster, rumors have been spinning various names around like autumn's ubiquitous leaf blower.

Share Tweet

Flame-throwing Chapman next on Hot Stove?

MLB.com

Nov 14

A big-time, power-armed closer was traded to begin the weekend on Friday night, but it wasn't Aroldis Chapman departing from the Reds. Instead, it was Craig Kimbrel, who went from the Padres to Red Sox in exchange for four top prospects.

Share Tweet

yahoo.com

Nov 13

A narcissistic Indiana man who made a video of himself running on the field at Great American Ballpark in July in the eighth inning of a game between the Cincinnati Reds and the Chicago Cubs was sentenced to a year of probation and 100 hours of communit…

Share Tweet

Reds listening as Hot Stove interest warms up

MLB.com

Nov 10

Reds president of baseball operations Walt Jocketty and general manager Dick Williams have spent most of their time at the General Managers Meetings exploring their options and listening.

Share Tweet

nytimes.com

Nov 9

Griffey's great numbers mostly came in his first 11 major league seasons, which were played in Seattle. After that, he was little more than a journeyman.

Share Tweet

MLB.com nytimes.com

Nov 5

Dick Williams may have formally been promoted to general manager of the Reds on Wednesday, but his first foray among his 29 other GM peers will begin Monday at the General Managers Meetings.

Share Tweet

Reds share news of former outfielder Milner's passing

MLB.com

Nov 4

Former Reds player Eddie Milner, a speedy outfielder during the 1980s, died at the age of 60. The team, which announced the news on Wednesday morning, said that Milner passed away on Monday. A cause of death was not revealed.

Share Tweet

Reds decline Schumaker, Badenhop options

MLB.com

Nov 2

The Reds declined to exercise the 2016 options for outfielder/infielder Skip Schumaker and reliever Burke Badenhop on Monday, the first day they could make those moves following the completion of the World Series.

Share Tweet

Votto ready to take on Cincy's 'unfinished business'

MLB.com

Oct 26

Just as first baseman Joey Votto returned to his status among the cream of the crop of Major League hitters, the Reds' fortunes as a team headed in a much different direction before finishing with a 64-98 last-place record in the National League Central…

Share Tweet

MLB.com

Oct 19

Only three times in League Championship Series history have two teams swept their way to the World Series -- 1969 (Orioles and Mets), 1970 (Orioles and Reds) and 1975 (Red Sox and Reds). It has never happened in the time since the Championship Series we…

Share Tweet

deadspin.com

Oct 17

Edinson Volquez has a history of struggling in the playoffs. Before last night, the Royals pitcher was 0-3 in three postseason starts with the Reds, Pirates, and Royals, with a Jose Lima-esque 8.67 ERA. The power-hitting Blue Jays are the most offensive…

Share Tweet

yahoo.com

Oct 7

Two years ago, when the Pittsburgh Pirates were hosting the Cincinnati Reds in the NL wild-card game, PNC Park was rocking with rabid fans. And that gave us one very clear instance in which fans affected the outcome of a game. The Pirates fans chanted a…

Share Tweet

Price to return as Reds' manager next season

MLB.com

Oct 3

Reds manager Bryan Price will return to the club next season, general manager Walt Jocketty announced Saturday.

Share Tweet

nytimes.com

Oct 3

Starling Marte's two-run homer in the bottom of the 12th inning gave the Pittsburgh Pirates a 6-4 victory over Cincinnati on Friday night, extending the Reds' losing streak to 13 games.

Share Tweet

yahoo.com

Oct 2

Keyvius Sampson did everything he's supposed to as a hitter. He didn't get overanxious or try to do too much with Francisco Liriano's fastball right down the pipe. Instead, the Reds rookie pitcher gave it an inside-out swing and sent it cleanly through …

Share Tweet

nytimes.com

Oct 1

The Rangers are a win or a loss away from their first division title since winning two straight and going to the World Series in 2010-11.

Share Tweet

Jason Hammel shuts down Reds in final playoff prep

ESPN.com

Oct 1

Jason Hammel shuts down Reds in final playoff prep

Share Tweet

Wild Card at Wrigley? Cubs gain on Bucs

MLB.com

Oct 1

The Cubs continued their bid to host the National League Wild Card Game by posting a soggy 5-3 win Thursday afternoon over the Reds, who lost their 12th in a row.

Share Tweet

Reds' Losing Streak Reaches 12 With 5-3 Loss to Cubs

nytimes.com

Oct 1

Evidence of the Reds' growing pains showed in a decisive pitch by rookie John Lamb to Austin Jackson that led to another loss.

Share Tweet

Buster's Blog: MLB's Stance On Pete Rose

Feb 12

With the All-Star Game in Cincinnati this season, Buster Olney questions whether its time for Major League Baseball to reconsider its stance on Pete Rose.

Reds Dash Pirates' Division Hopes

Sep 28

Johnny Cueto pitched eight strong innings and drove in the go-ahead run to lead the Reds past the Pirates 4-1.

Santiago's Grand Slam Lifts Reds In 10

Sep 27

Ramon Santiago hit a game-winning grand slam in the 10th inning to lead the Reds past the Pirates 10-6.

Pirates Top Reds

Sep 26

The Pirates captured their 10th win in 12 games with a 3-1 victory over the Reds.

Sports Columnists

Future NBA cornerstone (Insider)

Nov 25

Chad Ford says the LSU freshman has special qualities. "I think what scouts love the most is how Simmons plays the game. He plays with a calm demeanor...

NBA: Opponents can't afford to give Golden State Warriors second looks

Nov 22

For Golden State, offensive boards equal a wide-open -- and dangerous -- Steph Curry. Teams that want a chance against the champs must limit their second looks, writes J.A. Adande.

NBA: Warriors are having a blast making history

Nov 20

Winning is a feat and a mindset built by repetition. The Warriors have grasped the concept and mastered the approach and are leaving the rest of the NBA behind.