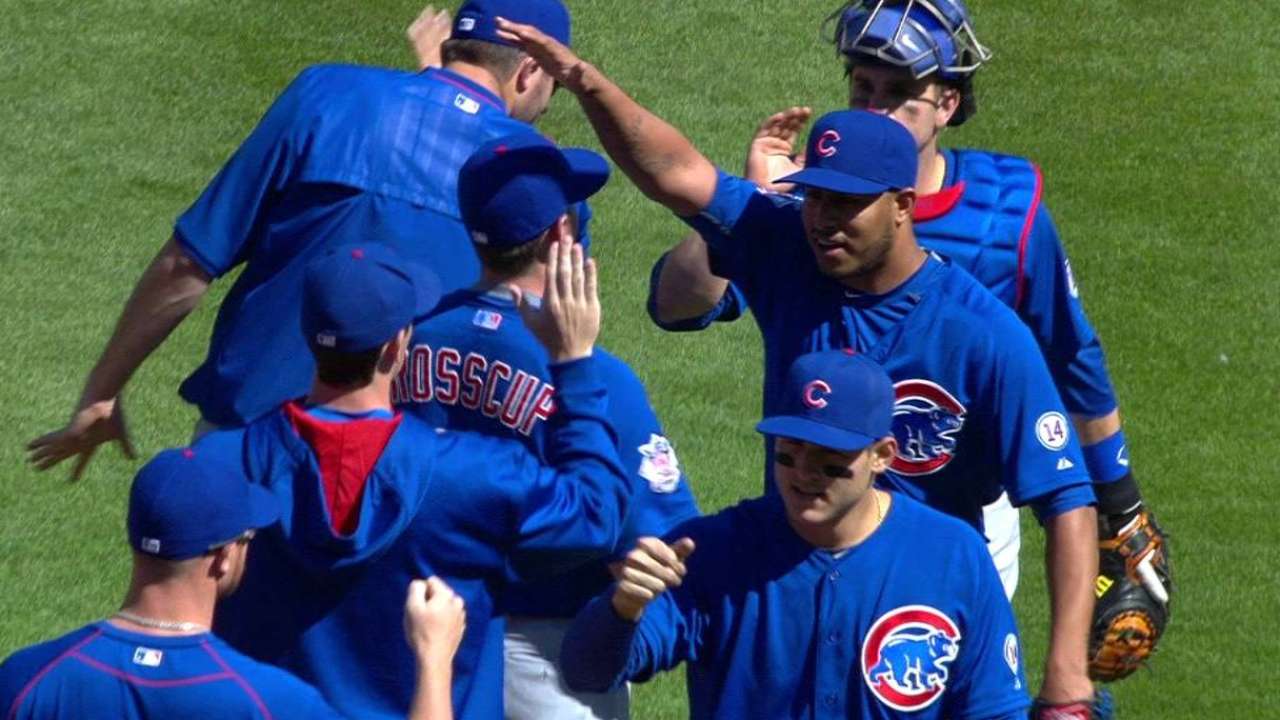 MLB.com
Updated 22 hours ago
Big hits from Miguel Montero and Addison Russell were enough to lift the Cubs to a 5-2 victory over the Reds on Sunday at Great American Ball Park. Chicago took both games of the rain-shortened series.
Share
Tweet
Cubs at Reds Game Postponed After Long Rain Delay

nytimes.com

Apr 25 (yesterday)

Steady rain prompted the Reds to postpone their game against the Chicago Cubs on Saturday, disappointing a big crowd that had bought tickets to see a reunion of Cincinnati's 1990 World Series championship team.

Share Tweet

MLB.com nytimes.com

Apr 24 (3 days ago)

A four-run top of the 11th inning gave the Cubs a 7-3 victory over the Reds on Friday, their fifth game won in their final at-bat in 16 games overall. Jonathan Herrera delivered the go-ahead run with an RBI single.

Share Tweet

Lohse, Brewers Snap 8-Game Losing Streak, Beat Reds 4-2

nytimes.com

Apr 23 (4 days ago)

Kyle Lohse bounced back from a poor start this season and the Milwaukee Brewers snapped an eight-game losing streak, beating the Cincinnati Reds 4-2 Thursday.

Share Tweet

yahoo.com

Apr 23 (4 days ago)

We knew that Pete Rose would likely be a part of the MLB All-Star game this July in Cincinnati. Reds owner Bob Castellini said so in January. But on Thursday, we heard that come directly from the mouth of MLB commissioner Rob Manfred. [Still not too lat…

Share Tweet

MLB.com nytimes.com

Apr 23 (5 days ago)

A pitching duel between the Reds' Johnny Cueto and the Brewers' Jimmy Nelson turned in the ninth inning Wednesday night when Billy Hamilton scampered home on a wild pitch from Francisco Rodriguez for a 2-1 Reds victory at Miller Park.

Share Tweet

Selectivity in stealing helping Reds achieve greater success

MLB.com

Apr 22 (5 days ago)

With two stolen bases Tuesday night, the Reds improved to 16-for-16 in swipes, a franchise record to begin a season since the caught-stealing stat has been continuously recorded, beginning in 1951.

Share Tweet

Mesoraco not ready to join lineup

MLB.com

Apr 22 (5 days ago)

Reds catcher Devin Mesoraco remained out of the starting lineup Wednesday in Milwaukee because of a left-hip ailment.

Share Tweet

MLB.com nytimes.com

Apr 22 (6 days ago)

A night after matching their season high with six runs in a series-opening victory, the Reds more than doubled that total by the sixth inning of a 16-10 win over the reeling Brewers on Tuesday. The Reds hit five home runs, starting with two-out grand sl…

Share Tweet

yahoo.com

Apr 21 (6 days ago)

If we're rating coach rants for entertainment value, then Cincinnati Reds manager Bryan Price dropped an instant-classic Monday. We know the statistics well at this point: He uttered 77 F-bombs in just under six minutes, unleashing an angry tirade on Re…

Share Tweet

Price incident exemplifies tricky manager-media relationship

MLB.com

Apr 21 (6 days ago)

Reds manager Bryan Price did something on Monday that managers have done hundreds of times through the years: He lost his temper, letting loose a world-class string of profanities, because he was upset about a report that he felt had been helpful to opp…

Share Tweet

yahoo.com deadspin.com nytimes.com

Apr 21 (6 days ago)

Bryan Price has agreed to wash his mouth out with soap, but he still hasn't changed his tune about the media. The Cincinnati Reds' skipper believes the beat reporters that cover his team shouldn't share any information that gives opposing teams an advan…

Share Tweet

Desclafani Pitches Reds Past Brewers

nytimes.com

Apr 20 (7 days ago)

Anthony Desclafani pitched eight shutout innings and Zach Cozart and Joey Votto homered as the Cincinnati Reds beat the Milwaukee Brewers 6-1 on Monday night.

Share Tweet

"You Stick It Right Up My Fucking Ass!" Reds Skipper Rips Reporter

deadspin.com

Apr 20 (7 days ago)

Reds manager Bryan Price attacked Cincinnati Enquirer beat reporter C. Trent Rosecrans today in a lengthy and profane rant that accused the scribe of being too good at the job of accurately reporting news about the Cincinnati Reds. Read more...

Share Tweet

Mesoraco needs day away for family reasons

MLB.com

Apr 20 (7 days ago)

Catcher Devin Mesoraco, who has missed the last six games with a left hip impingement, was not with the Reds on Monday for the start of a four-game set against the Brewers. Manager Bryan Price said Mesoraco would return Tuesday.

Share Tweet

yahoo.com nytimes.com

Apr 20

Take a look around the league with Big League Stew's daily wrap up. We'll hit on all of the biggest moments from the day that you may have missed, while providing highlights, photos and interesting stats. For the first time in a long time, St. Louis Car…

Share Tweet

Buster's Blog: MLB's Stance On Pete Rose

Feb 12

With the All-Star Game in Cincinnati this season, Buster Olney questions whether its time for Major League Baseball to reconsider its stance on Pete Rose.

Reds Dash Pirates' Division Hopes

Sep 28

Johnny Cueto pitched eight strong innings and drove in the go-ahead run to lead the Reds past the Pirates 4-1.

Santiago's Grand Slam Lifts Reds In 10

Sep 27

Ramon Santiago hit a game-winning grand slam in the 10th inning to lead the Reds past the Pirates 10-6.

Pirates Top Reds

Sep 26

The Pirates captured their 10th win in 12 games with a 3-1 victory over the Reds.

Sports Columnists

Rivers Trade Dead? Draft Intrigue Starts at No. 2

Apr 27

Three days before the 2015 draft, one thing is clear: The drama starts with the second pick. With Tampa Bay very likely to take quarterback Jameis Winston number one, Tennessee is in command with quarterback Marcus Mariota the likely target if anyone wa…

Mario Hezonja of FC Barcelona to declare for the NBA draft

Apr 23

FC Barcelona wing Mario Hezonja will declare for the 2015 NBA draft, his agent Arn Tellem told ESPN.com.

James Blackmon Jr. to return to Indiana Hoosiers, bypass NBA draft

Apr 23

Indiana Hoosiers freshman James Blackmon Jr. will return to school instead of entering the NBA draft.