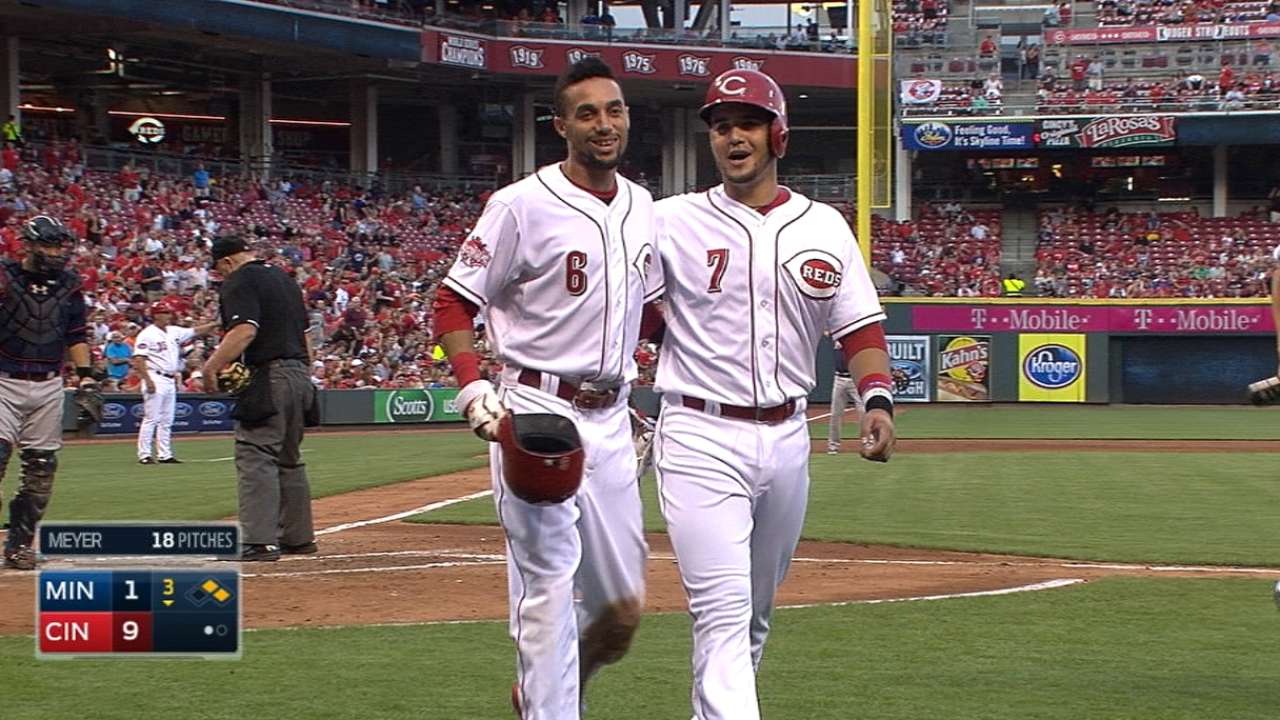 nytimes.com
MLB.com
Updated 2 hours ago
Billy Hamilton scored three times in the first three innings to help Cincinnati open a huge lead, and the Reds held on for an 11-7 victory over the Minnesota Twins on Monday night.
Share
Tweet
Bourgeois embraces 'Mr. Unknown' moniker

MLB.com

6 hours ago

When Reds outfielder Jason Bourgeois made his 2015 debut in a sixth-inning double switch Sunday vs. the Mets, his unique last name apparently lacked recognition at Citi Field. The scoreboard listed Bourgeois in the Cincinnati lineup as "No. 30, Unk…

Share Tweet

deadspin.com nytimes.com yahoo.com

15 hours ago

The Mets' Steven Matz played in his first MLB game Sunday against the Reds, and went 3 for 3 at the plate with four RBI. Steven Matz is a pitcher.Read more...

Share Tweet

Frazier showing off power before Home Run Derby

Mets left-hander Steven Matz did not make many mistakes during his dazzling debut at Citi Field on Sunday, but he left a fastball over the plate to Reds third baseman Todd Frazier that did not go unpunished.

Share Tweet

Phillips injures both hands in loss to Mets

Reds second baseman Brandon Phillips exited Sunday's game vs. the Mets in the seventh inning with multiple hand injuries. During the fifth inning of a 7-2 loss, Phillips appeared to aggravate a sore left thumb that's bothered him this week on a swing ag…

Share Tweet

Lagares takes back homer with great catch

Maybe Juan Lagares wanted to play 13 innings. Because of his home-run robbing catch in the eight inning, eventually the Mets and Reds did. Lagares' leaping play took a homer away from Cininnati outfielder Jay Bruce and preserved a 1-1 tie before the Met…

Share Tweet

MLB.com nytimes.com

Jun 28 (yesterday)

For one team, completing a suspended game nearly 24 hours after it began was worth the wait. That proved to be the Mets, which took a 2-1 win over the Reds in 13 innings on a Lucas Duda chopper that could not be handled by first baseman Joey Votto. New …

Share Tweet

Mets-Reds game suspended after six innings

MLB.com

Jun 27 (2 days ago)

The Mets were one hit away from getting Matt Harvey a win and the team a rain-shortened victory Saturday. But with the bases loaded and two out in the bottom of the sixth, red-hot Curtis Granderson flew out to left, holding the score at 1-1. That's wher…

Share Tweet

Reds-Mets Game Suspended by Rain, Score Tied 1-All After 6

nytimes.com

Jun 27 (2 days ago)

Matt Harvey stayed steady in the rain and Curtis Granderson homered again for the New York Mets before their game against the Cincinnati Reds was suspended after six innings Saturday with the score tied 1-all.

Share Tweet

Mets 2, Reds 1: Help Is on the Way for the Mets, but It's Another Top Pitching Prospect, Not a Hitter

nytimes.com

Jun 26 (3 days ago)

Steven Matz, who has a 2.19 E.R.A. in Class AAA, is scheduled to start on Sunday as the Mets revert to a six-man rotation.

Share Tweet

nytimes.com MLB.com

Jun 26 (3 days ago)

Noah Syndergaard pitched eight sharp innings and the light-hitting New York Mets got exactly the help they needed when Johnny Cueto suddenly lost the strike zone, edging the Cincinnati Reds 2-1 Friday night.

Share Tweet

Tejada exits after getting plunked in elbow

MLB.com

Jun 26 (3 days ago)

Mets infielder Ruben Tejada left Friday's game against the Reds in the top of the fifth inning due to a left elbow contusion, half an inning after taking a Johnny Cueto fastball off the elbow. There was no immediate word as to Tejada's status.

Share Tweet

Recently, Toronto Blue Jays third baseman made quite possibly the catch of the year. On Thursday, Cincinnati Reds second baseman Brandon Phillips may have made the throw of the year. With the game tied 4-4 in the bottom of the eighth, nerves were alread…

Share Tweet

nytimes.com MLB.com

Jun 26 (4 days ago)

Brandon Phillips led off the top of the 13th inning with his fourth homer of the season to lift the Cincinnati Reds to a 5-4 victory over the Pittsburgh Pirates on Thursday night.

Share Tweet

MLB.com nytimes.com

Jun 24 (5 days ago)

The Reds jumped out to an early lead against Gerrit Cole, and Mike Leake continued his mastery over the Pirates as Cincinnati beat Pittsburgh, 5-2, on Wednesday night at PNC Park.

Share Tweet

Iglesias 'pleased' after throwing 'pen session

MLB.com

Jun 24 (5 days ago)

Using all of his pitches and throwing without limitation, Reds pitcher Raisel Iglesias threw in the bullpen on Wednesday. It was the first time on the mound for Iglesias since he went on the disabled list June 5 because of a strained left oblique.

Share Tweet

yahoo.com

Jun 24 (5 days ago)

The Cincinnati Reds are expected to trade ace Johnny Cueto at some point this season. They have to find a team willing to make a fair offer, but, once that happens, Cueto will likely be gone. In fact, the Reds are probably weighing offers right now. The…

Share Tweet

Buster's Blog: MLB's Stance On Pete Rose

Feb 12

With the All-Star Game in Cincinnati this season, Buster Olney questions whether its time for Major League Baseball to reconsider its stance on Pete Rose.

Reds Dash Pirates' Division Hopes

Sep 28

Johnny Cueto pitched eight strong innings and drove in the go-ahead run to lead the Reds past the Pirates 4-1.

Santiago's Grand Slam Lifts Reds In 10

Sep 27

Ramon Santiago hit a game-winning grand slam in the 10th inning to lead the Reds past the Pirates 10-6.

Pirates Top Reds

Sep 26

The Pirates captured their 10th win in 12 games with a 3-1 victory over the Reds.