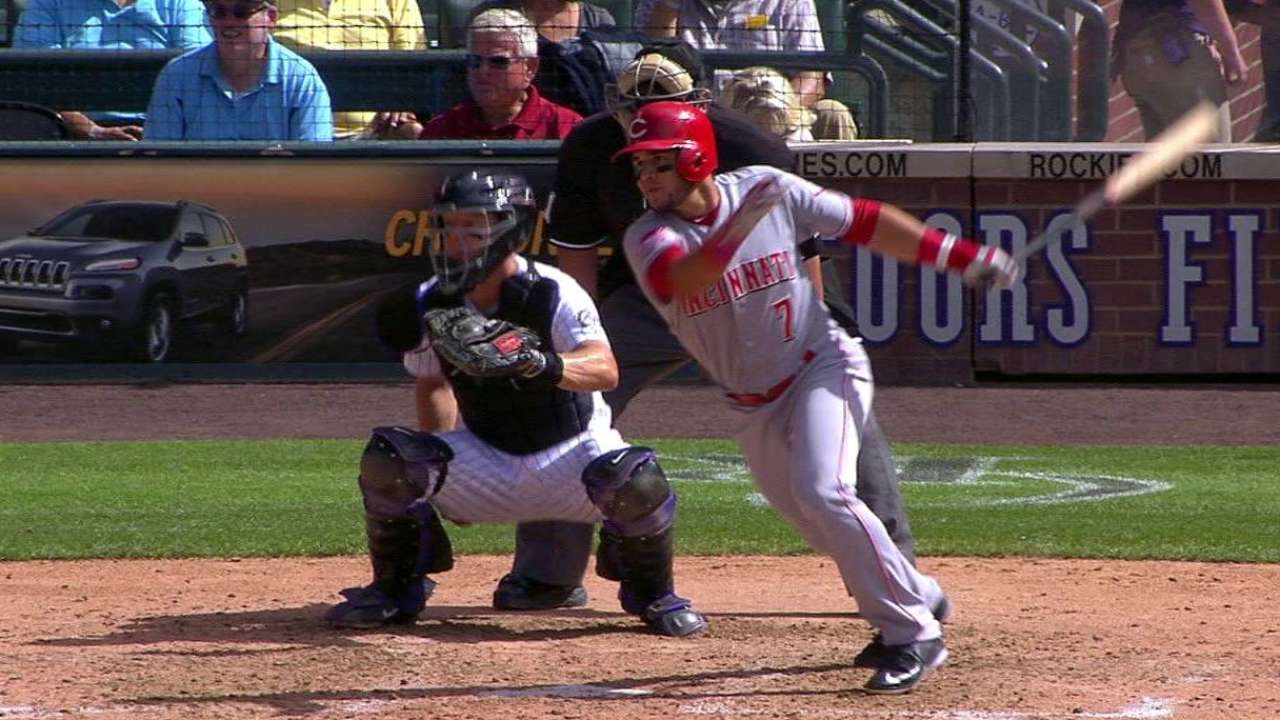 MLB.com

Jul 28 (yesterday)

D-backs general manager Dave Stewart acknowledged that the team has recently checked in on the availability of Phillies ace Cole Hamels and Reds closer Aroldis Chapman.

Share Tweet

nytimes.com MLB.com

Jul 27 (yesterday)

Kolten Wong hit a grand slam that backed Lance Lynn and led the St. Louis Cardinals over the Cincinnati Reds 4-1 Monday night.

Share Tweet

MLB.com nytimes.com yahoo.com

Jul 27 (2 days ago)

The starting pitcher who will take Johnny Cueto's spot in the Reds' rotation and pitch on Thursday vs. the Pirates remains shrouded in mystery. The only absolute is that it won't be left-hander Tony Cingrani.

Share Tweet

Bullpen help at top of Nats' Deadline wish list

MLB.com

Jul 27 (2 days ago)

The Nationals are trying to add strength to the bullpen in a big way by showing interest in Reds closer Aroldis Chapman, according to a baseball source.

Share Tweet

Marlins Park Proves a Challenge for Home Run Hitters

nytimes.com

Jul 27 (2 days ago)

The weekend before the Reds' Todd Frazier won the All-Star Home Run Derby, he couldn't slug his way out of Marlins Park.

Share Tweet

nytimes.com MLB.com

Jul 26 (3 days ago)

Nolan Arenado, Ben Paulsen and Carlos Gonzalez each homered in a 10-run third inning Sunday to help the Colorado Rockies beat Cincinnati 17-7 on a day when the Reds traded ace Johnny Cueto.

Share Tweet

Uncertainty ahead of Deadline not consuming Price

MLB.com

Jul 25 (4 days ago)

Reds manager Bryan Price is not letting the uncertainty of the next week before the Trade Deadline consume him as rumors swirl around several veteran players on his team.

Share Tweet

Despite their 42-51 record and already being 17.5 games behind in the NL Central, the Cincinnati Reds have had a few bright spots this season. Joey Votto's return to MVP-caliber player is one of them. Votto made some history in a doubleheader with the C…

Share Tweet

ESPN.com

Jul 23 (6 days ago)

MLB Trade Deadline Daily: Reds' deadline motivation and more

Share Tweet

Reds Fan Runs On Field, Films Selfie Video, Escapes Ballpark

deadspin.com

Jul 23 (7 days ago)

It could have been the perfect crime. Justin Buchanan, 19, dashed onto the field at last night's Cubs-Reds game (while filming himself the entire way), tried to say hi to Billy Hamilton, tossed his phone onto the grass over the centerfield wall, hopped …

Share Tweet

Roundup: Cubs Overcome 5-0 Deficit and Salvage Split With Reds

nytimes.com

Jul 23 (7 days ago)

Taylor Teagarden singled home the tiebreaking run with two outs in the ninth inning, completing the Chicago Cubs' biggest comeback of the season.

Share Tweet

Buster's Blog: MLB's Stance On Pete Rose

Feb 12

With the All-Star Game in Cincinnati this season, Buster Olney questions whether its time for Major League Baseball to reconsider its stance on Pete Rose.

Reds Dash Pirates' Division Hopes

Sep 28

Johnny Cueto pitched eight strong innings and drove in the go-ahead run to lead the Reds past the Pirates 4-1.

Santiago's Grand Slam Lifts Reds In 10

Sep 27

Ramon Santiago hit a game-winning grand slam in the 10th inning to lead the Reds past the Pirates 10-6.

Pirates Top Reds

Sep 26

The Pirates captured their 10th win in 12 games with a 3-1 victory over the Reds.

Sports Columnists

5-on-5: Biggest risers, fallers for 2015-16 NBA season

Jul 28

After a summer of deals, which teams are on the inside track to success next season and which are headed for a down year? Our 5-on-5 panel weighs in.

The MMQB Mailbag

Jul 22

Today is a good day for logic around the NFL. Because: • The Tennessee Titans on Tuesday signed the second pick in the draft, quarterback Marcus Mariota, meaning that five days before the first practice of the NFL preseason, all 32 first-round picks hav…

Adande: Jordan wouldn't let pride get in the way

Jul 21

The healthiest sign in DeAndre Jordan's return engagement with the Clippers is that the final decision was made for the right reasons, overcoming what would have been a prideful mistake.