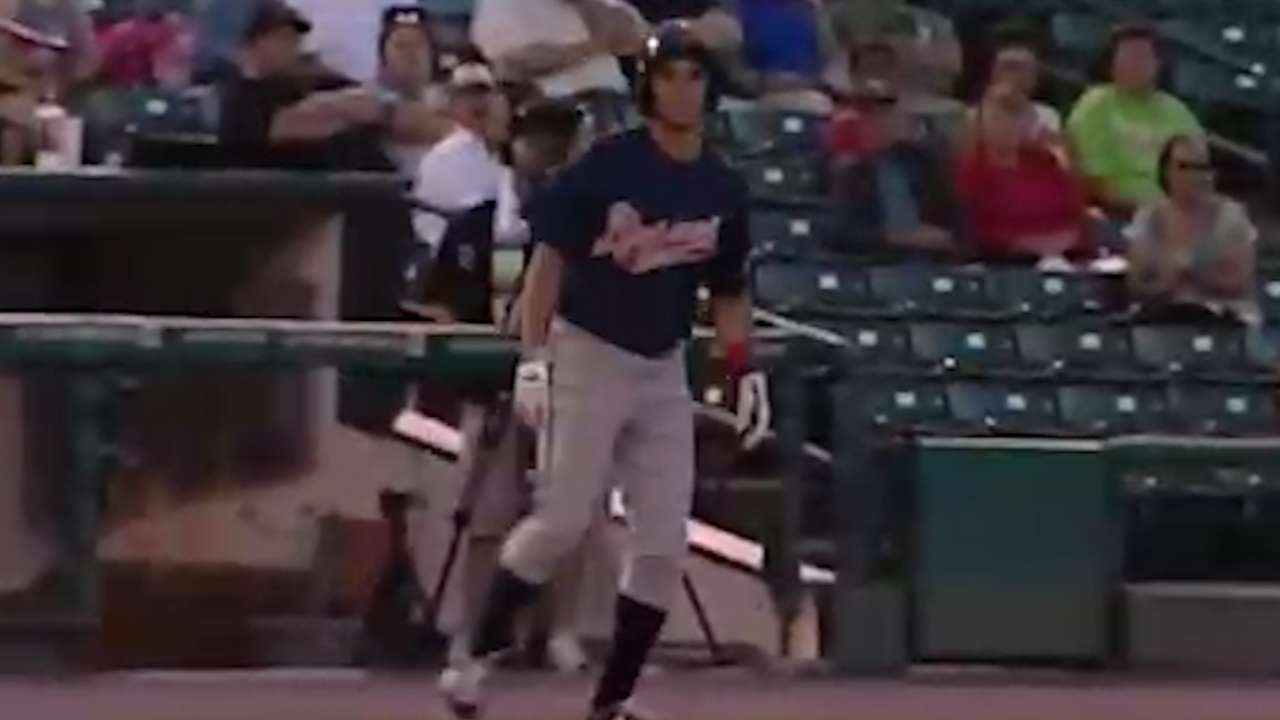 Peraza an intriguing new addition for Reds
MLB.com
Updated 9 hours ago
This is Part 2 of a series previewing the Reds for the 2016 season, which gets underway next week when pitchers and catchers report to the team's complex in Goodyear, Ariz., with the first workout on Feb. 18. The series began Tuesday with a look at the …
Share
Tweet
Reds host 'Black Businesses Matter' forum

MLB.com

Feb 10 (yesterday)

Several months after the All-Star Game spotlight has dimmed, the conversation continues on issues affecting the African-American community. On Wednesday at the National Underground Railroad Freedom Center, the focus was on economics.

Share Tweet

Bernie Stowe, a Reds fixture and an employee for six decades, died Tuesday after a long illness. Stowe, who had up-close and personal experiences with great players and teams that included the Big Red Machine, was 80 years old.

Share Tweet

Lamb behind schedule after back surgery

One of the young pitchers expected to compete for a spot in the Reds rotation is unlikely to be 100 percent when Spring Training begins next week.

Share Tweet

5 Reds primed for bounce-back seasons

Spring Training is just days away, a time when anticipation is at its highest for all baseball fans. This is the first of a series of preview stories that look at the 2016 Reds. In it, we look at players who are on the rebound.

Share Tweet

nytimes.com MLB.com

Feb 6 (6 days ago)

Juan Duran, an outfield prospect for the Cincinnati Reds, has been suspended for the first 80 games of the season after testing positive for three performance-enhancing substances.

Share Tweet

Piniella returning to Reds as senior adviser

MLB.com

Feb 5 (6 days ago)

The last manager to win a World Series with the Reds is back with the club in a consulting role. It was announced Friday that Lou Piniella will be a senior adviser to baseball operations, and he is expected to spend some time with the team during Spring…

Share Tweet

nytimes.com MLB.com

Feb 5 (6 days ago)

Reliever J.J. Hoover has won his salary arbitration case against the Cincinnati Reds, improving players to 2-0 against teams this year.

Share Tweet

Reds run 'pitching summit' to prepare prospects

MLB.com

Feb 3

No matter who makes up the Reds' pitching staff this season, it will be comprised of many young pitchers with high ceilings and unfinished development. Reds manager Bryan Price, his pitching coaches and the front office wanted the team's young pitchers …

Share Tweet

Hamilton accepts young Reds fan's challenge

MLB.com

Jan 31

Throughout Reds Caravan this week, little kids have wanted a piece of center fielder Billy Hamilton. During the question-and-answer sessions at each stop, youngsters have often asked Hamilton how fast he really is, or how many bases he thinks he can ste…

Share Tweet

Price: Phillips a Reds starter after trades vetoed

ESPN.com

Jan 31

Price: Phillips a Reds starter after trades vetoed

Share Tweet

Reds sign lefty Sanchez to Minor League deal

MLB.com

Jan 29

The Reds have signed left-handed pitcher Jonathan Sanchez to a Minor League contract with an invitation to Spring Training as a non-roster player, a source told MLB.com on Friday.

Share Tweet

Cincinnati to host RBI World Series in '16, '17

MLB.com

Jan 27

A major youth baseball and softball event will be coming to Cincinnati over the next two years. It was announced on Wednesday that the Reds will host the 2016 and '17 RBI World Series tournament.

Share Tweet

Arroyo inks incentive-laden Minors deal with Nats

MLB.com

Jan 26

Free agent pitcher Bronson Arroyo will not be getting back together with the Reds, but he will be reunited with a central figure from his old team. Arroyo agreed to a Minor League contract with the Nationals that will have him pitching for former Reds m…

Share Tweet

Nats join Reds in reportedly considering Arroyo

MLB.com

Jan 24

Free-agent right-hander Bronson Arroyo is reportedly drawing interest from both the Nationals and Reds. The 38-year-old is seeking a new club after missing all of last season recovering from Tommy John surgery.

Share Tweet

yahoo.com

Jan 21

Relax, Cincinnati Reds fans. Your team will be able to hold onto its good players for an additional 24 hours this season. Major League Baseball pushed back its trade deadline for the 2016 season. Instead of falling on July 31, the trade deadline will be…

Share Tweet

Reds looking at how Peraza will fit into lineup

MLB.com

Jan 20

The Reds' front office highly coveted infield prospect Jose Peraza, and as it commenced a rebuilding project, it very much liked the idea of having his glove, bat and speed on the roster.

Share Tweet

nytimes.com yahoo.com MLB.com

Jan 19

The doors to Major League Baseball's Hall of Fame may be closed to Pete Rose, the sport's all-time hits leader but later shamed for betting on games, but the team he long played for will open its own shrine to him, the Cincinnati Reds said on Tuesday.

Share Tweet

Cozart avoids arb case; Hoover swaps figures

MLB.com

Jan 15

The Reds avoided arbitration with shortstop Zack Cozart by agreeing on a one-year contract on Friday and exchanged salary figures with arbitration-eligible reliever J.J. Hoover.

Share Tweet

ESPN.com

Jan 14

MLB Hot Stove Daily: Mets unlikely to re-sign Cespedes to short-term deal

Share Tweet

Inbox: What's the future for Reds' Ervin?

MLB.com

Jan 14

Jonathan Mayo answers questions about the future for Reds outfielder Phillip Ervin, big league comps for A.J. Reed, comparing Josh and Greg Bird and more in this week's Pipeline Inbox.

Share Tweet

Former Reds reliever Rob Dibble says Yankees trade for Aroldis Chapman is 'genius' 

nydailynews.com

Jan 14

Rob Dibble has a unique perspective on the Yankees' attempt to build the most lethal end-of-game scenario ever.

Share Tweet

Buster's Blog: MLB's Stance On Pete Rose

Feb 12

With the All-Star Game in Cincinnati this season, Buster Olney questions whether its time for Major League Baseball to reconsider its stance on Pete Rose.

Reds Dash Pirates' Division Hopes

Sep 28

Johnny Cueto pitched eight strong innings and drove in the go-ahead run to lead the Reds past the Pirates 4-1.

Santiago's Grand Slam Lifts Reds In 10

Sep 27

Ramon Santiago hit a game-winning grand slam in the 10th inning to lead the Reds past the Pirates 10-6.

Pirates Top Reds

Sep 26

The Pirates captured their 10th win in 12 games with a 3-1 victory over the Reds.