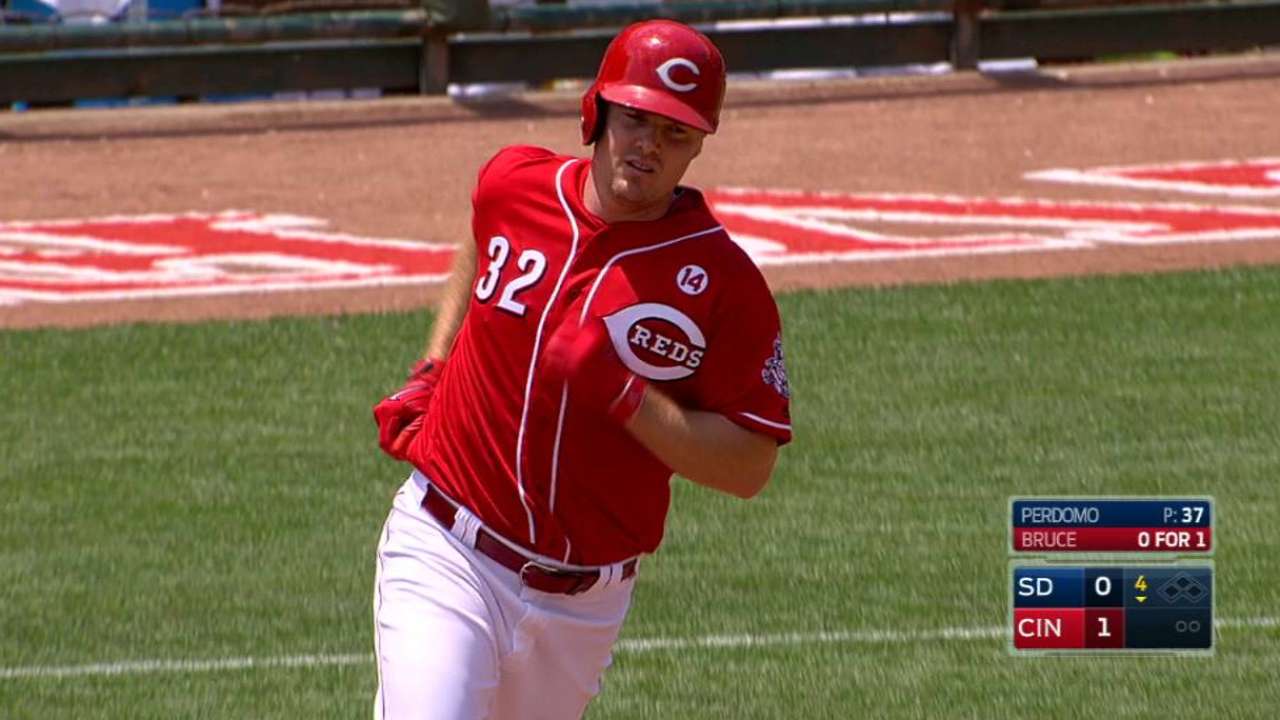 nytimes.com MLB.com yahoo.com ESPN.com

6 hours ago

The only thing missing from Pete Rose's gala was a win by the Reds. Their top starter took care of it.

Share Tweet

Ramirez claimed off waivers by Angels

MLB.com

8 hours ago

Reliever JC Ramirez was claimed off of waivers from the Reds by the Angels, it was announced on Sunday afternoon.

Share Tweet

nytimes.com MLB.com

Jun 24 (yesterday)

The Reds honored their greatest team, then watched the Padres crank out runs like a machine.

Share Tweet

Norris' 3-Run Homer Rallies Hot-Hitting Padres Over Reds 7-4

nytimes.com

Jun 23 (3 days ago)

It's been quite the month for Derek Norris and the Padres' offense.

Share Tweet

Reds set to send Bailey on rehab assignment

MLB.com

Jun 23 (3 days ago)

Reds right-hander Homer Bailey is ready to start another rehab assignment, with the hope that the sequel has a better outcome than the original.

Share Tweet

MLB.com nytimes.com

Jun 23 (4 days ago)

Backed by a four-run fourth inning, Cole Hamels struck out eight and allowed one run in six innings as the Rangers defeated the Reds, 6-4, to split the two-game series Wednesday night at Globe Life Park.

Share Tweet

Reds place Simon on DL; Lorenzen activated

MLB.com

Jun 22 (4 days ago)

The Reds placed pitcher Alfredo Simon on the 15-day disabled list on Wednesday with a strained right trapezius near the shoulder. It cleared a spot for pitcher Michael Lorenzen, who was activated from the 60-day DL.

Share Tweet

yahoo.com

Jun 22 (5 days ago)

Have you ever spent ten minutes looking for your sunglasses only to discover that they've been perched on top of your head the entire time? Cincinnati Reds third baseman Eugenio Suarez had one of those moments on Tuesday night, but instead of sunglasses…

Share Tweet

Reds strike early to cool off red-hot Rangers

MLB.com

Jun 22 (5 days ago)

The hottest team in baseball was stopped on Tuesday night. Behind four RBIs from Jay Bruce and three from Zack Cozart, the Reds marched to an 8-2 victory over the Rangers that snapped their seven-game winning streak.

Share Tweet

Cramp in triceps ends Lewis' night early

MLB.com

Jun 22 (5 days ago)

Colby Lewis exited his start against the Reds on Tuesday after five innings after experiencing cramps in his right triceps. He will be re-evaluated on Wednesday.

Share Tweet

Bruce, Reds Cool Off Lewis, Rangers With 8-2 Interleague Win

nytimes.com

Jun 21 (5 days ago)

Cincinnati already had a hit and walk in the first inning when Jay Bruce faced Colby Lewis in the Texas right-hander's first start since flirting with a perfect game.

Share Tweet

Reds activate Iglesias, place Wood on paternity list

MLB.com

Jun 21 (5 days ago)

The Reds activated pitcher Raisel Iglesias from the disabled list on Tuesday and placed reliever Blake Wood on the paternity list.

Share Tweet

Gattis, Valbuena Homer as Astros Top Reds 6-0

nytimes.com

Jun 19

The bottom of Houston's order is starting to heat up and it helped the Astros to a lopsided win over the Cincinnati Reds on Sunday.

Share Tweet

One day after an electrifying sliding catch at the wall, Reds center fielder Billy Hamilton followed that up with a diving snag on Jose Altuve's one-out slicing liner to deep right-center field in the fifth inning of Sunday's game vs. the Astros.

Share Tweet

Buster's Blog: MLB's Stance On Pete Rose

Feb 12

With the All-Star Game in Cincinnati this season, Buster Olney questions whether its time for Major League Baseball to reconsider its stance on Pete Rose.

Reds Dash Pirates' Division Hopes

Sep 28

Johnny Cueto pitched eight strong innings and drove in the go-ahead run to lead the Reds past the Pirates 4-1.

Santiago's Grand Slam Lifts Reds In 10

Sep 27

Ramon Santiago hit a game-winning grand slam in the 10th inning to lead the Reds past the Pirates 10-6.

Pirates Top Reds

Sep 26

The Pirates captured their 10th win in 12 games with a 3-1 victory over the Reds.