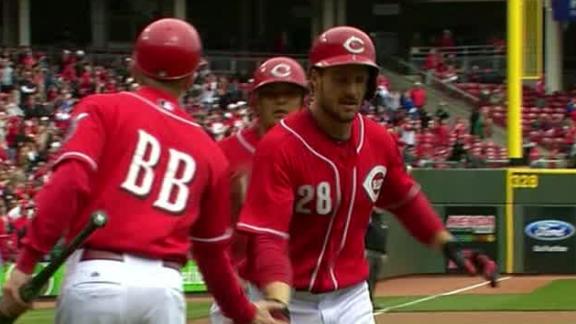 The dreaded Angels offensive trio began to show some signs life, but not enough to ruin the Reds' day. Cincinnati claimed a 5-4 victory to take two of three in the season's first series at Great American Ball Park on Thursday.
Share
Tweet
Trout, Reds' Frazier linked by Jersey

MLB.com

Apr 4, 2013

It was in the fall of 2010, while playing for USA Baseball at the Pan-American Qualifying tournament in Puerto Rico, when Todd Frazier finally got a chance to meet that fellow New Jersey kid everyone kept raving about. And ever since then, Frazier and M…

Share Tweet

Marshall missing due to shoulder fatigue

MLB.com

Apr 4, 2013

Especially with the way the bullpen needed to be used through the first two games of the season, Reds lefty reliever Sean Marshall has been conspicuous in his absence from the mound. It turns out that Marshall wasn't available for either game, and he wa…

Share Tweet

Reds Fend Off Angels

Apr 4

The Reds hit three home runs off Joe Blanton in a 5-4 win over the Angels.

Baseball Tonight Web Gems

Apr 4

Does Brandon Phillips' diving stop and throw top Carlos Gomez robbing Carlos Gonzalez of a home run?