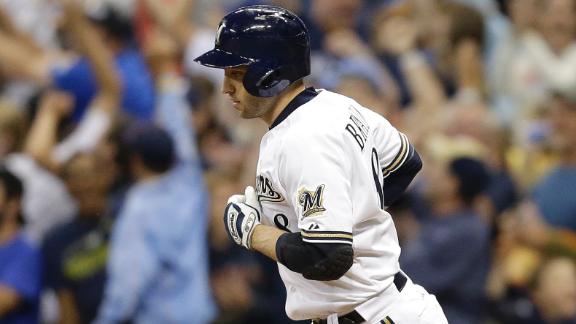 Ryan Braun hit a two-run home run in the eighth inning to lift the Milwaukee Brewers to a 4-2 win over the Cincinnati Reds Saturday.
Share
Tweet
MLB.com nytimes.com

Jun 14, 2014

Friday's series opener went the Reds way, but not without some twists and turns. A blown four-run lead was recovered with a run in the top of the ninth on Billy Hamilton's RBI single, and Cincinnati emerged with the 6-5 win at Miller Park.

Share Tweet
Braun's Big Blast Powers Brewers

Jun 14

Ryan Braun hit a two-run home run in the bottom of the eighth inning to lead the Brewers past the Reds 4-2.
Sports Columnists
2014 NBA Finals: Boris Diaw dishes for San Antonio Spurs

Jun 14

Boris Diaw's difference-making playoff outings come after a long career of ups and downs, Marc Stein writes.

2014 NBA Finals: San Antonio Spurs going extra mile (almost) to beat Miami…

Jun 14

The Spurs are testing the Heat's willpower, preying on the Heat's physical and mental fatigue, J.A. Adande writes.