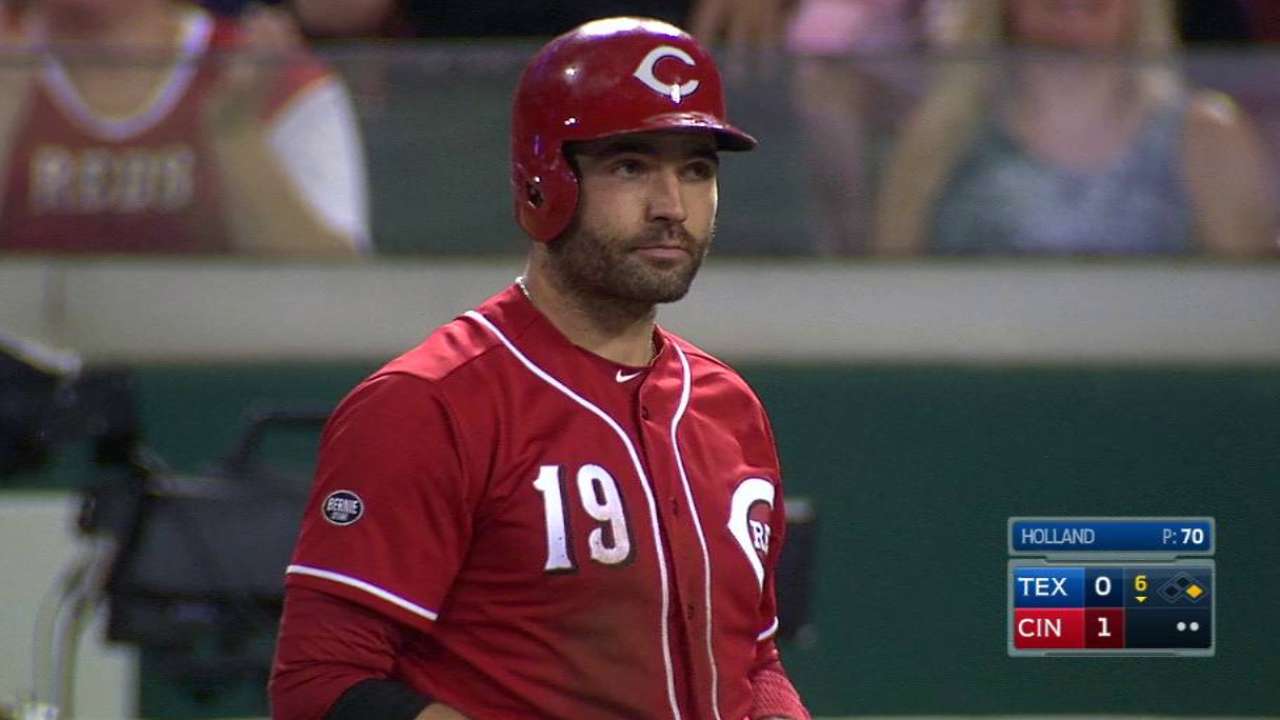 MLB.com
nytimes.com
Updated 6 hours ago
Dan Straily, in a tight pitching matchup with left-hander Derek Holland, pitched six scoreless innings and the Reds held on for a 3-0 victory over the Rangers at Great American Ball Park on Tuesday.
Share
Tweet
MLB.com

8 hours ago

Billy Hamilton risking life and limb in center field to make spectacular catches for the Reds has almost become commonplace. But it's something that is never taken for granted.

Share Tweet

yahoo.com

8 hours ago

Ben Utecht (AP) The title of Ben Utecht's book is "Counting the Days While My Mind Slips Away." Not much more needs to be added to that. Utecht, the former tight end for the Indianapolis Colts and Cincinnati Bengals from 2005-09, suffered five major con…

Share Tweet

WR derby heads down the stretch

bengals.com

20 hours ago

On Mohamed Sanu's 27th birthday Monday, the Bengals lined up rookie wide receiver Tyler Boyd in a variety of ways during practice and while he has yet to catch an NFL regular-season pass the Bengals can celebrate Boyd's ascension into the derby to start…

Share Tweet

ESPN.com

Aug 22 (yesterday)

Bengals' Kirkpatrick borrows cleats, rewards fan

Share Tweet

A-Gon, Dodgers mash 7 HRs to rout Reds

If the Dodgers' bats came alive in Sunday's win, they were downright perky on Monday. With seven home runs, including four slugged during the top of the fifth inning, Los Angeles took a wild 18-9 victory over the Reds to gain a split of their four-game …

Share Tweet

Kazmir slated to have MRI on Tuesday

Coming into Monday's game against the Reds, four of the Dodgers' last eight starters had gone fewer than four innings.

Share Tweet

ESPN.com bengals.com profootballtalk.com

Aug 22 (yesterday)

Bengals tight end Tyler Eifert jogging for first time since ankle surgery

Share Tweet

Gonzalez Hits 3 of Dodgers' 7 Homers for 18-9 Win Over Reds

nytimes.com

Aug 22 (yesterday)

Adrian Gonzalez got the most pleasure out of watching his teammates circle the bases. Nobody made as many trips as he did.

Share Tweet

Senzel off to hot start in pro career

This has indeed been a crazy summer for 2016 Reds first-round Draft pick Nick Senzel.

Share Tweet

First-place Dodgers face Reds on MLB.TV

MLB.com

Aug 22 (2 days ago)

Back in the pilot seat in the NL West, the Dodgers look to create some separation from their struggling rival, the Giants.

Share Tweet

Dodgers cool down Reds behind dealing Urias

MLB.com

Aug 21 (2 days ago)

Chase Utley and Julio Urias established the point early that Sunday would be a better day for the Dodgers. Utley gave his team its first lead of the series when he led off the game with a home run and played a part in two other runs in a 4-0 win over th…

Share Tweet

Hill connects the dots

bengals.com

Aug 21 (2 days ago)

Bengals running back Jeremy Hill's nine-yard touchdown run off a zone play Thursday night unfolded just the way he's envisioned his upcoming season. Even down to the sprint back to the sidelines without the end-zone celebration.

Share Tweet

bengals.com

Aug 21 (2 days ago)

Dre Kirkpatrick may have forgotten his cleats for the Sunday afternoon practice at West Carrollton High School, but the Bengals remembered to bring veteran wide receiver Brandon LaFell for his firs...

Share Tweet

Numbers game: A look at the Bengals roster after the 30-14 vict…

bengals.com

Aug 21 (3 days ago)

A look at the Bengals roster after the 30-14 victory in Detroit.

Share Tweet

MLB.com

Aug 21 (3 days ago)

The Reds recalled shortstop Jose Peraza from Triple-A Louisville prior to Saturday's 11-1 win over the Dodgers at Great American Ball Park and the move paid immediate dividends.

Share Tweet

Finnegan Takes No-Hitter Into 7th, Reds Beat Dodgers 11-1

nytimes.com

Aug 21 (3 days ago)

Brandon Finnegan might not have many starts left this season, and he's winding down in memorable fashion.

Share Tweet

Anderson's start cut short by blister on finger

MLB.com

Aug 20 (3 days ago)

For the second straight start, Dodgers starter Brett Anderson left early with an injury. After only three-plus innings in Saturday's 11-1 loss to the Reds at Great American Ball Park, Anderson was lifted with a blister on his left index finger.

Share Tweet

yahoo.com

Aug 20 (4 days ago)

The Los Angeles Dodgers near historic rash of injuries has been well documented. With 26 players landing on the disabled list this season, they've had to overcome more games lost from key players than any other team in baseball. It hasn't been easy for …

Share Tweet

Hopefully not lost in a very exciting Friday night of baseball was this special, emotional and nearly improbable moment that happened in Cincinnati. Cincinnati Reds reliever Michael Lorenzen returned to his teammates for the first time since his father,…

Share Tweet

Should the Bengals part ways with Burfict?

Jul 27

Stephen A. Smith views Vontaze Burfict as too good of a talent to let go for nothing, while Max Kellerman says he can't trust Burfict after his crucial mistake in the playoffs last season.

Jeremy Hill won't let fumble define him

Jul 7

Bengals RB Jeremy Hill joins SportsCenter to talk about how he is using his postseason fumble as motivation to be a better player.

Woodson: LaFell 'brilliant' for comparing Dalton to Brady

Jun 16

Tedy Bruschi and Jeff Saturday dismiss Bengals wide receiver Brandon LaFell's comments comparing Andy Dalton to Tom Brady, while Darren Woodson has different thoughts.

The NFL's original social media superstar

Jun 12

The time that Chad Johnson took 85 Browns fans out for a steak dinner.