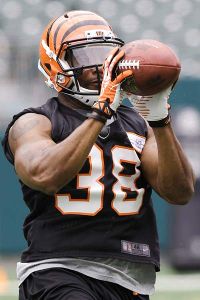 Bengal Quick Take: Veteran versatility
ESPN.com
Updated 8 hours ago
Welcome to the Cincinnati Bengals' first off day of training camp. We begin with ith only one morning take, and we'll have our regular multiple "takes" again Wednesday. This lone take has to do with Danieal Manning, the veteran safety who came…
Upvote
Share
Tweet
Bengals add Pittsburgh and Denver games for availability of single-game sales

bengals.com

1 hour ago

Single game tickets available for Pittsburgh and Denver games this Saturday.

Upvote Share Tweet

Bruce placed on bereavement list; Partch recalled

MLB.com

1 hour ago

The Reds announced Tuesday afternoon that right fielder Jay Bruce was placed on the bereavement list.

Upvote Share Tweet

ESPN.com

3 hours ago

A look at a few Cincinnati Bengals offensive players who have made strong impressions through the first five practices of training camp: DEFENSIVE ENDS Carlos Dunlap: Expectations are high for the fifth-year lineman this season. They're so high that def…

Upvote Share Tweet

Hobson's Choice: camping out

bengals.com

6 hours ago

The readers want to know how Hue Jackson can take the offense to the NFL elite.

Upvote Share Tweet

Slumping Reds strike out 18 times in bat-breaking loss to D-backs

yahoo.com

14 hours ago

You want to know what type of game it was Monday night for the Cincinnati Reds? Just watch the video above. There's Jay Bruce — who was 0-for-4 in the game with three strikeouts — breaking his bat over his knee after going down on strikes in the ninth i…

Upvote Share Tweet

Chapman turns up the heat against D-backs

MLB.com

16 hours ago

Reds closer Aroldis Chapman threw 20 pitches on Monday night and 15 of them were fastballs. None of Chapman's fastballs were clocked at less than 101 mph and the average speed of those pitches was 102 mph. Chapman hit 104 mph on a pitch to Paul Goldschm…

Upvote Share Tweet

ESPN.com nytimes.com

17 hours ago

Nick Ahmed's RBI single with two outs in the 15th inning sent the Arizona Diamondbacks to a 2-1 victory over the Cincinnati Reds on Monday night and kept their franchise perfect when games go really long.

Upvote Share Tweet

'Opportunity of a lifetime'

bengals.com

18 hours ago

Defensive tackle LaKendrick Ross is just 20 years old, so he's a young man in a hurry as he learns the game on the highest level.

Upvote Share Tweet

D-backs lose challenge after fan catches foul ball

MLB.com

19 hours ago

The D-backs lost a manager's challenge in the ninth inning during Monday night's game against the Reds at Great American Ball Park.

Upvote Share Tweet

ESPN.com

22 hours ago

CINCINNATI -- A daily review of the hot topics coming out of Cincinnati Bengals training camp: The Bengals had barely finished stretching at the start of Monday's practice before Mohamed Sanu made his presence known. The receiver went in motion on one o…

Upvote Share Tweet

Monday quick hits: DiManche bulks up

Jayson DiManche put 14 pounds back on and wants another match with Shawn Williams. Jayson DiManche, the free agent rookie from Southern Illinois and Shawn Williams, the third-rounder from Georgi...

Upvote Share Tweet

Camp report: offense splits in live action; Camp Sanu keeps rolling

His offense split the live action in short yardage and goal line during Monday's practice. Not good enough for Hue Jackson. But a good start for his physical game.

Upvote Share Tweet

Carlos Dunlap has Pro Bowl in his sights

ESPN.com

Jul 28 (yesterday)

CINCINNATI -- Geno Atkins has done it. So has Vontaze Burfict. Now Carlos Dunlap believes it's his turn. The Cincinnati Bengals' fifth-year defensive end said before training camp practice Monday that he would like to join Atkins and Burfict as the next…

Upvote Share Tweet

Bengals Announce Partnership With Papa John's Pizza

Papa John's becomes Official Pizza of the Bengals.

Upvote Share Tweet

ESPN.com

Jul 28 (yesterday)

Examining the Cincinnati Bengals' roster: QUARTERBACKS (3) Andy Dalton Jason Campbell AJ McCarron The Bengals were content with having just two quarterbacks on the 53-man roster last season, but expect them to take three this year. McCarron would be the…

Upvote Share Tweet

ESPN.com

Jul 27 (yesterday)

CINCINNATI -- BenJarvus Green-Ellis' future with the Cincinnati Bengals first appeared in doubt back in early May when the Bengals drafted running back Jeremy Hill out of LSU. The rookie is bigger than Green-Ellis. He's faster and clearly younger, too. …

Upvote Share Tweet

bengals.com

Jul 27 (yesterday)

One of the staples of the dozen seasons of the Marvin Lewis regime has been the famed/outdated Oklahoma Drill. But when he scratched it Sunday and went with the half-line drill in front of about 1,...

Upvote Share Tweet

nytimes.com MLB.com

Jul 27 (yesterday)

Doug Fister took advantage of facing the slumping Cincinnati Reds to extend the best season-opening start by any Washington pitcher in a 4-0 Nationals' win Sunday.

Upvote Share Tweet

Still's decision to keep playing not an easy one

bengals.com

Jul 27 (2 days ago)

Bengals defensive tackle Devon Still practiced for the first time Saturday since herniating a disk in practice last Dec. 18. But he still almost didn't come to training camp and it had nothing to ...

Upvote Share Tweet

Still turns to football in fight of his life

bengals.com

Jul 27 (2 days ago)

In the heat of training camp Devon Still's bald head inspires his daughter and perspires football. That's what happens when you are a third-year backup defensive tackle for the Bengals and have a four-year-old daughter with Stage 4 cancer. You came this…

Upvote Share Tweet

Bengals wake-up call: Three areas to watch

ESPN.com

Jul 27 (2 days ago)

CINCINNATI -- As the Cincinnati Bengals get going with Day 4 of training camp Sunday, here are three items we're going to be watching: Full pads come on. For the first time this training camp, the Bengals will put on shoulder pads and padded practice pa…

Upvote Share Tweet

Who will win the AFC North?

Jul 28

The "NFL Total Access" guys give their opinions about which team will claim the AFC North in 2014. Do the fans agree? Find out in this hashtag battle.

Nationals Take Down Reds

Jul 27

Adam LaRoche drove in two runs to lead the Nationals past the Reds 4-2.

Mind reading with 'NFL Total Access'

Jul 27

In this segment, the "NFL Total Access" team puts on their fortune-teller caps and gives their best guess as to what these players and coaches are thinking at training camp.

Cueto, Reds Blank Nationals

Jul 26

Johnny Cueto struck out nine batters over seven scoreless innings to lead the Reds past the Nationals 1-0.