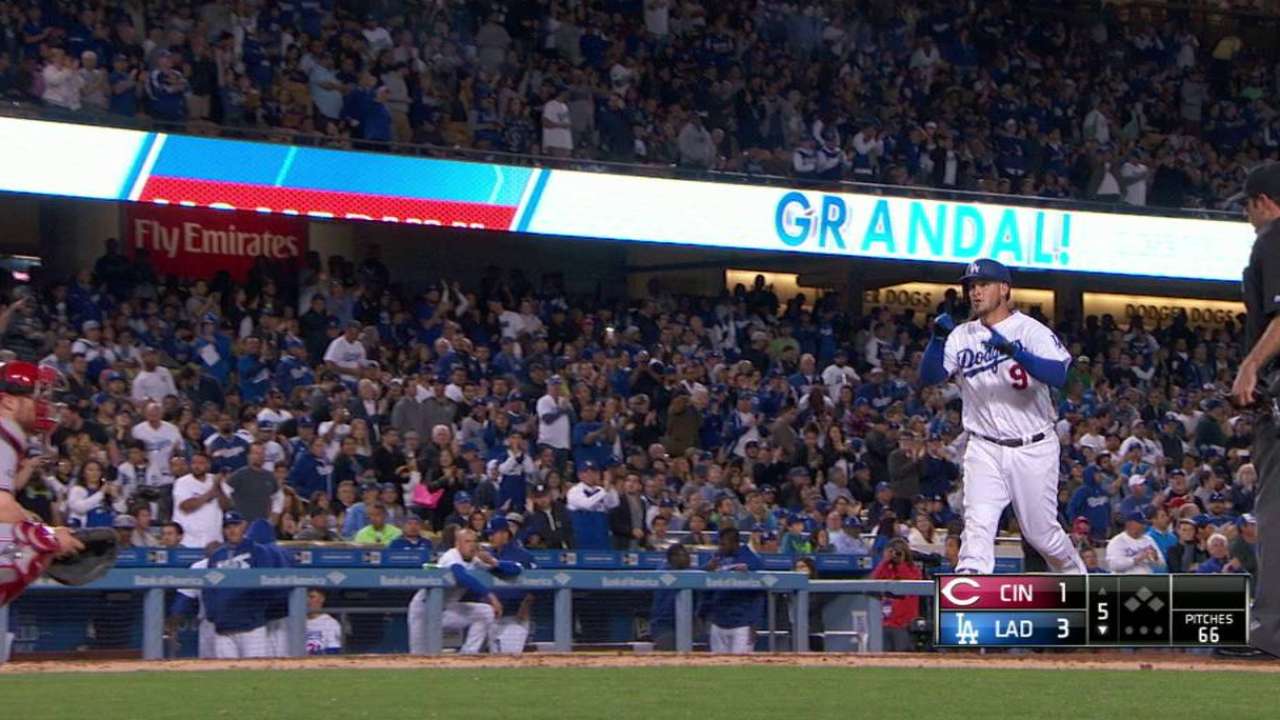 nytimes.com
MLB.com
Updated 2 hours ago
The Los Angeles Dodgers finished a three-game sweep of the last-place Cincinnati Reds and extended their winning streak to a season-high four games.
Share
Tweet
bengals.com profootballtalk.com ESPN.com

6 hours ago

Dwight Freeney had eight of his 119.5 sacks for the Cardinals last season. Although Dwight Freeney is reportedly headed to visit Atlanta (according to ESPN's Jim Trotter) and he has been linked to...

Share Tweet

bengals.com ESPN.com profootballtalk.com yahoo.com

9 hours ago

Tyler Eifert led all tight ends in 2015 with 13 TDs. With game-breaking Pro Bowl tight end Tyler Eifert scheduled for an ankle surgery Wednesday that puts his availability for the Sept. 11 regula...

Share Tweet

With key blockers out, Bengals linebacker switches to fullback

ESPN.com

11 hours ago

With key blockers out, Bengals linebacker switches to fullback

Share Tweet

Joey Votto Has No Time For Your Foolish Japes

deadspin.com

13 hours ago

Some rapscallion at last night's Dodgers game threw a paper airplane onto the field. Reds first baseman Joey Votto was not amused by this tomfoolery:Read more...

Share Tweet

Giants' free agent pitchers turn into their greatest strength

yahoo.com

16 hours ago

This past offseason, the San Francisco Giants made two big free agent signings to replenish their starting rotation. They snatched up Johnny Cueto, who had spent 2015 with the Kansas City Royals and the Cincinnati Reds, and Jeff Samardzija, who pitched …

Share Tweet

MLB.com nytimes.com

23 hours ago

Mike Bolsinger rejoined the Dodgers' rotation Tuesday with a strong outing against the Reds, limiting Cincinnati to two runs as his club won, 8-2, at Dodger Stadium, extending the Reds' losing streak to nine games

Share Tweet

MLB.com

May 25 (yesterday)

Yasiel Puig's night ended early before the Dodgers' 8-2 win over the Reds on Tuesday night, as he was removed for disciplinary reasons as his team took the field to begin the seventh inning.

Share Tweet

A.J. looks to mentor Dalton's green receivers

bengals.com

May 24 (yesterday)

Rookie wide receiver Cody Core caught Adam Jones' eye. You know the professional hitter who can roll out of a snowbank in January and hit .300 with five dingers in spring training? Well, me...

Share Tweet

profootballtalk.com ESPN.com

May 24 (yesterday)

Steelers running back Le'Veon Bell was on the field doing individual drills with his Steelers teammates on Tuesday, something that hasn't been the case since he tore his MCL in a November 1 game against the Bengals. Bell's injury became a talking point …

Share Tweet

Kershutout! Clayton's two-hitter stymies Reds

MLB.com

May 24 (2 days ago)

Clayton Kershaw dominated again Monday night at Dodger Stadium, firing a two-hit shutout in a 1-0 Dodgers win over the Reds, whose losing streak reached eight.

Share Tweet

nytimes.com

May 24 (2 days ago)

Clayton Kershaw bailed out the Los Angeles Dodgers' exhausted bullpen with his third shutout of the season, and he was quick about it, too.

Share Tweet

Skip: Bell should have kept quiet

May 25

Skip Bayless proclaims it was very un-Steeler like for Le'Veon Bell to publicly say the Bengals and other teams in the AFC North have aimed to hurt him on the football field.

Bell suggests teams aimed to injure him

May 24

Le'Veon Bells tells reporters the Bengals, and other teams in the AFC North were attempting to injure him last season.

Bengals' Jeremy Hill about to favor action over talk

May 17

ESPN Bengals reporter Coley Harvey breaks down what appears to be a change to running back Jeremy Hill's personality.

Williams ready to start for Bengals, gets contract extension

May 17

ESPN NFL Insider Josina Anderson explains why the Bengals have extended safety Shawn Williams' deal and if Cincinnati will see a drop off following the departure of Reggie Nelson.