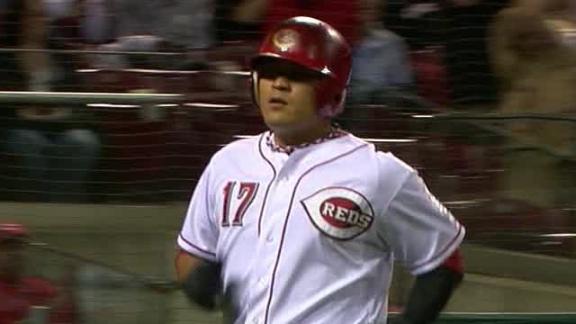 Updated Apr 18
Share
Tweet
Shin-Soo Choo singled, doubled and scored twice, helping left-hander Tony Cingrani get a victory in his first major league start, and the Cincinnati Reds won their fourth in a row, beating the Miami Marlins 11-1 on Thursday night.
Updated Apr 18

Share Tweet

Breakdown: The Cincinnati Bengals will open on the road for the fourth straight season when it plays at the Chicago Bears, who are beginning the Marc Trestman era. In an unusual trend, this marks the fifth time in eight years that Cincinnati opens again…

Don Banks: Must-See TV: 17 games that highlight 2013 schedule

Updated Apr 18

Share Tweet

There will always be differing opinions on what makes for must-see TV, but now that the 2013 NFL schedule is ours for the anticipating, here are the 17 games in the league's 17-week regular season that I can't wait to see.

Source:

CNNSI.com

Updated Apr 18

Share Tweet

After coming off their best December under Marvin Lewis, the Bengals got a favorable late-season draw Thursday when the NFL released the 2013 schedule.

Sources:

bengals.com cincinnati.com

Stanton back in Marlins lineup vs. Reds

Updated Apr 18

Share Tweet

All-Star outfielder Giancarlo Stanton, who missed six games with a bruised left shoulder, returned to the Marlins' lineup on Thursday, going 1-for-3 with a walk in an 11-1 loss to the Reds.

Source:

MLB.com

Updated Apr 18

Share Tweet

The Cincinnati Bengals have a decision to make on who will be their next starting outside linebacker. The talks with free agent James Harrison have apparently broken off, and the NFL Network is reporting the Bengals remain interested in Karlos Dansby, w…

Updated Apr 18

Share Tweet

For the first time in franchise history, the Bengals have qualified for the postseason in consecutive non-strike seasons. But they still haven't won a playoff game since the week before they destroyed Bo Jackson's hip. To get to the next level, the Be

Source:

profootballtalk.com

Updated Apr 18

Share Tweet

Bengals writer Joe Reedy continues his position-by-position analysis leading into this year's NFL Draft, which takes place April 25-27.

Source:

cincinnati.com

Reds Sink Marlins For Fourth Straight Win

Apr 18

Honorary batboy Ted Kremer, a 30-year-old with Down syndrome, celebrates as Todd Frazier hits a two-run homer in the Reds' 11-1 win over the Marlins.