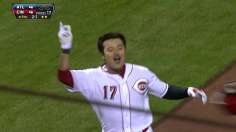 bengals.com

May 7, 2013

Ask Brandon Thompson, one of those young, bright defensive linemen the Bengals seem to have a market on these days.

Share Tweet

Reds tie it, then walkoff on Choo HR all in the 9th

CNNSI.com

May 7, 2013

Reds tie it, then walkoff on Choo HR all in the 9th

Share Tweet

Doc: What good does playing through pain do?

cincinnati.com

May 7, 2013

In sports, pain is character and pride, a component of your self worth and a measure of desire. Pain is in the contract, writes Paul Daugherty.

Share Tweet

bengals.com

May 7, 2013

The Bengals have arranged for a number of unsigned players to work with the team on a tryout basis during the May 10-12 minicamp for rookies and eligible first-year players.

Share Tweet

CNNSI.com

May 7, 2013

SACRAMENTO, Calif. -- Reggie Williams' movements are as labored as his breathing. While others walk the halls of the state Capitol with apparent ease, the 58-year-old former Cincinnati Bengals linebacker struggles to get around. He has a crutch under ea…

Share Tweet

ESPN.com

May 7, 2013

As an analyst for NFL Live, Pittsburgh Steelers safety Ryan Clark declared the Cincinnati Bengals as the most improved team in the AFC North because they were able to keep their own free agents and add former Steelers linebacker James Harrison to the de…

Share Tweet

Football legend Carter tosses out first pitch for Reds

MLB.com

May 7, 2013

Recently elected into the Pro Football Hall of Fame, former NFL wide receiver and Ohio State star Cris Carter threw out a ceremonial first pitch Monday night before the Reds played the Braves at Great American Ball Park.

Share Tweet

MLB.com

May 7, 2013

Braves catcher Brian McCann, who was making his season debut after spending five weeks on the disabled list, went 0-for-4 with a walk in Monday's 7-4 win over the Reds. McCann, 29, underwent offseason surgery to repair a torn labrum in his right shoulde…

Share Tweet

Walk-Off Homer Lifts Reds Past Braves

May 7

Shin-Soo Choo hit two home runs, including the walk-off shot, to lift the Reds to a 5-4 win over the Braves.

Marvin Lewis one-on-one

May 7

Cincinnati Bengals head coach Marvin Lewis talks with Kimberly Jones about coordinators Mike Zimmer and Jay Gruden being prime candidates in the future for head coaching positions and the recent acquisition of linebacker James Harrison.

The Sports Car: Terence Newman

May 7

Cincinnati Bengals safety Terence Newman puts down his guard on his travels through Los Angeles with Dave Dameshek.

SweetSpot TV: Leadoff Hitters

May 7

Eric Karabell and David Schoenfield break down the best and worst leadoff hitters this season.