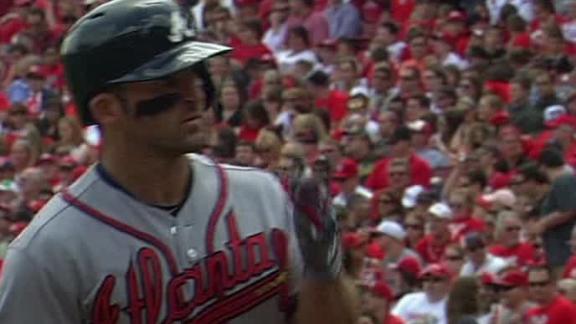 Updated May 8
Share
Tweet
Dan Uggla hit a pair of solo homers and Juan Francisco added his first career grand slam as the Atlanta Braves recovered from a stunning last-swing loss by beating the Cincinnati Reds 7-2 Wednesday.
Bengals, seventh-rounder agree to terms

Updated May 8

Share Tweet

With rookie minicamp starting on Friday, the Bengals are starting the process of getting their 10 draft picks under contract. The team has agreed to terms with center T.J. Johnson, who was taken in the seventh round.

Updated May 8

Share Tweet

Rex Burkhead, whose old position coach says is "arguably the most popular player ever at Nebraska," has his own favorite Cornhusker.

Source:

bengals.com

Bengals reach deal with rookie center T.J. Johnson

Updated May 8

Share Tweet

The Bengals have signed center T.J. Johnson, a seventh-round pick from South Carolina, Aaron Wilson of the Baltimore Sun reported Wednesday. Johnson (6-4, 310) started all 53 games in his collegiate career, playing right guard as a freshman in 2009 and …

Source:

profootballtalk.com

Updated May 8

Share Tweet

PHILADELPHIA -- The rising use of analytics in the NFL has prompted a new respect for the power and relevance of statistical data, but there's one set of recent numbers that can't be sliced or interpreted in any way but the obvious: In a league where mi…

Source:

CNNSI.com

Updated May 8

Share Tweet

The Braves will fly to San Francisco for a four-game series with the Giants after Wednesday's series finale against the Reds. Jason Heyward, meanwhile, will fly to Atlanta.

Source:

MLB.com

Cueto set to start rehab assignment Thursday

Updated May 8

Share Tweet

Reds ace Johnny Cueto will begin a rehab assignment Thursday with Class A Dayton, pitching a home game against Lansing. Cueto threw 25 pitches in the bullpen on Monday and felt no ill-effects in his oblique area.

Source:

MLB.com

The Juice: Cincinnati Reds home runs stun Atlanta's Craig Kimbrel in ninth-inning comeback

Updated May 8

Share Tweet

Your browser does not support iframes. The Juice returns for season No. 6! It's almost eligible for free-agency! Stop by daily for news from the action, along with great photos, stats, video highlights and more. One strike away from his 100th career sav…

Source:

yahoo.com

Updated May 8

Share Tweet

Besides the draft picks and undrafted free agents, the Bengals will have a number of players working out on a tryout basis when rookie minicamp starts on Friday. Nine of those players set to participate have local or regional ties.

Estimating Bengals' rookie salaries

Updated May 8

Share Tweet

Via league sources, The Enquirer has obtained a copy of the rookie compensation pool numbers for the Bengals. Under the league's formula for determining salaries, the Bengals will have a rookie allocation of $6,322,645 for their 10 draft picks.

Dan Uggla Homers Twice In Braves Win

May 8

Dan Uggla had two home runs and scored three times, helping the Braves defeat the Reds.

James Harrison brings bite to Bengals

May 8

Jamie Dukes says recent comments from Cincinnati Bengals head coach Marvin Lewis about linebacker James Harrison mean the former Steeler will bring some toughness to the Bengals' defense.