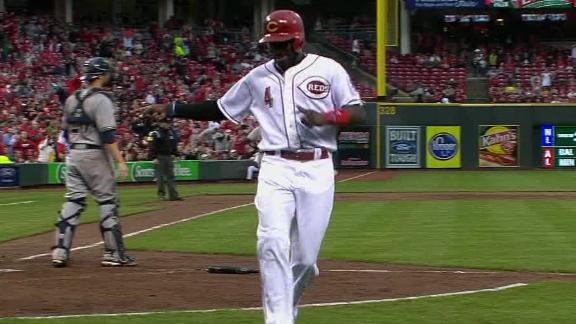 ESPN.com
Updated May 10, 2013
Brandon Phillips homered and made a spectacular rally-busting play -- using his left knee to get a forceout and start a double play -- as the Cincinnati Reds beat the Milwaukee Brewers 4-3 on Friday night.
Share
Tweet
Cueto reports no ill-effects after rehab start

MLB.com

May 10, 2013

Reds ace Johnny Cueto reported no issues the day after he threw 50 pitches over three innings in a rehab start for Class A Dayton on Thursday.

Share Tweet

bengals.com

May 10, 2013

Bengals head coach Marvin Lewis isn't prone to doling out praise from the lectern, but after Friday's first two practices of rookie minicamp he was downright effusive, particularly about the first two draft picks, Notre Dame tight end Tyler Eifert and N…

Share Tweet

Reds activate Hanigan ahead of Brewers series

The Reds activated catcher Ryan Hanigan off the disabled list for the start of a series on Friday night against the Milwaukee Brewers, getting them a little closer to full-strength.

Share Tweet

bengals.com

May 10, 2013

Andy Dalton admitted "it's a rookie minicamp," and "it's early," but he and fellow quarterback Josh Johnson snuck a peak Friday morning at the first proceedings from the Paul Brown Stadium runway and Dalton liked what he saw from his two newest weapons.

Share Tweet

Bengals rookie minicamp storylines, roster

cincinnati.com

May 10, 2013

There are two practice sessions today and Saturday. Here are some of the things we'll be watching.

Share Tweet

Bengals begin the Margus Hunt project

The Cincinnati Bengals start their rookie minicamp on Friday, which means it's time for the Margus Hunt project to officially begin. Selected in the second round by the Bengals, Hunt is the AFC North's most intriguing draft pick this year. He's the defe…

Share Tweet

Atkins among NFL's 10 most underrated players

cincinnati.com

May 10, 2013

Bengals defensive lineman Geno Atkins is among the NFL's 10 most underrated players, according to CBSSports.com NFL Insider Mike Freeman.

Share Tweet

Wake-up: Browns' Bryant reports to camp

The Cincinnati Bengals and Cleveland Browns will begin their rookie minicamps Friday. There will be no hitting and no pads. It's just a bunch of 20-something hopefuls trying to act like they know what's going on after being drafted two weeks ago. Many o…

Share Tweet

Mets could go after Cincinnati Reds outfielder Shin-Soo Choo in offseason

nydailynews.com

May 10, 2013

It's only May, and yet on the nights when Matt Harvey isn't pitching, the only real intrigue surrounding the Mets is figuring out how they're going to turn this team into a contender by next year, never mind this season.

Share Tweet

Web Gems

May 10

Does Brandon Phillips' fielding the ball barehanded and turning the double play top Miguel Tejada's fielding the tough hop and throwing to first for the out?

Phillips Lifts Reds Past Brewers

May 10

Brandon Phillips drove in two runs and scored two runs in the Reds' 4-3 win against the Brewers.