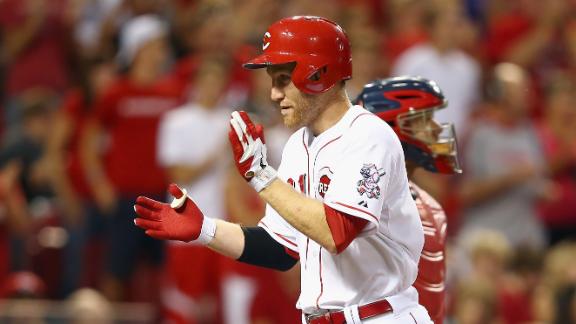 Reds hit three homers off Lance Lynn to beat Cardinals 6-2.
Share
Tweet
Reds take set from Cards, gain ground in races

With Tony Cingrani returning to the mound on Thursday after missing two starts with a strained lower back, Dusty Baker questioned how much he would get from the left-hander. The answer, thanks in part to a strong offensive attack, turned out to be more …

Share Tweet

ESPN.com cincinnati.com bengals.com

Sep 5, 2013

Ask Bengals tight end Jermaine Gresham if he feels he deserves an extension to his contract that runs out after next season. His answer might surprise you. Most players, when posed such an inquiry about whether a longer-term contract or more money shoul…

Share Tweet

bengals.com

Sep 5, 2013

On paper and in the national hype machine the Bengals are an unbeatable 13-3.

Share Tweet

cincinnati.com ESPN.com

Sep 5, 2013

When it comes to the biggest worries facing the Bengals this season, it isn't the Ravens or the Steelers that have been the largest ones. It's an opponent not even on the schedule.

Share Tweet

Bengals special teams: Returning to form

A punt return is the NFL's equivalent of facing the obstacle course on 'Wipeout.' If you survive the first couple of challenges, there's always that tackle or trip out of nowhere between a good return and a touchdown.

Share Tweet

Daugherty: Dalton's the last unknown for Bengals

Despite all the game-within-the-game complexity, finding a winning formula in the NFL is an obvious task: Acquire a very good quarterback. Keep him healthy.

Share Tweet

Bengals offensive preview: Looking to rise

We have a basic idea of what to expect from the Bengals defense, which has finished in the league's top 10 three of the past four years. The offense, however, remains an enigma.

Share Tweet

ESPN.com

Sep 5, 2013

CINCINNATI -- For Cincinnati Bengals left tackle Andrew Whitworth, the waiting game continues. Once again, the eight-year veteran was held out of a practice, working Thursday on conditioning drills instead of game preparation as he recovers from offseas…

Share Tweet

bengals.com

Sep 5, 2013

In one of those games that is simply going to be decided at the line of scrimmage, no questions asked, this matchup of sons of two of the tougher NFL players in the '80s and '90s is the marquee joust.

Share Tweet

Bengals look to reverse opening-day trend

ESPN.com

Sep 5, 2013

Cincinnati cornerback Leon Hall remembers exactly how Bengals fans reacted one year ago next Tuesday when he and his teammates were blown out by Baltimore in their latest season opener. "It wasn't a very good reaction," he said. A 44-13 defeat…

Share Tweet

CNNSI.com

Sep 5, 2013

Could an aggressive defense give the Saints an edge over the Falcons? That and more Week 1 picks.

Share Tweet

Reds lay it down in extras, 'it' being a victory

What made the Reds' 5-4 loss to the Cardinals on Wednesday particularly vexing was Buntapalooza, a squaring-up spree that sprouted up in extras and absolutely killed the Reds' would-be rallies.

Share Tweet

Matt Adams, who entered after Allen Craig's injury, homered twice in extra innings in the Cardinals' 5-4 win over the Reds on Wednesday to pull closer to the NL Central-leading Pirates.

Share Tweet

Reds Run Suicide Squeeze With Two Outs In The 15th Inning

deadspin.com

Sep 5, 2013

Dusty Baker called for a suicide squeeze with two on and two out in the 15th inning and guess what? It didn't work. The Cardinals took the lead the following inning on a Matt Adams home run and defeated the Reds 5-4.Read more...

Share Tweet

Preview: Cincinnati Bengals vs. Chicago Bears

Sep 5

NFL Films previews the Week 1 matchup between the Cincinnati Bengals and the Chicago Bears.

Countdown Daily Prediction: CIN-CHI

Sep 5

The NFL Live crew makes their picks for Cincinnati at Chicago

AFC North predictions

Sep 5

The "NFL AM" crew discusses which team will be able to take the AFC North crown away from the Baltimore Ravens.

Reds Power Past Cardinals

Sep 5

Todd Frazier hit two home runs to lead the Reds past the Cardinals 6-2.