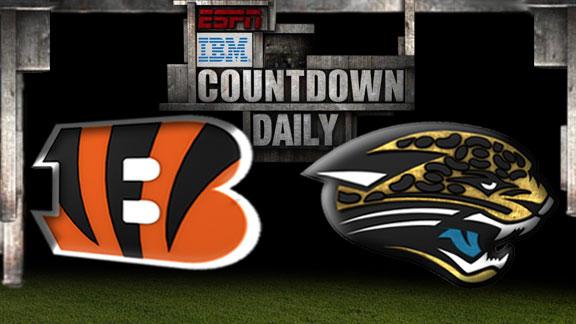 bengals.com
ESPN.com
Updated Sep 30, 2012
VS. POSTGAME QUOTESSEPTEMBER 30, 2012 BENGALS COACH MARVIN LEWIS On the players who are filling in for injured players: "That's what they're here for. The interception was a big play in ...
Share
Tweet
Reedy revisits Four Downs

cincinnati.com

Sep 30, 2012

Joe Reedy revisits his Four Downs after the Bengals' 27-10 win against the Jaguars in Jacksonville.

Share Tweet

ESPN.com profootballtalk.com whodeyfans.com bengals.com

Sep 30, 2012

Let me know if you've heard this one before: Are the Cincinnati Bengals for real? Last season, the surprising Bengals went 9-0 against non-playoff teams and 0-7 against playoffs teams. This year, Cincinnati has followed the same path. After getting rout…

Share Tweet

Quick hits: Lewis relieved

bengals.com

Sep 30, 2012

» Bengals head coach Marvin Lewis was pleased to come away with the road victory but despite his team being 3-1 he's not satisfied."It's good to get this win on the road," he said. "I told these g...

Share Tweet

Tom Brady Says "Fuck You, Bitches" And The Bengals Win Gangnam Style: Your Sunday NFL GIF Roundup

deadspin.com

Sep 30, 2012

This is where we'll be stashing the best GIFs from Week 4-from Percy Harvin returning a kickoff for the first touchdown of the day to, in all likelihood, Michael Vick breaking a rib. The day is done, except for the Eagles and Giants, so let's take a loo

Share Tweet

MLB.com

Sep 30, 2012

Reds second baseman Brandon Phillips was lifted in the sixth inning Sunday during a 4-3 win over the Pirates. It was a precaution as Phillips felt tightness in his left groin while running the bases in the third inning.

Share Tweet

profootballtalk.com bengals.com

Sep 30, 2012

There were dramatic finishes and displays of incredible football all over the NFL today. There was also a game in Jacksonville. The Bengals did what a (relatively) good team should do to a (relatively) bad one,  thumping the Jaguars 27-10. They did it e…

Share Tweet

The Losingest Losers Keep Right On Losing

deadspin.com

Sep 30, 2012

Welp. That'll do it. The Pittsburgh Pirates were 16 games over .500 as recently as Aug. 8. The playoffs were still a very real possibility, but even if the postseason wasn't going to happen, a winning season likely would. Cue the fart noise. Today's los…

Share Tweet

The Pittsburgh Pirates ensured they'd finish with a record 20th straight losing season Sunday when they blew a ninth-inning lead and lost 4-3 to the Cincinnati Reds.

Share Tweet

yahoo.com

Sep 30, 2012

The Arizona Cardinals will be without veteran defensive tackle Darnell Dockett, who had been listed as "doubtful" with a hamstring injury. Before Sunday's game, Dockett had missed just one game in his eight-plus seasons in the NFL. The Cardina…

Share Tweet

Bengals don't play four corners

bengals.com

Sep 30, 2012

JACKSONVILLE, Fla. - As feared the Bengals iced their four injured cornerbacks for Sunday's game against the Jaguars at EverBank Field and Nate Clements (calf) didn't even make the trip a week afte...

Share Tweet

profootballtalk.com ESPN.com

Sep 30, 2012

The Bengals will suit up just three cornerbacks today, with Nate Clements, Jason Allen, Dre Kirkpatrick and Leon Hall inactive for today's game against the Jaguars. That leaves just Terence Newman, Adam Jones and Chris Lewis-Harris at the position. Then

Share Tweet

Dusty Baker is going to rejoin the Cincinnati Reds in St. Louis after missing 11 games because of a mini-stroke, and he will manage the team during the final series of the regular season.

Share Tweet

Ludwick feels good, but scratched due to wet field

MLB.com

Sep 30, 2012

Recovered from tightness in his left groin, Reds left fielder Ryan Ludwick was in the original starting lineup Sunday for the first time since Sept. 19. But morning showers prompted Ludwick to be scratched as a precaution. Chris Heisey started in left f…

Share Tweet

The Ravens and Browns played Thursday. The Steelers are on their bye. That means all of the pressure of upholding the good name of the division rests on the Bengals today. Before we start Who Dey Sunday, let's take a look at what is happening around the…

Share Tweet

Sunday Blitz: Bengals-Jaguars Recap

Sep 30

Jim Basquil and Eric Allen break down the Bengals' 27-10 win over the Jaguars.

Bengals Down Jaguars

Sep 30

Andy Dalton threw two touchdown passes to lead the Bengals past the Jaguars 27-10.

Cincinnati Bengals vs. Jacksonville Jaguars highlights

Sep 30

Andy Dalton throws for over 200 yards and two touchdowns to help the Cincinnati Bengals knock off the Jacksonville Jaguars 27-10.

'Gangnam style' sack

Sep 30

Cincinnati Bengals defensive tackle Domata Peko sacks Jacksonville Jaguars quarterback Blaine Gabbert and does the popular "Gangnam Style" dance.