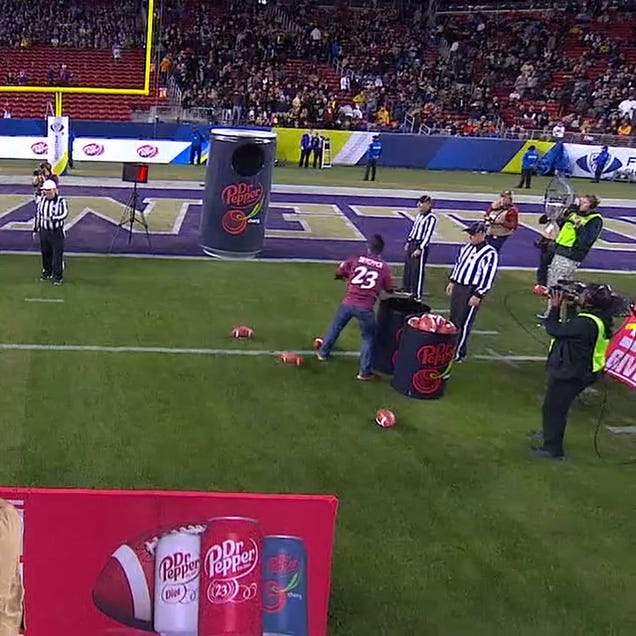 Your Next Browns Quarterback, Everyone
deadspin.com
Updated 2 hours ago
There are tougher ways to earn $20,000, I guess.Read more...
Share
Tweet
Is the devil in the details of the Browns 0-12 season? -- Bud Shaw

cleveland.com

9 hours ago

Cleveland sports fans wonder if the Browns season is a tradeoff, if Tiger Woods' comeback is officially activated and what items Browns QBs will put on their Christmas lists.

Share Tweet

Corey Coleman fined for facemask penalty

profootballtalk.com

9 hours ago

Browns rookie wide receiver Corey Coleman was fined $9,115 for grabbing the facemask of Giants cornerback Eli Apple during last Sunday's game, PFT has confirmed. The penalty occurred in the second quarter as the Browns were in Giants' territory and Josh…

Share Tweet

Manziel agrees to anger management, substance abuse treatment to drop domestic violence charges

profootballtalk.com

10 hours ago

Former Browns quarterback Johnny Manziel got domestic violence charges dropped in an agreement with prosecutors that requires him to go into anger management counseling and get substance abuse treatment. Manziel is already in the NFL's substance abuse p…

Share Tweet

clevelandbrowns.com cleveland.com

11 hours ago

The Browns WR leads the team with 855 yards and 4 TDs

Share Tweet

Browns Community Highlights - December 2

clevelandbrowns.com

14 hours ago

The Cleveland Browns are committed to the community. Through First and Ten, the Dawg Pound is encouraged to share what they are doing to give back. Get inspired and check out what these fans are d...

Share Tweet

Browns O-Line trying to overcome injuries: 'You can't make an excuse'

clevelandbrowns.com

17 hours ago

The unit is still a work in progress after an array of key injuries

Share Tweet

How Browns 2016 cut and traded players are doing this season

cleveland.com

19 hours ago

In case you were wondering how former Browns are doing this season, we've tracked them down.

Share Tweet

The Browns need to hire a football GM and give him final say over the roster: Mary Kay Cabot

cleveland.com

Dec 1 (yesterday)

Jimmy Haslam has a gaping hole at the top of his personnel department. It's an accomplished football GM who's built a roster for a winning team. He should not only hire one, but give him final say.

Share Tweet

Browns LB coaches splitting time with 'special' Jamie Collins

Versatile Pro Bowler working on the inside and outside

Share Tweet

Ed Reynolds gives Browns a 'calming' voice in secondary

The former All-American at Stanford is part of a defense coming into form

Share Tweet

Joe Haden voted Browns 2016 Ed Block Courage Award recipient

Veteran DB battled back from multiple injuries that marred 2015 season

Share Tweet

Can the Browns limit the attrition at QB in the final month? -- Bud Shaw's You Said It

cleveland.com

Dec 1 (yesterday)

Cleveland sports fans wonder about Robert Griffin III's durability, the chapter and verse of the Browns 2016 season and what's in Hue Jackson's bag of tricks.

Share Tweet

This season is miserable, but the Browns' plan to rebuild can work

ESPN.com

Dec 1 (yesterday)

This season is miserable, but the Browns' plan to rebuild can work

Share Tweet

profootballtalk.com

Nov 30 (2 days ago)

Giants wide receiver Odell Beckham hurt his thumb during last Sunday's victory over the Browns and had to leave the game briefly before returning to catch two touchdowns. Beckham also had a punt return touchdown wiped out by a penalty in the game, all o…

Share Tweet

Browns have found cohesion at safety with a rookie and under-the-radar stabilizer

clevelandbrowns.com

Nov 30 (2 days ago)

Derrick Kindred, Ed Reynolds are anchoring back end of Cleveland D

Share Tweet

Dominant day in Cleveland makes JPP the NFC defensive player of the week

The Giants defense had its way with the Browns offensive line last Sunday by sacking Josh McCown seven times and forcing a pair of fumbles that helped them head out of Cleveland as 27-13 winners. Defensive end Jason Pierre-Paul had a leading role in tha…

Share Tweet

Giants wide receiver Sterling Shepard had one carry for 22 yards against the Browns last Sunday, but he didn't have a catch or a pass thrown his way during the 27-13 victory. It's the first time the rookie has gone without a catch this season and quarte…

Share Tweet

Now that Robert Griffin III has been cleared for full contact, the Browns have a week and a half to decide if he's going to start after the bye against the Bengals. But more importantly, they'd then have four weeks to decide if they want him and in what…

Share Tweet

cleveland.com

Nov 30 (3 days ago)

The week one starter looks like he'll get another shot. Is a 26-year-old with his injury history a possibility as a franchise quarterback?

Share Tweet

RG III knows he has a lot to prove

Jul 29

Robert Griffin III speaks with Bob Holtzman about his mindset as training camp begins.

Is RG III Josh Gordon's keeper?

Jul 29

Max Kellerman is relieved that Josh Gordon has grown closer to Robert Griffin III than Johnny Manziel, which leads Kellerman to believe that this relationship will help the Browns make it to the playoffs.

Riddick: Browns' future does not include RG III

Jul 29

Louis Riddick doesn't think the future of the Cleveland Browns franchise includes having Robert Griffin III at quarterback.

Kliff Kingsbury concerned about Manziel

Jul 26

Texas Tech coach Kliff Kingsbury explains why he is worried about Johnny Manziel and what it was like coaching him at Texas A&M.