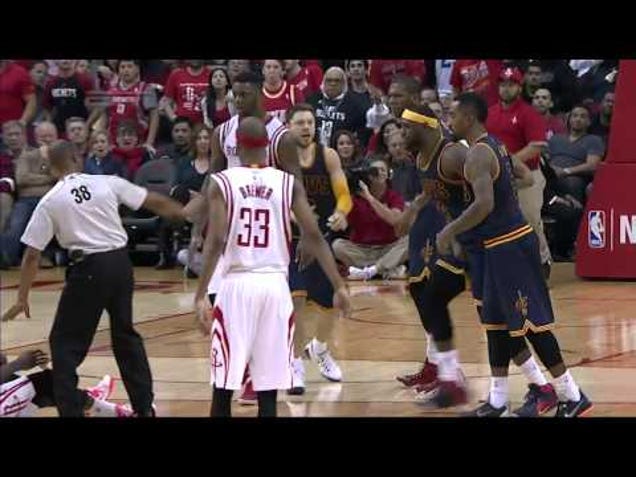 nydailynews.com
yahoo.com
nba.com
deadspin.com
Updated Mar 2 (yesterday)
The LeBron James we all know, love and occasionally mock is finally back.
Upvote
Share
Tweet
nba.com

14 hours ago

Kyrie Irving admitted missing two games with a strained left shoulder wasn't easy.

Upvote Share Tweet

Rockets guard James Harden was called for a flagrant foul for appearing to kick LeBron James below the belt in Sunday's 105-103 overtime win over the Cleveland Cavaliers.

Upvote Share Tweet

Cavaliers point guard Kyrie Irving will miss his second straight game, Sunday against the Rockets, with a strained left shoulder, an injury the team had thought would only sideline him for one game.

Upvote Share Tweet

​Kendrick Perkins Had A Very Kendrick Perkins Game

deadspin.com

Feb 27 (5 days ago)

LeBron James was amazing , but I would like to draw your attention to another remarkable performance from last night's game between the Cleveland Cavaliers and the Golden State Warriors: That of Kendrick Perkins, a rusty tugboat that washed up onto a ba…

Upvote Share Tweet

deadspin.com yahoo.com

Feb 27 (5 days ago)

The Cavaliers played the Warriors tonight in what was billed as a potential Finals preview. If that is indeed what it was, the Cleveland Cavaliers will win the NBA Finals 4-0.Read more...

Upvote Share Tweet

LeBron, Cavs Bounce Back Big

Mar 3

LeBron James scored 27 points and passed Ray Allen for 21st place on the all-time scoring list, as the Cavs followed up a loss to the Rockets by defeating the Celtics 110-79.

The Pulse: The King Gets Crowned

Mar 2

Lots of social reaction to the Cavaliers-Rockets game Sunday. The Rockets and James Harden took a pair of cheap shots at LeBron, and what was up with Harden's hat? Cary Chow explains.

LeBron Disappoints, Harden Impresses

Mar 2

P.J. Carlesimo discusses LeBron James' and James Harden's performances in Houston's win over Cleveland.

Harden Suspended One Game For Kicking LeBron

Mar 2

Tim Legler reacts to the news that James Harden has been suspended one game for kicking LeBron James in the groin during the Rockets' victory over the Cavaliers.