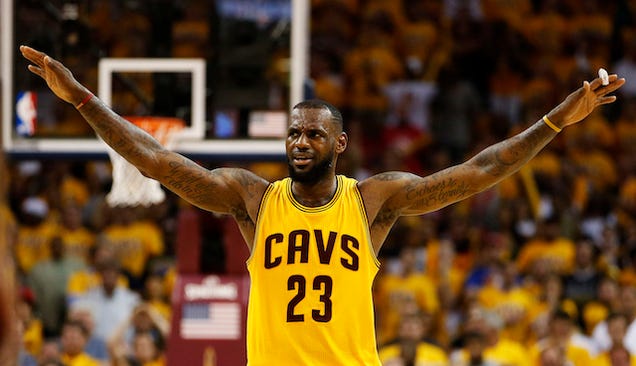 yahoo.com
deadspin.com
Updated 10 hours ago
Game 3 of the 2015 Eastern Conference finals will not be remembered as an especially well played example of NBA basketball. Over 53 minutes, the Cleveland Cavaliers and Atlanta Hawks handed each other many opportunities to win, with either team only int…
Share
Tweet
yahoo.com nba.com ESPN.com deadspin.com

13 hours ago

Already having lost both of their opening home games to the Cleveland Cavaliers, the Atlanta Hawks suffered another major blow late in the second quarter of Game 3 of the Eastern Conference finals at Quicken Loans Arena. [Follow Dunks Don't Lie on Tumbl…

Share Tweet

deadspin.com yahoo.com nba.com

21 hours ago

The Atlanta Hawks will start Kent Bazemore in place of the injured Kyle Korver for tonight's Game 3 between the Hawks and Cavaliers. Korver is out for the playoffs after injuring his ankle in Game 2 of the series. Cleveland is up 2-0 as the action shift…

Share Tweet

Cavaliers All-Star point guard Kyrie Irving will miss his second straight Eastern Conference finals game with an injured left knee.

Share Tweet

Looking ahead to Game 3: Hawks at Cavaliers

yahoo.com

May 23 (yesterday)

Previously, on "The Hawks and The Cavaliers" ... Sing it, Terrance: OK, fine. There was other stuff. [Follow Dunks Don't Lie on Tumblr: The best slams from all of basketball] The Cleveland Cavaliers' defense continued to short-circuit the Atla…

Share Tweet

yahoo.com

May 23 (2 days ago)

Most players would be really, really happy after scoring 31 points, grabbing eight rebounds and dishing six assists in a series-opening road win that stole home-court advantage in the conference finals. But LeBron James, as you might have heard, is not …

Share Tweet

Kent Bazemore made an attempt to give the Atlanta Hawks some badly needed confidence with some brash statements Friday, after his team's Game 2 loss to the Cleveland Cavaliers.

Share Tweet

yahoo.com

May 22 (3 days ago)

Previously, on The Hawks and The Cavaliers … Any amount of good cheer that was supposed to emanate from Atlanta's first hosting of a Conference finals game since the Nixon administration was shot to bits in a chaotic second half. Cleveland Cavalier supe…

Share Tweet

Cavs Win Second Straight

Mar 20

LeBron James scored a game-high 29 points in the Cavs' 95-92 win over the Pacers.

Cavs Continue Home Dominance

Mar 18

Kevin Love and Kyrie Irving each posted double-doubles as the Cavs captured their 14th straight win at home with a 117-92 victory over the Nets.

Curry Comments On MVP Race

Mar 18

The "First Take" crew discusses Stephen Curry's comments about voting for LeBron James for MVP if he could not vote for himself.

Love Back For Cavs

Mar 18

Brian Windhorst provides the latest on Kevin Love returning to the lineup after a two-game absence.