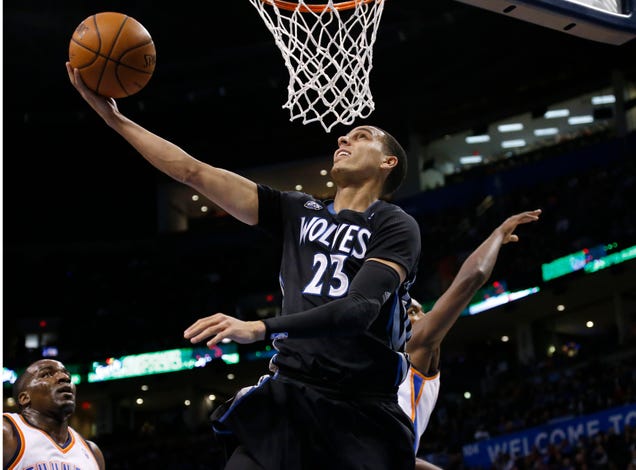 deadspin.com
yahoo.com
Updated 13 hours ago
For a minute there, it sure seemed like the Timberwolves's Kevin Martin was the most oblivious basketball player in the NBA. At Timberwolves media day yesterday, Martin told the assembled media that he had just learned that Kevin Love was traded to the …
Upvote
Share
Tweet
Wizards, Cavaliers renew dormant rivalry

nba.com

14 hours ago

Dormant for years, the rivalry between the Washington Wizards and Cleveland Cavaliers may be back.

Upvote Share Tweet

Timberwolves move on without star Love

nba.com

15 hours ago

The Kevin Love era officially ended in Minnesota in August when he was traded to Cleveland to team up with LeBron James and the Cavaliers. In retrospect, it may have been over far sooner.

Upvote Share Tweet

dimemag.com ESPN.com

16 hours ago

The rivalry for which we pined earlier today is already developing. Responding to Dion Waiters calling Bradley Beal's boasts of the Washington Wizards having the league's best backcourt "nonsense," John Wall fired back with even greater aplomb. John Wal…

Upvote Share Tweet

Vegas sportsbook: Cavs to win 58.5 games

ESPN.com

17 hours ago

With LeBron James back in uniform, the Cleveland Cavaliers are expected to win more games than any other team, according to one Las Vegas sportsbook.

Upvote Share Tweet

Report: LeBron Thought Amnesty Of Mike Miller Was "Unnecessary Change"

dimemag.com

18 hours ago

There are still Miami Heat fans who are shuffling around South Beach wondering what happened this summer. Their basketball team now has a banged up Josh Roberts, Chris Bosh on a max deal, and veritable third scorer and perimeter defender Luol Deng after…

Upvote Share Tweet

Us And Them: A History Of The Term "The Big Three"

dimemag.com

20 hours ago

Now that Kevin Love has joined forces with LeBron James and Kyrie Irving in Cleveland, NBA fans can rest easy that this season will not pass by (in fact, the real worry might be how many minutes can pass by) without hearing the words "The Big Three." It…

Upvote Share Tweet

BDL's 2014-15 NBA Season Previews: Cleveland Cavaliers

yahoo.com

23 hours ago

Is there any precedent for the Cleveland Cavaliers' fantastically successful summer? A massively disappointing team that couldn't even make the playoffs in a terrible conference when actively trying to earn any seed parlayed their geographical location,…

Upvote Share Tweet

Mike Miller Says David Blatt's Offense Is "Borderline Genius"

After two wholly successful yet mostly overlooked seasons as the Miami Heat's head coach, Erik Spoelstra suddenly found himself guiding the most heavily scrutinized team in sports come fall 2010. When LeBron James, Dwyane Wade, Chris Bosh, and company o…

Upvote Share Tweet

Thaddeus Young Shades Kevin Love: "26 And 12 Didn't Make It To The Playoffs"

Today is officially media day for many NBA teams as training camps start, signaling the beginning of the 2014-14 NBA Season. One of the bigger storylines of the offseason surrounds the revamped Cavs team, who acquired LeBron James in free agency and dea…

Upvote Share Tweet

Remember when LeBron James debuted a fabulous new hairline? That was just two weeks ago, but a lack of time hasn't stopped his old, retreating hairline from returning in the interim. This is James at the release of the Nike LeBron 12 in mid-September. L…

Upvote Share Tweet

nba.com

Sep 28 (3 days ago)

Flip Saunders spent the entire summer with his executive hat on, banging his head against a wall for a full month thanks to an arcane NBA rule that forced his Minnesota Timberwolves and the Cleveland Cavaliers to wait 30 days before completing a trade f…

Upvote Share Tweet

dimemag.com nba.com nydailynews.com

Sep 27 (4 days ago)

LeBron James' return to the Cleveland Cavaliers was about far more than basketball, but rest assured that a player like Kyrie Irving was wearing wine and gold at the time of James' decision made it even easier. And as LeBron's suddenly star-studded grou…

Upvote Share Tweet

The Cleveland Cavaliers have acquired Philadelphia's 2015 second round pick (protected) in exchange for guard Keith Bogans and the Cavs 2018 second round pick in a trade with the 76ers, General Manager David Griffin announced today from Cleveland Clinic…

Upvote Share Tweet

LeBron: A Cavs resurrection will take time

ESPN.com

Sep 26 (5 days ago)

LeBron James, other Cavaliers preach patience on the verge of training camp.

Upvote Share Tweet

Back In Cavs Uniform, LeBron Says Diet Wasn't Because Of Basketball

dimemag.com

Sep 26 (5 days ago)

LeBron James looked different. It was the wine and gold jersey and the headband he's wearing, sure, but also his smaller arms and less rounded shoulders. In his first official press conference as a member of the Cleveland Cavaliers, James said his much-…

Upvote Share Tweet

nba.com dimemag.com

Sep 26 (5 days ago)

LeBron James threw his right arm around Kevin Love and rested the other on Kyrie Irving's shoulder.

Upvote Share Tweet

The Cleveland Cavaliers have acquired guard Keith Bogans and the rights to Sacramento's 2015 and 2017 second round picks (both top-55 protected) from the Boston Celtics in exchange for guard John Lucas III and forwards Erik Murphy, Dwight Powell and Mal…

Upvote Share Tweet

dimemag.com

Sep 25 (6 days ago)

In his first sit-down after announcing his return to the Cavs, LeBron James talks with Rachel Nichols for CNN's Unguarded (airing Friday), and in a sneak peek of the airing he explains making amends with Cavs owner Dan Gilbert, who famously called LeBro…

Upvote Share Tweet

LeBron James Pokes Fun At "Not One, Not Two, Not Three" Comment

dimemag.com

Sep 24 (7 days ago)

LeBron James made sure to not promise a championship to the Cleveland Cavaliers upon announcing his return to Northeast Ohio. Clearly, The King learned from his past mistakes. He's also not above making light of them, either. At an event for "Survivor's…

Upvote Share Tweet

Report: Tristan Thompson Seeking At Least $11 Million Salary From Cavaliers

dimemag.com

Sep 23

Tristan Thompson isn't worth the $11 million annual salary he's supposedly commanding from the Cleveland Cavaliers. But whether it's before the October 31 deadline for extensions or next summer in restricted free agency, there's still a good chance the …

Upvote Share Tweet

yahoo.com

Sep 23

Buried near the end of a (very good) notes piece from Cleveland Cavaliers beat writer Jason Lloyd were a few depressing tidbits about the NBA's approach to the furor that erupted after Danny Ferry was documented signing off on a horribly misguided scout…

Upvote Share Tweet

Waiters Puts Cavs Backcourt Above The Rest

Sep 30

ESPN NBA writer Dave McMenamin discusses Cavs guard Dion Waiters' proclamation that the Cavaliers have the best backcourt in the NBA.

One-On-One With Derrick Rose

Sep 29

Derrick Rose sits down with analyst Jalen Rose, and they discuss what drives Rose, how he handles his critics, and LeBron's return home.

LeBron Excited To Play With Kyrie

Sep 27

LeBron James speaks about his excitement for the season to start and to be playing in Cleveland with Kyrie Irving.

Kevin Love On Move To Cleveland

Sep 26

Kevin Love discusses the upcoming season in Cleveland and what the expectations are for the Cavaliers.