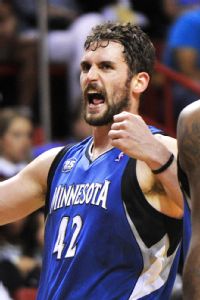 Minnesota Timberwolves talking Kevin Love trade only with Cleveland Cavaliers
ESPN.com
Updated 8 hours ago
The Minnesota Timberwolves were engaged in serious Kevin Love trade talks with no teams other than the Cleveland Cavaliers on Wednesday, adding to the growing belief around the NBA that Love teaming up with LeBron James is inevitable, according to sourc…
Upvote
Share
Tweet
dimemag.com nba.com

10 hours ago

Tension in the fragile relationship between Kyrie Irving and Dion Waiters almost boiled over last season. And as the Cleveland Cavaliers' pair of ball-dominant guards readies for basketball life with LeBron James, one of them will have to take a backsea…

Upvote Share Tweet

Miami's Dan Le Batard fails in attempt to troll Cleveland Cavaliers fans

yahoo.com

16 hours ago

When LeBron James announced his return to Cleveland, Miami Herald columnist Dan Le Batard concluded his farewell column with a heartfelt "thank you" to the former Heat superstar for his contributions to the glorious sports drama that played ou…

Upvote Share Tweet

Kevin Durant Hinting At Wizards Shows Irony Of CBA

dimemag.com

21 hours ago

Kevin Durant applauded LeBron James' decision to return to the Cavaliers when speaking to ESPN's Ramona Shelburne during Team USA tryouts in Vegas yesterday. He also said some nice things about returning to play in his hometown when his Thunder face the…

Upvote Share Tweet

Irving: "Speechless" After 'Bron's Decision, Would Be "Great" To Add Love

dimemag.com

Jul 29 (yesterday)

Kyrie Irving is having quite a summer. After agreeing to a five-year, $90 million extension with the Cleveland Cavaliers on July 1st, the 22 year-old All-Star learned he'd be playing with LeBron James. And as Irving trains with USA Basketball this week …

Upvote Share Tweet

LeBron James' hometown says more tickets are being offered for the homecoming event set to be his first public appearance in the state since he announced his return to the Cleveland Cavaliers.

Upvote Share Tweet

Report: LeBron, Cavs Will Play At Heat On Christmas

dimemag.com

Jul 29 (yesterday)

The Cleveland Cavaliers are quickly becoming the league's marquee team. Already poised to play in opening night's headliner against the defending champion San Antonio Spurs, the Cavs will reportedly celebrate Christmas by facing the Miami Heat in LeBron…

Upvote Share Tweet

dimemag.com ESPN.com nba.com

Jul 28 (3 days ago)

Michael Jordan doesn't care that LeBron James has elected to wear number 23 for the Cleveland Cavaliers, and neither should you. His Airness told ESPN this morning that he's "cool" with The King's choice and that Jordan doesn't "own a number." Michael J…

Upvote Share Tweet

dimemag.com

Jul 27 (3 days ago)

With LeBron James leaving South Beach for his hometown Cleveland Cavaliers, the NBA lost one of its better rivalries of the past few seasons: the "Hollywood as hell" Miami Heat versus the rough-and-tumble Chicago Bulls. Reigning Defensive Player of the …

Upvote Share Tweet

Report: Spurs At Cavs Could Open 2014-2015 Season

dimemag.com

Jul 27 (4 days ago)

The reigning NBA Champion San Antonio Spurs might open their quest to repeat in 2014-2015 under the most unenviable of circumstances. According to Gary Washburn of the Boston Globe, rumors are that the league's season-opening matchup could be the Spurs …

Upvote Share Tweet

LeBron James has chosen a new uniform number

yahoo.com

Jul 27 (4 days ago)

After some careful, crowd-sourced consideration, it appears as if new Cleveland Cavaliers small forward will choose the No. 23 for his next uniform. James announced as much on Twitter during Sunday afternoon: 23 it is! It's only right I go back. 2·3=6 W…

Upvote Share Tweet

Wade: LeBron Is New Favorite Opponent, Kobe Second Best Ever

dimemag.com

Jul 26 (5 days ago)

Dwyane Wade exhibited rare perspective and grace by offering public support of close friend LeBron James' decision to return to the Cleveland Cavaliers. However, that certainly doesn't mean Wade and the Miami Heat will take it easy on their former teamm…

Upvote Share Tweet

dimemag.com

Jul 26 (5 days ago)

Barely 24 hours after losing Blake Griffin comes news that USA Basketball will be playing in the FIBA World Cup without Kevin Love, too. The stranded Minnesota Timberwolves superstar withdrew from consideration for Team USA today "because of his current…

Upvote Share Tweet

dimemag.com ESPN.com

Jul 25 (6 days ago)

The Kevin Love sweepstakes rumbles on with just a scant 200-plus days until the 2015 NBA trade deadline means the 'Wolves likely lose him in free agency next summer. While the Cavs have officially signed Andrew Wiggins, necessitating a 30-day waiting pe…

Upvote Share Tweet

Riley Not Worried About Heat

Jul 30

ESPN.com's Mike Wallace breaks down expectations for the Heat without LeBron James.

Kevin Love Is Really Good

Jul 29

Judging him by Minnesota's Win-Loss record is a giant mistake, explains David Thorpe.

KD Approves LBJ's Move

Jul 29

ESPN.com senior writer Ramona Shelburne discusses Kevin Durant's comments about LeBron James returning to Cleveland and Durant's own future.

The Making Of LeBron's Jersey

Jul 28

Here's an inside look at how the much-anticipated LeBron James No. 23 jerseys are churning out at the Fanatics apparel facilities in Jacksonville, Fla.