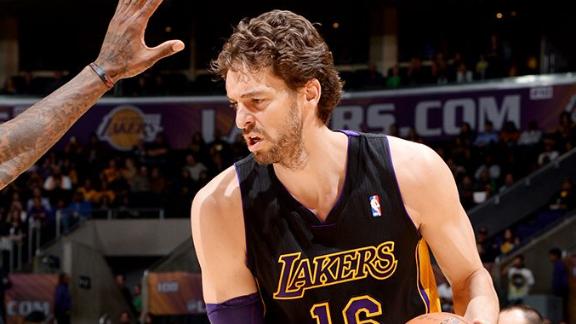 ESPN.com
Updated Jan 3, 2014
The Cleveland Cavaliers entered the weekend focused on three main exit strategies for Andrew Bynum as the Jan. 7 guarantee date on the remaining $6 million of Bynum's 2013-14 salary fast approaches, according to sources with knowledge of the situation.
Share
Tweet
Cavaliers All-Star guard Kyrie Irving will miss his second straight game because of a bruised left knee.

Share Tweet

Anatomy of a collapse: How the Magic lost a 10-point lead with 94 seconds left to the Kyrie-less Cavs

yahoo.com

Jan 3, 2014

After Glen Davis watched the second of two free throws he'd earned with an aggressive post-up of Tristan Thompson splash through the basket, the Orlando Magic led the Cleveland Cavaliers 78-68 with 1:34 remaining in the fourth quarter on Thursday night.…

Share Tweet

CNNSI.com

Jan 3, 2014

Who is the third-best team in the Eastern Conference? That's a complicated question these days.

Share Tweet

Andrew Bynum's Clever Deal

Jan 3

He has been a so-so player at best, but in the new CBA his contract has special value -- because now even the richest teams feel financial pressure.