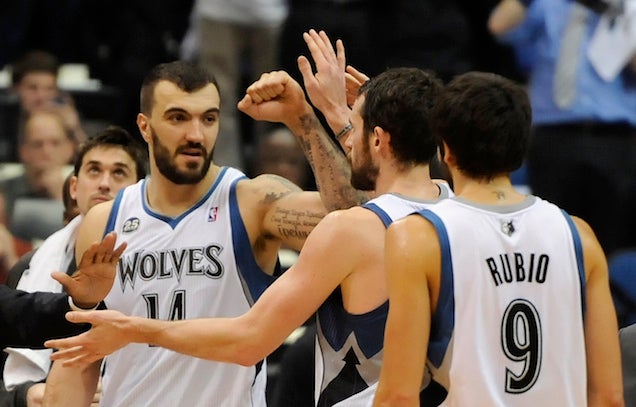 Do NBA Teams With Whiter Fan Bases Have Whiter Rosters?
deadspin.com
Updated Jun 12, 2014
In the NBA of yesterday, an owner could be explicit about structuring his roster around the race of the players. "No team should be all white and no team should be all black, either," Cavs owner and legendary boob Ted Stepien told a reporter i…
Share
Tweet
nba.com

Jun 12, 2014

The Cavaliers' exhaustive head coaching search is expanding -- again.

Share Tweet

LeBron-Jordan comparisons are inevitable, but standards are unfair

CNNSI.com

Jun 12, 2014

Stop comparing LeBron James to Michael Jordan. It's an unfair and misguided discussion.

Share Tweet

Sources: Cavs reach out to Mark Jackson

ESPN.com

Jun 12, 2014

The Cleveland Cavaliers have reached out to Mark Jackson about their head coaching job, according to sources with knowledge of the team's thinking.

Share Tweet

Kevin Love On His Future In Minnesota: "My Agent Is Handling Everything"

dimemag.com

Jun 12, 2014

Ever since Kevin Love publicly declared his intentions to opt out of his contract with Minnesota next summer, teams have been tripping all over themselves to acquire a player many consider the best power forward in the game today. Since that time, he's …

Share Tweet

Cavs Interested In Jackson

Jun 12

Ethan Sherwood Strauss discusses the Cavaliers talking to Mark Jackson about their head-coaching job.

Sports Columnists

NBA playoffs - Miami Heat venture into uncharted territory

Jun 13

For the first time in their four-year run, the Heat aren't the better team -- and they know it, writes Brian Windhorst.

Lee Jenkins: NBA Finals in 3-D: How Heat, Spurs are defending the trey

Jun 12

This story appears in the June 16, 2014, issue of Sports Illustrated. To subscribe to the magazine here and purchase the digital edition, go here.