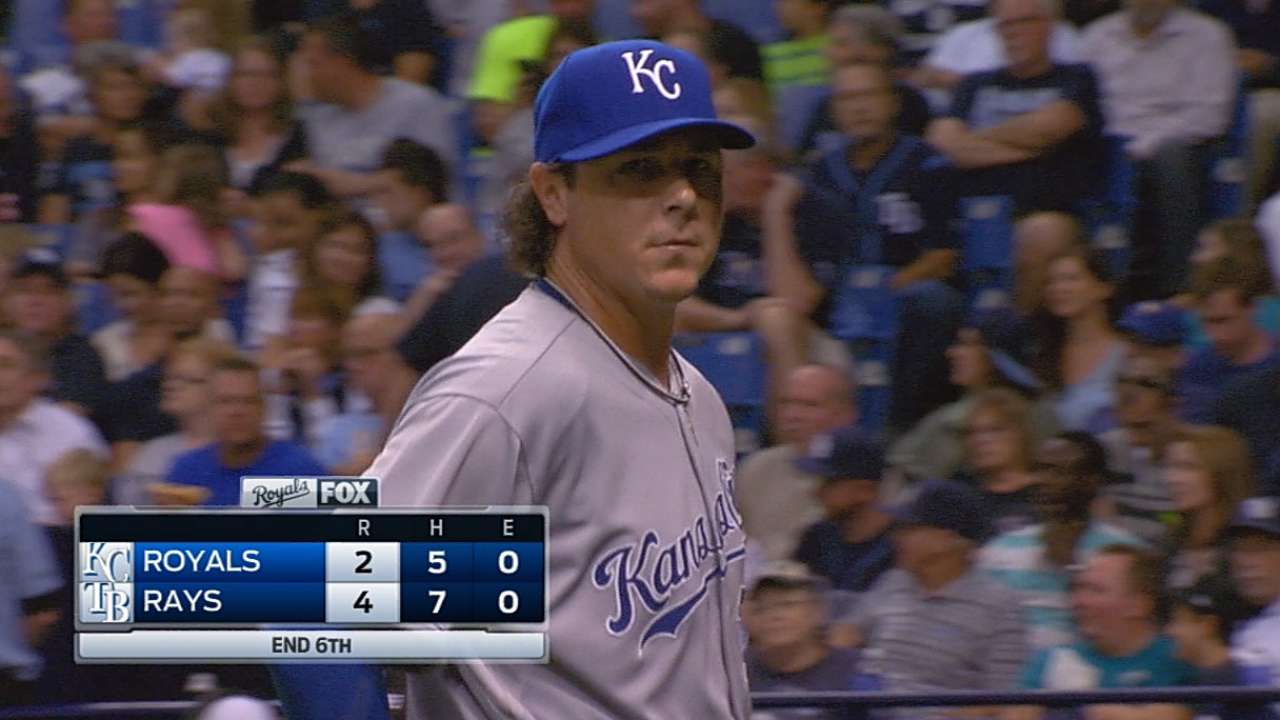 Progressive renovations starting to take shape

MLB.com

Dec 19 (2 days ago)

The Indians have made progress on the extensive Progressive Field renovations, and they're hoping to finish all the construction by their home opener against the Tigers on April 10.

Upvote Share Tweet

Indians second baseman Jason Kipnis had surgery on Tuesday to repair a damaged extensor tendon in his left ring finger. He is expected to be ready to go in time for the regular season.

Upvote Share Tweet

Comfort essential to Tribe's winter program for Kluber

MLB.com

Dec 17 (5 days ago)

Corey Kluber is a creature of habit, and altering his offseason regimen after his breakout 2014 season is not something he really wants to do. But the AL Cy Young Award winner is receptive to the Indians' suggestions for easing into Spring Training.

Upvote Share Tweet

The Indians announced the signing of right-hander Gavin Floyd to a one-year deal on Tuesday. Floyd made nine starts for the Braves in 2014 before breaking his right elbow.

Upvote Share Tweet

Indians sign 4 players to Minor League deals

MLB.com

Dec 15 (6 days ago)

The Indians announced Monday the signings of catcher Brett Hayes, catcher Adam Moore, outfielder Destin Hood and first baseman/outfielder Jerry Sands to Minor League contracts with non-roster invitations to Major League camp.

Upvote Share Tweet

yahoo.com

Dec 14

New Atlanta Braves president John Hart has been around the block a few times. As the general manager of the Cleveland Indians throughout the entire 1990s and later the Texas Rangers from 2002-05, Hart has shown he's not afraid to take on a challenge hea…

Upvote Share Tweet

Moss reunion creates boon, challenge for Francona

MLB.com

Dec 10

The Indians kicked off the Winter Meetings by acquiring Brandon Moss from the A's on Monday. Terry Francona is thrilled to be reunited with Moss, who also presents a lineup challenge for the skipper with an assortment of players who can cycle through th…

Upvote Share Tweet

yahoo.com

Dec 9

SAN DIEGO — The Oakland Athletics were the most interesting players on the first day of MLB's Winter Meetings, trading Brandon Moss to the Cleveland Indians in the morning, then steering the evening chatter by setting up a trade to send Jeff Samardzija …

Upvote Share Tweet

Major League Baseball Roundup

nytimes.com

Dec 8

The Oakland Athletics continued the demolition of the middle of their lineup Monday by trading first baseman/outfielder Brandon Moss to the Cleveland Indians for a minor leaguer as baseball's Winter Meetings began at the Manchester Hyatt.

Upvote Share Tweet

The Indians addressed the need for more power in their lineup. Now Brandon Moss has to provide it.

Upvote Share Tweet

From the day the Indians added Kevin Cash to their coaching staff, the organization felt his time in Cleveland could be short, because he could soon be a big league skipper. On Friday, Cash received his chance with Tampa Bay, which named him its manager…

Upvote Share Tweet

MLB.com

Dec 3

The A's are actively engaging in further trade talks, this time with the Indians, who have expressed interest in Brandon Moss, a source told MLB.com on Wednesday. However, another source said other teams are in on the slugger, too, and nothing appears i…

Upvote Share Tweet

yahoo.com

Dec 3

Justin Verlander showed up in enemy territory Tuesday night, taking in a Cleveland Cavaliers game in the land of King James. But when the Detroit Tigers pitcher has his girlfriend, model Kate Upton, in tow, not even Indians fans can be too bothered. The…

Upvote Share Tweet

O's acquire lefty Barnes from Indians for cash

MLB.com

Nov 26

The Indians traded left-hander Scott Barnes to the Orioles for cash considerations on Wednesday, with Baltimore also signing infielder Rey Navarro to a Major League contract.

Upvote Share Tweet

Indians acquire Brewer from D-backs; designate Barnes

MLB.com

Nov 23

The Indians added one pitcher to their roster Sunday and removed another, acquiring right-hander Charles Brewer from the D-backs in exchange for cash considerations and designating left-hander Scott Barnes for assignment.

Upvote Share Tweet

MLB.com

Nov 23

The D-backs traded right-handed pitcher Mike Bolsinger to the Dodgers on Saturday for cash considerations, the team announced, and sent right-hander Charles Brewer to the Indians.

Upvote Share Tweet

yahoo.com

Nov 21

There's one open manager job in Major League Baseball, it belongs to the Tampa Bay Rays and it seems like they're running their job search like a reality TV show. The Rays announced their final three finalists Friday — Kevin Cash, the bullpen coach of t…

Upvote Share Tweet

Indians have decisions as Rule 5 Draft approaches

MLB.com

Nov 19

Before the clock strikes midnight on Thursday night, Major League teams must decide which Rule 5 Draft-eligible players will be added to their respective 40-man rosters. The Indians currently have five open spots on their roster and a handful of interes…

Upvote Share Tweet

Gomes, Kluber form dynamic duo for Indians

MLB.com

Nov 18

Two seasons ago, Corey Kluber and Yan Gomes competed for jobs with the Tribe during the spring, but both were shipped to Triple-A Columbus to start the year. It did not take long for the duo to join the Indians, seize regular roles and develop into one …

Upvote Share Tweet

Great Move By Indians

Dec 8

Tim Kurkjian, Buster Olney and Jayson Stark discuss Cleveland's deal for Oakland first baseman Brandon Moss.

Kluber On AL Cy Young Win

Nov 12

Corey Kluber discusses his American League Cy Young award-winning season.

Kluber Wins AL Cy Young Award

Nov 12

ESPN's Buster Olney breaks down Indians pitcher Corey Kluber winning the AL Cy Young Award.

OTL: Frank Robinson

Oct 3

Forty years after he was named the first African-American manager in Major League Baseball, Frank Robinson reflects on the state of African-Americans in baseball today.