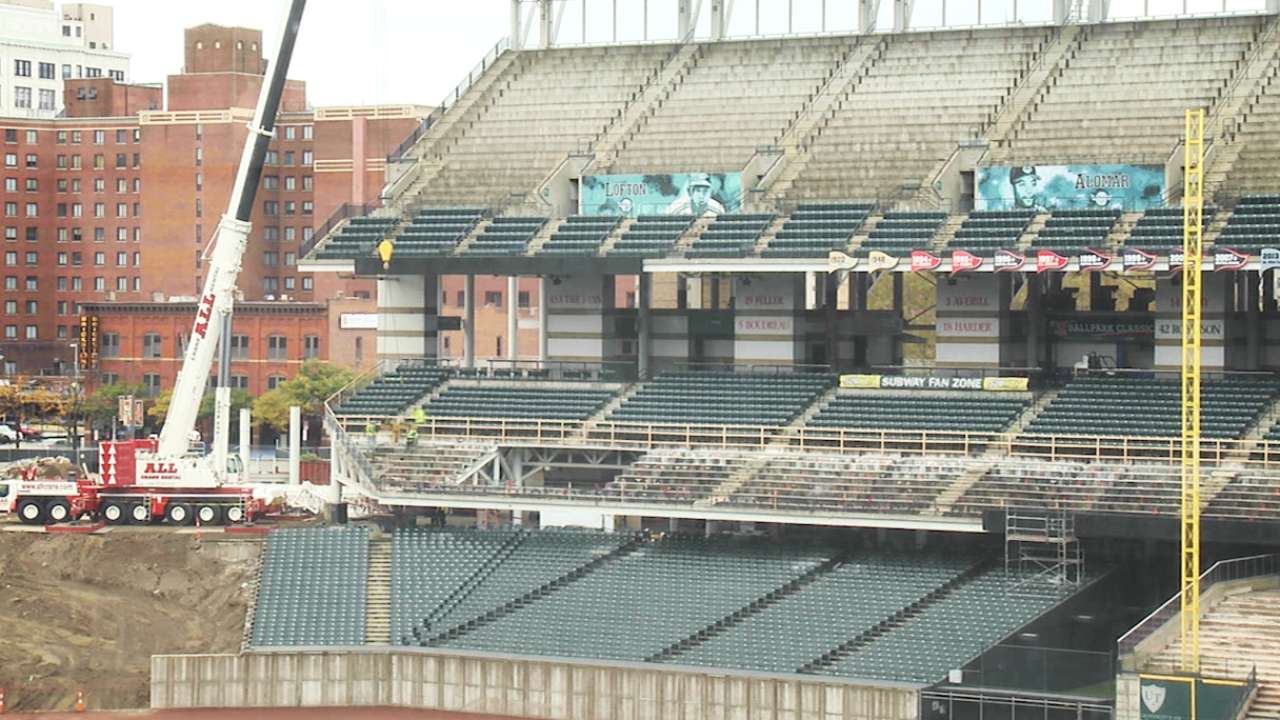 Renovations aiming to provide more social experience
MLB.com
Updated Oct 28 (yesterday)
As another winter approaches, Indians fans might already be counting down the days to Opening Day at Progressive Field. The clock is ticking for Jim Folk, the team's vice president of ballpark operations, for reasons other than just baseball. At the mom…
Upvote
Share
Tweet
MLB.com

Oct 14

Texas has narrowed its managerial search down to three finalists: interim manager Tim Bogar, Indians bullpen coach Kevin Cash and Pirates bench coach Jeff Banister.

Upvote Share Tweet

An Orioles Veteran Savors Playoff Runs 17 Years Apart

nytimes.com

Oct 6

Brady Anderson, the Orioles' vice president for baseball operations, played for the powerful 1997 team that lost the A.L.C.S. to the Indians in six games.

Upvote Share Tweet

nytimes.com

Sep 28

Washington's Zimmermann pitched the fifth no-hitter of the season and the first in Nationals history, a 1-0 gem against the Miami Marlins that concluded with a diving catch.

Upvote Share Tweet

Youngsters help Tribe cruise in season finale

MLB.com

Sep 28

For the final game of the regular season, the Tribe put many of its young players on display. Led by T.J. House on the mound and second baseman Zach Walters' two RBIs, the Indians cruised to a 7-2 win over the Rays Sunday afternoon at Progressive Field.

Upvote Share Tweet

Indians Top Rays 7-2 to End Rough Season

nytimes.com

Sep 28

Rookie Zach Walters and Carlos Santana each had two RBIs, leading the Cleveland Indians to a 7-2 win over the Tampa Bay Rays on Sunday to conclude a disappointing season for both clubs.

Upvote Share Tweet

MLB.com nytimes.com

Sep 27

Alex Colome made a compelling case for the 2015 rotation in the Rays' 2-0 win over the Indians at Progressive Field. The win ensured that the Rays -- who went 36-45 at Tropicana Field this season -- will have a winning record on the road.

Upvote Share Tweet

Your browser does not support iframes. With Corey Kluber's eighth-inning strikeout of David DeJesus, the Cleveland Indians rewrote the history books in Friday night's 1-0 win over Tampa Bay. The strikeout, which came on a 95-mph fastball, was Cleveland'…

Upvote Share Tweet

MLB.com ESPN.com nytimes.com

Sep 26

Corey Kluber did his part in trying to save the Indians' season, and the pitcher made quite a statement in the process. On Friday night, Kluber put the finishing touches on a brilliant campaign in a 1-0 victory over the Rays at Progressive Field. Out of…

Upvote Share Tweet

MLB.com ESPN.com nytimes.com

Sep 25

Yan Gomes belted a three-run homer in the first and Jose Ramirez's RBI double keyed a decisive fifth as the Indians kept their playoff hopes alive with a 6-4 win over the Royals on Wednesday night.

Upvote Share Tweet

Gordon's diving catch stands after Tribe challenge

MLB.com

Sep 24

With the Indians' season hanging by a thread, manager Terry Francona did not hesitate to challenge a seventh-inning catch by Royals left fielder Alex Gordon on Wednesday night. The play was ruled as stands, but Francona did not want to take any chances.

Upvote Share Tweet

Yost to set mark for most KC games managed

MLB.com

Sep 23

When Ned Yost manages the Royals against the Indians on Wednesday night, he'll stand alone as the man who has directed the team in the most regular-season games. Yost tied Dick Howser at 770 Royals games managed on Tuesday night.

Upvote Share Tweet

Indians pitcher Carlos Carrasco criticized his defense in the immediate aftermath of Monday's tough loss to the Royals. One day later, the right-hander regretted his postgame comments and issued an apology through the team.

Upvote Share Tweet

Yost not afraid to use rookie Finnegan in key spot

MLB.com

Sep 23

Royals starter Danny Duffy, just back from an injury, was finished after six shutout innings. There was a 2-0 lead over the Indians on Monday night, and the seventh inning usually belongs to reliever Kelvin Herrera, who had been worked hard of late. So …

Upvote Share Tweet

OTL: Frank Robinson

Oct 3

Forty years after he was named the first African-American manager in Major League Baseball, Frank Robinson reflects on the state of African-Americans in baseball today.

Sport Science: 'The Catch'

Sep 30

Sept. 29 marked the 60th anniversary of Willie Mays' iconic grab. ESPN "Sport Science" examines this legendary moment.

Kluber Shuts Down Rays

Sep 26

Corey Kluber struck out 11 over eight scoreless innings in the Indians' 1-0 win over the Rays.

Award Winners

Sep 25

The Baseball Tonight crew breaks down its picks for NL CY Young and MVP and AL CY Young and MVP.