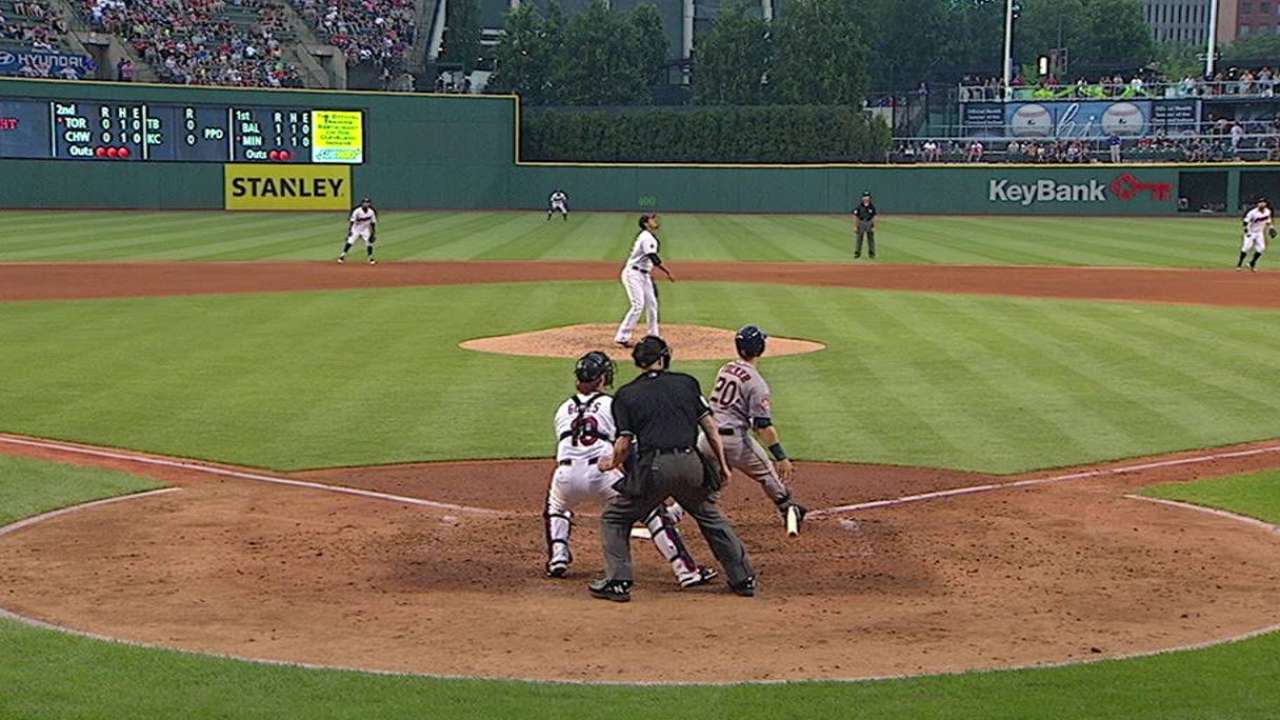 MLB.com
Updated 14 hours ago
Astros outfielder Preston Tucker celebrated his 25th birthday in style Monday night, setting a career high with four hits and finishing a triple shy of the cycle to pace a 16-hit attack in a 9-4 win over the Indians at Progressive Field.
Share
Tweet
nytimes.com MLB.com

15 hours ago

Dallas Keuchel, chosen for the American League All-Star team earlier Monday, allowed three runs in six innings in helping the Houston Astros defeat the Cleveland Indians 9-4.

Share Tweet

MLB.com

20 hours ago

The Pirates lost a key piece of their lineup Monday, placing infielder Josh Harrison on the 15-day disabled list with a left thumb injury. Harrison sustained the injury while sliding into second base during the seventh inning of the Pirates' 5-2 win ove…

Share Tweet

nytimes.com

Jul 5 (yesterday)

Gerrit Cole overcame a rocky start for his major league-best 12th win and Andrew McCutchen's two-run double capped a five-run fifth inning as the Pittsburgh Pirates rallied past the Cleveland Indians 5-3 Sunday.

Share Tweet

This time, Bryant obtains grand slam baseball

MLB.com

Jul 5 (yesterday)

Kris Bryant wasn't able to get the ball from his first grand slam on June 17, which came off Indians outfielder-turned-pitcher David Murphy in the ninth inning of the Cubs' 17-0 win. The fan who retrieved that ball apparently wanted too much in exchange…

Share Tweet

nytimes.com

Jul 4 (3 days ago)

Jeff Locke pitched eight innings of two-hit ball, retiring his last 19 batters, and Neil Walker had an RBI single to lift the Pittsburgh Pirates over the Cleveland Indians 1-0 on Saturday.

Share Tweet

yahoo.com

Jul 4 (3 days ago)

Your browser does not support iframes. We're not going out on a limb when we say Cleveland Indians pitcher Trevor Bauer seems like a fun guy to have in the clubhouse. Between his unique warm up routine, his desire to fly drones around spring training an…

Share Tweet

Tribe battles rain, Bucs for 5th straight win

MLB.com

Jul 4 (3 days ago)

A trio of early runs and another solid start led the Indians to their fifth straight win, a 5-2 victory over the Pirates on a rainy Friday night at PNC Park.

Share Tweet

MLB.com nytimes.com

Jul 2 (5 days ago)

Matt Moore made his first start for the Rays since undergoing Tommy John surgery 14 months ago, but a Mike Aviles home run in the 10th inning Thursday spoiled the left-hander's return and gave the Indians a 5-4 victory to complete a four-game sweep of T…

Share Tweet

MLB.com nytimes.com

Jul 2 (5 days ago)

A roundup of quotes from Indians right-hander Carlos Carrasco's near no-hitter on Wednesday against the Rays.

Share Tweet

Salazar follows rookie's lead with stellar outing

MLB.com

Jun 30 (7 days ago)

Danny Salazar was quick to proclaim his outing in the Indians' 6-2 victory over the Rays Tuesday the best start of his season, but he was equally as quick to give some of that credit to his teammate Cody Anderson.

Share Tweet

yahoo.com nytimes.com MLB.com

Jun 30

Take a look around the league with Big League Stew's daily wrap up. We'll hit on all of the biggest moments from the day that you may have missed, while providing highlights, photos and interesting stats. So far, so good for Cleveland Indians rookie pit…

Share Tweet

Snider lays out for eye-popping diving catch

MLB.com

Jun 28

With the Orioles holding an eight-run lead in the sixth inning of Sunday's nightcap of a doubleheader, the Indians were desperately trying to get back in the game. Shortstop Francisco Lindor hit a hard liner to left that appeared to be heading to the ga…

Share Tweet

O's sweep twin bill, move into virtual tie for 1st

MLB.com

Jun 28

The Orioles hit three home runs and scored six runs in the fourth inning to complete a doubleheader and series sweep over the Indians with a 8-0 win Sunday that moved Baltimore into a virtual tie for first place in the American League East for the first…

Share Tweet

MLB.com nytimes.com

Jun 28

Backed by eight scoreless innings from Ubaldo Jimenez, the Orioles rolled to a 4-0 win over the Indians in the first game of Sunday's doubleheader at Oriole Park at Camden Yards.

Share Tweet

nytimes.com

Jun 27

Saturday night's game between the Cleveland Indians and Baltimore Orioles has been postponed by rain.

Share Tweet

Brantley, Swisher Ready For 2015

Mar 2

Indians outfielders Michael Brantley and Nick Swisher discuss their team's goals for this season and competing in the American League Central.

Kluber, Indians Ready To Meet Challenge In 2015

Mar 2

Indians pitcher and reigning American League Cy Young award winner Corey Kluber discusses his successful 2014 season and dealing with expectations for this year.

Three Up, Three Down: Cleveland Indians

Mar 2

Tim Kurkjian and Mark Mulder break down the biggest questions facing the Indians this season.

Indians Players To Watch

Mar 2

Tim Kurkjian and Mark Mulder break down the Indians' players they're keeping an eye on this season.