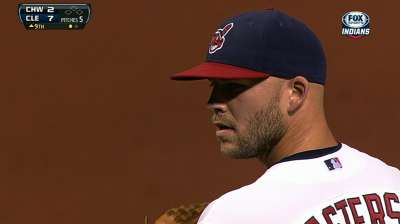 Updated 1 hour ago
Share
Tweet
Cleveland Indians manager Terry Francona has put to rest trade rumors involving right-hander Justin Masterson.
Infielder Ramirez has surgery on left thumb

Updated 4 hours ago

Share Tweet

Indians infielder Jose Ramirez underwent a left-thumb ligament reconstruction on Wednesday and is expected to be sidelined for at least two months.

Tribe's Ramirez dealing with left thumb injury

Updated Dec 9 (2 days ago)

Share Tweet

The Indians are expecting to be without young infielder Jose Ramirez through the early portion of Spring Training due to a left thumb injury. He will be examined by hand specialist Dr. Thomas Graham on Wednesday in Cleveland.

Updated Dec 9 (2 days ago)

Share Tweet

The Indians on Monday announced they signed first baseman David Cooper to a Major League contract, though the terms of the deal were not immediately known.

Cleveland Indians: Evaluating The Rest Of The Free Agent Starting Pitchers

Updated Dec 4

Share Tweet

It's no secret that the Cleveland Indians are looking to add a free agent pitcher to their rotation this offseason, and even though we have yet to reach the annual winter meetings, free agent starting pitchers are flying off the board. With the possible…

Santana open to adding third base to his repertoire

Updated Dec 4

Share Tweet

The Indians will have versatile catcher Carlos Santana play some third base in winter ball in the Dominican Republic this offseason, possibly adding another position to his repertoire.

Tribe non-tenders catcher Marson, two others

Updated Dec 2

Share Tweet

The Indians decided against tendering Lou Marson a contract for the 2014 season, making the catcher a free agent this offseason. The Tribe did tender contracts to six of its nine arbitration-eligible players, a list that includes Justin Masterson, Micha…

Despite crowded outfield, Tribe likely to tender Stubbs

Updated Dec 1

Share Tweet

The Indians are expected to offer contracts to its main arbitration-eligible players, including Drew Stubbs, in advance of Monday's non-tender deadline. Teams have until 11:59 p.m. ET on Monday night to tender contracts to any unsigned players on a 40-m…

Padres make small trades with Pirates and O's

Updated Nov 26

Share Tweet

PITTSBURGH (AP) -- The Pittsburgh Pirates have acquired outfielder Jaff Decker and right-handed pitcher Miles Mikolas from the San Diego Padres for outfielder Alex Dickerson.

Source:

CNNSI.com

Updated Nov 25

Share Tweet

The Indians have signed free agent outfielder David Murphy to a two-year contract with a club option for 2016.

Updated Nov 23

Share Tweet

The Angels and free-agent reliever Joe Smith agreed to a three-year contract worth just over $15 million on Saturday night, sources confirmed to MLB.com. The deal, first reported by Jon Heyman of CBSSports.com and MLB Network, won't be announced until S…

Indians name Quatraro assistant hitting coach

Updated Nov 20

Share Tweet

On Wednesday, Cleveland officially announced the hiring of Matt Quatraro as an assistant hitting coach for the ballclub. He will work alongside Indians hitting coach Ty Van Burkleo, who will be entering his second season on manager Terry Francona's coac…

Updated Nov 20

Share Tweet

Most fans probably don't care how baseball news breaks, just that it does. And the news of outfielder David Murphy leaving the Texas Rangers via free agency and signing with the Cleveland Indians isn't as riveting as, say, the destinies of Brian McCann …

Drew Stubbs, Ryan Raburn, And The Indians' Right Field Situation

Updated Nov 18

Share Tweet

It's no secret that the Cleveland Indians are always looking at ways to cut even the most modest of unnecessary costs. The latest player at risk of being let go by the Tribe due to budgetary concerns is Drew Stubbs. After it was originally thought that …

Updated Nov 13

Share Tweet

Editor's note: Our MLB Toasts got derailed during the stretch run and postseason, but we're back to say goodbye to the rest of the league. Follow @BigLeagueStew on Twitter and await our call for submissions for more toasts. Next up, the Cleveland Indian…

Source:

yahoo.com

Updated Nov 12

Share Tweet

They changed the culture of their teams. They brought winning back. They reached the playoffs again in 2013. And Tuesday, Clint Hurdle of the Pittsburgh Pirates and Terry Francona of the Cleveland Indians were named the MLB Managers of the Year by the B…

Source:

yahoo.com

Updated Nov 12

Share Tweet

Pittsburgh's Clint Hurdle led the Pirates into October for the first time since 1992 to win the National League Manager of the Year Award, and Terry Francona pushed the Indians into the postseason with a franchise-best turnaround in the standings to tak…

Indians prospect Naquin has top-of-order ability

Updated Nov 11

Share Tweet

Indians No. 5 prospect Tyler Naquin has a number of above-average tools that serve as the framework for his future. The left-handed-hitting 22-year-old's short, compact swing lends itself very well to him becoming a top of the order table setter and ral…

AL Central Hot Stove Preview: Can anyone make up ground on Tigers?

Updated Nov 6

Share Tweet

What the Indians, Royals, Twins and White Sox must do to close the AL Central gap with the Tigers.

Source:

CNNSI.com

Updated Nov 4

Share Tweet

The Indians made a pitch to Ubaldo Jimenez and protected themselves in case the right-hander leaves town.

Lonnie Chisenhall And The Tribe's Third Base Conundrum

Updated Nov 2

Share Tweet

It's not easy being a small market team in Major League Baseball. It requires extra diligence through every decision, as one wrong move could hamstring the franchise for years to come (coughTRAVISHAFNERcough). It also means that a team like the Clevelan…

Are Mega-Deals Mega-Mistakes?

Dec 4

SC Centerpiece: Tim Kurkjian, Wallace Matthews and Colin Cowherd debate if long-term deals are a mistake.

Small-Market Teams Making Intriguing Moves

Nov 20

Buster Olney discusses OF David Murphy's two-year deal with the Indians and Josh Johnson's one-year, $8 million contract with the Padres.

The GM's Office: Wieters On The Block?

Nov 19

Jim Bowden takes a look at Matt Wieters' future with the Orioles.

SweetSpot TV: Market For Closers

Nov 19

Eric Karabell and David Schoenfield take a look at what the market is like for closers.