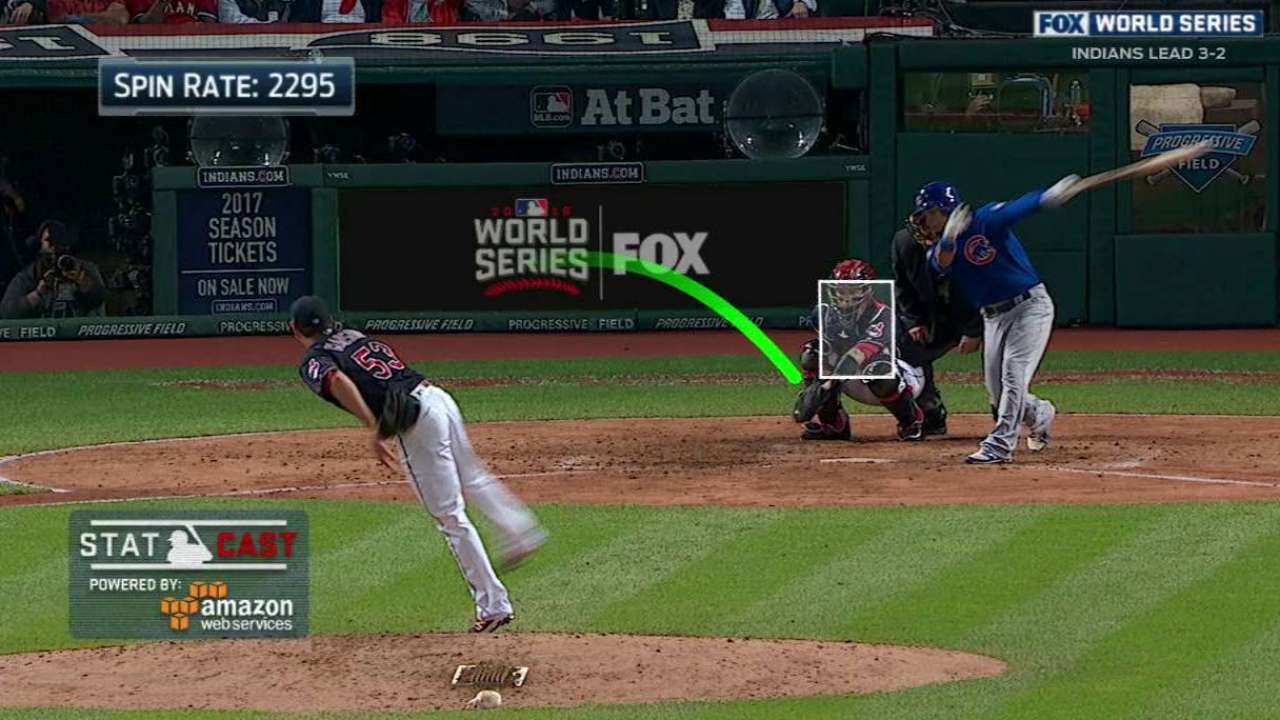 Indians non-tender reliever Manship
MLB.com
Updated Dec 2 (yesterday)
The offseason is not only a time for clubs to search for external additions, but also to evaluate the escalating cost of the roster already in place. Right now, Cleveland's front office is weighing how to approach their nine players who are eligible for…
Share
Tweet
5 reasons for Indians fans to be thankful

MLB.com

Nov 24

The Indians came up just short in the Fall Classic against the Cubs, but there are a number of reasons for Tribe fans to be hopeful about Cleveland's chances for creating more October memories in seasons to come. Here are five reasons for fans to be tha…

Share Tweet

World Series documentary unveiled at premiere

MLB.com

Nov 22

If you're a fan of Ben Zobrist or Anthony Rizzo or anyone on the Cubs, or you want to celebrate David Ross one more time, or just feel the goosebumps from those seven games between the Cubs and Indians again, then you need to watch "The 2016 World …

Share Tweet

Lindor, Davis take home MLB Awards

MLB.com

Nov 18

Cleveland Indians Francisco Lindor and Rajai Davis were dressed to the nines to claim two awards at the Esurance MLB Awards reception at New York City's Chelsea Market on Thursday night.

Share Tweet

Kluber finishes 3rd in AL Cy Young Award race

MLB.com

Nov 16

Lost in the close American League Cy Young Award voting between former teammates Rick Porcello and Justin Verlander was the strong finish of their longtime rival. Indians ace Corey Kluber earned three first-place votes on his way to a third-place finish…

Share Tweet

Terry Francona and Dave Roberts won the Manager of the Year awards on Tuesday. (Getty Images) Terry Francona proved again in 2016 that he's a man who can make the best out of a tough situation — and that's just what he did, guiding a beat-up Cleveland I…

Share Tweet

MLB.com

Nov 15

Two managers who led their teams to division titles despite season-long adversity -- Terry Francona of the Indians and Dave Roberts of the Dodgers -- were named Managers of the Year on Tuesday night by the Baseball Writers Association of America.

Share Tweet

MLB.com

Nov 14

As Michael Fulmer celebrated becoming the first Tiger to win the AL Rookie of the Year Award since Justin Verlander in 2006, he made it as much about his teammates and coaches as himself.

Share Tweet

Naquin finishes 3rd in AL ROY Award voting

MLB.com

Nov 14

Indians outfielder Tyler Naquin finished third in the American League Rookie of the Year Award voting on Monday.

Share Tweet

yahoo.com

Nov 12

Add math tutor to Trevor Bauer's growing list of hobbies. (Getty Images) Cleveland Indians pitcher Trevor Bauer is a man with many hobbies. Of course, we're all painfully aware of his passion for building and flying drones, which led to an off-field inj…

Share Tweet

GMs weigh impact of Miller's postseason

MLB.com

Nov 10

The way the Indians deployed Andrew Miller in the postseason helped them reach Game 7 of the World Series. It also defied convention. Can one month impact the way the industry thinks about how relievers are used?

Share Tweet

yahoo.com

Nov 9

As is the case every season, Major League Baseball pre-produced championship gear for both the Chicago Cubs and Cleveland Indians before a World Series winner was determined. In doing so, the league was afforded the opportunity to ship the gear in advan…

Share Tweet

Indians' Carlos Santana gifts bat to Cavs' J.R. Smith

ESPN.com

Nov 9

Indians' Carlos Santana gifts bat to Cavs' J.R. Smith

Share Tweet

On Baseball: Brian Cashman: World Series Difference-Maker

nytimes.com

Nov 8

By trading top-flight relievers to build his ball club, the Yankees' general manager played a key role in helping the Cubs and the Indians.

Share Tweet

Tribe plans to use FA to complement, not build team

MLB.com

Nov 8

The Indians came within one victory of winning the World Series, and they did so with a team that was mostly homegrown. Beyond the one-year contracts for veterans Mike Napoli and Rajai Davis -- both free agents this offseason -- Cleveland's roster was c…

Share Tweet

GM Meetings prime the Hot Stove

MLB.com

Nov 7

Barely five days after the Cubs defeated the Indians to win the World Series, the Hot Stove season has already begun.

Share Tweet

Instant oral history: WS Game 7 for the ages

MLB.com

Nov 5

It was one of the greatest World Series games ever, and looking back on it, how could it not be? The Cubs' 8-7 victory in 10 innings over the Indians in the deciding Game 7 was seemingly predestined to be a classic.

Share Tweet

Essay: Looking Back (Sigh) at the End (Sigh) of the Indians' Great Season (Sigh)

nytimes.com

Nov 4

An Indians fan looks back on the World Series, without rancor or second-guessing, and finds it will take time to recover.

Share Tweet

Brantley, Swisher Ready For 2015

Mar 2

Indians outfielders Michael Brantley and Nick Swisher discuss their team's goals for this season and competing in the American League Central.

Kluber, Indians Ready To Meet Challenge In 2015

Mar 2

Indians pitcher and reigning American League Cy Young award winner Corey Kluber discusses his successful 2014 season and dealing with expectations for this year.

Three Up, Three Down: Cleveland Indians

Mar 2

Tim Kurkjian and Mark Mulder break down the biggest questions facing the Indians this season.

Indians Players To Watch

Mar 2

Tim Kurkjian and Mark Mulder break down the Indians' players they're keeping an eye on this season.