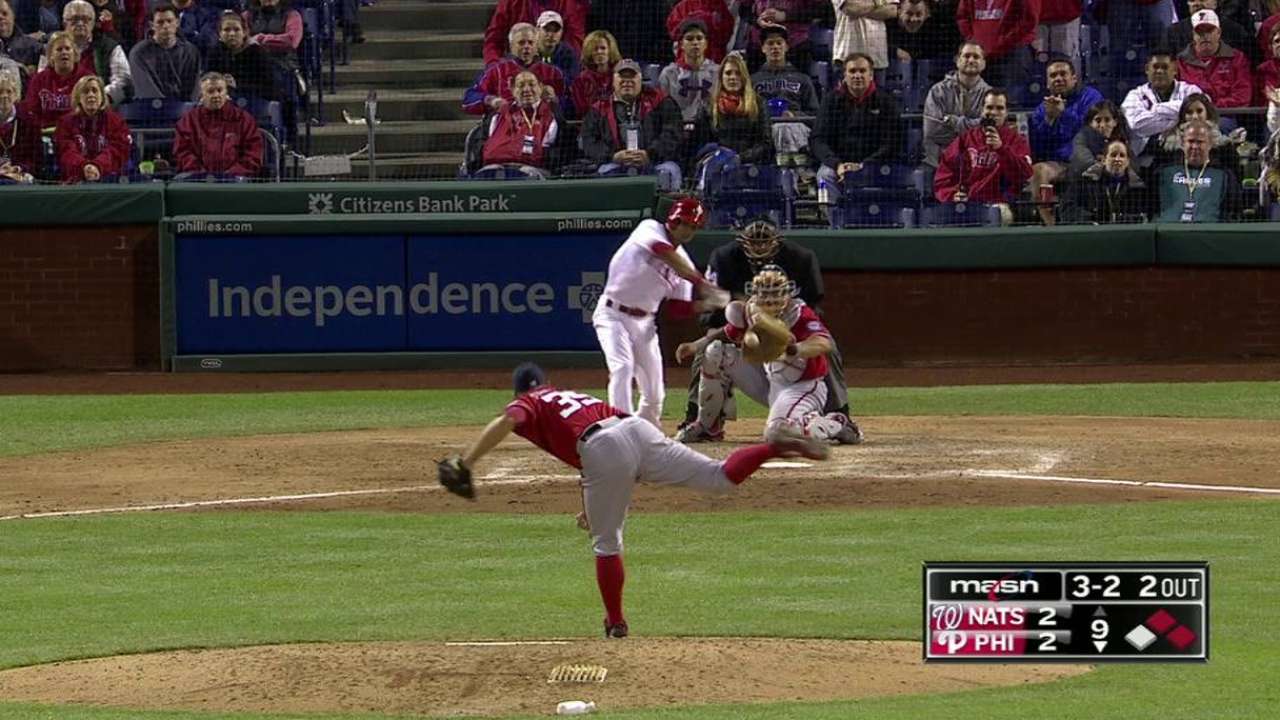 MLB.com
Updated Feb 8 (5 days ago)
After spending his entire career with the Nationals, reliever Craig Stammen is starting a new chapter with the Tribe.
Share
Tweet
Tommy Hunter Agrees to 1-Year Contract With Indians

nytimes.com

Feb 12 (yesterday)

Pitcher Tommy Hunter and the Cleveland Indians have agreed to a one-year contract.

Share Tweet

Indians catch spring fever on Truck Day

MLB.com

Feb 5

A pair of moving trucks pulled out of Progressive Field on Friday morning, beginning the annual cross-country journey from Cleveland to Goodyear, Ariz. There is no word yet whether the trucks saw their shadows, but spring is definitely arriving fast for…

Share Tweet

yahoo.com

Feb 4

Proving once again that baseball has undying love for the fictional Cleveland Indians from the film "Major League," the Akron Rubber Ducks have announced they're giving away Willie Mays Hayes bobbleheads this season. Actually, it's a "bob…

Share Tweet

Lindor eager for sophomore season with Tribe

MLB.com

Feb 4

It was unseasonably warm when a large group of Indians players convened last week for Tribe Fest. Around Northeast Ohio, snow shovels gathered dust, heavy jackets were ditched and fans could daydream a little about the upcoming season.

Share Tweet

Indians backing Feller for Medal of Freedom

MLB.com

Feb 3

After Pearl Harbor pulled the U.S. into World War II, Indians pitcher Bob Feller felt compelled to join in the fight. He temporarily abandoned his baseball career and became the first ballplayer to enlist in the U.S. Navy after the Dec. 7, 1941, attack.

Share Tweet

Welcome to The Stew's Hot Stove Digest, our daily rundown of MLB news, rumors and gossip for Hot Stove season. Here you'll find a recap of all the day's action and other fun stuff from around the Internet. TARGETING: The Cleveland Indians are looking at…

Share Tweet

Francona has lineup decisions with Brantley sidelined

MLB.com

Feb 1

This much is certain: The Indians will have an Opening Day lineup. A few of the names and just about every spot in the batting order will be worked out between now and then, and manager Terry Francona will surely take his time in sorting through its str…

Share Tweet

Indians interact with fans at Town Hall meeting

MLB.com

Jan 29

Manager Terry Francona was on hand at the Idea Center at Playhouse Square on Friday for the team's Town Hall event. The manager took part in a question-and-answer session with Cleveland fans and then players Michael Brantley, Yan Gomes, Jason Kipnis and…

Share Tweet

Thome, Belle among 4 new Indians Hall of Famers

MLB.com

Jan 29

Four new plaques will soon be on display in Heritage Park, honoring the newest members of the Indians Hall of Fame. There is no shortage of accomplishments among the inductees, a quartet well-deserving of enshrinement by a ballclub with more than a cent…

Share Tweet

nytimes.com ESPN.com

Jan 28

There are dates for Michael Brantley's return from shoulder surgery ranging from April to August.

Share Tweet

yahoo.com

Jan 28

When Mark Shapiro took over as president and CEO of the Toronto Blue Jays after close to 25 years with the Cleveland Indians there were many questions about how he would run the organization differently than the previous regime. Coming off their first p…

Share Tweet

nytimes.com MLB.com

Jan 26

Josh Tomlin has shown toughness and tenacity during his time with the Indians. On Tuesday, he was rewarded for it.

Share Tweet

Feller still a Cleveland star -- in Tribe archives

MLB.com

Jan 20

After the Bob Feller museum closed more than a year ago, the Indians worked closely with Feller's son, Steve, and the city of Van Meter, Iowa, to determine the best way to handle the large collection of artifacts.

Share Tweet

Five teams, five favorites to win AL Central

MLB.com

Jan 17

The White Sox and Tigers have gotten better, possibly way better. The Indians and Twins have made impactful additions. And that other team in the American League Central just won the World Series. Welcome to baseball's most competitive race.

Share Tweet

Aiken sets sights on healthy return with Indians

MLB.com

Jan 17

It was a strange feeling being on a mound again. Brady Aiken thought back to the last time he threw a pitch from the rubber and the left-hander remembered the pain in his arm. That was nearly a year ago. Now, he was standing on slab of bullpen dirt at t…

Share Tweet

And the golden arms set to break out are ...

MLB.com

Jan 10

Jake Arrieta showed promise during the 2014 season before fully breaking out with a record-setting '15 campaign en route to winning the National League Cy Young Award. This came one year after Indians ace Corey Kluber went from a relatively unknown star…

Share Tweet

Santana's everyday role uncertain after Napoli's acquisition

MLB.com

Jan 8

The Indians brought free-agent Mike Napoli into the fold this offseason and plan on giving him everyday at-bats as the team's regular first baseman. That was, of course, the role that Carlos Santana filled for Cleveland last year.

Share Tweet

MLB.com

Jan 8

The Yankees on Friday acquired right-hander Kirby Yates from the Indians for cash considerations.

Share Tweet

ESPN.com nytimes.com

Jan 5

Napoli says he has 'a lot to prove' with Indians

Share Tweet

White Sox claim outfielder Sands off waivers

MLB.com

Dec 23, 2015

The White Sox made a move to increase their depth Wednesday, claiming outfielder Jerry Sands off waivers from the Indians.

Share Tweet

Outfielder Rajai Davis Agrees to Contract With Indians

nytimes.com

Dec 17, 2015

Rajai Davis can play all three outfield positions, bat almost anywhere in the lineup and steal a base when needed.

Share Tweet

Brantley, Swisher Ready For 2015

Mar 2

Indians outfielders Michael Brantley and Nick Swisher discuss their team's goals for this season and competing in the American League Central.

Kluber, Indians Ready To Meet Challenge In 2015

Mar 2

Indians pitcher and reigning American League Cy Young award winner Corey Kluber discusses his successful 2014 season and dealing with expectations for this year.

Three Up, Three Down: Cleveland Indians

Mar 2

Tim Kurkjian and Mark Mulder break down the biggest questions facing the Indians this season.

Indians Players To Watch

Mar 2

Tim Kurkjian and Mark Mulder break down the Indians' players they're keeping an eye on this season.