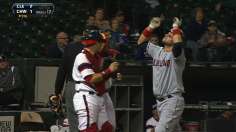 MLB.com
Updated Sep 15, 2013
Home runs by Matt Carson, Nick Swisher (two) and Asdrubal Cabrera carried the Indians to a 7-1 win, their 12th straight victory over the White Sox, and to within a half-game of the AL Wild Card-leading Rays and Rangers on Sunday.
Upvote
Share
Tweet
Swisher helps Indians close gap in AL race

ESPN.com

Updated Sep 15, 2013

Nick Swisher homered from both sides of the plate for the 13th time, Asdrubal Cabrera hit a three-run homer and the Cleveland Indians beat the Chicago White Sox 7-1 Sunday to pull within a half-game of Tampa Bay and Texas in the AL wild-card race.

Upvote Share Tweet
Indians Roll Past White Sox

Sep 15

Matt Carson, Nick Swisher and Asdrubal Cabrera each hit a home run to help the Indians beat the White Sox 7-1.
Sports Columnists
Don Banks: Broncos again show it's not how you start, it's how you finish

Sep 15

EAST RUTHERFORD, N.J. -- It's a mere two weeks into the NFL's regular season, but this much we've already learned about these Denver Broncos: If you don't get to them early, you don't get to them, period.

Don Banks: Surprising 2012 playoff teams underachieving in 2013; more Snap…

Sep 15

EAST RUTHERFORD, N. J. -- Musings, observations and the occasional insight as we take a look at a Week 2 in the NFL that was chock-full of close games and comebacks. ...