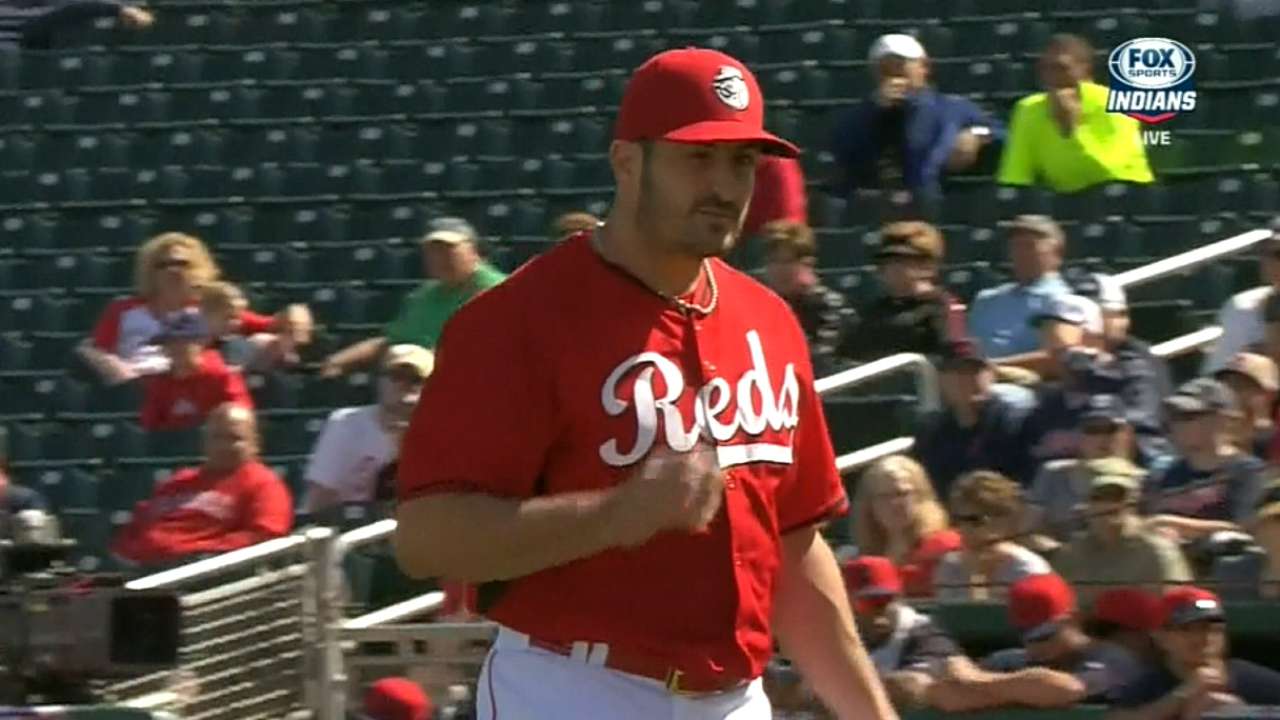 Reds Have 6 Doubles in 10-0 Win Over Indians

nytimes.com

4 hours ago

Brandon Phillips, Todd Frazier and Jay Bruce each had one of the Cincinnati Reds' six doubles in a 10-0 win over the Cleveland Indians on Tuesday, the spring opener for both teams.

Upvote Share Tweet

nba.com

4 hours ago

Kyrie Irving admitted missing two games with a strained left shoulder wasn't easy.

Upvote Share Tweet

5 staples of the Browns offense under John DeFilippo

clevelandbrowns.com

5 hours ago

New offensive coordinator lays out a structure for his unit

Upvote Share Tweet

NFL Mock Drafts: Who do the experts have the Browns taking?

cleveland.com

8 hours ago

A lot of mock drafters like DeVante Parker and then filling out the trenches.

Upvote Share Tweet

Indians sell out home opener in 11 minutes

ESPN.com

10 hours ago

The Indians sold out their April 10 home opener against Detroit in 11 minutes.

Upvote Share Tweet

AFC North Update: How are the Browns' rivals positioned for free agency?

clevelandbrowns.com

10 hours ago

Scanning the headlines for the latest around the division

Upvote Share Tweet

profootballtalk.com cleveland.com ESPN.com clevelandbrowns.com

11 hours ago

Things didn't work out for Josh McCown in Tampa in 2014, but he didn't have to wait long after being released to find a new home. The Browns snapped up the veteran quarterback as an option along with Johnny Manziel for the 2015 season and we'll talk to …

Upvote Share Tweet

cleveland.com profootballtalk.com

13 hours ago

The Cleveland Browns will try to sign Canton native Brian Hartline, the receiver who was let go by the Dolphins last week.

Upvote Share Tweet

nydailynews.com yahoo.com nba.com deadspin.com

23 hours ago

The LeBron James we all know, love and occasionally mock is finally back.

Upvote Share Tweet

Ed Modzelewski, fullback on Cleveland Browns 1955 championship team, dies at 86

cleveland.com

Mar 2 (yesterday)

Former Cleveland Browns fullback died last week from heart failure.

Upvote Share Tweet

cleveland.com

Mar 2 (yesterday)

Cleveland Browns tight end Jordan Cameron could attract plenty of interest in free agency.

Upvote Share Tweet

Browns pass on franchise tag, could lose all unrestricted free agents

ESPN.com

Mar 2 (yesterday)

The Cleveland Browns declined to use their franchise or transition tags by Monday's deadline. That means the Browns have until March 10 to sign their free agents or they will hit the market with complete freedom. It also is appearing more and more likel…

Upvote Share Tweet

Brantley, Swisher Ready For 2015

Mar 2

Indians outfielders Michael Brantley and Nick Swisher discuss their team's goals for this season and competing in the American League Central.

Kluber, Indians Ready To Meet Challenge In 2015

Mar 2

Indians pitcher and reigning American League Cy Young award winner Corey Kluber discusses his successful 2014 season and dealing with expectations for this year.

The Pulse: The King Gets Crowned

Mar 2

Lots of social reaction to the Cavaliers-Rockets game Sunday. The Rockets and James Harden took a pair of cheap shots at LeBron, and what was up with Harden's hat? Cary Chow explains.

Indians Players To Watch

Mar 2

Tim Kurkjian and Mark Mulder break down the Indians' players they're keeping an eye on this season.