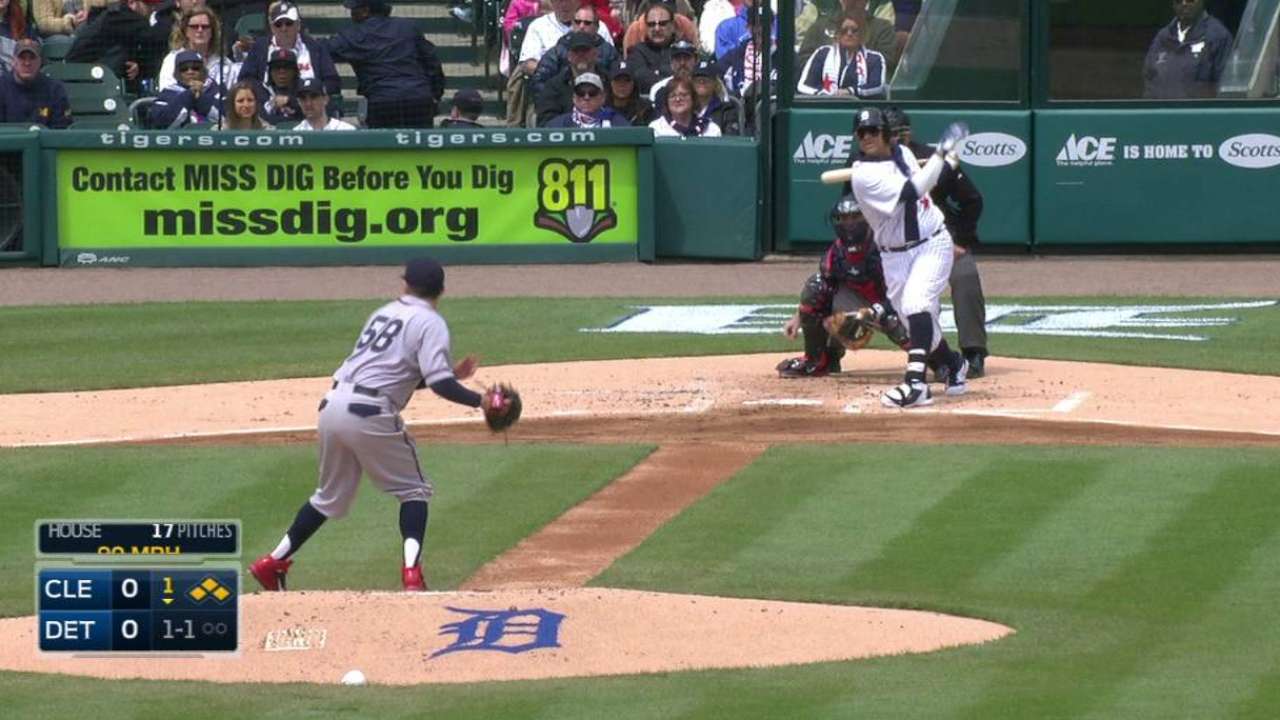 Simon, V-Mart team to tackle Tribe, end Tigers' skid
MLB.com
Updated 11 hours ago
Alfredo Simon became the first Tigers pitcher to win his first four starts in a season since Frank Tanana in 1988, delivering 6 2/3 innings of one-run ball to help the Tigers end a four-game losing streak with a 4-1 win over the Indians on Saturday afte…
Share
Tweet
cleveland.com

11 hours ago

Is Oregon quarterback Marcus Mariota worth the Browns No. 12 and No. 19 picks -- and more -- if that's what it takes?

Share Tweet

Victor Martinez Drives in 3 Runs, Leads Tigers Over Indians

nytimes.com

13 hours ago

Victor Martinez drove in three runs, taking advantage after Cleveland pitched around Miguel Cabrera, helping Alfredo Simon and the Detroit Tigers beat the Indians 4-1 Saturday.

Share Tweet

yahoo.com

15 hours ago

Through three playoff games, LeBron James is averaging a fantastic 27 points, six assists and 8.7 rebounds a contest, as his Cleveland Cavaliers have taken a 3-0 series lead over the Boston Celtics. [Follow Dunks Don't Lie on Tumblr: The best slams from…

Share Tweet

NFL Draft by position: Where are TD catches coming for Cleveland Browns?

cleveland.com

18 hours ago

The Browns ranked dead last in touchdown receptions a year ago. That must change this season.

Share Tweet

Cleveland Browns have Terry Talkin' about the search for a quarterback in the draft -- Terry Pluto

cleveland.com

20 hours ago

Finding an NFL ready quarterback is a difficult task now because most college quarterbacks aren't familiar with a pro-style offense.

Share Tweet

nytimes.com MLB.com

Apr 24 (yesterday)

Brandon Moss homered twice and drove in seven runs, Danny Salazar struck out a career-high 11 and the Cleveland Indians routed the Detroit Tigers 13-1 Friday night.

Share Tweet

Which NFL draft prospects are rising or falling according to Mel Kiper Jr.?

ESPN Analyst joined Cleveland Browns Daily to discuss NFL draft

Share Tweet

Tristan Thompson's offensive boards fueling Cavs in first round

ESPN.com

Apr 24 (yesterday)

Tristan Thompson's offensive boards fueling Cavs in first round

Share Tweet

cleveland.com

Apr 24 (yesterday)

Are the Browns satisfied with the production Terrance West and Isaiah Crowell, who each finished among the top-5 in rookie rushers a year ago?

Share Tweet

5 questions with Browns QB Thad Lewis

The veteran signal-caller is back in Cleveland 2 years after starting a Browns' season finale

Share Tweet

Browns draft radar: Texas DT Malcom Brown

He could be around at No. 19 to help Cleveland's run defense

Share Tweet

clevelandbrowns.com cleveland.com ESPN.com

Apr 24 (yesterday)

If team had to play today, GM likes his chances with improved D

Share Tweet

God Bless Evan Turner, Who Really Tried This Shit

deadspin.com

Apr 24 (yesterday)

This was, without a doubt, my favorite moment from last night's game between the Cavaliers and Celtics. A little more than a minute before this happened, Celtics guard Evan Turner had just hit a three to put his team three points from the lead. Turner w…

Share Tweet

yahoo.com

Apr 23 (2 days ago)

The young Boston Celtics have held their own as massive underdogs against the contending Cleveland Cavaliers in their first-round playoff series. Unfortunately, that succession of moral victories still has the Celtics one loss from being swept out of th…

Share Tweet

These Bros Are Distilled Essence Of The Boston Sports Fan Experience

deadspin.com

Apr 23 (2 days ago)

Nobody has ever Boston sports fan'd harder than these Celtics bros whooping, hollering, heckling, and bird-flippin' after the Cavaliers went up 3-0 in the series with a 103-95 win. Sully, Knucklefuckle, and Phart are really enjoying themselves here in t…

Share Tweet

Yes, The World Sees You, Cavs Fan

deadspin.com

Apr 23 (2 days ago)

Have something you think we should know? Email us at , or contact our writers directly , or use our SecureDrop system. You can also follow us on Twitter and like us on Facebook. Read more...

Share Tweet

Why Joe Haden's emergence as a team leader is so important to the Cleveland Browns: Tom Reed

In his sixth season, the Pro Bowl corner is taking greater ownership of the locker room through his actions.

Share Tweet

profootballtalk.com

Apr 23 (3 days ago)

A day after Browns coach Mike Pettine didn't shoot down the talk of trading up in the draft for Marcus Mariota, G.M. Ray Farmer acknowledged that his team is open to the possibility. Asked if he would seriously consider trading the Browns' two first-rou…

Share Tweet

Browns general manager Ray Farmer says reports that he tried to trade Johnny Manziel to the Eagles are not true, but he acknowledged he'd consider trading up for Marcus Mariota.

Share Tweet

Why the Browns drafted Manziel over Bridgewater

Apr 23

Phil Savage discusses the factors that impacted the Browns' selection of quarterback Johnny Manziel over Teddy Bridgewater in the 2014 NFL draft.

Dwayne Bowe comes back to Kansas City to honor fan

Apr 23

ESPN Chiefs reporter Adam Teicher discusses Dwayne Bowe's return to Kansas City for the funeral of Betty Johnson.

Haden claims ignorance of Gordon's drinking ban

Apr 21

ESPN Browns reporter Jeremy Fowler discusses Joe Haden's comments about not being aware that Josh Gordon wasn't permitted to drink under his agreement with the NFL.

Manziel with Browns for voluntary workouts

Apr 21

ESPN Browns reporter Jeremy Fowler discusses what quarterback Johnny Manziel will be doing during the team's voluntary workouts.