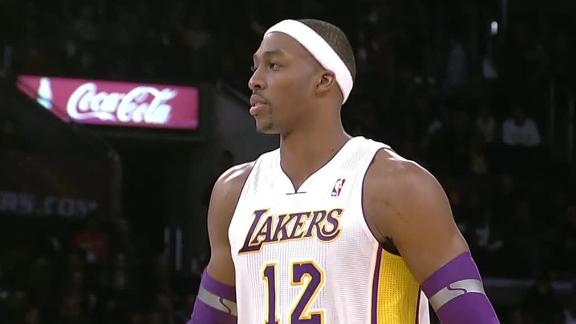 After missing the last three games with a torn labrum in his right shoulder, Los Angeles Lakers center Dwight Howard made his return Sunday against the Cleveland Cavaliers.
Share
Tweet
Cleveland Browns' 100 best all-time players: No. 49, Milt Morin (video)

cleveland.com

Jan 13, 2013

Morin made big plays as a receiver and excelled as a blocker at tight end during his 10-year Browns career.

Share Tweet

The Weekend Wrap: What a glorious week! The Browns identified an el…

theclevelandfan.com

Jan 13, 2013

What a glorious week! The Browns identified an elite head coaching candidate that no one else in the NFL had even considered on Tuesday, and two days later they locked him up to run the team! What a coup! All that misinformation regarding the cowardly C…

Share Tweet

cleveland.com

Jan 13, 2013

Links to stories on new coach Chudzinski and more -- including the possibility of the return of quarterback Derek Anderson, who made the Pro Bowl with the 2007 Browns, whose offensive coordinator was Chudzinski.

Share Tweet

clevelandbrowns.com

Jan 13, 2013

In this series, ClevelandBrowns.com looks back to a trade for a Pro Football Hall of Fame quarterback on Jan. 13, 1960.

Share Tweet

profootballtalk.com

Jan 13, 2013

There aren't too many similarities that jump to mind between San Diego and Cleveland, but it's looking like the Browns staff will be familiar to those who follow the Chargers. Adam Schefter of ESPN reports that the Browns have their eyes on Chargers

Share Tweet

Reluctantly Looking at Cooperstown on a Lazy Sunday

theclevelandfan.com

Jan 13, 2013

I had no intention of writing about this year's Baseball Hall of Fame voting. None. Zip, zilch, zero. Felt it was already extensively covered elsewhere, and the comments on other articles I've seen approach the insanity that has only been replicated a

Share Tweet

Lakers Notch First Win Of 2013

Jan 13

Dwight Howard posts a double-double in return from injury, helping Lakers snap six-game slide with 113-93 win over Cavs.