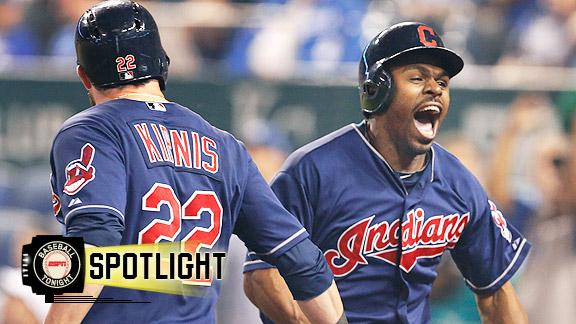 ESPN.com
Updated Sep 17, 2013
Asdrubal Cabrera drove in the go-ahead run in the eighth inning, and the Cleveland Indians rallied against the stingy Kansas City Royals bullpen for a 5-3 victory Tuesday night.
Share
Tweet
No longer focused on velocity, Ubaldo finds top form

MLB.com

Sep 17, 2013

There are times when Ubaldo Jimenez is tempted to take a peek at the reading on a stadium's radar gun. The Indians' starter allows himself to look every now and then, but he is no longer consumed with pitch velocity like he was over the past two seasons…

Share Tweet

profootballtalk.com

Sep 17, 2013

At a time when the precise status of Browns quarterback Brandon Weeden's right thumb is unclear, one thing that is clear is that the Browns have clearly disputed any notion that it could shut Weeden down for the season. Per Mary Kay Cabot of the Clevela…

Share Tweet

The case for sticking with Little

clevelandbrowns.com

Sep 17, 2013

Browns Senior Editor Vic Carucci makes the case for the team to hang onto troubled wide receiver Greg Little.

Share Tweet

Cleveland Browns' QB conversation: Still crazy after all these years -- Bud Shaw's Sports Spin

It's time for another great quarterback debate in Cleveland, even if there's nothing really worth talking about.

Share Tweet

Was the 2012 playoff appearance a mirage for the Minnesota Vikings? Chris Fedor's Scouting Report

What are the Browns up against this weekend? Chris Fedor gives his scouting report of the Minnesota Vikings.

Share Tweet

The NBA's 10 Most Outrageous Guarantees Of The Last 20 Years

dimemag.com

Sep 17, 2013

The other day, while I read the article in which Jason Terry mocked J.R. Smith's recent championship guarantee, something regarding the whole situation hit me: Up until that moment, there really hadn't been much of an outcry from anyone in the basketbal…

Share Tweet

Breaking down the Browns defense, Week 2: Aggressive defenders gave team a chance to beat Ravens

Each week in the 2013 football season, Dennis Manoloff analyzes Ray Horton's 'attacking defense.'

Share Tweet

The Numbing Sameness of It All, Again--Ravens Edition

theclevelandfan.com

Sep 17, 2013

The real trick when writing about the Cleveland Browns is how to extricate yourself from the numbing sameness of it all, again in order to force the fingers to push keys as you struggle to say something, anything remotely new. Watching the Browns lose t…

Share Tweet

Browns schedule pick-the-winners challenge: Nearly everyone foresaw a loss

Here are this week's results from the Browns Schedule Challenge.

Share Tweet

theclevelandfan.com MLB.com

Sep 17, 2013

They don't call him Big Game James for nothing. They also don't call it a strike ZONE for nothing. There was a multitude of things last night. This is playoff baseball though, so no excuses. Onto the next one today, but let's take a quick look back at l…

Share Tweet

Browns links: More wrong turns

ESPN.com

Sep 17, 2013

A look at what's happening on the Cleveland Browns' beat: Wide receiver Greg Little returned home from the loss in Baltimore and was cited by police early Monday morning for three traffic violations in a single stop, according to The Plain Dealer. This …

Share Tweet

deadspin.com

Sep 17, 2013

Cincinnati 20, Pittsburgh 10: The Steelers are 0-2 and the Bengals are 1-1 after tonight's Monday Night Football rivalry from the AFC Hey-We-All-Get-To-Play-The-Browns-Twice. There wasn't a whole lot of offense, but the game, like the Bengals twitter ac…

Share Tweet

Indians Rally Past Royals

Sep 17

Baseball Tonight Spotlight: The Indians scored five-unanswered runs en route to a 5-3 win over the Royals.