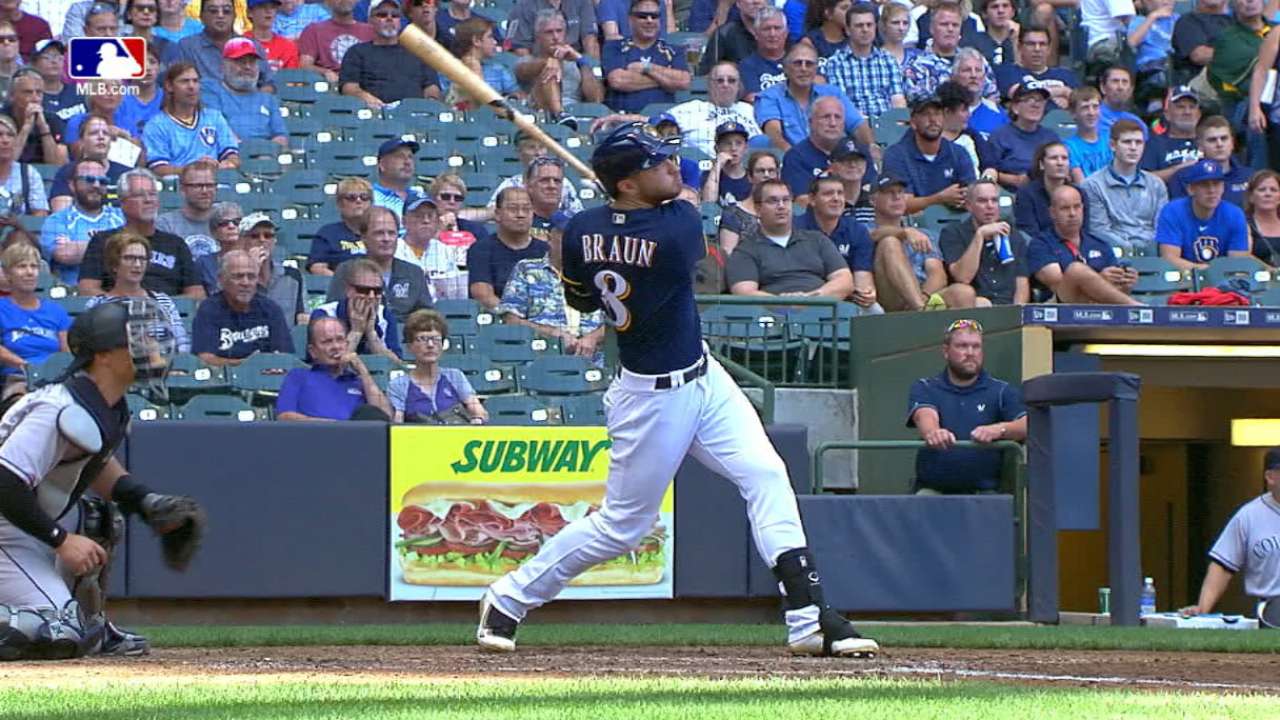 MLB.com
nytimes.com
Updated 16 hours ago
Ryan Braun continued a productive August by belting a pair of home runs, and the Brewers finished a three-game sweep of the Rockies with a 7-1 win on Wednesday afternoon at Miller Park.
Share
Tweet
yahoo.com MLB.com nytimes.com

Aug 24 (yesterday)

On Tuesday night, Milwaukee Brewers super-utility man Hernan Perez came through for his team in a big way. Down 4-3 to the Colorado Rockies in the seventh inning, Perez knocked a two-run triple down the right field line and into the corner. Those runs p…

Share Tweet

MLB.com nytimes.com

Aug 22 (2 days ago)

After losing his sixth straight start last week, Jimmy Nelson made the case that he was pitching better than his box scores. On Monday, he could finally let a box score speak for itself.

Share Tweet

Which team should you cheer for in the Little League World Series?

MLB.com

Dec 14, 2015

Even if Mo'ne Davis isn't playing, you have to pick someone.

Share Tweet

No major setback after foul tip off Soler's knee

MLB.com

Aug 21 (4 days ago)

Cubs outfielder Jorge Soler fouled a ball off his knee in Saturday's 9-2 win over the Rockies, but he should be back to action soon.

Share Tweet

nytimes.com MLB.com

Aug 21 (4 days ago)

A late-night session in the batting cage and a spirited discussion helped Nolan Arenado get his swing back.

Share Tweet

Bryant hits blast as Cubs sour Hoffman's debut

MLB.com

Aug 20 (4 days ago)

Kris Bryant hit a 469-foot homer as the Cubs spoiled Rockies rookie Jeff Hoffman's Major League debut -- tagging him for seven runs in four-plus innings -- in a 9-2 victory Saturday night at Coors Field.

Share Tweet

MLB.com nytimes.com

Aug 20 (5 days ago)

The Rockies won in a wild walk-off in the 11th on a Ryan Raburn double and a throwing error by Chicago's Javier Baez, scoring six runs in the last five frames to beat the Cubs, 7-6, on Friday night at Coors Field.

Share Tweet

Rain delaying first pitch of Cubs-Rox opener

MLB.com

Aug 19 (6 days ago)

The start of the Cubs-Rockies game is under a rain delay. First pitch was originally scheduled for 6:40 p.m. MT and will now be at 8:50 p.m.

Share Tweet

MLB.com

Aug 19 (6 days ago)

Chad Qualls, declared ready after missing five weeks because of a bout with colitis, was activated on Friday, with the Rockies optioning Carlos Estevez -- their closer for part of this season -- to Triple-A Albuquerque.

Share Tweet

nytimes.com MLB.com

Aug 17

D.J. LeMahieu hasn't had much to say about his recent success, which is fine because his bat is saying plenty.

Share Tweet

Rox break out early to top Nats in slugfest

Nationals right-hander Stephen Strasburg turned in his worst outing of the season as the Rockies jumped him for nine runs en route to a 12-10 victory Wednesday afternoon at Coors Field.

Share Tweet

Jayson Werth drew a walk in the third inning against Rockies starter Jon Gray, marking his 45th consecutive game reaching base.

Share Tweet

DJ spins near-cycle to spur Rox past Nats

This series between the Rockies and Nationals has featured the top three leaders in batting average in the National League. Washington boasts both Daniel Murphy (.348) and Wilson Ramos (.331), but so far it's been Colorado second baseman DJ LeMahieu (.3…

Share Tweet

Nats-Rox game delayed by inclement weather

MLB.com

Aug 16

With lightning in the area, umpires signaled for a rain delay at Coors Field on Tuesday night, with the Nationals and Rockies tied at 2 going into the top of the fourth inning.

Share Tweet

Harper's big hit saves Max as Nats nip Rox

MLB.com

Aug 16

The Nationals overcame Max Scherzer's shortest start of the season thanks to a pair of homers from Jayson Werth and Wilson Ramos combined with Bryce Harper's first multi-hit game in more than a month in a 5-4 victory over the Rockies on Monday night at …

Share Tweet

Nats' Bullpen Bails Out Scherzer in 5-4 Win Over Rockies

nytimes.com

Aug 16

Washington ace Max Scherzer never did find his groove Monday night.

Share Tweet

Tulo Looking For Fresh Start

Feb 26

Troy Tulowitzki discusses his transition as a veteran with the Colorado Rockies and what the team must do to improve on its 2014 record.

MLB All-Stars No-Hit By Japan

Nov 15

Japan's Takahiro Norimoto combined with three relievers on a no-hitter as Japan beat the MLB All-Stars 4-0 to take a 3-0 lead in their five-game series.

Mets Sign Michael Cuddyer

Nov 10

ESPNNewYork.com's Adam Rubin breaks down the Mets' signing of outfielder Michael Cuddyer to a two-year deal.

Rockies Make Front-Office Changes

Oct 8

ESPN MLB Insider Jim Bowden discusses Dan O'Dowd's decision to resign after 15 years with the Rockies.