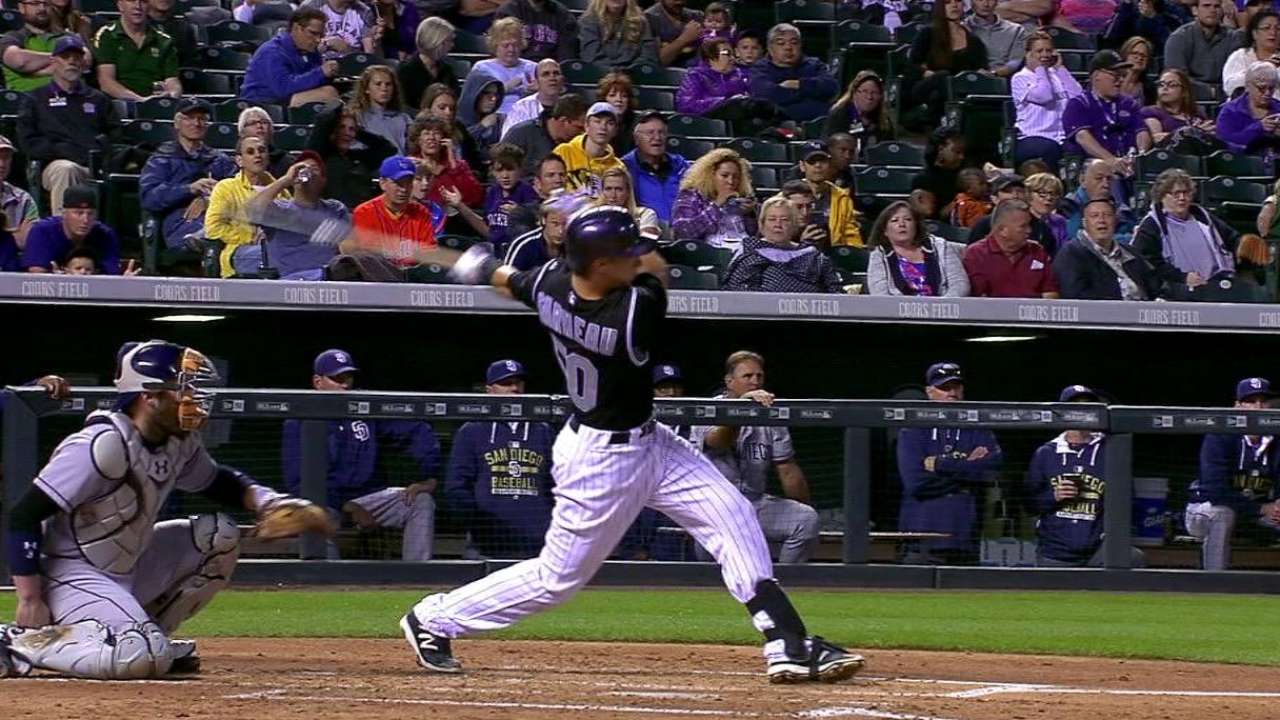 Young backstops look to catch on with Rockies
MLB.com
Updated 7 hours ago
After a couple of early offseason moves, the Rockies are short on experienced options to back up regular catcher Nick Hundley. There's the rest of the offseason to add a veteran or two, but Dustin Garneau and Tom Murphy hope their debuts at the end of 2…
Share
Tweet
Sports Briefing | Baseball: Jose Reyes Pleads Not Guilty

nytimes.com

Nov 25 (3 days ago)

The Rockies shortstop is pleading not guilty to allegations of abusing his wife at a Hawaii resort.

Share Tweet

White Sox acquire Kahnle in deal with Rockies

MLB.com

Nov 24 (3 days ago)

The White Sox on Tuesday acquired right-hander Tommy Kahnle from the Rockies in exchange for Minor League right-hander Yency Almonte.

Share Tweet

6 free-agent arms who are Coors Field-compatible

MLB.com

Nov 23 (4 days ago)

It's not clear how the Rockies will improve the top of their pitching rotation, but there's nothing wrong with looking at possible free-agent targets.

Share Tweet

yahoo.com

Nov 21 (6 days ago)

It's often difficult to figure out which direction the Colorado Rockies are headed, mainly because the Rockies themselves rarely have a firm plan in place. Though they're usually open to locking up superstar caliber players with big-money extensions, th…

Share Tweet

MLB.com

Nov 12

Rockies general manager Jeff Bridich said the team's approach of exploring all avenues for improvement, with pitching topping the list, even includes a strategy the team has rarely employed -- parting with prospects in trades.

Share Tweet

Rockies shortstop Jose Reyes was arrested on Oct. 31 and charged with abuse of a family and/or household member, according to a Maui Police Department report released Tuesday.

Share Tweet

CarGo sees a bright future for Rockies

MLB.com

Nov 6

From the balletic bat-drops that accompany his home runs to the glove he insisted on designing to his style-conscious movements in right field, it's clear the Rockies' Carlos Gonzalez likes being seen. But he also likes to watch and observe. And if his …

Share Tweet

Paulsen hopes to bulk up, carry first-base load in '16

MLB.com

Nov 4

Playing time wasn't all that melted away late in the 2015 season for Rockies first baseman Ben Paulsen. Paulsen himself shrunk over the course of the year.

Share Tweet

yahoo.com nytimes.com

Oct 7

The verdict is in on Colorado Rockies manager Walt Weiss. As first reported by FOX Sports' Ken Rosenthal, Weiss will return to the Rockies dugout for the 2016 season, which is also the final year of his contract. MLB.com's Thomas Harding backed up Rosen…

Share Tweet

Dickerson, Morneau, Rockies Rally for 7 in 9th, Beat Giants

nytimes.com

Oct 4

Corey Dickerson hit a three-run homer, pinch-hitter Justin Morneau delivered a two-run single and the Colorado Rockies rallied for seven runs in the ninth inning Sunday to beat the San Francisco Giants 7-3.

Share Tweet

Giants Back Peavy With 3 Homers in 3-2 Win Over Rockies

nytimes.com

Oct 3

Jake Peavy pitched five innings for his fifth consecutive win, rookie Kelby Tomlinson hit an inside-the-park home run and the San Francisco Giants beat the Colorado Rockies 3-2 on Saturday.

Share Tweet

Castillo's 2-Run Double Lifts Diamondbacks Past Rockies, 8-6

nytimes.com

Oct 2

Welington Castillo had a go-ahead two run double during Arizona's four-run rally with two out in the seventh inning that gave the Diamondbacks an 8-6 victory over the Colorado Rockies on Thursday night.

Share Tweet

#TBT: Sweet memories of Rockies' 2007 Wild Card berth

MLB.com

Oct 1

Thomas Harding relives the greatest sporting event he's ever covered or seen in person.

Share Tweet

Anderson Leads Diamondbacks to 3-1 Win Over Rockies

nytimes.com

Oct 1

Chase Anderson's mechanics were a little off, he had a hard time spotting his fastball and had a few balls hit hard off him.

Share Tweet

Rockies' Arenado, Gonzalez go to bat for Weiss

Share Tweet

Gosselin Wins It for Diamondbacks in 11th, 4-3 Over Rockies

nytimes.com

Sep 30

Phil Gosselin has had an up-and-down year. He began 2015 as a prospect with the Atlanta Braves, then fractured his left thumb in May. While injured, he was traded to the Arizona Diamondbacks in June.

Share Tweet

MLB.com nytimes.com

Sep 27

The Rockies overcame a three-run deficit on Sunday, with Nolan Arenado's three-run homer and career-high five RBIs keying a 12-5 victory and three-game series sweep over the Dodgers, whose magic number for a third consecutive division title remained stu…

Share Tweet

Tulo Looking For Fresh Start

Feb 26

Troy Tulowitzki discusses his transition as a veteran with the Colorado Rockies and what the team must do to improve on its 2014 record.

MLB All-Stars No-Hit By Japan

Nov 15

Japan's Takahiro Norimoto combined with three relievers on a no-hitter as Japan beat the MLB All-Stars 4-0 to take a 3-0 lead in their five-game series.

Mets Sign Michael Cuddyer

Nov 10

ESPNNewYork.com's Adam Rubin breaks down the Mets' signing of outfielder Michael Cuddyer to a two-year deal.

Rockies Make Front-Office Changes

Oct 8

ESPN MLB Insider Jim Bowden discusses Dan O'Dowd's decision to resign after 15 years with the Rockies.