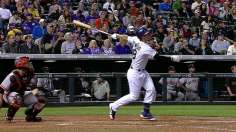 MLB.com
nytimes.com
Updated 3 hours ago
Fashioning his second straight stellar start, Franklin Morales held the Giants to one run in seven innings and made solo homers by Troy Tulowitzki and Nolan Arenado stand, as the Rockies won for the fifth time in six games, 2-1, at Coors Field on Tuesda…
Upvote
Share
Tweet
yahoo.com

Apr 22 (yesterday)

Every kid who goes to an MLB game has that moment where he or she hopes to grab a foul ball. Heck, even adults do. When fans get their hands on a ball, the reactions usually range from jumping around to high-fives and fist pumps. This kid at Monday's Sa…

Upvote Share Tweet

Each time Michael Cuddyer really tried to sprint in the outfield grass to fully assess his strained left hamstring, he felt like it was about to give out.

Upvote Share Tweet

CarGo feels 'all right' after exiting with knee tendinitis

MLB.com

Apr 20 (2 days ago)

Colorado left fielder Carlos Gonzalez left Sunday's series finale between the Rockies and Phillies with left knee tendinitis after running out a high-bounding grounder to third to end the sixth inning.

Upvote Share Tweet

Phillies break out of offensive funk in wild affair

MLB.com

Apr 20 (2 days ago)

Ryan Howard finished a double shy of the cycle while Jimmy Rollins tallied three hits and two RBIs as the Phillies edged out the Rockies, 10-9, on Sunday in Colorado.

Upvote Share Tweet

Rollins Gets Key Hits, Phillies Beat Rockies 10-9

nytimes.com

Apr 20 (2 days ago)

Jimmy Rollins homered early, then hit a go-ahead single in the eighth inning that sent the Philadelphia Phillies past the Colorado Rockies 10-9 Sunday.

Upvote Share Tweet

yahoo.com

Apr 20 (3 days ago)

Your browser does not support iframes. The Rally Squirrel is back! Well, maybe it's not THAT Rally Squirrel, but his Colorado cousin — call him Rocky J? — did the family legacy proud on Saturday night when he took over Coors Field during the third and f…

Upvote Share Tweet

MLB.com nytimes.com

Apr 19 (4 days ago)

Troy Tulowitzki launched a three-run homer to right-center, and didn't stop until he had three hits, including a double, and five RBIs in a 12-1 Rockies victory at Coors Field on Friday night.

Upvote Share Tweet

Rockies strike late to make winner of Morales

MLB.com

Apr 17 (5 days ago)

Franklin Morales went six strong innings and the Rockies came alive in the seventh in a 3-1 win over the Padres on Thursday at Petco Park.

Upvote Share Tweet

nytimes.com MLB.com

Apr 17 (6 days ago)

The Colorado Rockies got another unexpected outing from a starting pitcher who had been relegated to the bullpen.

Upvote Share Tweet

MLB.com

Apr 16 (6 days ago)

Third baseman Chase Headley was out of the Padres' lineup Wednesday with what manager Bud Black termed a mild right biceps strain. The injury occurred when Headley was hitting in the batting cage before Tuesday's game with the Rockies.

Upvote Share Tweet

MLB.com nytimes.com

Apr 16

Starting pitcher Juan Nicasio and a nail-biting bullpen effort made a one-run lead hold up as the Rockies beat the Padres, 3-2, at Petco Park on Tuesday night.

Upvote Share Tweet

The Colorado Rockies have placed left-hander Brett Anderson on the disabled list because of a broken left index finger. But, as with anything else these days, some crackpot conspiracy theorists probably don't believe the Rockies because of the their &qu…

Upvote Share Tweet

Wild Pitch, Throwing Error Gives Padres Win

nytimes.com

Apr 15

The Padres scored twice in the eighth inning on Rex Brothers' wild pitch and catcher Wilin Rosario's errant throw back to the plate, lifting San Diego to a 5-4 victory over the Colorado Rockies on Monday night.

Upvote Share Tweet

Cuddyer slams into wall, exits with elbow injury

MLB.com

Apr 15

Rockies outfielder Michael Cuddyer left Monday's game in San Diego in the fifth inning after slamming against the right-field wall trying to catch Alexi Amarista's triple. The Rockies announced Cuddyer had a right elbow contusion and listed him as day t…

Upvote Share Tweet

yahoo.com

Apr 14

Your browser does not support iframes. An inning before, the San Francisco Giants came within a whisker of beating the Colorado Rockies with another inside-the-park home run at AT&T Park, like the one Angel Pagan hit 11 months ago. Gregor Blanco, th…

Upvote Share Tweet

SweetSpot TV: Cuddyer To The DL

Apr 22

Eric Karabell and David Schoenfield discuss Michael Cuddyer heading to the disabled list.

Rockies Sneak Past Giants

Apr 22

Nolan Arenado's home run lifted the Rockies past the Giants 2-1.

MLB Daily Download: Monday

Apr 21

Antonietta Collins recaps Sunday's action from around the league, including a brawl in Pittsburgh and an emotional night at Fenway.

Phillies Win Slugfest With Rockies

Apr 20

Jimmy Rollins' RBI single in the eighth inning put the Phillies up for good as they defeated the Rockies 10-9.

Sports Columnists

2014 NBA playoffs - Chicago Bulls couldn't buy a basket in Game 2, need to…

Apr 23

Joakim Noah is a very worthy defensive player of the year, but he still needs to play alongside a true offensive star

2014 NBA draft - ESPN Insider's 360-degree NBA draft prospect profiles

Apr 22

ESPN Insider's NBA draft experts offer a guide to their 20-plus prospect draft profiles.

NFL schedule to be released Wednesday night

Apr 22

The NFL schedule is going to be officially announced and released at 8 p.m. ET Wednesday.