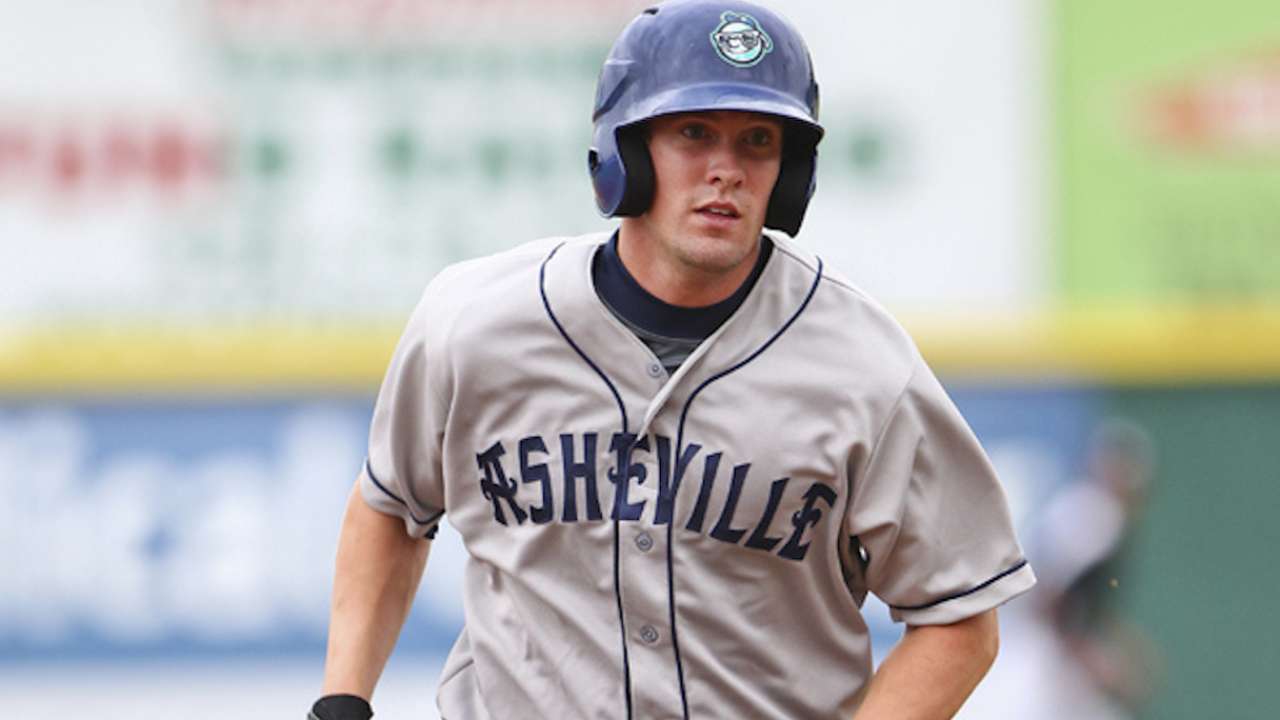 Top Rockies prospect Dahl injured in on-field collision
MLB.com
Updated 13 hours ago
Rockies outfield prospect and former top Draft pick David Dahl suffered multiple injuries, including a lacerated spleen, in a collision with a teammate while playing for Double-A New Britain on Thursday in New Britain, Conn.
Share
Tweet
Arenado Homers Again, Kendrick Leads Rockies Over Reds 6-4

nytimes.com

May 27 (yesterday)

Nolan Arenado hit a three-run homer on Wednesday, extending his hitting tear, and Kyle Kendrick pitched into the eighth inning for his first win since opening day, leading the Colorado Rockies to a 6-4 victory over the Cincinnati Reds.

Share Tweet

Reds walk off on Rox to end extended skid

MLB.com

May 26 (2 days ago)

The Reds' season-high nine-game losing streak ended when Skip Schumaker hit a pinch-hit double in the bottom of the ninth for a 2-1 walk-off victory over the Rockies on Tuesday at Great American Ball Park.

Share Tweet

Reds End 9-Game Losing Streak With 2-1 Win Over Rockies

nytimes.com

May 26 (2 days ago)

Skip Schumaker hit a game-winning double in the ninth inning, and the Cincinnati Reds ended a nine-game losing streak — their longest in 17 years — with a 2-1 victory over the Colorado Rockies on Tuesday night.

Share Tweet

Phillips out due to second bout with turf toe

MLB.com

May 26 (3 days ago)

For the second time this month, Reds second baseman Brandon Phillips was out of the starting lineup on Tuesday vs. the Rockies because of turf toe.

Share Tweet

MLB.com nytimes.com

May 25 (3 days ago)

After slamming into a roll of tarp to catch a foul ball on April 14 in San Francisco, and feeling the requisite pain, Rockies third baseman Nolan Arenado swore he'd think twice before charging into the field barriers. ... Then came Monday, and there was…

Share Tweet

MLB.com nytimes.com

May 24 (4 days ago)

An emphatic eight-run fourth inning and Chad Bettis' dominant mound performance were more than enough for the Rockies in their 11-2 win over San Francisco in Sunday's series finale at Coors Field.

Share Tweet

yahoo.com

May 24 (5 days ago)

The San Francisco Giants and Colorado Rockies had a long day at the ballpark on Saturday. The division rivals met up for a day/night doubleheader that was scheduled to begin at 2:10 and 7:10 pm respectively in Denver, but ended up way behind schedule th…

Share Tweet

Descalso's rare homer snaps Giants' streak

MLB.com

May 24 (5 days ago)

Daniel Descalso's two-run homer in Saturday night's sixth inning enabled the Colorado Rockies to inch ahead and helped them claim a 5-3 victory over the San Francisco Giants, ending the defending World Series champions' eight-game winning streak.

Share Tweet

Giants outlast Rockies for eighth straight win

MLB.com

May 23 (5 days ago)

A remarkable display of two-out hitting carried the San Francisco Giants to their eighth consecutive victory, a 10-8 decision Saturday over the Colorado Rockies in the first half of a day-night doubleheader.

Share Tweet

Sprained toe forces Lyles to exit vs. Giants

MLB.com

May 23 (5 days ago)

Rockies right-hander Jordan Lyles suffered a sprained toe on his left foot during Saturday's start against the Giants. He is listed as day to day.

Share Tweet

Minor League Team Commits Three Errors On The Same Play

deadspin.com

May 23 (5 days ago)

Minor league baseball is a cheap good time, as long as you don't hold the players to too many expectations. Here's Rockies AA affiliate New Britain committing three errors on the same play in the bottom of the fifth today at Harrisburg. Here's how the o…

Share Tweet

yahoo.com MLB.com nytimes.com

May 23 (6 days ago)

Just when you thought it was safe to party at Coors Field on a Friday night, Brandon Belt of the San Francisco Giants is here to crash it. Or at the very least make you reconsider your choices in life. During Friday's wild 11-8 victory against the Rocki…

Share Tweet

Price noncommittal about Marquis making next start

MLB.com

May 22 (6 days ago)

Struggling pitcher Jason Marquis was still listed as the starter for the Reds on Monday vs. the Rockies on Friday. But it seemed like that was written more in pencil than pen.

Share Tweet

MLB.com nytimes.com

May 21

Left-hander Jorge De La Rosa surpassed Ubaldo Jimenez as Colorado's career strikeout leader during an otherwise unremarkable start in the Rockies' 7-3 victory over the Phillies on Thursday.

Share Tweet

MLB.com

May 21

Ryan Howard sent a 1-1 slider 454 feet to center field for a solo home run in a 4-2 victory over the Rockies, giving the Phillies seven wins in their last eight games

Share Tweet

Phillies Stay Hot With 4-2 Win Over Rockies

nytimes.com

May 21

Nick Hundley hit a go-ahead homer in the eighth inning and the Colorado Rockies beat Philadelphia 6-5 on Tuesday night to snap the Phillies' six-game winning streak.

Share Tweet

Night after ejection, Hundley hits decisive HR

MLB.com

May 20

For the second straight night, Rockies catcher Nick Hundley batted in the eighth inning and ended up shouting as he left the field. But Hundley will take the screams of Tuesday over the yells of Monday. Hundley launched a two-out solo homer to give the …

Share Tweet

Rox place Dickerson on DL, call up Paulsen

MLB.com

May 19

Ailing Rockies left fielder Corey Dickerson was placed on the 15-day disabled list on Tuesday in hopes that the plantar fasciitis in his left foot will finally heal enough to where he can return to the lineup on a consistent basis. Corner outfielder-fir…

Share Tweet

Hamels Pitches Phillies Past Rockies 4-3 for 6th Straight

nytimes.com

May 19

Cole Hamels pitched efficiently into the eighth inning and Odubel Herrera broke a tie in the sixth with a two-run double as the Philadelphia Phillies won their sixth straight game by beating the Colorado Rockies 4-3 Monday night.

Share Tweet

Tulo Looking For Fresh Start

Feb 26

Troy Tulowitzki discusses his transition as a veteran with the Colorado Rockies and what the team must do to improve on its 2014 record.

MLB All-Stars No-Hit By Japan

Nov 15

Japan's Takahiro Norimoto combined with three relievers on a no-hitter as Japan beat the MLB All-Stars 4-0 to take a 3-0 lead in their five-game series.

Mets Sign Michael Cuddyer

Nov 10

ESPNNewYork.com's Adam Rubin breaks down the Mets' signing of outfielder Michael Cuddyer to a two-year deal.

Rockies Make Front-Office Changes

Oct 8

ESPN MLB Insider Jim Bowden discusses Dan O'Dowd's decision to resign after 15 years with the Rockies.