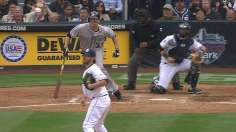 nytimes.com MLB.com

Apr 17 (yesterday)

The Colorado Rockies got another unexpected outing from a starting pitcher who had been relegated to the bullpen.

Upvote Share Tweet

MLB.com

Apr 16 (yesterday)

Third baseman Chase Headley was out of the Padres' lineup Wednesday with what manager Bud Black termed a mild right biceps strain. The injury occurred when Headley was hitting in the batting cage before Tuesday's game with the Rockies.

Upvote Share Tweet

MLB.com nytimes.com

Apr 16 (2 days ago)

Starting pitcher Juan Nicasio and a nail-biting bullpen effort made a one-run lead hold up as the Rockies beat the Padres, 3-2, at Petco Park on Tuesday night.

Upvote Share Tweet

The Colorado Rockies have placed left-hander Brett Anderson on the disabled list because of a broken left index finger. But, as with anything else these days, some crackpot conspiracy theorists probably don't believe the Rockies because of the their &qu…

Upvote Share Tweet

Wild Pitch, Throwing Error Gives Padres Win

nytimes.com

Apr 15 (3 days ago)

The Padres scored twice in the eighth inning on Rex Brothers' wild pitch and catcher Wilin Rosario's errant throw back to the plate, lifting San Diego to a 5-4 victory over the Colorado Rockies on Monday night.

Upvote Share Tweet

Cuddyer slams into wall, exits with elbow injury

MLB.com

Apr 15 (3 days ago)

Rockies outfielder Michael Cuddyer left Monday's game in San Diego in the fifth inning after slamming against the right-field wall trying to catch Alexi Amarista's triple. The Rockies announced Cuddyer had a right elbow contusion and listed him as day t…

Upvote Share Tweet

Your browser does not support iframes. An inning before, the San Francisco Giants came within a whisker of beating the Colorado Rockies with another inside-the-park home run at AT&T Park, like the one Angel Pagan hit 11 months ago. Gregor Blanco, th…

Upvote Share Tweet

Tommy Kahnle and four relievers combined for two-hit ball over six innings after Brett Anderson was injured, leading the Colorado Rockies to a 1-0 victory over Matt Cain and the San Francisco Giants on Saturday.

Upvote Share Tweet

ESPN.com nytimes.com CNNSI.com

Apr 12 (6 days ago)

Madison Bumgarner hit a grand slam and drove in a career-high five runs to overcome a shaky outing on the mound, sending the San Francisco Giants to a 6-5 victory over the Colorado Rockies on Friday night.

Upvote Share Tweet

Pool incident isn't motivating D-backs vs. LA

MLB.com

Apr 11 (7 days ago)

D-backs manager Kirk Gibson said the games against the Dodgers were no more important than the division games the D-backs played against the Rockies and Giants on their just-completed six-game road trip.

Upvote Share Tweet

deadspin.com

Apr 10

A reader spotted this sign at the Colorado Rockies' home opener. Under normal circumstances, this is the kind of sign that would make a beer-guzzling baseball fan hang his head in sadness. But thanks to a typo, this sign suddenly transformed into a one-…

Upvote Share Tweet

MLB.com nytimes.com

Apr 9

DJ LeMahieu knocked in the tying and go-ahead runs as the Rockies rode a six-run eighth inning outburst past the White Sox, 10-4, on Wednesday in the rubber match of their three-game Interleague series at Coors Field.

Upvote Share Tweet

The Colorado Rockies have optioned struggling right-handed reliever Wilton Lopez to Triple-A Colorado Springs.

Upvote Share Tweet

Rockies Slip Past Padres

Apr 17

The Rockies beat the Padres 3-1, scoring all three runs in the seventh inning.

Denorfia, Padres Double Up Rockies

Apr 16

Chris Denorfia drove in two runs in the Padres' 4-2 win over the Rockies.

Rockies Rally Past Padres

Apr 15

The Rockies scored three unanswered runs to defeat the Padres 3-2.

SweetSpot TV: Anderson Out For Rockies

Apr 14

Eric Karabell and David Schoenfield discuss Brett Anderson missing four to six weeks with a broken finger.