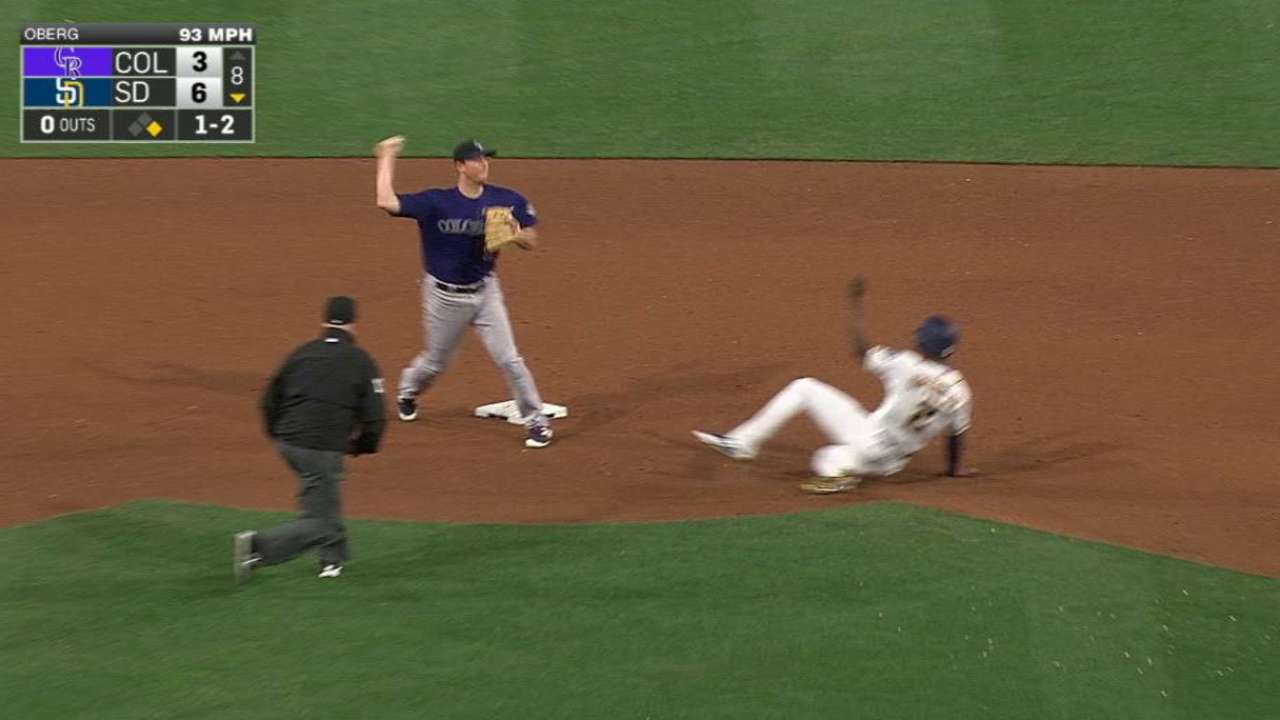 Oberg recalled to bolster Rockies 'pen; Qualls to DL
MLB.com
Updated Jul 23 (yesterday)
With a tired bullpen, the Rockies recalled right-hander Scott Oberg from Triple-A Albuquerque on Saturday. The Rockies placed right-hander Chad Qualls on the 15-day disabled list (colitis), retroactive to July 16.
Share
Tweet
nytimes.com

Jul 24 (yesterday)

Starters aren't supposed to have stat lines quite like this — winning ones, anyway. Rookies aren't supposed to make it look this easy for an entire series.

Share Tweet

MLB.com

Jul 23 (yesterday)

Rockies shortstop Trevor Story didn't wait long to break the National League record for home runs by a rookie shortstop. And he doesn't seem to be slowing down.

Share Tweet

Gonzalez, Bettis Help Rockies to 7-3 Win Over Braves

nytimes.com

Jul 22 (4 days ago)

Carlos Gonzalez can't ever remember hitting a ball any better or louder.

Share Tweet

Rays' hits parade keeps Rockies at bay

MLB.com

Jul 20 (5 days ago)

Jorge De La Rosa had five quality starts in six outings since being reinstated to the Rockies' rotation. The Rays finally spoiled his run in an 11-3 rout at Coors Field on Wednesday to win their first road series in six weeks.

Share Tweet

MLB.com nytimes.com

Jul 20 (5 days ago)

Blake Snell continued to validate his preseason hype as the Rays' top-ranked prospect after leading Tampa Bay to a 10-1 rout of the Rockies on Tuesday at Coors Field.

Share Tweet

Pearce returns to action for Rays

MLB.com

Jul 20 (5 days ago)

Steve Pearce went on the 15-day disabled list on June 21 after straining his right hamstring in a loss to the Indians, rehabbed for two games over the weekend with high Class A Charlotte and was back in the lineup on Tuesday against the Rockies, playing…

Share Tweet

Inclement weather delaying start of Rays-Rox

MLB.com

Jul 19 (6 days ago)

Tonight's Rays-Rockies game is under a weather delay, with the estimated time for the first pitch 8:40 p.m. MT/10:40 p.m. ET.

Share Tweet

deadspin.com

Jul 19 (6 days ago)

During the second inning of this evening's Pirates-Brewers game, Pittsburgh pitcher Jameson Taillon took a line drive straight to the head. Apparently, the ball came off the bat towards Taillon's dome at 105 MPH. He stayed down some two minutes before p…

Share Tweet

Story, Bullpen Help Rockies to 7-4 Win Over Rays

nytimes.com

Jul 19 (7 days ago)

Jason Motte smacked his glove and then screamed into it as he walked off the mound chomping his gum.

Share Tweet

nytimes.com yahoo.com

Jul 17

Braves ace Julio Teheran doesn't mind missing out on a winning decision when Atlanta squeaks out a rare home victory.

Share Tweet

Aggressive Rox rally to clinch series over Braves

MLB.com

Jul 16

Mike Foltynewicz was positioned to celebrate another splendid start until the Rockies manufactured a three-run eighth inning that included the first of the three wild pitches that helped them claim a 4-3 comeback win over the Braves on Saturday night at…

Share Tweet

Vizcaino exits with oblique injury after 3 pitches

MLB.com

Jul 16

In his first appearance since July 6 in Philadelphia, Braves closer Arodys Vizcaino exited Friday's 11-2 loss to the Rockies with a right oblique injury after throwing only three pitches in the ninth inning.

Share Tweet

CarGo collects 3 hits, Raburn slams in win over Braves

MLB.com

Jul 15

Recognizing their play over the next couple weeks could determine whether they are buyers or sellers at the Trade Deadline, the Rockies provided an efficient Jorge De La Rosa with sufficient support and opened the season's second half with Friday night'…

Share Tweet

Ottavino set to pitch late in games

MLB.com

Jul 15

Rockies manager Walt Weiss has informed righty reliever Adam Ottavino that the re-entry period is over, and he will be used in increasingly high-leverage situations.

Share Tweet

Rockies outfielder Carlos Gonzalez reached double-digits in the first round of Monday night's T-Mobile Home Run Derby at Petco Park, but he was ultimately ousted by defending champion Todd Frazier.

Share Tweet

nytimes.com MLB.com

Jul 10

Cameron Rupp's 465-foot home run was the team's longest in five years until Maikel Franco one-upped his teammate with a 471-foot shot an inning later.

Share Tweet

Tulo Looking For Fresh Start

Feb 26

Troy Tulowitzki discusses his transition as a veteran with the Colorado Rockies and what the team must do to improve on its 2014 record.

MLB All-Stars No-Hit By Japan

Nov 15

Japan's Takahiro Norimoto combined with three relievers on a no-hitter as Japan beat the MLB All-Stars 4-0 to take a 3-0 lead in their five-game series.

Mets Sign Michael Cuddyer

Nov 10

ESPNNewYork.com's Adam Rubin breaks down the Mets' signing of outfielder Michael Cuddyer to a two-year deal.

Rockies Make Front-Office Changes

Oct 8

ESPN MLB Insider Jim Bowden discusses Dan O'Dowd's decision to resign after 15 years with the Rockies.