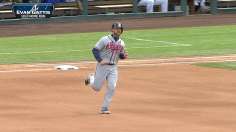 Updated Apr 23
Share
Tweet
In the coldest Major League game played in Colorado, the ball was flying like a balmy midsummer slugfest. Atlanta scored all of its runs on a trio of long balls, besting the Rockies, 4-3, in a game where the temperature never climbed out of the 20s.
Source:
MLB.com
Updated Apr 23

Share Tweet

Baseball's hottest teams played in Coors Field's coldest weather.

Source:

ESPN.com

MLB Should Probably Stop Scheduling April Games At Coors Field

Updated Apr 23

Share Tweet

Last week's four-game Mets-Rockies series featured two snow-outs, one of which was played as part of a supremely depressing doubleheader-a doubleheader, for that matter, which started two hours late because of an undermanned, overworked snow-clearing cr

Source:

deadspin.com

Updated Apr 23

Share Tweet

DENVER (AP) -- Atlanta Braves right fielder Jason Heyward has had an appendectomy.

Source:

CNNSI.com

Braves Hold Off Rockies In Game 1

Apr 23

Justin Upton hits his 10th home run in the Braves' win.

Upton Brothers Hit Back-To-Back Homers

Apr 23

Brothers B.J. and Justin Upton hit back-to-back homers, leading the Braves to a sweep of the Rockies in a day-night doubleheader.