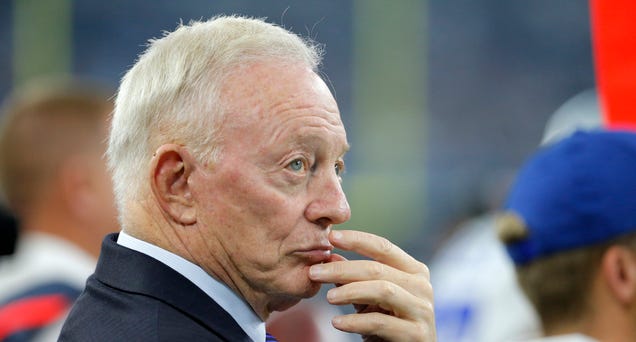 Jerry Jones Says Rushing Tony Romo Back Was Worth it
deadspin.com
Updated Nov 28 (2 days ago)
Way back in September, when the Cowboys were 2-0 and looking like they could win a weak NFC East, Tony Romo broke his collarbone. The injury held him out for eight weeks, during which the Cowboys went 0-7. With the NFC East a shitpile at that point (for…
Share
Tweet
An N.F.C. East Team Will Make the Playoffs, but Which One?

nytimes.com

12 hours ago

The Giants (5-6), the Redskins (5-6), the Eagles (4-7) and the Cowboys (3-8) have done little to distinguish themselves in the N.F.L. this season.

Share Tweet

profootballtalk.com

Nov 28 (2 days ago)

We don't often say this about a 5-5 team, but if the Giants can win on Sunday, they've all but locked up their division. Two of the Giants' NFC East division rivals had disasters on Thanksgiving, and it's now hard to imagine either the Eagles or the Cow…

Share Tweet

nydailynews.com profootballtalk.com nytimes.com

Nov 28 (2 days ago)

Tony Romo and Jerry Jones and the entire insufferable America's Team Nation were delusional convincing themselves of one silly thing.

Share Tweet

yahoo.com nytimes.com ESPN.com profootballtalk.com

Nov 27 (3 days ago)

Friday's news that Tony Romo is out for the rest of the 2015 season surprised nobody who saw him go down against the Carolina Panthers. It was obvious to pretty much everybody he re-injured his collarbone, and Dallas Cowboys owner Jerry Jones said that …

Share Tweet

Matt Cassel knows it's time for him to step up for Cowboys

profootballtalk.com

Nov 27 (4 days ago)

The Cowboys haven't won a game Tony Romo hasn't started this season and Matt Cassel has a personal six-game losing streak that goes back two teams ago. And yet, he remains confident. The veteran quarterback might have to fill in for Romo the rest of the…

Share Tweet

ESPN.com profootballtalk.com

Nov 27 (4 days ago)

Cowboys' Jerry Jones: No intent to sit Dez Bryant this year

Share Tweet

profootballtalk.com

Nov 27 (4 days ago)

Greg Hardy wanted to show the Panthers what they walked away from. It didn't take long, as the Cowboys defensive end was held without a single tackle in his reunion with the team that let him walk into free agency after his domestic violence arrest. The…

Share Tweet

nytimes.com

Nov 27 (4 days ago)

While Cam Newton was doing the twist for the undefeated Panthers, Tony Romo and the Cowboys were in no mood to dance.

Share Tweet

Josh Norman explains Dez Bryant comments

Nov 30

Josh Norman joins the Dan Le Batard Show to talk about his comments about Dez Bryant and why he was so hyped while playing the Cowboys on Thanksgiving.

Josh Norman on covering Dez Bryant

Nov 29

Josh Norman stops by Sunday NFL Countdown and explains to Wendi Nix what went on between him and Dez Bryant on Thanksgiving.

Full offseason should heal Tony Romo

Nov 27

After the second clavicle injury of the season for Tony Romo, ESPN Injury Analyst Stephania Bell says the Cowboys quarterback will be out for the remainder of the season but should be fully healed for the start of the 2016 season.

Stephen A.: Time for Cowboys fans to look for a new QB

Nov 27

First Take's Skip Bayless and Stephen A. Smith express their dissatisfaction with Cowboys QB Tony Romo's performance against the Panthers before he was injured.