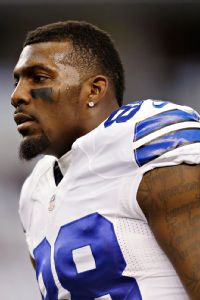 Dez Bryant becomes the veteran
ESPN.com
Updated Mar 31, 2014
Jason Garrett was asked about the Cowboys' desire to obtain a veteran wide receiver this offseason. The head coach was quick to point out the team already has one: No. 88. "We consider Dez Bryant a veteran receiver," Garrett said. "He's p…
Share
Tweet
Henry Melton reminds Cowboys' Jason Garrett about his ability to run the ball

dallasnews.com

Mar 31, 2014

When Jason Garrett speaks about the impact he anticipates Henry Melton will have at defensive tackle for the Dallas Cowboys, he mentions all of the snaps the player took in high school and college at running back. University of Texas RB Henry Melton (37…

Share Tweet

ESPN.com

Mar 31, 2014

IRVING, Texas – With pro days going on just about every day the focus for most teams is now the NFL draft, which is five weeks away, but free agency never sleeps. The Dallas Cowboys have plenty of needs and have the chance to get players at their price.…

Share Tweet

dallasnews.com

Mar 31, 2014

The emphasis for the Cowboys this offseason is clear. The team must upgrade its talent and depth in the defensive front four. It must also get better play at cornerback. That starts with Morris Claiborne. "We feel like he is a guy who is very talented a…

Share Tweet

Looking back on the Dallas Cowboys dynasty

Mar 31

Former Dallas Cowboys and Super Bowl champions Nate Newton and Everson Walls look back on the great Dallas Cowboys dynasty and talk about the transition from head coach Tom Landry to Jimmy Johnson.

Inside the Dallas Cowboys with Everson Walls

Mar 31

Former Dallas Cowboys defensive back Everson Walls looks back at his time in the league, recounting some of the biggest moments, while also offering his take on the current Cowboys.