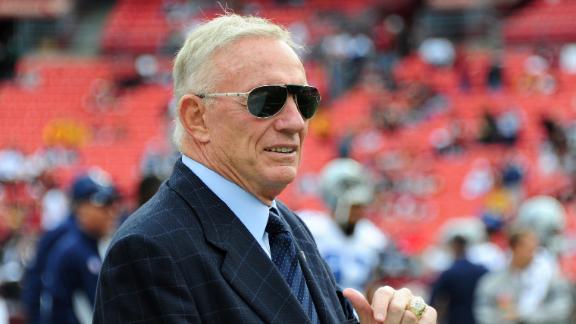 ESPN.com
Updated May 31, 2013
The Dallas Cowboys are aware their NFL draft board has been compromised for the second time in four years from images put together from interviews with owner Jerry Jones.
Share
Tweet
In NFL Network rankings, Cowboys' Tony Romo either really good or really bad

dallasnews.com

May 31, 2013

I have become irrationally fascinated with NFL Network's list of the league's top 100 players for the 2013 season. Mainly because I want to see where Cowboys quarterback Tony Romo ranks among the electorate — 481 of his fellow players. Each week NFL

Share Tweet

Eight in the Box: Playing for a contract

ESPN.com

May 31, 2013

A look at a player entering a contract year on each NFC East team who must deliver in 2013. Dallas Cowboys: Playing on a one-year franchise player deal for the second season in a row, defensive end Anthony Spencer is key to the Cowboys' transition to a …

Share Tweet

Why Garrett remains in Cowboys' plans

ESPN.com

May 31, 2013

Man, this is a smart, sober take from Jean-Jacques Taylor on Jason Garrett's role in the Dallas Cowboys' current management structure and decision-making process. Jacques' premise is that past Cowboys teams would have rushed to sign big-name veteran fre…

Share Tweet

Cowboys' Draft Board Exposed

May 31

Bloggingtheboys.com reconstructs the Cowboys draft board from screen shots of video taken from interview with Jerry Jones.