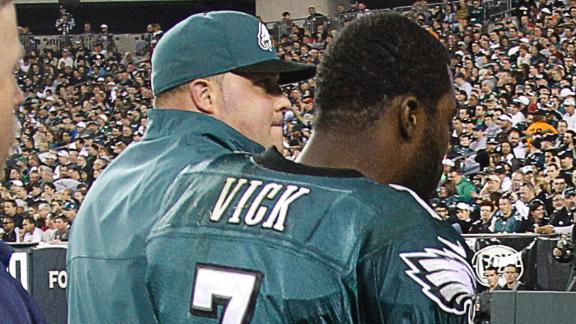 dallasnews.com
ESPN.com
CNNSI.com
profootballtalk.com
Updated Nov 11, 2012
PHILADELPHIA - Cowboys coordinator Rob Ryan was pleased with the defense's performance Sunday after Dallas' 38-23 victory over Philadelphia. The Cowboys scored two defensive touchdowns and held the Eagles to 369 yards of total offense. Consider that
Share
Tweet
yahoo.com

Nov 11, 2012

Below is a run-down of the injury situations that Shutdown Corner will be monitoring before Week 11: Philadelphia Eagles quarterback Michael Vick exited Sunday's 38-23 loss to the Dallas Cowboys in the second game with a concussion. Vick was replaced in…

Share Tweet

Former Plano East standout Charlie Peprah makes Cowboys debut

PHILADELPHIA - Charlie Peprah didn't just make his debut with the Cowboys on Sunday. He actually started. Peprah, a seventh-year veteran safety, had been inactive for the first two games since he was acquired Oct. 24. On Sunday, the former Plano East

Share Tweet

PHILADELPHIA - Cowboys cornerback Mike Jenkins missed his second game of the season Sunday. Jenkins, who hurt his back last week, was one of seven Dallas players who were inactive, including running back DeMarco Murray, safety Matt Johnson, linebacker D

Share Tweet

PHILADELPHIA - Kenyon Coleman left the game in the third quarter after suffering a left-triceps injury. The defensive end was hurt during a 23-yard run by Eagles running back LeSean McCoy early in the third quarter. Coleman was seen with a bandage on hi

Share Tweet

Cowboys WR Dez Bryant has two big catches vs. the Philadelphia Eagles

PHILADELPHIA — Cowboys receiver Dez Bryant continued his trend of one good game after a bad one Sunday at Philadelphia. After a catching only one pass last week at Atlanta for 15 yards, Bryant finished with three receptions for 87 yards and a touchdown

Share Tweet

PHILADELPHIA — Cowboys cornerback Brandon Carr was slow to get up late in the fourth quarter when he was defending a pass over the middle of the field. On fourth-and-9 from the Cowboys' 33-yard line, Philadelphia backup quarterback Nick Foles threw a

Share Tweet

dallasnews.com yahoo.com ESPN.com

Nov 11, 2012

PHILADELPHIA — For the fourth consecutive road game, the Cowboys won the coin toss and deferred to the second half to put their defense on the field first Sunday against the Eagles. This time, the results weren't good. The Eagles drove 81 yards in 10

Share Tweet

Jerry Jones: Criticism made it a tough week for me; 'It does bother me'

Admittedly, this past week was a tough one for Jerry Jones. The Cowboys owner and general manager had to deal with the disappointment of his team dropping to 3-5 and the critics questioning the direction of a franchise that should be a playoff contender…

Share Tweet

Riley Cooper provides rare Eagles highlight with great one-handed touchdown catch

yahoo.com

Nov 11, 2012

The Eagles are now 3-6 and haven't given their fans too much to get excited about, but receiver Riley Cooper had a great highlight against Dallas. Michael Vick's short fade route pass on third and goal was overthrown a bit, to get over Cowboys rookie co…

Share Tweet

Astoundingly, a race in the NFC East

ESPN.com

Nov 11, 2012

PHILADELPHIA -- It was a happy bunch of Dallas Cowboys who filed off the Lincoln Financial Field and into the tiny visitors locker room. They'd scored in every way imaginable in a 38-23 victory over the Philadelphia Eagles, and to hear the chatter and c…

Share Tweet

dallasnews.com ESPN.com

Nov 11, 2012

A car fire burns during this afternoon's Cowboys-Eagles game in Philadelphia (Via @MarisaMagnatta)

Share Tweet

profootballtalk.com ESPN.com

Nov 11, 2012

Eagles quarterback Michael Vick has left today's game against the Cowboys with an injury and has been replaced by rookie backup Nick Foles. It wasn't completely clear how Vick got hurt, but it may have happened when the back of his helmet hit the grou

Share Tweet

CNNSI.com

Nov 11, 2012

The Cowboys scored TDs on offense, defense and special teams in a 2:35 stretch to sprint past the Eagles. Nick Foles will have to bring the Eagles back with Michael Vick sidelined.

Share Tweet

If Jerry Jones wanted to fire Cowboys coach Jason Garrett, former Green Bay Packers and Seattle Seahawks coach Mike Holmgren would have "serious interest" in taking over that role. That news was reported Sunday by CBSSports.com's Jason La Canfora. W

Share Tweet

Bill Cowher thinks Cowboys will overtake Giants to win NFC East

Even before the Cincy Bengals began embarrassing the New York Giants on Sunday, CBS' Bill Cowher, the old Pittsburgh Steelers coach, declared the Big Blue dead and predicted a team no one else is predicting, would win the NFC East. Honest. "The Dallas

Share Tweet

Jimmy Johnson stays on the offensive vs. Jerry Jones: 'This is bigger than coaching'

Jimmy Johnson continued his offensive aimed at Jerry Jones on the Fox pre-game show. It wasn't a heavy salvo. But Jimmy is looking for the last word. On Cowboys woes, said Jimmy: "This is bigger than coaching. Underachievers — that's what we've

Share Tweet

ESPN.com

Nov 11, 2012

PHILADELPHIA -- As the Philadelphia Eagles prepare to host the Dallas Cowboys at 4:25 p.m. ET at Lincoln Financial Field, here's one reason for Cowboys fans to be feeling good and one reason for Eagles fans to be doing the same. Cowboys feeling good: Th…

Share Tweet

Sunday Blitz: Cowboys-Eagles Recap

Nov 11

Jim Basquil and Eric Allen break down the Cowboys' 38-23 win over the Eagles.

Dallas Cowboys postgame press conference

Nov 11

Cowboys react following game with Eagles

Vick Injured In Eagles' Loss

Nov 11

Michael Vick left the game in the second quarter after suffering a concussion as the Cowboys defeated the Eagles 38-23.

Dallas Cowboys vs. Philadelphia Eagles highlights

Nov 11

Dallas Cowboys quarterback Tony Romo threw a pair of touchdowns to lead the Dallas Cowboys to a 38-23 win over the Philadelphia Eagles on Sunday.