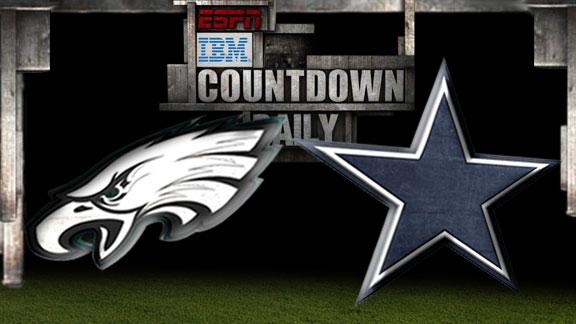 dallasnews.com
CNNSI.com
ESPN.com
Updated Nov 30, 2012
IRVING - It appears DeMarco Murray will play Sunday for the first time since he sprained his left foot Oct. 14 against Baltimore. Murray, who returned to practice this week and was limited in all three sessions, was listed as questionable on the injury
Share
Tweet
The Cowboys will sign former SMU defensive back Sterling Moore off the New England Patriots' practice squad and make a corresponding move so they can add him to the roster. Dallas needs reinforcements in the secondary. Cornerback Orlando Scandrick fract

Share Tweet

IRVING - Jay Ratliff is listed as doubtful on the Cowboys' injury report and defensive coordinator Rob Ryan doesn't anticipate the four-time Pro Bowler lining up at nose tackle on Sunday after he missed the previous game and each practice this week

Share Tweet

CNNSI.com

Nov 30, 2012

Robert Griffin III has dominated the thoughts of the Giants defense heading into a Week 13 duel with the Redskins. Peter King breaks down what makes the rookie so dangerous.

Share Tweet

ESPN.com

Nov 30, 2012

Nick Foles handing off to Bryce Brown in front of a national television audience wasn't the way the Philadelphia Eagles envisioned their season going.

Share Tweet

In his just published book, "Coaching Confidential, Inside the Fraternity of NFL Coaches," former SportsDay football writer Gary Myers relates a story of how a young Cowboys assistant coach saved owner Jerry Jones some cash. It seems that Sean Payton,

Share Tweet

The next touchdown pass Tony Romo throws will break the Cowboys record he now holds with Troy Aikman. Head coach Jason Garrett played with Aikman. He coaches Romo. What are his thoughts on the impending change at the top of the club's record books? "T

Share Tweet

Donovan McNabb says Eagles are only going to get worse

profootballtalk.com

Nov 30, 2012

Former Eagles quarterback Donovan McNabb is not optimistic about the direction his old team is heading in. Asked on CSN Philadelphia about the Eagles' Sunday night game with the Cowboys, McNabb said he thinks quarterback Nick Foles, playing behind a bea

Share Tweet

Coordinator Rob Ryan on rash of injuries to Cowboys defense: "It gets a little annoying."

The Cowboys defense will be without five starters and its slot corner when it faces Philadelphia Sunday night. Does defensive coordinator Rob Ryan ever say enough is enough? "I do that at home but no where else," Ryan said. "It gets a little upsetti

Share Tweet

One of the fixtures of the Cowboys championship run is under consideration for the Hall of Fame. Larry Allen is one of 27 semifinalsits for the Hall of Fame Class of 2013. The former Pro Bowl offensive lineman for the Cowboys joins Morten Anderson, John…

Share Tweet

Jonathan Bales is a special contributor to SportsDayDFW.com. He's the founder of The DC Times and writes for DallasCowboys.com and the New York Times. He's also the author of 

Share Tweet

ESPN.com

Nov 30, 2012

Five nuggets of knowledge about Week 13: Tough times. The Philadelphia Eagles and the Dallas Cowboys haven't met in a game in which they both had losing records since ... well, since three weeks ago. But before that, the last time was Oct. 28, 1990. The…

Share Tweet

PFT Live: Cowboys talk with Charean Williams, PFT Planet calls and tweets

profootballtalk.com

Nov 30, 2012

The Cowboys will be playing to keep their playoff hopes alive on Sunday night against the Eagles and we'll be talking about their chances of winning that game on Friday's PFT Live. Charean Williams of the Fort Worth Star-Telegram will join Mike Florio

Share Tweet

'Playbook': Philadelphia Eagles vs. Dallas Cowboys

Nov 30

Will the Philadelphia Eagles continue to give the ball away to opponents and lack the fundamentals needed to pull off a win? The "Playbook" guys explain why the Eagles need to be careful against the Dallas Cowboys.

Dallas Cowboys DB Brandon Carr joins 'Around the League'

Nov 30

Dallas Cowboys defensive back Brandon Carr joins "Around the League" to discuss making a playoff push, battling injuries and taking on rookie phenom Robert Griffin III on Thanksgiving.

Make-or-Break Game For Jason Garrett?

Nov 30

Skip Bayless and Stephen A. Smith debate whether Sunday's game against the Eagles is a make-or-break game for Jason Garret and the Cowboys.

Key For Saints To Secure Sean Payton

Nov 30

Ed Werder says there is nothing more important for Mickey Loomis than signing Sean Payton.