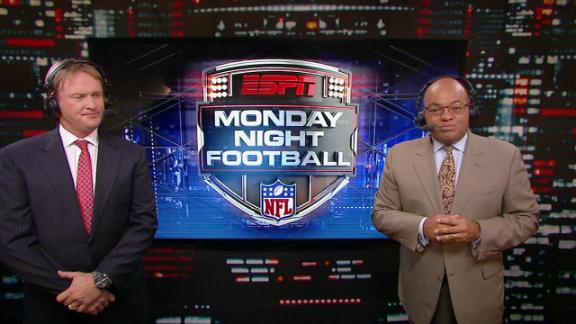 ESPN.com
Updated Oct 1, 2012
ARLINGTON, Texas -- Jay Cutler is not one to smile during a game. It's not in his nature. Monday night, he did. After Brandon Marshall caught a 31-yard touchdown pass to give the Chicago Bears a commanding 24-point lead against the Dallas Cowboys, Cutle…
Share
Tweet
yahoo.com dallasnews.com CNNSI.com profootballtalk.com

Oct 1, 2012

Believe it or not, Dallas Cowboys quarterback Tony Romo has thrown five interceptions in a single game before. And to make that fact even odder, the Cowboys actually won that game, a 25-24 October 2007 victory over the Buffalo Bills. That was a Monday n…

Share Tweet

The Bears smacked around the Cowboys tonight 34-18, a score that sounds even worse when you remember the Bears gave up a garbage touchdown to Jason Witten in the final half minute of play. Brandon Marshall had a big game on the field and on the broadcas…

Share Tweet

The Jerry Dome Is Infested With Gigantic Roaches

Sure, Cowboys Stadium may be a billion-dollar testament to fossil fuels football, but even with the new Victoria's Secret store it seems they have a bit of a problem with pest control. EWWW.

Share Tweet

ARLINGTON — With his first catch Monday night against Chicago, tight end Jason Witten moved up to No. 2 on the Cowboys' all-time receiving yards leaders list. Witten caught a 6-yard pass from Tony Romo on the Cowboys' fifth play of the first quarter

Share Tweet

Cowboys' Danny McCray - a backup in college - makes first career start vs. Bears

ARLINGTON — Third-year safety Danny McCray made his first career start for the Cowboys on Monday night against Chicago in place of Barry Church. McCray had four tackles in the first half. Church suffered a season-ending torn right Achilles tendon in las

Share Tweet

ARLINGTON — The Cowboys used cornerback Mike Jenkins at deep safety in their nickel defense Monday night against Chicago. Last week, Jenkins saw his most extensive playing time of the season against Tampa Bay and was used at cornerback in the nickel def

Share Tweet

Cowboys defense gets more bad news as LB Bruce Carter goes down with hip injury

ARLINGTON — Starting inside linebacker Bruce Carter suffered a left hip injury late in the first quarter and had to leave the game. He was replaced by Dan Connor, who the Cowboys signed via free agency this off-season. With Carter out, the Cowboys were

Share Tweet

CNNSI.com profootballtalk.com

Oct 1, 2012

Jay Cutler and the Bears are giving the Cowboys all they've got in Big D. Cutler has thrown two touchdown passes and Chicago's defense has clamped down on Dallas. Follow all the action.

Share Tweet

ARLINGTON, Texas - Charles Tillman returned an interception 25 yards for a touchdown and Robbie Gould kicked a 43-yard field goal to give the Chicago Bears a 10-7 halftime lead over the Dallas Cowboys on Monday night. The interception by Tillman, on a b

Share Tweet

ESPN.com yahoo.com dallasnews.com profootballtalk.com

Oct 1, 2012

Chicago Bears running back Matt Forte started Monday night against the Dallas Cowboys after missing last week's game due to a sprained ankle.

Share Tweet

Tonight the Cowboys host the Bears. Romo. Cutler. Other guys. At the end of the night, one of these teams will be tied for first in their respective division. It's gonna be so sweet. In less-sweet news, the Cowboys and Tony Romo have tabled contract ext…

Share Tweet

Live updates: Our SportsDay writers tweet their observations from Cowboys Stadium

As the Cowboys ready to take on the Chicago Bears on Monday Night Football, our writers are at the stadium, providing live updates from the press box. Cowboys beat writers David Moore (@DavidMooreDMN), Brandon George (@dmn_george) and Rainer Sabin (

Share Tweet

deadspin.com ESPN.com

Oct 1, 2012

Thank you for your continued support of Deadspin. Sean and Tim are around tonight, so be sure to drop by while you watch Bears-Cowboys.

Share Tweet

ESPN.com profootballtalk.com dallasnews.com

Oct 1, 2012

Dallas Cowboys outside linebacker Anthony Spencer will not play Monday night against the Chicago Bears after missing practice all week with a strained pectoral.

Share Tweet

How you feeling? Cowboys-Bears

ESPN.com

Oct 1, 2012

As the Dallas Cowboys prepare to host the Chicago Bears tonight on "Monday Night Football" on ESPN, here's one reason for Cowboys fans to feel good and one reason for concern. Feeling good: The Cowboys' defensive front, even if linebacker Anth…

Share Tweet

Detroit Tigers rookie a cheerleader for Dallas Cowboys, at least for a day

We're seeing more of rookies these days, and not in a great way. The Rangers in Speedos is proof of that. Tigers rookie Avisail Garcia is a good sport, posing with David Lally Jr.

Share Tweet

Texas, Texas A&M standouts among players Cowboys could target in 2013 NFL Draft

Yes, it's way too early to predict who the Cowboys might select in the first round of the 2013 draft. But I'm going to throw out some possibilities, regardless. What's wrong with having a little fun and looking ahead? Through three games this season

Share Tweet

Monday's Matchup: A Time for Offenses to Shine

nytimes.com

Oct 1, 2012

Most of the recognizable names on Chicago's and Dallas' teams are on the offensive side of the ball, but both squads have been surviving mostly on defense. It may be time for those well-known players on offense to start earning their paychecks.

Share Tweet

Tony Romo's rough outing

Oct 1

Dallas Cowboys quarterback Tony Romo broke his own personal record with five interceptions against the Chicago Bears.

Bears Lead Cowboys After 3rd Quarter

Oct 1

Tune to ESPN for live action.

Tony Romo to Miles Austin 10-yd TD

Oct 1

Dallas Cowboys quarterback Tony Romo connects with WR Miles Austin for a 10-yard touchdown.

Bears, Cowboys Scoreless After 1st Quarter

Oct 1

Tune to ESPN for live action.