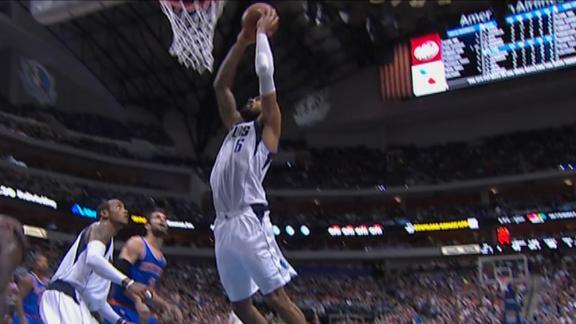 Mavs' Cuban: Realignment could benefit NBA

ESPN.com

21 hours ago

Mavericks owner Mark Cuban says a conference realignment that would result in a total of eight teams, including the Mavs, switching conferences, could help level the playing field between the NBA's two conferences.

Upvote Share Tweet

ESPN.com dimemag.com

Nov 26 (yesterday)

New York Knicks forward Carmelo Anthony has been ruled out of Wednesday's game against the Mavericks due to painful back spasms.

Upvote Share Tweet

dimemag.com ESPN.com

Nov 25 (2 days ago)

No win in the NBA can be assumed – all 30 teams employ professional basketball players. And considering that logic, no loss should be overly disappointing, either. The Dallas Mavericks don't subscribe to the latter line of thinking. After falling to the…

Upvote Share Tweet

Mavs' Felton inactive in first eligible game

ESPN.com

Nov 24 (3 days ago)

The wait continues for guard Raymond Felton to make his debut for the Dallas Mavericks.

Upvote Share Tweet

deadspin.com ESPN.com

Nov 23 (4 days ago)

On Friday, a judge shot down a New Jersey law that would have allowed sports betting, to the satisfaction of the four major American sports leagues, all of which opposed it—and all of which profit immensely from bettors' interest. As Mavericks owner Mar…

Upvote Share Tweet

ESPN.com

Nov 22 (5 days ago)

There is no timetable for Houston Rockets center Dwight Howard's return after he underwent platelet-rich plasma therapy to treat his strained right knee, coach Kevin McHale said before Saturday's game against the Dallas Mavericks.

Upvote Share Tweet

yahoo.com

Nov 21 (6 days ago)

Mark Cuban and the Dallas Mavericks have long been at the forefront of technological advances in the NBA, and the billionaire owner consistently ranks among the league's loudest voices in pushing for game-operations advancements that make watching a gam…

Upvote Share Tweet

Brandan Wright Climbs The Ladder On KEvin Seraphin

dimemag.com

Nov 20

We're not sure Wizards forward Kevin Seraphin knew what was coming when he elected to get in front of Mavericks center Brandan Wright after he rolled to the hoop last night. J.J. Barea had used the Wright screen to get into the lane, but then he lobbed …

Upvote Share Tweet

Hobbled Dirk hits key 3 as Mavs edge Wizards

ESPN.com

Nov 19

Dirk Nowitzki limped off to the locker room after a fourth-quarter fall, then returned to make a key 3-pointer, and Monta Ellis scored 24 of his 34 points in the first half Wednesday night, leading the Mavericks to a 105-102 victory over the Wizards.

Upvote Share Tweet

Mavericks Owner Mark Cuban Says He Hopes Lakers "Suck Forever"

dimemag.com

Nov 19

The rest of the league surely prefers when the Los Angeles Lakers field a poor team; they just aren't as up front about it as Mark Cuban. Speaking on the "The Fred Roggin Show" of L.A.'s Beast 980, the Dallas Mavericks owner said that he hopes the purpl…

Upvote Share Tweet

dimemag.com

Nov 18

If the season's first three weeks of play has told us anything about the Washington Wizards, it's that they can still be successful at less than full strength. Just imagine how good they could be, then, once star shooting guard Bradley Beal returns to t…

Upvote Share Tweet

ESPN.com

Nov 16

The Dallas Mavericks plan for guard Raymond Felton to begin serving his four-game suspension during Monday's game against the Charlotte Hornets, coach Rick Carlisle said.

Upvote Share Tweet

ESPN.com

Nov 16

The Timberwolves are shopping swingman Corey Brewer and sources tell ESPN's Marc Stein that the Cavaliers and Rockets have emerged as the most likely ...

Upvote Share Tweet

ESPN.com

Nov 13

Dirk Nowitzki scored 21 points while playing only 20 minutes and the Dallas Mavericks had their largest victory ever, 123-70 over the winless Philadelphia 76ers on Thursday night.

Upvote Share Tweet

Photo: Starbucks Employee Writes "Dirk" On Chandler Parsons' Coffee

Dirk Nowitzki was Chandler Parsons' childhood idol. Now that the towering sharpshooters are teammates on the Dallas Mavericks, then, it's only natural that residents of Big D would confuse them from time to time. A day after Nowitzki surpassed Hakeem Ol…

Upvote Share Tweet

Dirk Nowitzki passed Hakeem Olajuwon last night for ninth on the league's all-time points list, becoming basketball's top international scorer in the process. It's poetic that Olajuwon is the legend Nowitzki usurped for the latter milestone especially. …

Upvote Share Tweet

Kobe Bryant wasn't the only future Hall-of-Famer to make history on Tuesday night. However, this record-breaking achievement came with more of a positive spin. On a classic catch-and-shoot jumper in the fourth quarter against the visiting Sacramento Kin…

Upvote Share Tweet

Watch Monta Ellis Put The Kings Away For Good With Soaring Transition Slam

dimemag.com

Nov 11

Monta Ellis really did have it all in the second half of his team's game against the Sacramento Kings tonight. Leading the Dallas Mavericks all the way back from a 24-point deficit, the cat-quick guard scored the last of his 16 points – all of which cam…

Upvote Share Tweet

New Lob City

Nov 25

The Dallas Mavericks, not the Los Angeles Clippers, lead the NBA by far in alley-oops, thanks to the return of ex-Knick Tyson Chandler.

NBA Top Plays

Nov 24

Brandan Wright's huge dunk over Luis Scola is the top play from the NBA.

Chandler Back In Dallas

Nov 24

The "NBA Tonight" crew discuss Tyson Chandler's impact on the Mavs.

Sloan, Pacers Stun Mavs

Nov 24

Donald Sloan scored 29 points to power the Pacers to a 111-100 win over the Mavericks.