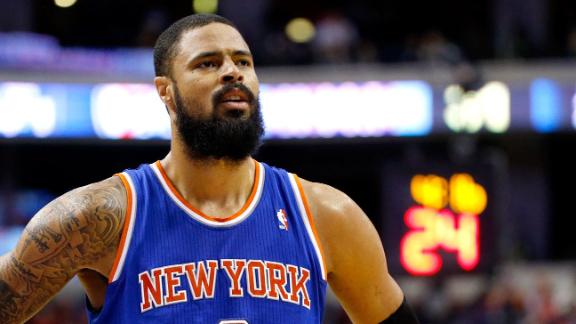 Documentary on Dallas Mavericks star Dirk Nowitzki draws a big crowd in Germany

ESPN.com

6 hours ago

The premiere of a documentary on Dirk Nowitzki drew teammates, ex-teammates, coaches and more all the way to Germany.

Upvote Share Tweet

Rumor: Rockets Let Parsons Out Of Contract As Part Of Dwight Howard's Deal

dimemag.com

8 hours ago

When the Rockets declined their fourth-year option on Chandler Parsons in early June, the reaction was split whether they were making a mistake. Dallas' three-year, $45 million offer sheet lured him away from Houston permanently, and many blamed GM Dary…

Upvote Share Tweet

Tyson Chandler Says He's Better Now Than In 2011

dimemag.com

Sep 11

After the Dallas Mavericks shocked the Miami Heat in 2011 by capturing their first championship in franchise history, owner Mark Cuban decided to let their defensive bulwark, Tyson Chandler, walk. Chandler signed a four-year, $47 million sign-and-trade …

Upvote Share Tweet

dimemag.com

Sep 11

New Mavericks wing Chandler Parsons was throwing out the first pitch of a Rangers game this month rather than suiting up for USA Basketball as they take on the world's best in the FIBA World Cup in Spain. In a conversation with NBA.com's Jeff Caplan, Pa…

Upvote Share Tweet

ESPN.com

Sep 8

Veteran power forward Charlie Villanueva has agreed to sign a nonguaranteed contract with the Dallas Mavericks, a source told ESPNDallas.com.

Upvote Share Tweet

Dirk Nowitzki, "Dunkaholic"

dimemag.com

Sep 5

Dirk Nowitzki is one of the several most valuable offensive players in basketball, but the Dallas Mavericks legend can't do everything these days. Just don't tell him that. Nowitzki showed off his light-hearted sense of humor on Twitter earlier today by…

Upvote Share Tweet

Pat Beverley Asks Chandler Parsons If He's Scared To Face Houston In Twitter Q&A

dimemag.com

Sep 4

Chandler Parsons has been in the news quite a bit this summer. First, he signed an offer sheet with the Dallas Mavericks which the Houston Rockets declined to match. After officially joining his new team, a very public rift played out between Parsons an…

Upvote Share Tweet

Mavs re-sign reserve C Bernard James

nba.com

Sep 3

The Dallas Mavericks are bringing back reserve center Bernard James for a third season.

Upvote Share Tweet

dimemag.com

Aug 30

An active NBA summer in 2014 is drawing to a close with the FIBA World Cup starting today in Spain with only two weeks until training camps after it draws to an end in September. Despite all the movement, the NBA's all-time leader in made three-pointers…

Upvote Share Tweet

This Dirk Nowitzki Highlight Reel Shows Just How Dominant He Remains

dimemag.com

Aug 15

Easily lost amid the July hubbub of LeBron James returning to Cleveland and even Carmelo Anthony's whirlwind free agency tour was Dirk Nowitzki's dollars on the penny extension with the Dallas Mavericks. Maybe that's because the only drama surrounding N…

Upvote Share Tweet

Mark Cuban On Mavs: "The Moves We Made Will Take Us To The Next Level"

dimemag.com

Aug 14

The Dallas Mavericks were very busy this summer. They re-acquired Tyson Chandler in a trade with the Knicks, and were able to get Chandler Parsons to sign a three-year offer sheet that the Rockets declined to match. Where exactly they stand in the Weste…

Upvote Share Tweet

Mavs-Spurs, Rockets-Lakers open NBA slate

ESPN.com

Aug 13

The NBA released its 2014-15 season Wednesday night, with playoff rematches and a heavy dose of the new-look Cleveland Cavaliers featured heavily early.

Upvote Share Tweet

Incredible New Vince Carter Mix Showcases Vinsanity's Reincarnation With Mavs

dimemag.com

Aug 13

Over a decade ago Vince Carter was mentioned in the same breath as Kobe Bryant. It seems crazy now, especially after Kobe's five rings ran parallel to Carter's now-five separate teams since leaving the Raptors in the lurch midway through the 2004-05 sea…

Upvote Share Tweet

yahoo.com

Aug 12

After a few offseasons of striking out on big-name free agents, the Dallas Mavericks approached the 2014 summer with an arguably more conservative plan of adding (still very good) players who would not require such involved courtship. The results have b…

Upvote Share Tweet

Dallas Mavericks point guard Raymond Felton has been suspended four games without pay for pleading guilty to attempted criminal possession of a weapon and criminal possession of a firearm, the NBA announced Thursday. His suspension will begin with the f…

Upvote Share Tweet

Lamar Odom's Slow, Painful Descent Into Personal And Professional Oblivion

dimemag.com

Aug 5

During last night's episode of Keeping up with the Kardashians, Khloe opened up about filing for divorce from her estranged husband Lamar Odom, whose well-documented downfall has been the subject of endless controversy and speculation. "Lamar stuff will…

Upvote Share Tweet

Mark Cuban Suggests An NBA World Cup

deadspin.com

Aug 3

Dallas Mavericks owner and naked billionaire Mark Cuban has long been against the NBA's partnership with FIBA and the International Olympic committee, and Paul George's injury in Friday night's Team USA scrimmage gave him another opportunity to rip the …

Upvote Share Tweet

Mark Cuban of Dallas Mavericks feels for Paul George, renews call for separate quadrennial competition

ESPN.com

Aug 2

In the wake of Paul George's gruesome leg fracture suffered Friday while on Team USA duty, Dallas Mavericks owner Mark Cuban has renewed his call for the NBA and its players to organize their own quadrennial competition.

Upvote Share Tweet

dimemag.com

Jul 31

The supposed hot blood simmering between James Harden and former teammate Chandler Parsons after Harden made some damaging comments indirectly demising Parsons' additions for the Rockets, was probably blown out of proportion a tad by the media. The two …

Upvote Share Tweet

Mavs' sign Ivan Johnson after year in China

nba.com

Jul 29

The Dallas Mavericks have signed forward Ivan Johnson after he started all five games for their summer league team.

Upvote Share Tweet

Fat Joe Almost Punched Mark Cuban Once At A Jordan Sneaker Auction

dimemag.com

Jul 28

Mark Cuban has never been shy about voicing his opinion or talking a little smack when he gets a chance. According to Fat Joe, he crossed paths with the Dallas Mavericks owner at a sneaker auction and almost knocked him out. As a guest of Complex Magazi…

Upvote Share Tweet

Donatas Motiejunas Questions Chandler Parsons' Contract

dimemag.com

Jul 27

The Houston Rockets would have happily matched the Dallas Mavericks' offer sheet to Chandler Parsons had Chris Bosh done as expected and inked a contract to create the league's newest Big Three with James Harden and Dwight Howard. Just don't tell that t…

Upvote Share Tweet

Dwight Howard Actually Tried To Recruit Jameer Nelson To Houston

dimemag.com

Jul 25

Free agent point guard Jameer Nelson signed a two-year deal with the Dallas Mavericks this week. If Dwight Howard had his way, Nelson would be in Houston instead. According to Shams Charania's sources, Nelson made his decision despite a push from Howard…

Upvote Share Tweet

dimemag.com

Jul 25

Perhaps you've heard the condescending remarks James Harden and teammate Dwight Howard made in the wake of Chandler Parson's departure for Dallas. After the Rockets failed to match Parson's near-max deal with the Mavs, Harden and Dwight basically said i…

Upvote Share Tweet

Sacrifices of Team USA Nothing Compared To Military Service

Aug 21

In the wake of complaints about the risks of national team hoops, NBA Commissioner Adam Silver makes a wonderful point.

Shawn Marion To Join Cavs

Aug 17

ESPN's Brian Windhorst discusses the decision made by veteran free agent Shawn Marion to join the Cavaliers.

Shawn Marion Meets With Pacers

Aug 12

Marc Stein discusses the news that free-agent forward Shawn Marion met with the Pacers on Monday.

Predicting the NBA's Best Record

Aug 11

The Summer Forecast predicts the Thunder will have the most wins this upcoming season, but David Thorpe says the Spurs, Bulls, and several dark horse candidates are in the conversation.