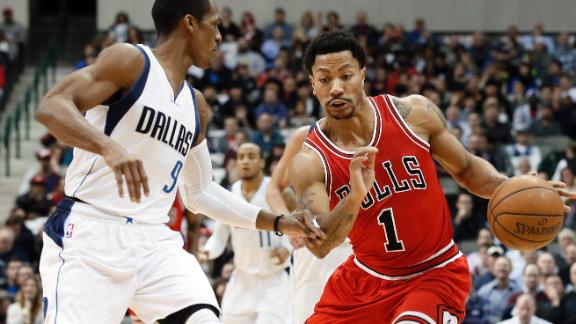 Rondo benched in clutch: 'Coach's decision'
ESPN.com
Updated Jan 24 (yesterday)
Rajon Rondo, the four-time All-Star point guard whose prowess in the clutch was cited by the Dallas Mavericks' brass when they acquired him in a December blockbuster trade, was benched for the final 5:12 of Friday night's 102-98 loss to the Chicago Bull…
Upvote
Share
Tweet
Dallas Mavericks owner Mark Cuban suggests the NBA should eliminate fan balloting for the All-Star Game, saying the leading total of 1.5 million votes for Golden State's Stephen Curry was so low it was "embarrassing."

Upvote Share Tweet

ESPN.com

Jan 23 (yesterday)

Chicago Bulls center Joakim Noah played Friday night against the Dallas Mavericks after missing the last four games because of a sprained right ankle.

Upvote Share Tweet

GIF: Rajon Rondo's Trademark Behind-The-Back Pass Fake For The Layup

dimemag.com

Jan 22 (3 days ago)

Those hands. Those gigantic Rajon Rondo hands that look like something out of a Steven Speilberg daydream than actual phalanges. That's how Rondo is able to palm the ball off the dribble. It's also why the behind-the-back pass fake he unleashed on the T…

Upvote Share Tweet

dimemag.com

Jan 21 (4 days ago)

Mark Cuban won the battle, but Kobe Bryant thinks he can win the war. Despite Rajon Rondo being traded to the Dallas Mavericks less than a month ago, the Los Angeles Lakers legend says he won't stop recruiting his former Boston Celtics rival until Rondo…

Upvote Share Tweet

Dirk's late spark pushes Mavs past Grizzlies

ESPN.com

Jan 19 (6 days ago)

Dirk Nowitzki scored 21 points, including the last eight for Dallas in the final 2 minutes, and the Mavericks defeated the Memphis Grizzlies 103-95 on Monday.

Upvote Share Tweet

Dirk Nowitzki Is The Best

deadspin.com

Jan 17

Dirk summoned his best Dikembe Mutombo impersonation tonight after the Mavericks' 97-89 win over Denver, smoothly interrupting Chandler Parsons's interview with Fox Sports's Jeff "Skin" Wade.Read more...

Upvote Share Tweet

dimemag.com

Jan 16

We don't use the term "baptism" lightly to describe poster dunks – a player really has to earn it. Wilson Chandler certainly did here. Watch the Denver Nuggets swingman baptize Tyson Chandler on an epic facial jam early in his team's game versus the Dal…

Upvote Share Tweet

Dirk Nowitzki & Rajon Rondo Say DeMarcus Cousins Deserves An All-Star Nod

dimemag.com

Jan 14

After DeMarcus Cousins dropped a near triple-double on them last night in Sacramento — and may have won it for the Kings if not for amateur thespian, Tyson Chandler, the Mavs breathed a sigh of relief. They also made it clear they appreciated how good B…

Upvote Share Tweet

yahoo.com

Jan 14

The NBA has made an effort to crack down on flopping with official warnings and fines for several seasons now, but players continue to embellish contact when they feel like it gives them an edge. For the most part, that's because it works. A stern lectu…

Upvote Share Tweet

Griffin, Paul team as Clips thrash Mavericks

ESPN.com

Jan 10

Clippers thrash Mavericks 120-100 for 6th win in 8 games

Upvote Share Tweet

Notorious NBA Ref Joey Crawford Knocked Out Of Game With Knee Injury

deadspin.com

Jan 10

Showboating NBA referee Joey Crawford joined a long list of officials in various sports who have suffered injuries recently when he pulled up lame in the second quarter of today's Mavericks-Clippers game with what league officials are calling a knee inj…

Upvote Share Tweet

deadspin.com nba.com yahoo.com ESPN.com

Jan 9

Roy Tarpley, the talented Dallas Mavericks power forward who flamed out of the NBA due to substance abuse issues, died Friday, at the age of 50. According to The Dallas Morning News there was no official cause of death, but multiple Mavericks officials …

Upvote Share Tweet

Hey, Whoa, Maybe The Pistons Are Good Now

deadspin.com

Jan 8

The Detroit Pistons went to Dallas and beat the hell out of the Mavericks last night, 108-95, for their seventh consecutive victory. They're 7-0 since waiving Josh Smith on Dec. 22; they were 5-23 before that. Maybe they are good, now!Read more...

Upvote Share Tweet

ESPN.com

Jan 7

D.J. Augustin scored 17 of his season-high 26 points in the fourth quarter, and the Pistons won their seventh straight game, 108-95 over the Mavericks on Wednesday night.

Upvote Share Tweet

nba.com

Jan 7

The Memphis Grizzlies will honor Jason Collins, Earl Monroe and Chauncey Billups as part of their annual Martin Luther King Celebration Day event Jan. 19 when they host the Dallas Mavericks.

Upvote Share Tweet

Dirk Nowitzki Says Ball Will Be In Hands Of Monta Ellis During Crunch-Time

dimemag.com

Jan 7

Despite a nearly unprecedented level of play in his career's twilight, Dirk Nowitzki understands his basketball mortality. The 36 year-old Dallas Mavericks legend is still the fulcrum from which his team's league-leading offense swings, but no longer po…

Upvote Share Tweet

dimemag.com ESPN.com

Jan 6

Earlier this season, Dirk Nowitzki passed Hall-of-Famers Hakeem Olajuwon and Elvin Hayes on the all-time scoring list, while additionally becoming the highest scoring international player in NBA history. On Monday night in Brooklyn, Dirk moved up on the…

Upvote Share Tweet

The Brooklyn Nets say Deron Williams and Kevin Garnett will sit out their game Monday night against Dallas (League Pass, 7:30 ET).

Upvote Share Tweet

Where did Rondo's Mavs land?

ESPN.com

Jan 5

The Hawks have won 18 of their past 20 games and are an impressive 8-2 against the West, earning them the top spot in Marc Stein's weekly NBA Power Ra...

Upvote Share Tweet

dimemag.com ESPN.com

Jan 4

Things have gone from bad to worse for the Cleveland Cavaliers. After leaving early in his team's 109-90 home loss to the Dallas Mavericks today, Kyrie Irving has been ruled out of Cleveland's game against the Philadelphia 76ers on Monday due to a sore …

Upvote Share Tweet

dimemag.com

Jan 4

David Blatt's job is safe. Why it took so long for the Cleveland Cavaliers to publicly say so is anyone's guess. In advance of today's afternoon game against the Dallas Mavericks, Cleveland GM David Griffin threw support behind his first-year head coach…

Upvote Share Tweet

Rose, Bulls Escape Mavs

Jan 23

Derrick Rose scored 20 points and the Bulls beat the Mavericks 102-98.

Snell's One-Handed Jam

Jan 23

Bulls forward Tony Snell threw down a one-handed slam in the first quarter against the Mavericks.

Parsons, Mavs Soar Past Wolves

Jan 21

Chandler Parsons scored 22 points as the Mavs topped the Wolves 98-75 for their third straight win.

NBA All-Star Must-Haves

Jan 21

Doris Burke, Avery Johnson and Jalen Rose break down their starters for the NBA All-Star Game.