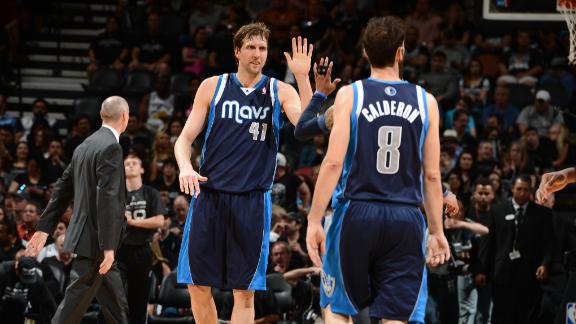 Monta Ellis scored 21 points and the Dallas Mavericks rolled to a 113-92 victory over San Antonio on Wednesday night, snapping a 10-game skid against the Spurs and evening their first-round series at a game apiece.
Upvote
Share
Tweet
ESPN.com

14 hours ago

As far as Dallas Mavericks coach Rick Carlisle is concerned, NBA Coach of the Year isn't enough of an honor for San Antonio Spurs counterpart Gregg Popovich.

Upvote Share Tweet

CNNSI.com deadspin.com yahoo.com

Apr 21 (2 days ago)

Craig Sager is drawing strength from the salutes given to him by Gregg Popovich and the NBA.

Upvote Share Tweet

10 Players Under The Most Pressure In The Playoffs

dimemag.com

Apr 21 (3 days ago)

Just over two years ago, had you asked me whom I considered to be the NBA's elite players, I would have given you three names: Dirk Nowitzki, Kobe Bryant and Dwyane Wade. Fresh off an NBA Finals run in which his Mavericks took down Kobe's Los Angeles La…

Upvote Share Tweet

The Spurs were down 10 in the 4th quarter, but their offense rallied late to beat Dallas, 90-85.

Upvote Share Tweet

5 things to know about Mavs-Spurs series

nba.com

Apr 19 (4 days ago)

While San Antonio Spurs steamrolled toward their fourth 60-win season in 11 years, coach Gregg Popovich was asked if there is a secret formula for the franchise's almost unfathomable run of excellence.

Upvote Share Tweet

8 Keys To Watch For In The NBA Playoffs This Weekend

dimemag.com

Apr 18 (6 days ago)

The NBA postseason is upon us and it should be a great one. The Western Conference has three can't-miss first-round series, while the elite teams in the East look to get by some of the new faces in the playoffs. For teams like San Antonio, Miami, Oklaho…

Upvote Share Tweet

The playoffs began on Saturday, thankfully, which means it's that lovely time of spring (and it is spring, right? It's not going to snow again, is it?) when the minds behind Ball Don't Lie offer you their thoughts on the upcoming pairings in the first r…

Upvote Share Tweet

dimemag.com

Apr 18 (6 days ago)

Steve Nash's documentary series in conjunction with Grantland, "The Finish Line," has been incredible behind-the-scenes look at the two-time MVP as he comes up on the end of his Hall-of-Fame career. Episode 4 might be the best yet when Nash reunites wit…

Upvote Share Tweet

Ellis plays key role in Mavs' playoff spot

nba.com

Apr 17 (6 days ago)

Monta Ellis had just missed a jumper that could have lifted Dallas out of a matchup with top-seeded San Antonio in the first round of the playoffs.

Upvote Share Tweet

Cuban: Bucks' new owners got 'a bargain'

ESPN.com

Apr 17 (6 days ago)

Dallas Mavericks owner Mark Cuban considers the sale price of approximately $550 million for the Milwaukee Bucks to be a bargain, suggesting the true value of NBA franchises is north of $1 billion.

Upvote Share Tweet

Griz seize No. 7 slot from Mavs with OT win

ESPN.com

Apr 16

Mike Conley hit two free throws with 1.1 seconds left in overtime, and the Memphis Grizzlies grabbed the Western Conference's No. 7 seed away from Dallas by edging the Mavericks 106-105 on Wednesday night in the regular season finale.

Upvote Share Tweet

SI Now: Playoff implications for NBA's season finale

CNNSI.com

Apr 16

Seven games have playoff implications tonight, including the Grizzlies-Mavs clash for the No. 7 seed.

Upvote Share Tweet

Former Stars Now Embracing Different Roles With The Mavericks

dimemag.com

Apr 15

Transforming from all-star to role player can be a begrudging process for NBA players used to a certain level of personal success on the court. Not every player is capable of making the transition in a smooth and non-disruptive fashion that benefits the…

Upvote Share Tweet

Buzzer-Beaters, Dunks & The NBA Season's Top 25 Plays

dimemag.com

Apr 14

Finally, at long last, the real season begins. But that doesn't mean we can't stop, look back, and appreciate the highlights and events that captivated us and stole our attention during the 2013-14 season. We've been treated to some great games, as rece…

Upvote Share Tweet

5 Important Races Entering The 2014 NBA Playoffs

dimemag.com

Apr 14

We're still recovering from a fever dream we had after peeking at a hypothetical Conference-free playoff structure for the playoffs this year. But even with the Conference separation in place, there are plenty of questions as we come up on the final thr…

Upvote Share Tweet

yahoo.com

Apr 14

If you're anything like me and Detroit Pistons rookie Peyton Siva, when it gets this late in the season, you come out of the weekend like: So let's get caught up on how the weekend that just passed reshaped the playoff picture, which is mere days away f…

Upvote Share Tweet

ESPN.com

Apr 12

Monta Ellis matched his season high with 36 points and Dirk Nowitzki scored 21 of his 23 during a second-half rally that carried the Dallas Mavericks back to the playoffs in a 101-98 victory against the Phoenix Suns on Saturday night.

Upvote Share Tweet

Cuban backs Mavs announcer after fine over ref comments

nba.com

Apr 12

Dallas Mavericks owner Mark Cuban is backing his public address announcer after the team had to pay a $25,000 fine because the announcer criticized referee Danny Crawford on Twitter after a recent game.

Upvote Share Tweet

nba.com

Apr 12

? Two of the three teams battling it out for the Western Conference's final two playoff spots square off tonight, as the Suns make their only trip to Dallas to play the Mavericks. The Mavs (48-32), currently in the seventh spot, can punch their ticket t…

Upvote Share Tweet

ESPN.com

Apr 12

Public-address announcer Sean Heath's brush with the NBA office won't affect his future with the Dallas Mavericks, with owner Mark Cuban saying he had no problem paying the $25,000 fine the league assessed the team.

Upvote Share Tweet

Mavs Cruise Past Spurs To Even Series

Apr 23

The Mavericks defeated the Spurs 113-92 in Game 2.

NBA Top Plays

Apr 23

LeBron James' dunk in Game 2 against the Bobcats is the top play in the NBA.

Turnovers Hurt Spurs

Apr 23

Following a 113-92 loss to the Mavs, Gregg Popovich said turnovers were the Spurs' biggest problem.

Duncan's 27 Points Fuel Spurs In Game 1

Apr 20

Tim Duncan scored 27 points to power the Spurs to a 90-85 victory over the Mavericks in Game 1.