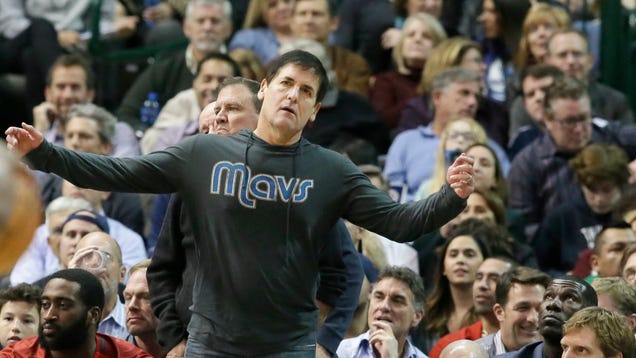 deadspin.com
dimemag.com
Updated Dec 1 (2 days ago)
Clippers head coach Doc Rivers got booted from Tuesday night's game against the Nets after receiving two quick techs from referee Ken Mauer during the first overtime period. Now, Mavericks owner Mark Cuban is calling for Mauer to be disciplined, not bec…
Share
Tweet
nba.com

Nov 29 (4 days ago)

DALLAS (AP) -- Dirk Nowitzki will be out at least two more games with a right Achilles tendon injury that has contributed to the Dallas Mavericks superstar missing 11 of the first 16 games this season.

Share Tweet

deadspin.com

Nov 29 (4 days ago)

The New Orleans Pelicans started the season 0-8 despite having one of the very best basketball players in the world, Anthony Davis, on the roster. They improved a bit with the return of point guard Jrue Holiday, but they lost to a dreadful Mavericks tea…

Share Tweet

dimemag.com nba.com

Nov 28 (5 days ago)

USA TODAY Sports The Dallas Mavericks have spent years stubbornly refusing to rebuild, while failing to bring in any marquee free agents. During that time they've largely been forced to content themselves with lower seeds in the Western Conference playo…

Share Tweet

yahoo.com

Nov 24

Mavericks coach Rick Carlisle does not like what he sees. (AP) The good news for the Dallas Mavericks? They got Dirk Nowitzki back on the floor on Wednesday after the longtime franchise centerpiece had missed the last eight games resting a strained righ…

Share Tweet

Mark Cuban Is Willing To Talk Tanking Later In The Season If Things Don't Turn Around For The Mavs

dimemag.com

Nov 22

Getty Image The Mavs' brutal 2-11 start – good for dead last in the NBA – probably isn't how anyone around the organization envisioned this season would kick off. Rick Carlisle, in recent years, has somehow managed to get rag-tag Dallas teams to the pla…

Share Tweet

deadspin.com

Nov 22

The San Antonio Spurs held off a very resilient, shorthanded Dallas Mavericks team by five points tonight at home. Dallas was without Dirk Nowitzki and Andrew Bogut, but Seth Curry and Harrison Barnes each scored 20 or more and pushed San Antonio until …

Share Tweet

dimemag.com

Nov 21

Getty Image Shaquille O'Neal may have spent less than four seasons with the Miami Heat, but he was instrumental in bringing the franchise its first championship when he and a young Dwyane Wade made an astonishing comeback against the Mavs in the 2006 Fi…

Share Tweet

yahoo.com deadspin.com dimemag.com

Nov 18

Chandler Parsons (right) and Mark Cuban's bromance ended in divorce. (Getty Images) When Chandler Parsons left the Rockets for the Mavericks in 2014, he said the biggest difference between Houston and his new hometown was, "It's cleaner here" in Dallas.…

Share Tweet

Mavericks bring back Jonathan Gibson, waive Quincy Acy

nba.com

Nov 18

DALLAS (AP) -- The Dallas Mavericks have re-signed summer league standout Jonathan Gibson because of backcourt injuries. He had been cut just before the season began.

Share Tweet

nba.com deadspin.com

Nov 16

DALLAS (AP) -- Dallas Mavericks owner Mark Cuban says the team's decision not to stay at Donald Trump-branded hotels in New York and Chicago was made before the presidential election.

Share Tweet

dimemag.com nba.com

Nov 15

Getty Image The New York Knicks beat the Dallas Mavericks on Monday, mostly because the Mavs have serious trouble scoring while Dirk Nowitzki is out. It's a shame he wasn't healthy enough to suit up, because watching him against Kristaps Porzingis was a…

Share Tweet

Mark Cuban Once Played Dirk Nowitzki In 1-On-1 And Did An Extremely Mark Cuban Thing

dimemag.com

Nov 14

USA TODAY Sports Life is a game and Mark Cuban knows how to rig it. Sports Illustrated writer Jake Fischer shared an interesting anecdote about the Dallas Mavericks owner that is absolutely believable and I'll fight anyone who thinks he's making it up. …

Share Tweet

Steve Kerr Rips Donald Trump And The Whole Damn Election

deadspin.com

Nov 10

The Warriors ran the Mavericks 116-95 in Oakland last night, but way more interesting and important were Golden State coach Steve Kerr's pregame comments on the campaign and the new President-elect: "The man who's going to lead you has routinely used ra…

Share Tweet

yahoo.com

Nov 10

It's usually a problem when Stephen Curry is this open. (Associated Press) The Golden State Warriors are well established as the most prolific three-point shooting team in NBA history, but that hasn't stopped their pursuit of every related record in the…

Share Tweet

dimemag.com yahoo.com

Nov 9

USA TODAY Sports On Wednesday night, Mavericks' center Andrew Bogut was set to square off against his former team, the Golden State Warriors, and in the lead-up to that, the Aussie center took an opportunity to get some things off his chest in a recent …

Share Tweet

Grizzlies Take Care Of Mavs

Mar 20

The Grizzlies got double-digit points from seven players in a 112-101 win over the Mavericks.

Rondo's No-Look, Over-The-Head Pass

Mar 18

Mavs guard Rajon Rondo threw a full-court, no-look, over-the-head assist to teammate Monta Ellis for the layup against the Orlando Magic.

Magic's Surge Not Enough Against Mavs

Mar 18

The Magic erased a 22-point deficit but fell to the Mavericks 107-102.

Mavs Stay Focused

Mar 18

Rajon Rondo said the Mavs are focused headed down the stretch.