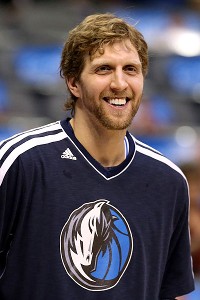 Most of the Dallas Mavericks won't shave until the team hits .500

Updated Feb 7

Share Tweet

The Dallas Mavericks ripped off a 15-4 run to start the fourth quarter against the Portland Trail Blazers, then watched as their lead dwindled to just three points with less than two minutes left - things seemed to be setting up for exactly the kind of

Source:

yahoo.com

Updated Feb 7

Share Tweet

In last June's Finals, James Harden and LeBron James spent long portions of the action guarding each other. It probably was a big part of why the Beard struggled so badly, and was definitey fuel for his haters to use against his status as a potential fr

Source:

dimemag.com

Carlisle records 500th win as Mavs top Blazers

Updated Feb 7

Share Tweet

O.J. Mayo scored 28 points, Vince Carter hit a critical jumper in the final minute and the Dallas Mavericks beat the Portland Trail Blazers 105-99 on Wednesday night for coach Rick Carlisle's 500th career victory.

Source:

ESPN.com

Sports Columnists

Chicago Bulls, Toronto Raptors talking Carlos Boozer-Andrea Bargnani swap,…

Feb 7

The Chicago Bulls and Toronto Raptors have engaged in exploratory trade discussions on a deal that would swap the Bulls' Carlos Boozer for the Raptors' Andrea Bargnani, according to sources familiar with the discussions.