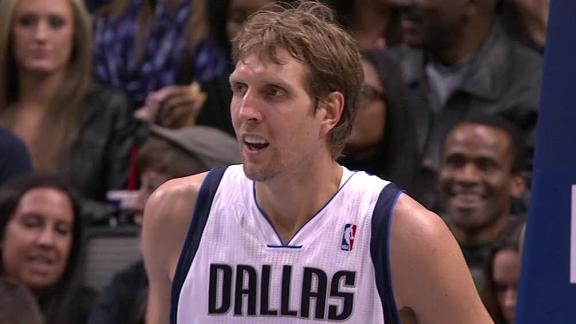 yahoo.com

Jan 16, 2013

In a season hamstrung by the first knee surgery of his career, Dallas Mavericks forward Dirk Nowitzki is averaging just 13.3 points on 42 percent shooting, numbers that rank amongst the worst of his career excluding a frustrating rookie season. The forw…

Share Tweet
Mavs Dunk In Transition

Jan 16

O.J. Mayo feeds Shawn Marion for the dunk

Lin One-Handed Lay In

Jan 16

Jeremy Lin drives through traffic and finishes with the lay in.

TrueHoop TV: On Royce White

Jan 16

Amin Elhassan on Royce White.

Dirk, Mavericks Hold Off Rockets

Jan 16

Dirk Nowitzki scored 19 points to help the Mavericks hold off the Rockets' late rally.
Sports Columnists
Daily Dime: Heat rule when interested

Jan 16

LeBron James' milestone night showed a team engaged and at its best, Brian Windhorst writes.

Dwayne Wade says he has no ill feelings toward coach Erik Spoelstra

Jan 16

Miami Heat star Dwyane Wade said Wednesday he has no ill will toward coach Erik Spoelstra over his benching in the fourth quarter of Monday's loss to the Utah Jazz.