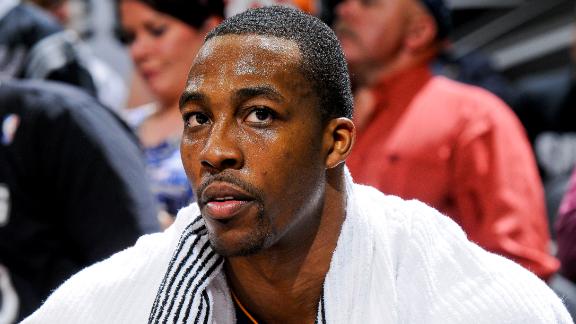 ESPN.com
Updated Jul 2, 2013
The pitches are finished and now the decision-making process begins for Dwight Howard.
Share
Tweet
Texas is baiting Dwight Howard to sign with either the Mavericks or Rockets with huge amounts of free food

yahoo.com

Jul 2, 2013

In March of 2012, Dwight Howard infamously pointed out that the Orlando Magic helped encourage him to waive his chance at free agency by presenting him with some of his "favorite candies" during a meeting with the Magic front office. It should have been…

Share Tweet

nba.com

Jul 2, 2013

The Dallas Mavericks are set to add Israeli point guard Gal Mekel in free agency.

Share Tweet

Knicks Preparing To Make Offer To Brand

Jul 2

Tom Penn weighs in on how Elton Brand would be able to help the Knicks.

Clippers Interested In Mayo

Jul 2

Marc Stein discusses the Clippers' interest in G O.J. Mayo and a possible sign-and-trade scenario involving Mayo and G Eric Bledsoe.

Howard Recruiting Tour Continues

Jul 2

Chris Broussard discusses the report that Dwight Howard will meet with the Mavericks and Lakers on Tuesday.